Sobel's Sony Open Preview: Justin Thomas is Favored, but Collin Morikawa Provides Value
Credit:
Cliff Hawkins/Getty Images. Pictured: Collin Morikawa in Kapalua, Hawaii.
When handicapping golf tournaments and trying to predict winners, there's always an edge — it's just that some are sharper than others. That's the case at this week's Sony Open, where a recent trend could help narrow down the year's first full field.
First things first: For those of us who waded through the fall portion of the PGA Tour schedule and waited through the admittedly abbreviated offseason, last week's Sentry TOC was like a tease.
Sure, we got some of the game's best players on an increasingly demanding layout, but the 34-player field is always akin to starting out the NBA season with an opening-night 3-on-3 tournament. (An idea I'd completely support, FWIW.)
The festivities at brilliantly-devious Waialae CC won't be more star-studded, but they will be more crowded, a sight for sore eyes amongst those of us who love the potential of an underdog story.
Then again, even with a fuller house, the 'dogs haven't been allowed inside lately.
That's because of that edge I mentioned earlier: Each of the past six editions of the Sony were won by a player who competed at Kapalua the previous week.
There are plenty of explanations for this. Unlike those who are easing their way into competition, guys making the 28-minute flight from Maui are already game-tested. Their body clocks are accustomed to overcome any possible jet lag. And they've already enjoyed a Mai Tai or two in the Aloha State. Now it's business time.
I'm not suggesting that only players who also competed last week — there are 23 of 'em, by the way — have a chance this week, but the edge is sharp.
Problem is, that edge appears to stop there.
Here are the results at Kapalua for each of the previous six Sony Open champions:
There you have it, guys: Based on recent history, anyone who finishes between first and 21st can parlay that into a win at the next Hawaiian stop.
Trying to examine whether any trends went deeper, I looked at the Kapalua strokes gained stats (in tee to green, around the green, putting and overall) for each of these players, thinking one related aspect of their games might've vaulted them onto the leaderboard one week later.
Well, not much of a hint here, either. Half of these guys drove it better than average the previous week, half didn't. They were all right about average around the greens, but without that number being a major positive for each guy, I can't see how that is anything more than coincidence.
Similarly, none had been putting great and none putting terribly. Even total strokes gained finds a couple on the wrong side of the average right before their wins.
Wish I had more of an edge here, but when seeking Sony winners, the trend remains only this: Pick a guy who played the week before and wasn't terrible.
Don't worry, I've got plenty of these guys lined up in the selections below, including my pick to win.
---
If you're in New Jersey, Pennsylvania, Indiana or West Virginia and bullish on Justin Thomas and Patrick Reed this week, be sure to check out FanDuel, which has boosted the odds that either Thomas OR Reed win the 2020 Sony Open from +250 to +300.
---
Outright Winner
One player to win the tournament
Collin Morikawa (+1600)
I originally had the soon-to-be 23-year-old listed in the OAD section below, for this reason: "Young players are always difficult to pin down in OAD pools, because unlike veterans, their schedules are more fluid and less rigid. We know — or at least we assume — that Morikawa, who won after turning pro last summer, will play in any and all majors and WGCs for which he gains entrance. Other than that? It's a bit of a guessing game — and you don't want to take a DNS on such a big talent later in the year."
It made so much sense that I really didn't want to rewrite the whole thing and move him into this category instead, but there was one small problem: I really like him this week.
At a lower number than guys like Matt Kuchar and Joaquin Niemann, it still feels like Morikawa's value is a bit too inflated, but he fits all the prerequisites for Waialae winners. And uh, yes, he's a strong OAD option, too.
Other OADers
Potential selections for one-and-done options.
Corey Conners (+4000)
Trust me: The picks aren't all going to be Kapalua leftovers, but I'm a continually growing fan of Conners' game. I liked him last week, but this one should suit his style much better — a short, tight, wind-blown track where his ball-striking skills are on display and his putting woes are masked.
The Canadian was T-3 here last year, posting a pair of 64s on the weekend — and he's matured a lot as a player ever since. This is a course where history holds some weight and we've witnessed some repeat contenders. Conners checks all the relevant boxes.
Abraham Ancer (+4000)
You remember him, right? The guy who proved at Royal Melbourne last month that he could hang with the big boys (you know, except for that singles loss to Tiger Woods), tying for the International team lead in points.
I really thought Ancer was going to win his first PGA Tour event last season and while he came close, it didn't happen, which only makes me want to double-down this season. Just like Conners, short, tight and wind-blown should suit Ancer well.
Despite only a T-29 finish last year, a closer look shows four rounds in the 60s, which is a strong hint that he likes this place.
Top-Five Finish
One player to finish top five.
Justin Thomas (+125)
I'm not much of a hedger. Hey, it's called gambling for a reason and if I'm lucky enough to be in a situation where I need one final result, I'd rather let it ride than hedge. (By the way, if you do have a friend who frequently hedges bets and you're not calling him "Sonic the Hedgehog," you're doing it wrong.)
Anyway, with all of that in mind, it feels like JT as a top five this week is the ultimate hedge. I can't bring myself to recommend him – or anyone else in a full-field event, for that matter — at +500 for the outright win, but I similarly can't bring myself to completely fade him, either.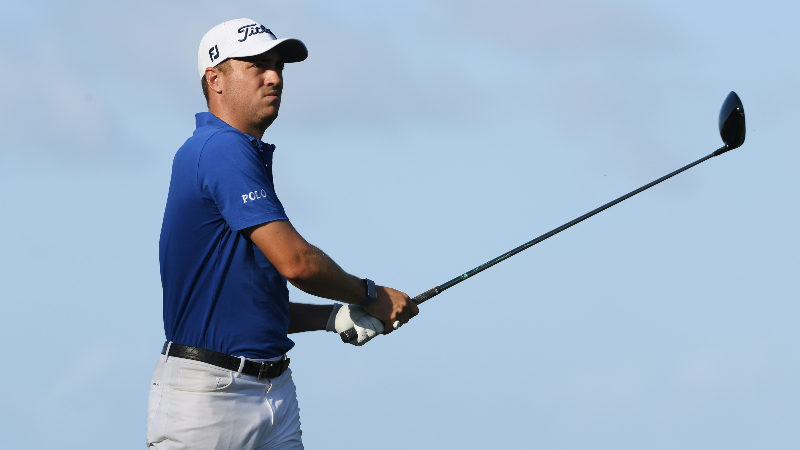 Thomas won at Kapalua with something less than his A-game down the stretch. He pulled off the Aloha Double three years ago, posting 59 in the opening round of this event, and the books believe he's the prohibitive favorite to do it again. I like playing him for the top-five finish, then being able to go after some outrights with better numbers. 
Top-10 Finish
One player to finish top 10
Kevin Kisner (+550)
A couple of things happened to help move Kisner in our favor this week. First, he chased finishes of T-5 and T-4 here in 2016 and '17, respectively, with a T-25 and T-69 the past two years, just enough to throw everyone off the scent.
Then there's the fact that he was T-4 through 54 holes last week, only to drop 10 spots with a final-round 76. While some might view those as negatives, I love the fact that each is keeping the numbers from getting too low.
This course suits him much better than Kapalua, so expect him to build on some leftover momentum. 
Top-20 Finish
One player to finish top 20
Charles Howell III (+175)
The following stat is so impressive that by the time you read this, I probably will have tweeted it out as a standalone fact: Howell is the all-time leading money-winner at this tournament without ever having won it. It is the only event on the 2020 PGA Tour schedule whose leading money-winner has never won the title.
Don't get me wrong, either: This isn't some subtle troll-job of why/how CH3 can't/doesn't win more. No, I'm saying this because his consistency is so impressive. In 18 career starts, he owns a pair of runners-up, a pair of third-place finishes, 10 top 10s, and yes, 12 top-20 results, which should make this bet a fairly safe one.
DFS Free Bingo Square
A safe plug-and-play option for DFS
Chez Reavie (DK $8,400; FD $10,000)
Three years ago, Reavie was chasing 59 in the final round of this event before settling for a 61. Last year, he holed out for eagle from outside 100 yards on three separate occasions during the second round.
Suffice it to say, his game suits this course — and the even better news is that unlike those previous years, he's coming straight to this one fresh off competing the prior week. The truth is, I like Reavie for just about any bet across the board, but he's most well-suited in this category, as a potential contender who won't bankrupt your lineup.
DFS 'Dog
A lower-priced option for DFS
Jimmy Walker (DK $6,800; $8,500)
I'm a lot less sure about this one than I am about Reavie, but I can't pass up the chance to roster a former two-time champion of this event who owns such a low price tag. Look, I get it: Walker isn't the same player he was when he won here in back-to-back years.
But he's not a total also-ran, either. Despite MCs in each of his last five starts, I believe Walker can find some magic on Oahu again — or at least enough magic to make the weekend, which at his cost, is enough to provide some much-needed salary relief.
First-Round Leader
One player to post the low score Thursday
Marc Leishman (+5000)
You know what they say: When it's breezy, pick Leishy. OK, so maybe "they" don't say it, but I do. Everybody's favorite low-ball-hitting Aussie owns a strong record here that includes a T-3 last year, but what has me excited about this bet is that Thursday's forecast is calling for winds gusting up to 25-30 mph.
I've never been to Warrnambool myself, but I've been told it can get a little gusty around there, as well, which helps explain why the local hero is so proficient in these conditions. Much like Reavie, I like him best for this specific category, but really don't hate him anywhere. 
Matchup Man
One player who should beat comparable players
Sebastian Munoz
Shoutout to my guy Brandon, who caddied for our sixsome of buddies at The Springhaven Club last Friday. (And by caddied, I mean that we all carried our clubs and he drove alongside, providing the requisite beverages throughout the round.)
After a few holes, he and I started talking and he asked what I do for a living; I told him. He then asked my last name; I told him. He then replied, "Oh, I read your article today and hammered Corey Conners over Cameron Champ because of you." Thankfully, I did manage to get that Round 2 matchup correct and help Brandon have a better Friday night than he might've had otherwise.
Anyway, on to Munoz, who might not be the most underrated player on the PGA Tour just yet, but he should at least be in the running for this year's Xander Schauffele Award.* (*Not a real thing. But it should be.)
Coming off a solid T-17 last week and a T-10 at this event last year, Munoz could be poised for another under-the-radar week. He's priced with some players he should beat, so I'd take him in just about any H2H matchup. Hammer it, Brandon. 
The Big Fade
One top player to avoid at this tournament
Hideki Matsuyama (+1600)
This could be a very big year for Hideki. It shouldn't surprise anyone if he peels off his first major and leaps from his current 22nd spot in the world ranking into the top 10 once again.
But three things are working against him this week: He's a high-ball hitter, which isn't a great recipe in the expected winds; he tends to play his best golf in mid-summer and beyond, often taking a while to heat up; and, perhaps a result of that last one, he owns a forgettable record at the Sony, with nothing better than a T-27 in six career starts.
I won't be fading Matsuyama much this year, but this one seems like the right time and place. 
Off Tour
My favorite non-PGA Tour play of the week
Min Woo Lee to win the South African Open (+4000)
In last year's event at Randpark GC — the first edition of this event held there since 2000 — Louis Oosthuizen lapped a fairly understated field in his home country.
Because of that, the markets might be looking for him or another seasoned veteran to claim this year's title, but I'm going with Lee, a 21-year-old Australian who finished in third place in two of his last three starts of 2019.
While it was difficult to find a good number even last year on a guy like Morikawa, the books still haven't caught up to Lee's potential, more of which could be unlocked this week.
How would you rate this article?