2021 AT&T Byron Nelson Odds & Betting Preview: Scottie Scheffler Stands Out at TPC Craig Ranch
Credit:
Mike Ehrmann/Getty Images. Pictured: Scottie Scheffler
One of the most compelling aspects of the PGA TOUR is that every week is different. Not that professional team sports have much of an alternative, but half of every team's games in a given season will always be contested at the same venue. Golf offers an opportunity to witness disparate backdrops – and with them, come distinct weather patterns and setups and scoring conditions.
Fresh off a tournament venue which played like a mini-major, the game's best players travel this week to North Dallas in the direction of TPC Craig Ranch, a total unknown as a host at this level.
Sure, the new AT&T Byron Nelson venue has hosted the Korn Ferry's Tour Championship and various U.S. Open and other qualifiers in the past, but never before has it held a four-round tournament of this magnitude.
We might not know exactly what to expect, but there are some definitive inferences we can make based on previous first-time venues.
By my count, there have been nine previous new tournament courses in the past five seasons. I'm not talking about major championship hosts or those which are part of a rotation or any other one-offs. Only those which have become regular hosts during this time – and there's good reason for limiting the research to these venues.
That's because my theory is that the PGA TOUR purposely errs on the side of caution in these situations. The last thing tourney officials want is players grousing about the setup or anything else. Word travels pretty quickly in these circles. If they want to improve ticket sales and TV ratings and the overall excitement level on a year-over-year basis, then they'll need to continue improving the field, so endearing themselves to the competitors is a major priority.
That isn't some referendum on today's players being too coddled, but it's really, really difficult to set up a golf course and know what kind of score it will take to win, or make the cut, or what the scoring average will be.
Throw in the fact that the biggest names probably aren't too keen on getting their butts kicked the week before a major championship and it all adds up to what should be some fairly tasty scoring conditions.
Here are winning scores and scoring averages from those previous nine instances:
| Tournament | Winning Score | Scoring Average |
| --- | --- | --- |
| 2017 WGC-Mexico Championship | 270 (-14) | 71.05 |
| 2017 Quicken Loans National | 273 (-7) | 71.46 |
| 2017 CJ Cup | 279 (-9) | 73.19 |
| 2018 AT&T Byron Nelson | 261 (-23) | 69.42 |
| 2018 Corales Puntacana | 270 (-18) | 71.5 |
| 2019 Rocket Mortgage Classic | 263 (-25) | 70.11 |
| 2019 3M Open | 263 (-21) | 69.46 |
| 2019 Zozo Championship | 261 (-19) | 69.52 |
| 2019 Bermuda Championship | 260 (-24) | 69.83 |
What we have here is confirmation of that aforementioned theory. Of these nine events over the past five seasons, only two had winning scores of single-digits under par and only one had an overall scoring average north of 72.
In fact, total 'em all up and you'll find that winners were an average of a gaudy 17.8 strokes under par and the field averaged a mere 70.62.
All of which should lead to a very relevant question: How can we use this information to our benefit this week?
Glad you asked.
If we're assuming a similar err-on-the-side-of-caution setup this week, one which should yield birdies in bunches, then it makes sense for us to target those players who make birdies in bunches. I want players who aren't afraid to go low; players who hit the ball far and can get hot with the flatstick; players who own plenty of offensive firepower.
The first stat I checked is birdie average. Only three of the top-10 on this season's current list are in this week's field – Daniel Berger, Sam Burns and Bryson DeChambeau. It is worth noting, though, that five of the next 10 – Jordan Spieth, Brooks Koepka, Scottie Scheffler, Harris English and Ryan Palmer – are also playing here. Of course, that doesn't exactly offer too many longshots, but we can look just beyond this point to the likes of Harry Higgs (24th), Tom Hoge (33rd) and Sebastian Munoz (37th). Each of these players has averaged more than four birdies per round this season.
The next one I looked at was birdie-or-better percentage, a list which unsurprisingly mirrors the previous one. All of those same names make an appearance, but it should be noted that just past the household names are Anirban Lahiri (40th), Doug Ghim (42nd) and Patton Kizzire (44th). Each of those players posts a birdie just north of 23 percent of the time.
The last stat I examined was rounds in the 60s this season. Unlike the previous two, this one isn't an average or percentage, so the numbers are going to be a bit skewed – essentially, the more rounds a player has played, the more chances he has of scoring in the 60s. The one with the most such rounds who is also in this week's field is again Kizzire, whose 18 starts have produced 32 sub-70 rounds, ranking T-6. The only other player in the top-10 playing this week is Carlos Ortiz (T-9th), while the next 10 offers Sepp Straka (12th), Burns (T-18th), Hideki Matsuyama (T-20th), Nate Lashley (T-20th) and Andrew Putnam (T-20th).
With all of that in mind, let's get to this week's picks, which will obviously name some of these players with that offense we're seeking at a new venue.
Outright Winner
One player to win the tournament.
Scottie Scheffler (+2200)
I expect this to be a popular play this week, considering Scheffler owns some very Spiethian vibes at this event.
The 24-year-old first played here at the age of 17, posting his final three scores in the 60s and finishing in a share of 22nd place – good enough to beat the likes of Martin Kaymer, who was only in between winning THE PLAYERS and the U.S. Open that week. While most players use a return to a specific course to give them a little mojo for the week, Scheffler might have it here – even at a different venue – just based on familiarity with the community and the tournament staff. On a week with so many unknowns, that's as good a reason as any.
Even with some big names in the field, this event feels like it could wind up being the domain of a first-time winner – and few are more deserving of a first victory than Scheffler.
Also, I went down the rabbit hole of the dark web and found that 9-year-old "Scott Alexander Scheffler" won the nine-hole, coed, age 7-9 division of the Metro Area Championship by seven strokes right at this very same TPC Craig Ranch. Yup, those are real things that happened – him winning here and me actually researching it.
Other OADers
Potential selections for one-and-done options.
Matt Fitzpatrick (+2200), Ryan Palmer (+5000) and Keith Mitchell (+8500)
Grouping these three players together, as I see this week being a nice spot to save your DJ/Rahm/Spieth plays for OADs, but also think there's some value in still paying up for a guy in the next tier.
Fitz has been knocking on the door for a first PGA TOUR win for a while now and though he tends to play his best golf in tough conditions, that narrative shouldn't be the lone decision-maker on where and when to take him.
Palmer is a guy who I admittedly play way too often in his home state of Texas, but some familiarity could give him an edge this week.
And fresh off a title contention last week, I expect Mitchell to keep stepping on the gas pedal toward a second career win soon. I don't mind an outright play on any of these guys and I love each of them in DFS lineups, but specifically these are the types of players you should be targeting in OADs this week.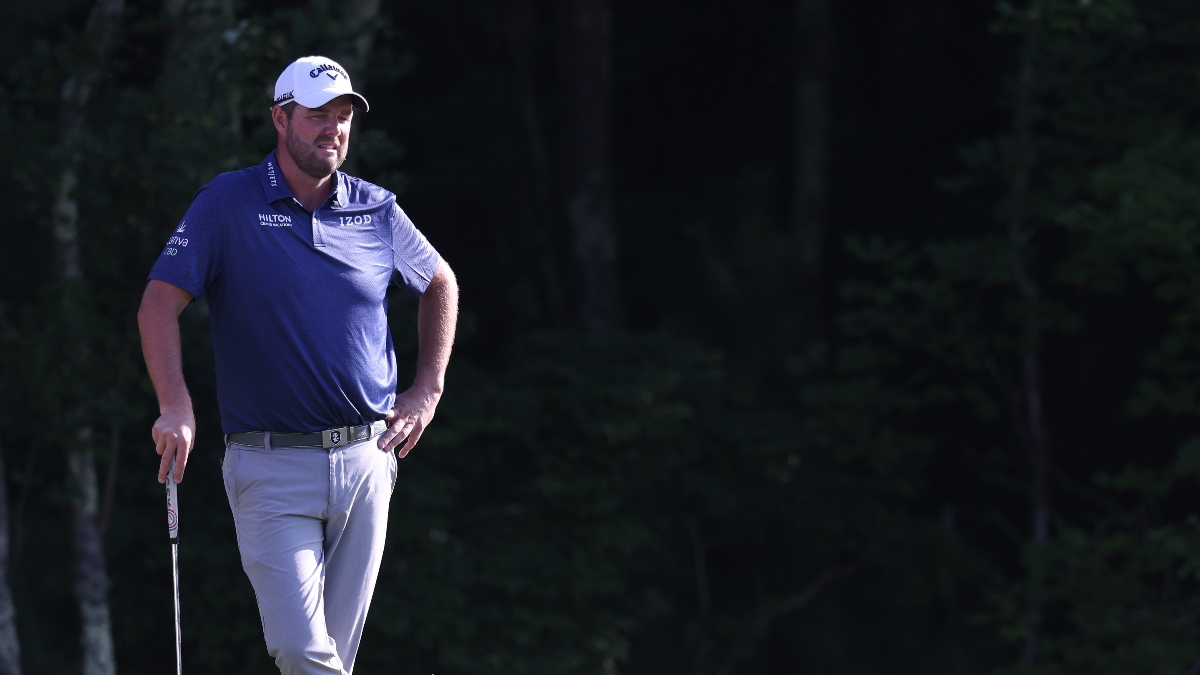 Top-Five
One player to finish top-five.
Marc Leishman (+700 for top-five)
As of right now, one week before the PGA Championship, Leishman is one of my favorite plays – if not my absolute favorite play – for the upcoming festivities at Kiawah.
Think about it: He's a guy who's been playing very well lately (including a Zurich Classic win alongside Cameron Smith), hits bullet iron shots under heavy breezes and gets up and down from everywhere – all of which should be high on the list of things needed to succeed in this event. At 60/1, I love getting him on the card early.
Consider this top-five play for the Nelson a theoretical hedge against that bet. If he plays well this week, that price could/should be lower next week; you might as well jump on both while you can get 'em.
Top-10
One player to finish top-10.
Patton Kizzire (+900 for top-10)
I didn't do all that research in the above intro just to ignore it down here. A rough final round dropped Kizzire to T-58 at the Wells Fargo, but he still showed glimpses of his game being close – and as evidenced above, he's a guy who isn't afraid to go low, one of the few characteristics we can bank on this week.
In fact, his last top-10 came last month at the Valero Texas Open – which, oh by the way, like this week's event, happens to be played in Texas, as well.
Top-20
One player to finish top-20.
Sepp Straka (+400 for top-20)
Yes, you're about to see a run on names that were featured in the research. In 70 rounds this season, Straka has posted 29 scores in the 60s – a percentage of 41.4, which should bode well for his chances of going low this week. Straka was playing well before a positive COVID-19 result knocked him out of the Valspar two weeks ago; he returned with a T-54 last week.
I like him to get back on track at this one.
Top-30
One player to finish top-30.
Anirban Lahiri
You're gonna have to close your eyes and grit your teeth over this one, but at least you're getting a former world-class player who's ranked a mere 333rd right now. That value is the good news. The bad news is that he's MC'd in two-thirds of his nine starts this year. Even so, I'm eyeing a fifth-place finish at the Valero Texas Open as a potential corollary to this one.
Lahiri has always been a guy who can make birdies; his problem is that he makes too many big numbers, as well. If the course is set up for better scoring, he's the type of player we should target – all those MCs notwithstanding.
Top-40
One player to finish top-40.
Vince Whaley 
I didn't fit Whaley into my preview last week, but I did later mention him on a handful of other platforms. One of the most under-the-radar players around right now – in my unofficial book, he's stolen that title from John Huh – Whaley has finished 15th-36th-28th-34th-29th-26th in his last six starts. Consider this: Granted, they've been different events, but over Dustin Johnson's last six, his results are 54th-48th-28th-MC-13th-48th.
I'm not suggesting Whaley is the next DJ … or am I?? No, I'm definitely not. But the man shouldn't be flying so far under that radar any longer.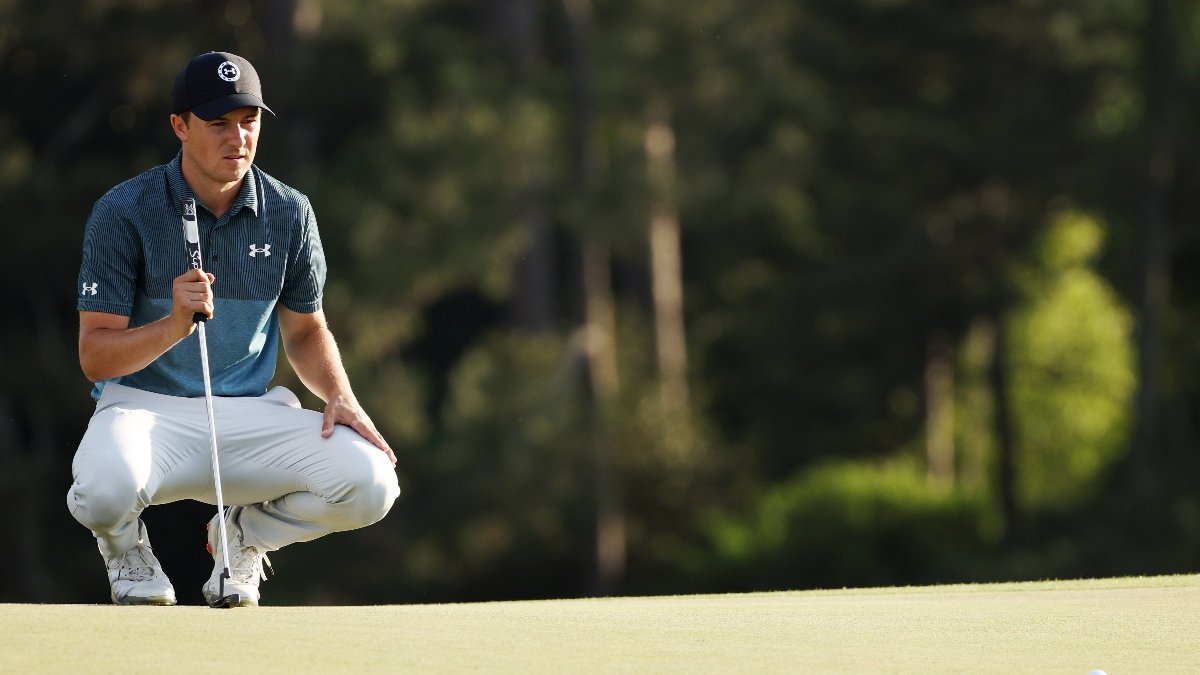 DFS Free Bingo Square
A safe plug-and-play option for DFS.
Jordan Spieth
Did someone say birdies in bunches? That's Jordan Spieth's music! With this year's pre-major slam still alive, Spieth will have the advantage of home cooking at an event he first played as a 16-year-old in 2010 — and finished T-16 that year, too. Back when this tourney was annually contested at TPC Las Colinas, the dirty little secret in Spieth circles was that the setup at crosstown Colonial actually favored his game more than the one which gave him an initial start against the pros.
Maybe Craig Ranch will suit him better, maybe it won't. At his opening odds, it's tough to chase that number just to find out, but it's even tougher to believe he won't be valuable on some level this week.
I like him as a top-end roster play in DFS lineups and think he should return more points than his fellow elite-level players.
DFS 'Dog
A lower-priced option for DFS.
Scott Stallings
Like the earlier Leishman call, here's another major championship futures play, though one that's admittedly a much bigger longshot. Stallings has played some of his best over the years at Torrey Pines, winning there in 2014 and finishing runner-up the next year. The U.S. Open has become the major of the strongmen, with some muscle needed to gouge shots out of the thick rough. Stallings might be the only guy we could put up against Brooks Koepka in an arm-wrestling match and hope for a decent result.
Of course, there's the little matter of him not yet being qualified for the year's third major, but if he does, I think he's a sneaky top-10 play. As for this week, he should be playing mad, fresh off being T-5 through 54 holes at Quail Hollow, only to finish with a 78 and a T-43 result.
Much like Mitchell parlayed a terrible Sunday in Tampa into a title contention last week, I think Stallings can do the same at this one.
First-Round Leader
One player to post the low score Thursday.
Tom Hoge (+10000 for FRL)
For years, I've wanted to write an annual column on the First-Round All-Star Team, a collection of players who tend to shine on Thursdays. Really, I'm not sure why I haven't, though I can't imagine a positive reaction to what would amount to an entire article of backhanded compliments.
Anyway, this year's lineup would include long-time team members like Cameron Tringale and Emiliano Grillo, but Hoge would certainly be a starter on this team. He ranks 14th this season in Round 1 scoring average, his 69.71 total a full stroke-and-a-half better than his R2 average. (In Hoge's defense, his R3 scoring average is better than his R1, so he should also qualify for the much less-backhanded compliment of being included on the Third-Round All-Star Team, as well.) In his past six individual starts, he's posted scores of 67, 68 and 69. Those haven't been enough to cash FRL bets, but he's been knocking at the door.
For an unpredictable wager at an unpredictable tournament on an unpredictable course, don't be afraid to take a chance on a bigger number. Hoge's chance should be less risky than others.
Matchup Man
One player who should beat comparable players.
Will Zalatoris
Coming off his first MC in 14 events, I think some bettors might jump off the Willy Z. bandwagon this week, but that might be poor timing. His flatstick struggles might keep him from winning a birdie-fest at this point in his career, but the Dallas native likely had this one circled on his calendar for a while. He's a tough one to figure out exactly how you want to use him, but I especially like him as a plus-money play against some of the bigger names in this week's field, guys who are likely looking ahead to next week and aren't too focused on this one.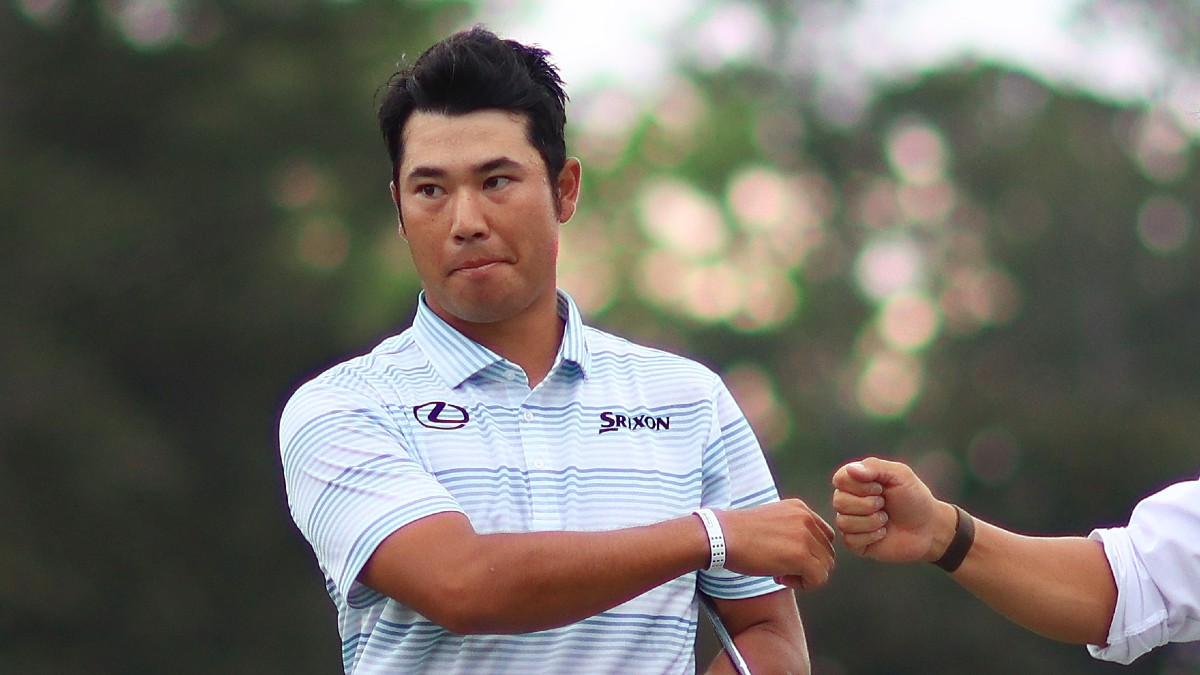 The Big Fade
One top player to avoid at this tournament.
Hideki Matsuyama (+2000)
I was tempted to again list DJ as my favorite fade, but a bomb-it-and-birdie-it type of contest could be just what he needs to get going again. Instead, give me the Masters champion here – a guy who hasn't played since that coronation at Augusta National.
As you might recall, Hideki wasn't exactly kicking the door down prior to that victory; he hadn't posted a top-10 since prior to November's edition of the Masters. After a whirlwind tour of Japan that included a quarantine to start and possibly another at the end, it's tough to imagine he's ready to rekindle the fire that brought him his biggest title last month.
Off Tour
My favorite non-PGA Tour play of the week.
Danny Willett to win the British Masters presented by Danny Willett (+2800)
Sometimes we can stare at tournament fields for hours trying to find that one name which stands out. Other times, it's staring right back at us from first glance. Picking a player to win a tourney with his name in the title is hardly a foolproof strategy, but Willett does have a pair of top-20 finishes in his last five starts on the U.S. tour.
And really, picking Willett at an event presented by Willett has all the underhandedness of that one sharp in your neighborhood who invites everyone over for the Friday night poker game, supplies all the beer and apps, then methodically chips away at the stacks until he's won his own poker game and the losers have to thank him for the beer and apps as they scurry out the door at the end of the night.
How would you rate this article?
This site contains commercial content. We may be compensated for the links provided on this page. The content on this page is for informational purposes only. Action Network makes no representation or warranty as to the accuracy of the information given or the outcome of any game or event.