2021 British Open: Collin Morikawa Wins The Open as Golf's Greatest Contradiction
Credit:
Oisin Keniry/Getty Images. Pictured: Collin Morikawa.
We have seen the future of golf. It is brawn over brains, strength over agility, muscle over sinew. A combination of Brooks Koepka's athleticism and Bryson DeChambeau's power. The game's professional ranks will soon be littered with players who more closely resemble middle linebackers or power forwards, players who start with prodigious length and build the rest of their game around it.
Whether we consider it progress or an epidemic, the chase for speed and distance has become a sprint to some never-ending finish. The continual need for improvement that drove previous generations to spend hours firing at range targets or whiling away on the practice green might extend more to burgeoning weight rooms and breakfast tables.
It can be stated that The Open Championship remains the great outlier, a style of golf wholly unsuited for those whose greatest asset is a 350-yard tee shot.
And it can similarly be stated that Collin Morikawa, the winner of this week's 149th edition of this event and now a champion in two of his first eight major appearances, is golf's beautiful contradiction.
He's listed at 160 pounds, and we could say the proverbial 160 soaking wet, except we've never actually seen him sweat. On Sunday, he started by chasing down leader Louis Oosthuizen and closed by giving the Heisman to hard-charging Jordan Spieth.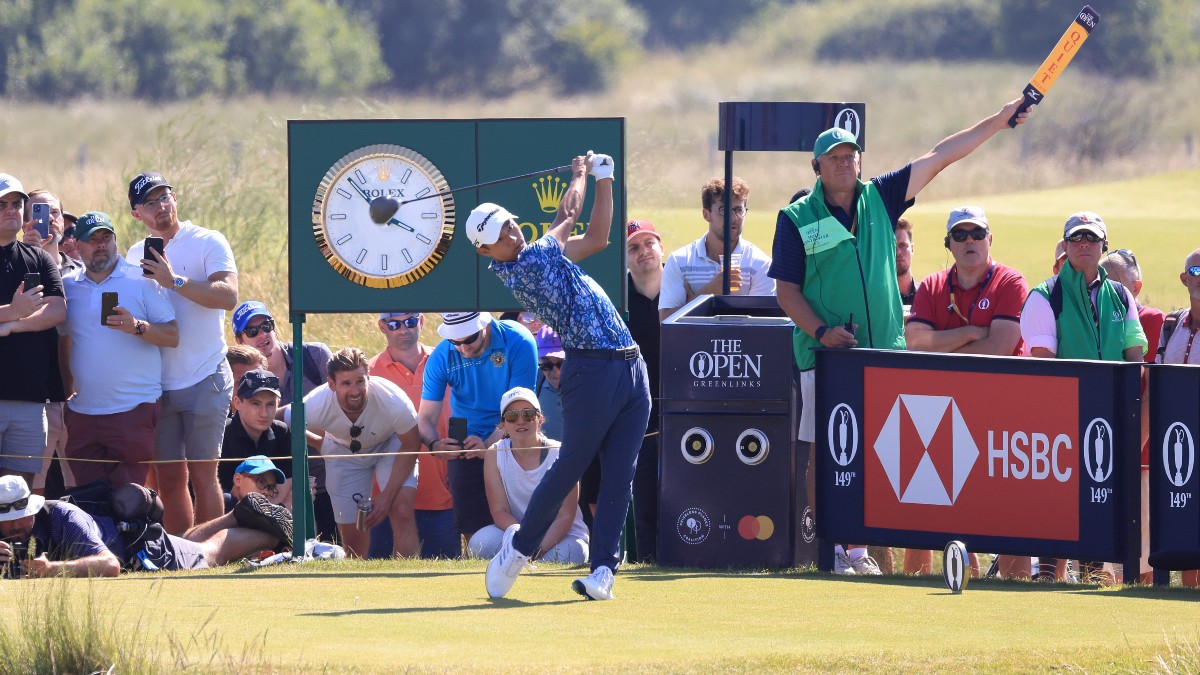 It's not just that Morikawa held him off, though. It's the way he did it that's so impressive. Just like last year's PGA Championship, when he also put one hand on the trophy down the stretch and only continued to tighten his grip, he employed a specialized brand of precision and artfulness to simply keep from making mistakes – and when he did make one, reverse the course of it almost instantly.
This is a sport which witnessed Jon Rahm win the U.S. Open last month, Dustin Johnson claim the Masters last year and DeChambeau take the previous U.S. Open before that. Take nothing away from these three players, each a combined rare breed of both gifted and talented. They do, however, own plenty of similarities; namely, these are the prototypes for golf's impending future, players who are big and strong and hit the ball ungodly yardages.
Those triumphs should only help shine a light on what makes Morikawa's exploits so unique.
In just over two years since turning pro, he's already established himself as the world's best ball-striker. Apologies to Justin Thomas or Xander Schauffele or others, but Morikawa has both the analytics in his favor and the ol' eye test, which serves as irrefutable evidence that he strikes his irons more solidly than anyone else in the conversation.
As if to only exemplify this point, it's been well told in recent days that the 24-year-old had never played true links-style golf until last week's Scottish Open. When he arrived this week at Royal St. George's, he admitted that he still wasn't comfortable with how his clubs struck the uncommonly firm turf.
The true beauty in his latest accomplishment lies within the ability to take a positive that had become a negative and not just turn it back to neutral, but make it a positive again. In fact, it can be maintained that Morikawa's advantage over the field with his iron play was actually greater on foreign soil than it's often been on more familiar surroundings.
None of this is to suggest that, other than Morikawa, only massive physical specimen can win at the game's highest level these days. Hideki Matsuyama, who prevailed at this year's Masters, hardly qualifies as a gym rat. The same can be said for Sunday's closest pursuer, Jordan Spieth, known more for his wondrous short game than any mammoth drives.
Maybe we'll have to start leaning that way for Morikawa, as well. You wouldn't think a player who finds so many greens in regulation would be proficient at getting up and down on the rare occasions he doesn't, but that was another strength this week. If the best ball-striker is also spending the weekend as perhaps the best wedge player and the best putter, that's tough to beat. Essentially, it's always going to be very difficult for Spieth to beat Morikawa when Morikawa is wedging and putting it like Spieth.
If this was a simple one-off, we could explain it away as the perfect combination of a course which doesn't require colossal length and a winner who never had it anyway.
It isn't, though. Instead, this is the continuation of the game's greatest contradiction, as so many of the game's greats keep trying to kill the ball off the tee and Morikawa keeps killing 'em softly.
What he accomplished this week – and what he's accomplished over the first two years of his professional career – would be impressive for any young player. It's even more impressive that he's doing it his way, brains over brawn and agility over strength.
How would you rate this article?
This site contains commercial content. We may be compensated for the links provided on this page. The content on this page is for informational purposes only. Action Network makes no representation or warranty as to the accuracy of the information given or the outcome of any game or event.