2021 Honda Classic Round 4 Buys & Fades: Buy Matt Jones to Get it Done
Credit:
Jared C. Tilton/Getty Images. Pictured: Matt Jones at The Honda Classic.
The teeth came out at PGA National as the wind switched directions from the first two days and played nearly a stroke-and-a-half over par on Saturday. There were a few good scoring rounds put together early in the morning, but the afternoon tee times had to hold on for dear life down the stretch.
It looked like 36-hole leader Aaron Wise might run away and hide on Saturday as he built a six-shot lead through the first five holes, but his round unraveled from there. He gave half of those shots back in his next two holes, and four more before he was done for the day. Matt Jones was the main beneficiary of Wise's missteps, as he was the best of the final few tee times, firing a 1-under 69. Now he takes a three-shot lead of his own into the final round at The Honda Classic.
The Australian has three shots of separation over Wise and J.B. Holmes who will join Jones in the final pairing. Holmes shot a 3-under 67 in his third round to put himself in a spot to contend into Sunday. Behind the pair at 7-under, is a group of three players, including C.T. Pan who shot the round of the day at 5-under and was able to watch most of the rest of the field fall back to him during the afternoon.
It will be a nervy final 18 holes for Jones who seeks his first TOUR win since 2014, but that has been a trend of the season as multiple players have converted their first victories in several years. This is also a course that has trouble and big numbers lurking around every corner, which will likely make things interesting at some point tomorrow.
Let's take a look at the strokes gained data to see who looks like the winner on Sunday and a couple of guys that may be ready to chase Jones down if he falters.
Strokes Gained Explanation
Strokes Gained can give golf bettors, DFS players and fans way more detail on how a golfer is truly playing by measuring each shot in relation to the rest of the field.
Using the millions of data points it collects, the TOUR calculates how many shots on average it takes a player to get the ball in the hole from every distance and situation. If a player beats those averages, he's gaining strokes on the field.
Every situation in golf is different — Strokes Gained measures how players perform relative to the situation.
In this piece, we'll touch on a variety of Strokes Gained metrics…
Strokes Gained: Off-the-Tee
Strokes Gained: Approach
Strokes Gained: Around-the-Green
Strokes Gained: Putting
Strokes Gained: Ball-Striking (which is Off-the-Tee + Approach)
Strokes Gained: Tee-to-Green (which is Ball-Striking + Around-the-Green)
In general, ball-striking and tee-to-green are the most stable long term, while putting is more prone to volatility.
You can often find live-betting advantages by identifying golfers who are hitting the ball well, but just not getting putts to drop. Likewise, players with high SG: Putting numbers may regress moving forward.
3 Golfers to Buy in Round 4

There is no question who the best player of the week has been, as Matt Jones has looked rock solid throughout this tournament. Even in his worst round of the week on Friday, he maintained strong ball striking and managed to grind out an even-par round despite poor putting.
I bought him on Saturday because of his steadiness, and my buy going into the final round is based on that as well. He has shown the ability all week to avoid big numbers, as he's one of the few players without a double on the card through 54 holes. Jones has led the field tee to green throughout the week, and ranks sixth in ball striking on the week. He will look to lean on that good play to help him escape with the win on Sunday, and I think he gets it done.
As of right now, +110 is the best number available at DraftKings, and it's reasonable with his lead, though there are many ways to try to play it.
In 2019 Ryan Palmer posted a final-round 63 at The Honda Classic as he went out early and put a score up for the rest of the field to beat. He would ultimately fall a couple of shots short, but watching the afternoon groups struggle today, it reminded me of his round and what may be available on Sunday.
The issue with that theory is that Jones would have to really blow up and go several shots over par for it to bring many guys into play. I'm going to stick with the group at 5-under or better as I just have trouble seeing anyone else really getting a shot to win without pure chaos.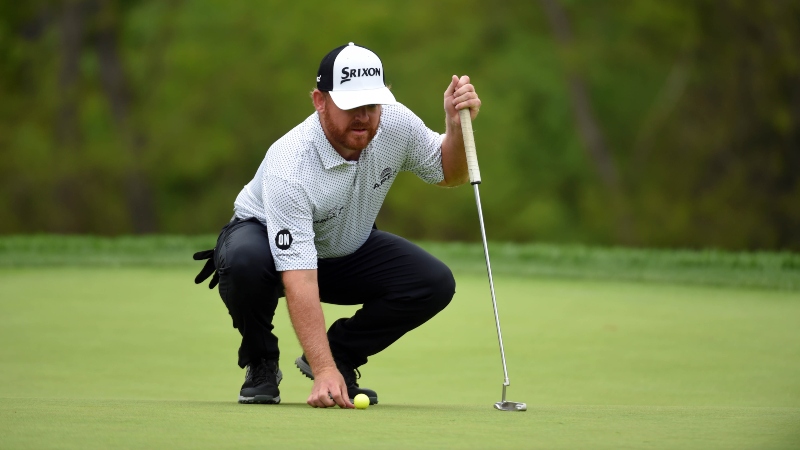 My second buy is going to also come from the final pairing with J.B. Holmes. He has seemingly come out of nowhere this week to put himself in contention, but he has a tendency to do that. His 3-under 67 was enough to put in him the final pairing on Sunday and give him an up-close view of what the leader has going on over every shot.
Holmes ranks second to Jones in strokes gained tee to green on the week, as he gained a field best 4.09 strokes on Saturday. He did nearly all of his work with his approach play in the third round as he gained 4.49 strokes on the filed with his irons and lost a bit both off the tee and around the greens. This was the first round he has lost strokes in any category, which tells a little about just how well he has played this week.
J.B. is known to be one of the slowest players on TOUR, which can work to agitate a fast player like Jones throughout the round. He has also had success in difficult, windy conditions as he did when he won the Genesis a couple years back. As I noted, I expect Jones to get the win, but the +1200 on J.B. is too long for the situation and his good play through three rounds.
My final play is going to be a longer shot, as Stewart Cink gets the edge over Keegan Bradley simply because he's twice the odds, and they've been nearly identical players this week. As is usually the story for both players, they've been great getting to the green and just need to get it in the cup to have a shot on Sunday.
Cink has been the best ball striker in the field this week, and ranks sixth tee to green. He has already capitalized on a low final round for a win earlier this season when he shot 7-under in the final round at the Safeway Open to get his first win in twelve years. He will be able lean on the recent confidence to take a shot on Sunday, and if he can get the putter going, he's certainly worth a shot at +4100 on FanDuel.
3 Golfers to Fade in Round 4
The first fade for me on Sunday comes in the way of the third-round leader, Aaron Wise. The young player has to be dejected as he blew a six-shot lead through six holes to not only fall behind, but eventually fall out of the final pairing.
Wise was the best putter in the field going into Saturday's round, which was predictably going to be a struggle to maintain for a guy ranked 216th in putting this season. The part that I didn't quite see coming was how everything tee to green fell apart as he ultimately lost strokes in every aspect of his game, except for a minuscule .04 gained on approach. I just don't see him being able to bounce back from the disappointment to put himself in position to win on Sunday at PGA National.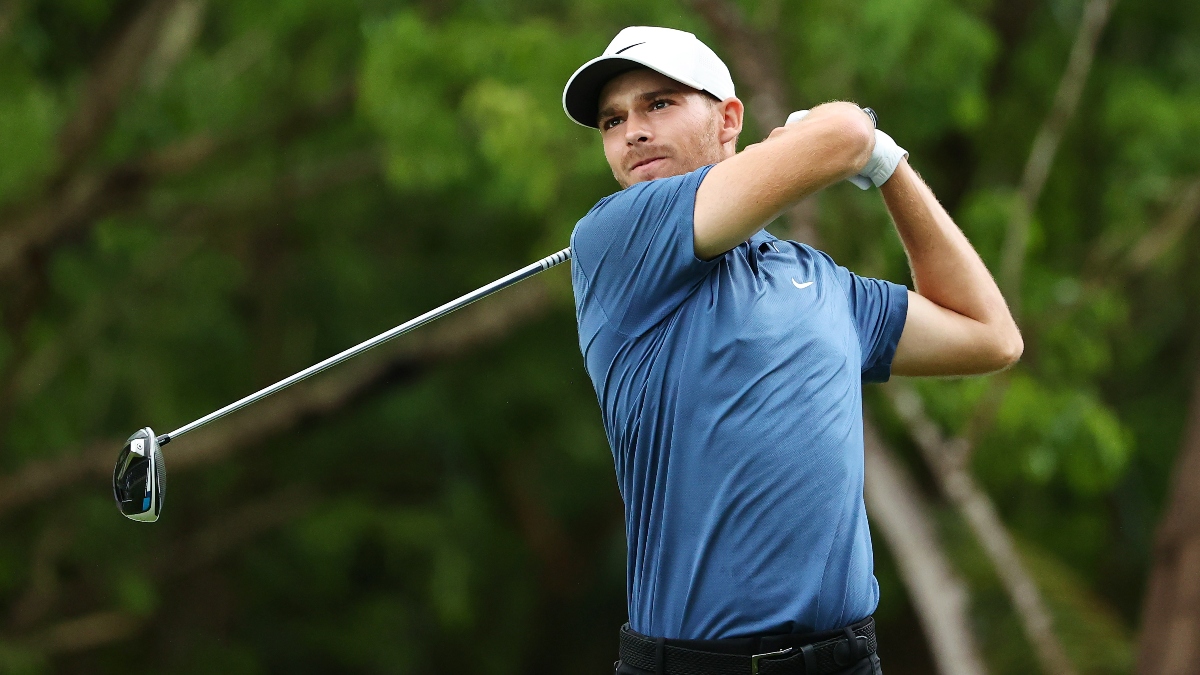 I'll double down once again in this spot, as Sungjae Im catches my eye for his approach play issues. He has somehow managed to still carve out under-par rounds in his title defense despite losing strokes with his irons in every round this week.
Sungjae hit just 11 greens in regulation on Saturday and moved his approach numbers further into the negative as he has now lost 4.19 strokes in the category this week. Every other aspect of his game has been great as he's ninth off the tee, and fourth both on and around the greens. He did flash a glimpse of his issues around the green which have him ranked 192nd on TOUR this year on the 17th on Saturday, leading to double bogey, but he's otherwise been solid. Even though he has done it throughout the week, I just can't trust that he can continue to bail out the missed greens and approach issues with what has historically been a shaky short game.
I'm not sure what has gotten into Lucas Glover this week, but he has been one of the best putters in the field through three rounds and simply can't find his ball striking. He is usually the exact opposite, as a player I liken to Keegan Bradley when he is on, where the ball striking can put him in seemingly can't-miss spots that he still manages to blow with the flat stick.
There isn't much hope in my view for Glover to really get in contention from this far back, but from a DFS Showdown standpoint he may garner some attention. He won't get any run from me though, as looking at his numbers that have been so heavily reliant on the short game, it makes him an easy fade for me in the final round.
Strokes Gained Data for All Players in Round 3
How would you rate this article?
This site contains commercial content. We may be compensated for the links provided on this page. The content on this page is for informational purposes only. Action Network makes no representation or warranty as to the accuracy of the information given or the outcome of any game or event.