2021 John Deere Classic Picks and Preview: Streelman, McNealy and Streb Provide Value
Credit:
Ezra Shaw/Getty Images. Pictured: Kevin Streelman
Two years ago, the golf calendar became more streamlined and compact, with the four major championships scheduled in four consecutive months and the FedEx Cup playoffs finally ending before football season.
It's difficult to see many downsides to a schedule that creates greater momentum, but that doesn't mean some don't exist.
When it comes to the quality of tournament fields, there have always been haves and have-nots — those with all-star entry lists and others which lag behind — but that disparity has grown even larger since the calendar change.
While it can be considered somewhat shocking that the Travelers Championship lured so many elite-level players two weeks ago following a major on the other side of the country and perhaps a bit surprising that the ensuing Rocket Mortgage Classic included a few more big names than recent years, nothing about this week's John Deere Classic field should've been unforeseen.
On the 50th anniversary of what's become professional golf's equivalent of a cult classic, the tourney known for its Midwest charm and conspicuous tractors remains mired in the schedule one week before not just any major, but the one contested abroad.
That's enough to keep most top players away, as evidenced once again.
This event wasn't contested during last year's COVID-19 pandemic, but absence hasn't made the heart grow fonder for many big names. Only five players ranked inside the top-50 on the Official World Golf Ranking will be at TPC Deere Run this week: Daniel Berger (16), Sungjae Im (27), Kevin Na (40), Brian Harman (46) and Si Woo Kim (50).
To some, that might leave a stench reeking of indifference toward this event, but we should know that scent in the air is called opportunity. If you're reading this right now, you'll likely have a little action on this week's proceedings, and if you have a little action, then you should appreciate an event where there is plenty of value all over the board.
Let's take a look at the odds for the last five winners of this event, which hardly tell their entire stories:
| Year | Winner | Pre-Tournament Odds |
| --- | --- | --- |
| 2019 | Dylan Frittelli | +9000 |
| 2018 | Michael Kim | +20000 |
| 2017 | Bryson DeChambeau | +5000 |
| 2016 | Ryan Moore | +2000 |
| 2015 | Jordan Spieth | +350 |
There's so much of this that makes such little sense.
First of all, it was only two years ago, but a search of Frittelli's odds show him everywhere from 66-1 to part of the "field bet" at 5-1, though 90-1 seems to be the prevalent number there.
Kim remains perhaps the unpredictable winner in recent memory, as he didn't own a single top-10 prior to that victory and doesn't own one since then, either. In fact, maybe the biggest surprise here is that he was "only" 200-1.
It's tough to believe now, but it wasn't so long ago that DeChambeau owned longer odds than the likes of Jamie Lovemark, Daniel Summerhays and Bud Cauley.
Moore has been a horse for this course and in fact might still be a somewhat intriguing play this week, though it's worth noting that he's not even the highest-ranked Moore in the OWGR anymore, falling behind Taylor Moore of the Korn Ferry Tour.
Then there's Spieth, who at 7-2 at least keeps us from fully diving into the longshot narrative.
With all of that in mind, let's get to this week's picks, beginning with a guy who might've thrown us off that scent of opportunity just a few weeks ago.
Outright Winner
One player to win the tournament.
Kevin Streelman (+2800)
Two weeks ago, Streelman was an obvious and popular pick at the Travelers Championship. He was fresh off four consecutive top-20s, had won that tourney previously and was runner-up the previous year.
An opening-round 67 had many looking smart early on, but a 72 the following day — hardly a total blow-up – left him on the wrong side of the cut line. One average Friday, though, shouldn't distract us from Streelman's strong run of form lately.
He owns serious Steve Stricker/Zach Johnson vibes, the OG course horses for this one. And while his record here doesn't compare with what he's done at the Travelers, three top-10 finishes in eight career starts shows that the Midwest man likes playing some Midwest golf.
Other OADers
Potential selections for one-and-done options.
Patton Kizzire (+5000)
I've written this many times before, but it's relevant here once again: Even with the onslaught of analytics available these days, I still like perusing the all-around ranking on the PGA TOUR's stats page. This ranking essentially collates a player's ranking in all major statistical categories.
Essentially, it shows us which players tend to do a lot of things really well. As such, the best players are often the ones atop the list. Currently, Xander Schauffele, Jon Rahm and Brooks Koepka are 1-2-3 and most of the top-25 is comprised of exactly the names you'd think would be there.
But sitting at that 25th spot is Kizzire, who's enjoying a sneaky good year, having entered 2021 at 236th in the world ranking and has moved up to 106th. Don't be surprised if that culminates with a victory in a tournament like this one.
Doug Ghim (+5500)
If you're going to take a chance this week, then I like taking a chance on a big talent who hasn't quite put it all together yet. Ghim is quickly being placed by bettors in that Corey Conners/Keegan Bradley/Emiliano Grillo/Byeong-hun An category of great ball-striker who can contend if he putts decently. I don't mind taking a chance on the putter getting hot this week.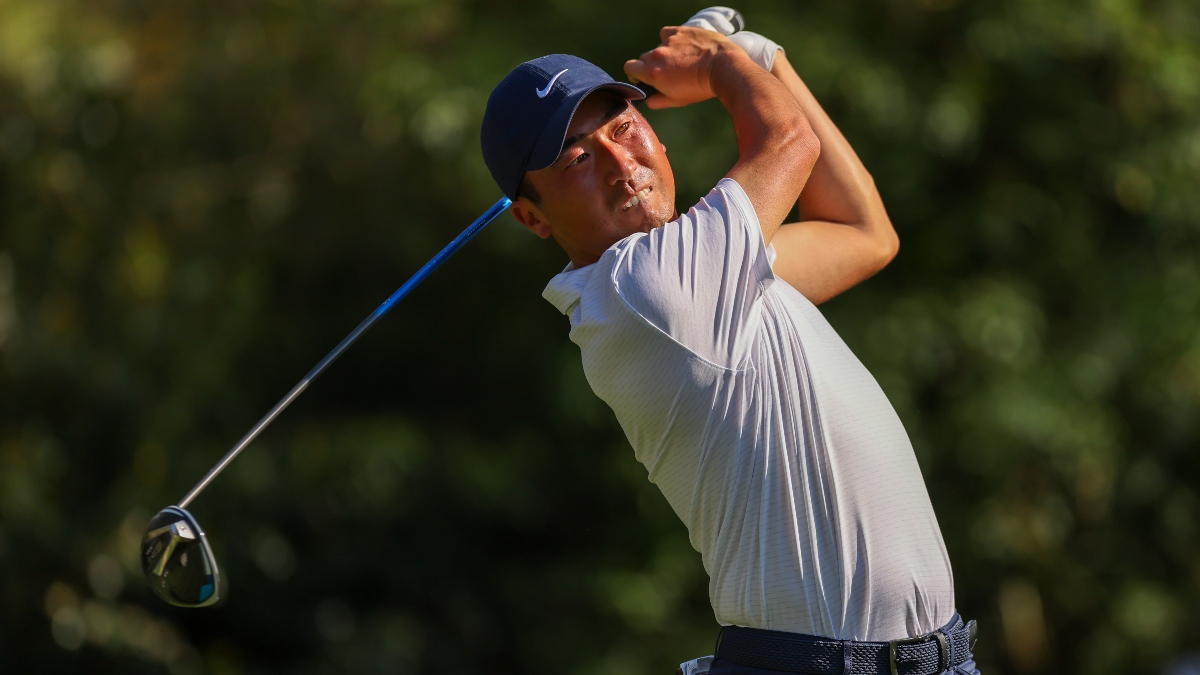 Steve Stricker (+6000)
How much does Stricker love this event? So much that he's skipping his title defense at this week's U.S. Senior Open to play here. If Phil Mickelson can win a major at the age of 50, then the three-time champion of this event can certainly win this one at 54. If you've used up (or don't want to burn) some of the bigger names in this week's field, Stricks should be a nice OAD pivot here.
Satoshi Kodaira (+17500)
I honestly thought there was some mistake when I started scrolling down the odds board this week and didn't see Kodaira's name. Turns out, he's got some Cam Davis-level prices this week, which makes very little sense. He's coming off an MC at the Rocket Mortgage, but his previous four finishes were 36th-19th-13th-11th.
I don't love the fact that his results have moved in descending order in his past five starts, but I do like this number in the betting markets and certainly don't mind him as a contrarian OAD play on a week when most of your fellow poolers will stick with the guys at the top.
Top-Five
One player to finish top-five.
Maverick McNealy (+800 for top-five)
So far this year, McNealy is proving to be a short-course assassin. He was runner-up at Pebble, T-4 at Harbour Town and T-20 at Colonial, which is more than just a coincidence.
It's taken a little while, but the all-everything up-and-comer from Stanford is starting to realize his full potential on the highest level and this should be a perfect fit once again.
At 7,257 yards, Deere Run is longer than those aforementioned three host venues, but it never feels like it plays that long. He should be in the mix once again.
Top-10
One player to finish top-10.
Aaron Wise (+350 for top-10)
Unfortunately for Wise, I've got to put him in a special personal place alongside Doc Redman right now: Two players with huge futures whom I really like, but absolutely keep getting wrong on a weekly basis. (Sorry to vent, but I'm fresh off a week when I had a DFS lineup that included all three RMC playoff competitors, two other contenders and my man Doc, whose MC might've been more costly for me than it was for him.)
That said, I'm going to keep firing here. Simply put, Wise is more talented than probably 98 percent of this field. That doesn't mean he's going to pop this week, but I'd hate myself if I left him off the card.
Top-20
One player to finish top-20.
Robert Streb (+500 for top-20)
I found it funny this past week, when so many fans supported Phil Mickelson's stance about a report not helping a community and its event, or Bryson DeChambeau's decision not to speak after either of his rounds, despite being the defending champion.
Many of these assertions from the public (on social media, at least) contended that us media folks only ask poor questions and don't provide insight and — this one really got me LOLing — that players shouldn't have to speak to the media if they don't want to anyway.
Now for the funny part: Every single time, without fail, that I meet someone and my occupation comes up, I'm asked what players are "really like" and which ones are the "nicest guys."
For the masses out there to claim that they don't need or want to know anything about a professional golfer and just want to watch them play golf is the most laughable assertion that I've heard in a while. Literally, everyone wants to know as much about these guys as they can.
Anyway, that's a really long-winding path to make the point that Streb is once of those "nicest guys" and he's playing well right now, so I like him for a top-20.
Top-30
One player to finish top-30.
Adam Long (+225 for top-30)
Two weeks ago, Long was one of my favorite longshot plays at the Travelers. Since then, he's parlayed a pair of top-30 finishes into a pair of MCs. Even so, I don't think he's far off from playing well once again, so this feels like a good spot for a cautious top-30 play.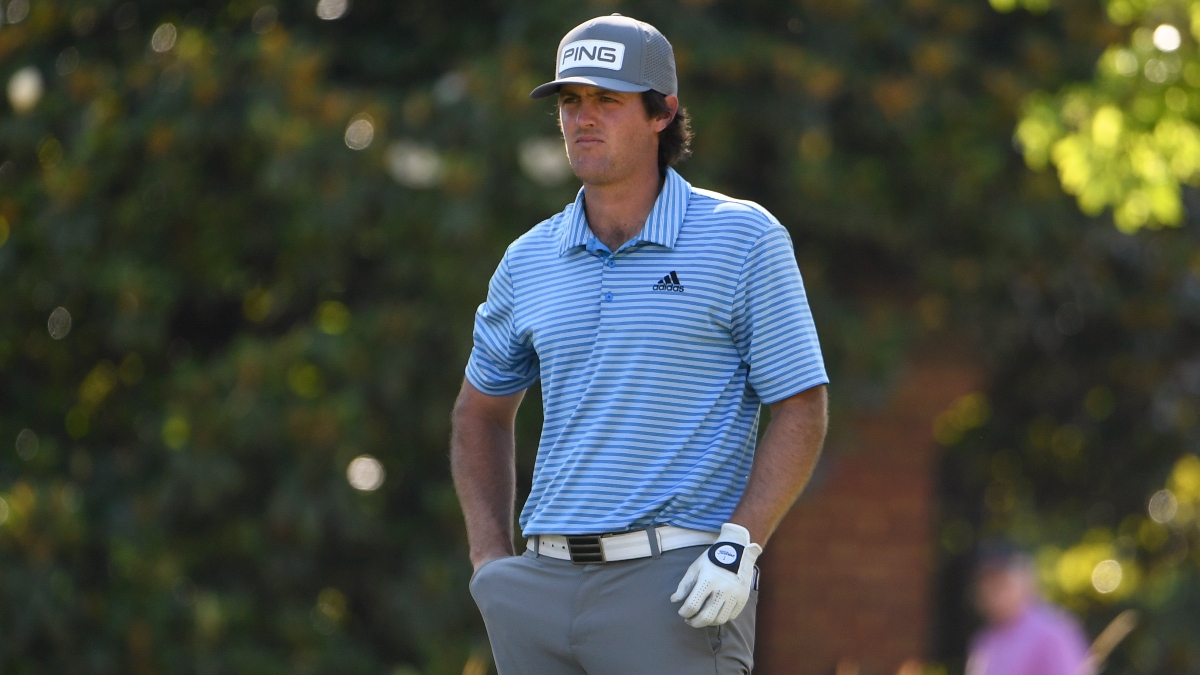 Top-40
One player to finish top-40.
Mito Pereira (+150 for top-40)
After winning three times on the KFT — including his final two starts — and earning a battlefield promotion to the big leagues, Pereira underwhelmed last week in his first start as a full-time member, missing the cut. He's obviously, though, been playing very well this year. In what should remind him — at least a little bit — of one of those KFT fields, I think he'll bounce back with a little more comfort on this level at this one.
DFS Free Bingo Square
A safe plug-and-play option for DFS.
Brian Harman
I'm admittedly pretty terrible at trying to guess DFS ownership percentages early in the week, but I'd venture to guess that the nature of this week's field should provide more disparity in these levels than most other weeks.
Everybody is going to have a few favorite cheap plays and I believe they'll be more spread out than the usual flavor of the week types that we so often see. As such, I don't mind getting a little more chalky at the top. Berger and Im should also be popular top-of-the-lineup guys, yet Harman is the one who should be hungriest for another title contention.
With eight top-20 results in his last nine starts, this play is more low-hanging fruit than going out on a limb, but I'd rather differentiate later in the lineup than up at the top.
DFS 'Dog
A lower-priced option for DFS.
Roger Sloan
You might not be able to pick this Canadian out of a lineup, but that doesn't mean you shouldn't pick him for your lineup. (See what I did there? Groan away.) Sloan is coming off a T-21 last week and owns four top-25 finishes in his last 10 starts.
He tends to specifically shine against inferior fields such as this one, but should fly under the radar with – and again, I'm terrible at these predictions – pretty low ownership. In two previous starts at this event, he's finished T-10 and T-18.
First-Round Leader
One player to post the low score Thursday.
Scott Stallings (+7000 for FRL)
Truth be told, Stallings is a guy I'd had earmarked months ago as an under-the-radar top-20 type of play at the U.S. Open — if only he'd, you know, gotten into the field.
Even so, he's been trending in the right direction and I think there's some value in him as FRL this week. He's posted two 67s, a 68 and a 69 among his last seven Thursday rounds and owns three finishes of 18th-or-better in his last four starts at the JDC.
Matchup Man
One player who should beat comparable players.
Wes Roach
You might not have clicked on this preview expecting to read some insight on Wes Roach matchup bets, but here we are.
As I often write, I like playing guys in H2H wagers who tend to make a lot of cuts, essentially giving us a chance to win these bets on either Friday or Sunday. Roach hasn't gotten much attention for his efforts, but he does own 10 made cuts in 11 total starts this year, going back and forth between the PGA TOUR and KFT.
This one might have the feel of the former as much as the latter, so I don't mind getting a good number on a guy who knows how to reach the weekend.
The Big Fade
One top player to avoid at this tournament.
Zach Johnson (+3500)
Yeah, I get it: Zach has treated this tourney like his personal ATM over the years, with a win, three runners-up, two thirds and more finishes inside the top-25 (10) than outside of it (8) in his career.
But I also get a few other things: The first is that these past results are heavily baked into his odds this week, as he hasn't been anything close to 35-1 anywhere else in the past few years. The second is that his recent form has left a lot to be desired. He was T-25 in his last start at the Travelers, but owns just one top-20 finish in 15 starts during this calendar year.
I think he can certainly find some good vibes and play some decent golf this week, but I also believe this is an egregiously short number at which to chase him.
Off Tour
My favorite non-PGA Tour play of the week.
Branden Grace (+3300) at the Scottish Open
The truth is, I could've — and maybe should've — spent the previous 2,350 words on the Scottish Open instead of the John Deere Classic, considering this week's Euro Tour event in advance of The Open Championship features the likes of Jon Rahm, Xander Schauffele, Collin Morikawa, Rory McIlroy, Justin Thomas and Tyrrell Hatton.
Expect this to be a popular event for both the betting and DFS markets this week. Even though players such as Aaron Rai and Brandon Stone have won here in recent years, I wouldn't look too far down the board for a potential champion.
The only player to ever post a 62 in a major championship round, Grace did so on a links course, which should translate to this week's host venue North Berwick. (A course which, oh by the way, should be an outstanding watch on TV.) I don't mind Ian Poulter or Matt Wallace here, either, but Grace is my favorite play in an obviously packed field.
How would you rate this article?
This site contains commercial content. We may be compensated for the links provided on this page. The content on this page is for informational purposes only. Action Network makes no representation or warranty as to the accuracy of the information given or the outcome of any game or event.