Sobel's 2021 Masters Betting Picks & Preview: Jon Rahm Has the Best Value at the Top of the Oddsboard
Credit:
Michael Reaves/Getty Images. Pictured: Jon Rahm
It's April, the azaleas are blooming and Masters week is finally underway. If the world hasn't exactly felt normal for the past year, perhaps this can provide a much-needed sense of normalcy.
Played in November without spectators, the previous edition of this tournament was anything but normal. Dustin Johnson posted the lowest four-round total in tournament history, Cameron Smith became the first player to total four rounds in the 60s and the scoring average of 71.75 was the lowest of all-time.
On an uncharacteristically softer course, it offered all the usual goosebumps of watching the year's most anticipated tournament without all of the oohs and ahhs we've come to expect.
All of which leads to a question: How much should we factor November's edition of this event when handicapping this week's version?
The simple answer is: Not that much.
Sure, there are some nuances we can take from that one and apply here. If you learned that Sungjae Im isn't just a ball-striker, but owns a short game deft enough to win, that's fair. If you recall that longshots such as Dylan Frittelli and C.T. Pan remained on the leaderboard throughout the weekend and want to use this info to pick a few other dark-horses this week, that's fine, too.
So much of what happened, though, will hardly translate.
Scoring won't be as low, greens won't be as soft and even with limited spectators on-site, the nerve-factor should be higher than it was last year.
There is one similarity, though: The hype.
The previous edition of the Masters was hyped up beforehand just for the uniqueness of the situation. We hadn't witnessed this event in 19 months and we'd never seen it played in November before. Those facts alone were enough to pique our collective interest.
This week, that level of intrigue is coming au natural.
On Sunday alone, Jordan Spieth won for the first time in nearly four years, Brooks Koepka showed up at Augusta National and insisted he'll play despite recent knee surgery and Jon Rahm became a father just a few days early, ensuring he'll be in the field, as well.
This is hardly unprecedented hype entering Masters week. In fact, maybe it's just normal.
But with the tournament finally back in its rightful place in the spring, with the azaleas blooming and the world's best players ready to battle for the green jacket, there's nothing wrong with a healthy dose of normal.
I'll have my ranking of the entire 88-man field posted later this week, but for now, let's get to some early predictions – starting with an un-asterisked superstar looking to win his first major championship.
Outright Winner
One player to win the tournament.
Jon Rahm (+1300)
Not gonna lie: I really wanted to pick Jordan Spieth in this spot. For the last month or so, really. He was my guy. Until something happened: He became everyone else's guy, too. I still like him; I still think he has a great chance of winning this week.
But in the non-Tiger Woods category, when "everyone" is on a specific player prior to a major, it usually doesn't work out that way. There's also whatever the opposite of buyer's remorse is. If you didn't get him two months ago in the 60/1 range, it's pretty disconcerting to pay up for whatever ridiculous price he winds up being by the time these festivities kick off Thursday morning.
All of the public zigging toward Spieth leads me to zag in Rahm's direction instead. The reality is, I could have gone in a lot of different directions with this pick, but the form/history combo was too tantalizing to ignore.
Just a few days ago, I was fully prepared to supplement all Rahm mentions with an asterisk, since his wife Kelley was due this week with the couple's first child and he recently said he'd withdraw from the Masters should the birth be imminent. Ah, silly me. Of course the little baby boy named Kepa wouldn't kept his dad from competing this week, as he was born Sunday, a day Rahm called, "Without a doubt, the greatest day of my life."
There are now some serious Danny Willett vibes going on, as the 2016 champion was planning to miss that year's Masters if his son wasn't born ahead of time, but the baby came early and the rest became history. Still looking for that first major, this should be the one for which Rahm has the best chance, with finishes of 7th-9th-4th over the past three years. Meanwhile, he's finished top-10 in his last two starts, seven of his last nine and 10 of his last 14, the last of which dates back to last year's FedEx Cup playoffs. Throw in the fact that he's 14th in strokes gained on approach shots this season – as important as any metric this week – and that's a lot of trends to be pointing directly at Rahm.
Here's hoping that one week after the greatest day of his life, he's calling this coming Sunday "the second greatest day of my life."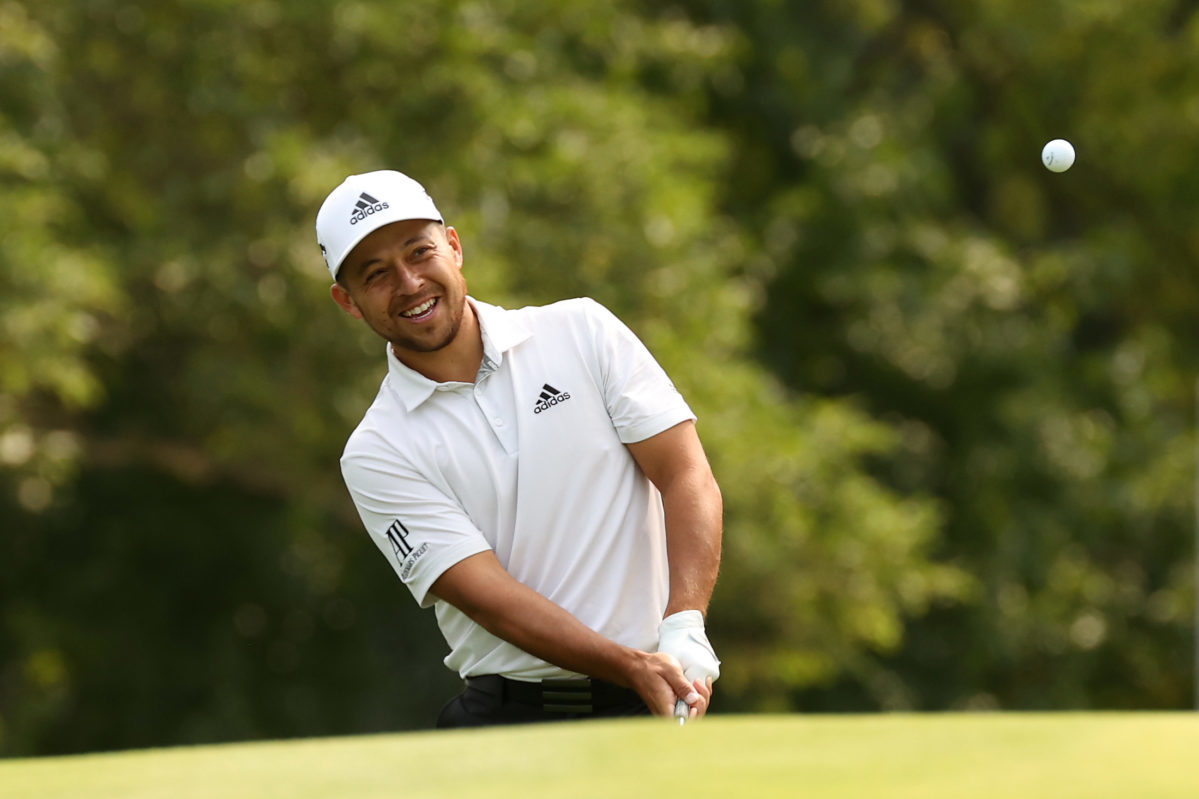 Other OADers
Potential selections for one-and-done options.
Xander Schauffele (+2600)
Full disclosure: I finished writing this preview Sunday night around 2 a.m.  after arriving in Augusta and went to bed with Schauffele listed above as my favorite outright play. When I woke up Monday morning, I flipped to Rahm.
Even some of the world's best players have a list of pros and cons next to their names this week. Xander has 'em, too, of course. The pros: He's unbelievably talented, the prototypical world-class player who "does everything well," and he also tends to play his best golf in the biggest events, his 14 career major starts yielding two runners-up, one third-place finish, two other top-fives, two more top-10s and just a single missed cut.
The cons: He not only hasn't won in 27 months, he's faltered in a handful of situations where he had a chance, plus his recent results of 18th-MC-39th don't exactly inspire tons of confidence. If we're looking for ways to explain away these cons, we can point to the fact that he's at least proven he can play well enough down the stretch on a Sunday to win and three of the last five Masters champions didn't come close to seriously contending in their last few stroke-play events prior to those victories.
Did I feel completely confident in this Schauffele selection when he was tops amongst my entire list? To be honest, not really. I do, however, think the winner will come from the upper tier of the world's top players and could be a guy who is a bit overlooked right now.
That fits Xander's profile – and it's just the way he likes it, under the radar and without a target on his back. If nothing else, I think he makes for a strong OAD play.
Patrick Reed (+3500)
I hate making Masters predictions months in advance. Sure, I understand the value in placing a few futures bets before the odds shrink, but when people ask me for a pick so far before the tournament, I usually respond with a few questions of my own. What's the weather going to be like that week? Who played well in the previous few events? Are there any known injuries? The point is, it's silly to make a pick in January that doesn't feel right in April. That said, a few months ago, I started thinking that Reed could have another very special week in Augusta.
Even if the entire world might be rooting against him, I love his guile and determination in such scenarios. What's weird, though, is that his stats are a bit all over the place considering his skillset. His driving distance numbers are way down from previous years, his approach game numbers are just slightly above average and his putting numbers are the best of anyone.
We've been taught in the prognostication game that ball-striking stats have longevity and putting stats can be fleeting, so what should we make of Reed's numbers so far? It's tough to say, really. But I do agree with something my podcast partner Justin Ray of the 15th Club said recently: The tougher this course is set up, the better Reed's chances.
On a fast, firm course, where players often have to get up and down from tight lies, this could be right up his alley.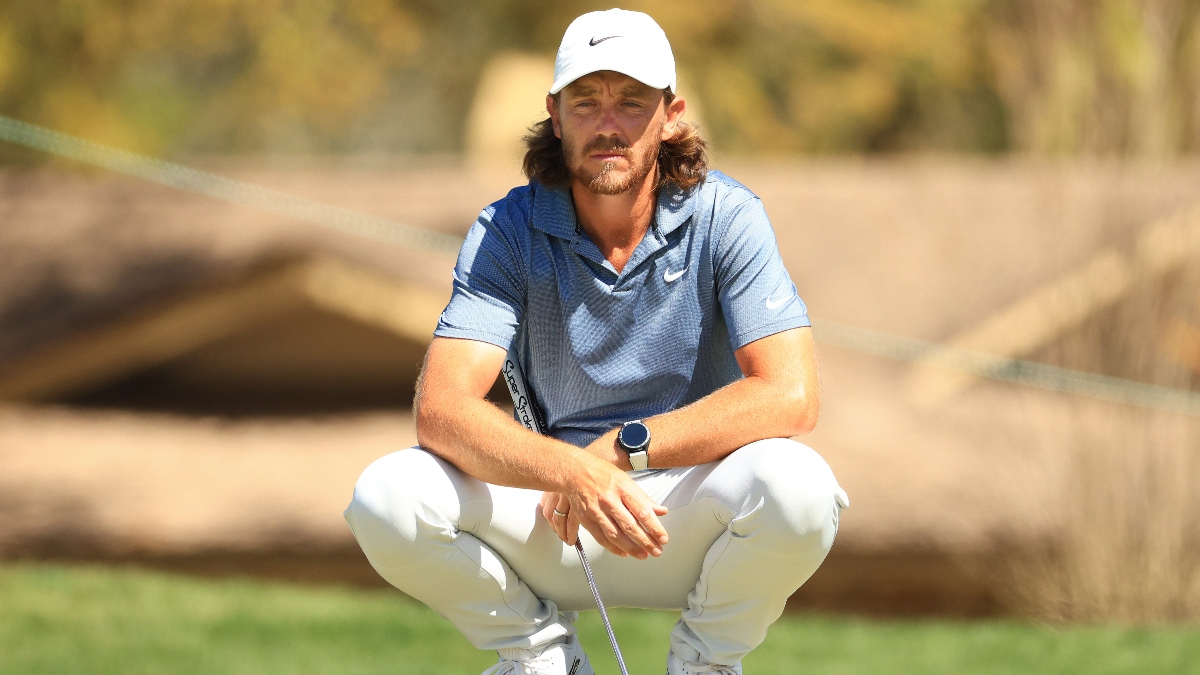 Tommy Fleetwood (+6000)
Speaking of a fast, firm course, one of the first names that should spring to mind in these conditions is Fleetwood, who offers value as a high-upside contrarian play.
He admittedly hasn't played his best golf over the past year, though a T-10 at the Arnold Palmer Invitational and a trip to the quarterfinals of the WGC-Dell Technologies Match Play suggest he might be turning the corner. He also hasn't played his best golf at Augusta National, with a best finish of T-17 in four career starts. That should be enough to keep most OADers away from him – especially in those pools where only one player is picked – but he certainly owns the talent to make a serious run at the title this week.
For those who pick multiple players in an OAD or Masters-only contest, he's the type who could be a make-or-break play and a way to deviate from the norm.
Patrick Cantlay (+2200)
If Fleetwood is a true contrarian play, then Cantlay is a contrarian play for those who think they're being contrarian and really aren't.
I get it: Maybe you want to steer clear of the bigger names who are likely to be picked in pools, but don't fool yourself into thinking that the world's 10th-ranked player is some sort of under-the-radar dark-horse.
Cantlay actually led the 2019 version of this event on the back-nine of the final round for a minute or two before finishing in a share of ninth place. I often put him on the same pedestal as Schauffele – essentially, a world-class player who might not wow observers with his driving distance or his putting stroke, but one who does everything very well.
I have zero problem with a sprinkling of outright plays on him, some props and, yes, in OADs. Just don't think you're going against the grain with such a pick.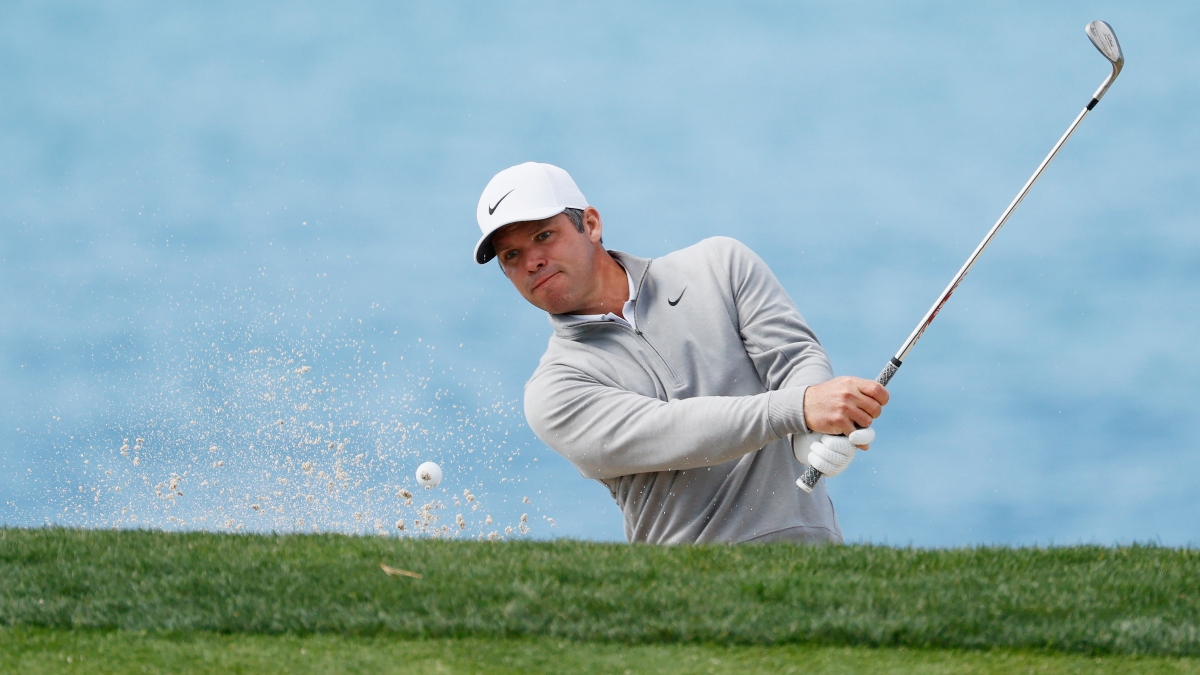 Top-Five
One player to finish top-five.
Paul Casey (+550 for top-five)
Over the years, I think Casey has gotten a bad rap as a player who can't get it done on Sundays and doesn't always show up in big situations. That's not really fair. No, he doesn't have a major. And sure, he could've won a few more PGA TOUR titles over the years, but he is a world-class talent who's been very good for a very long time – perhaps never as good as he is right now.
In his past half-dozen stroke-play events, Casey has finished 5th-10th-5th-12th-1st-8th, with that victory coming in Dubai, which happened to be a precursor for Sergio Garcia and Danny Willett winning the Masters, too. As for this event, he's made 14 previous starts and owns five top-10s and eight top-20s.
I could easily see Casey being the 54-hole leader entering Sunday's final round and maybe just not having quite enough juice to get it over the line, but still finishing near the top of the leaderboard.
Top-10
One player to finish top-10.
Corey Conners (+400 for top-10)
As I wrote in my piece analyzing 10-year Masters trends of betting odds and final results, over the past decade there have been 112 players who claimed top-10 finishes at this event (including ties, of course). Of those 112, a fairly substantial 31 of them – 27.7 percent – owned triple-digit pre-tournament outright odds. What that should tell us is that this is a good spot to take some chances.
Hell, just five months ago, C.T. Pan was 1000/1 outright and claimed a T-7 result, while three others at 100/1 or more – Sungjae Im, Cameron Smith and Dylan Frittelli – were each top-five. As tempting as it might be to go all-chalk up top, it never works out that way.
Conners isn't exactly an out-of-nowhere no-name, but he's at least a name below the superstar level who should ascend this leaderboard, based on his elite-level ball-striking and strong run of recent results.
He's already been-here, done this, too, having finished T-10 at last November's edition of this event.
Top-20
One player to finish top-20.
Will Zalatoris (+188 for top-20)
You know what they say about Augusta National: It takes a lot of experience to figure out this course, so forget about those Masters rookies. By and large – though not unanimously – this is true for winners, but it really hasn't been the case for top-20s. Last year, five first-timers cashed top-20 tickets – Sungjae Im, C.T. Pan, Abraham Ancer, Scottie Scheffler and Cameron Champ.
Zalatoris is a strong bet to mirror this feat, because, well, he seemingly finishes top-20 every week. Since last year's U.S. Open, he's played 14 events on the PGA TOUR and claimed eight top-20s – and that includes recent near-misses of 21st, 22nd and 28th in three of his last four starts.
Like I wrote about Conners above, Zalatoris is an elite iron player, which is the name of the game at Augusta National. Expect him to finish top-20 and expect people to gush with shock over this result, even though it shouldn't come as much of a surprise.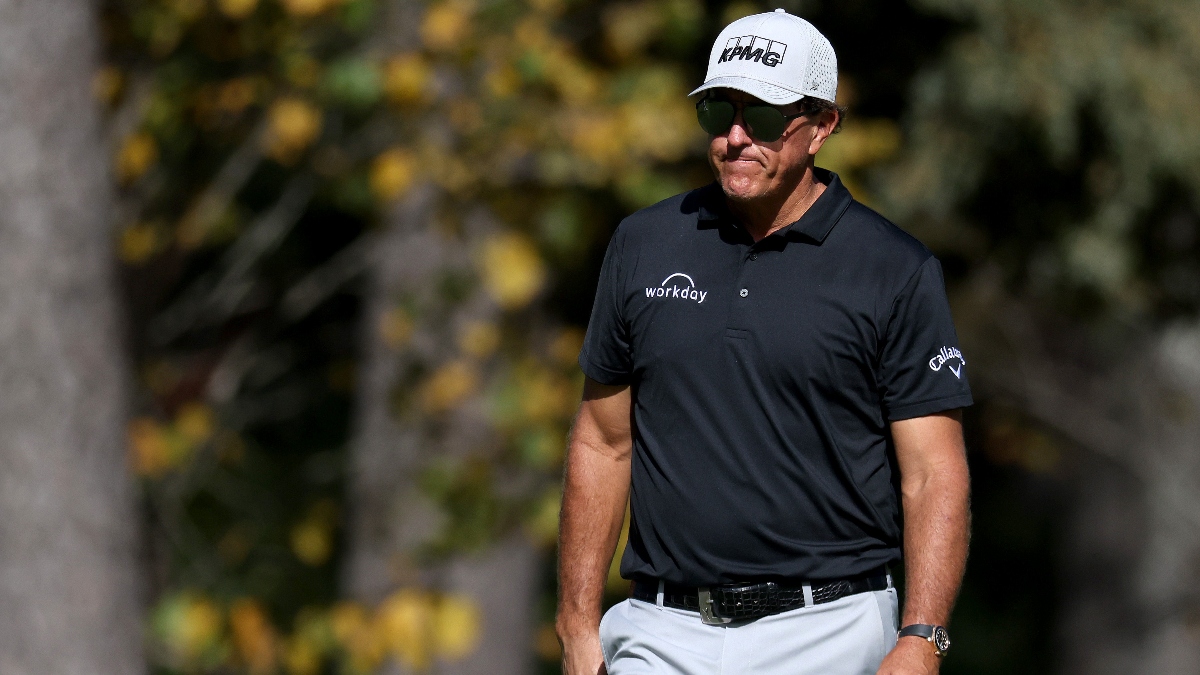 Top-30
One player to finish top-30.
Phil Mickelson (+175 for top-30)
It feels like every year, some over-50 ex-champion makes an early run up the leaderboard. It's often been Bernhard Langer, but Fred Couples and Vijay Singh have had their moments, too. It speaks volumes about Mickelson that he's now lumped into this category, but think of it this way: He owns a lot more value as an elder statesman than one of the favorites.
The biggest news in Lefty's performances lately was the 9 – or was it a 10? – he posted on the final hole of last week's Valero Texas Open. That should keep the masses away from him this week. While I wouldn't exactly load up, I do believe that motivation and inspiration alone should propel him into the top-third of this week's field.
He might not be the same player he once was, but he has cashed top-30 tickets in 20 of 28 career Masters starts and he's had an off-again, on-again pattern over the last five years which suggests this will be one of those years he's back on the top-30 radar.
Top-40
One player to finish top-40.
Tyler Strafaci (+600 for top-40)
One trend in the game over the past decade is that young players are ready to compete alongside the biggest names earlier in their careers. This doesn't just refer to the likes of Jordan Spieth and Collin Morikawa winning majors as early twenty-somethings, either.
This trend has manifested in amateurs being more ready to play the Masters, as evidenced by a whopping six of 'em to make the cut in the past two years. Due to many amateur events being canceled because of the pandemic last year, there are only three ams in this year's field, but we can still find one to follow in these recent footsteps. Strafaci is the reigning U.S. Amateur champion and at 11th in the WAGR, the highest-ranked amateur in this field.
If you're looking for a top-40 play with some value, you might be able to make money on Strafaci than he can make on himself this week.
DFS Free Bingo Square
A safe plug-and-play option for DFS.
Justin Thomas (DK $10,600; FD $11,800)
If you were scrolling through this preview waiting for the JT reference, you finally found it. Not that I'm burying the recent Players Championship winner here – not even a little bit. He's one of my favorite plays on the board. The truth is, I picked him to win the green jacket back in November and there's no reason to like him any less this week.
The best iron player in the world, Thomas holds value across the board, as I certainly wouldn't talk you out of any outright or top-five plays on this week. He might hold the most value, though, in DFS, as the elite-level superstar with not only a high ceiling, but potentially the highest floor, as well.
He's improved in each of his five appearances, starting with a T-39 back in 2016, followed by T-22, T-17, T-12 and finally solo fourth. That pattern certainly portends good things this week for the recent PLAYERS Championship winner, who can obviously get hotter than anyone with his ball-striking.
For DFS purposes, if you're paying up for a stud, he might be chalky, but I just don't see him laying an egg this week.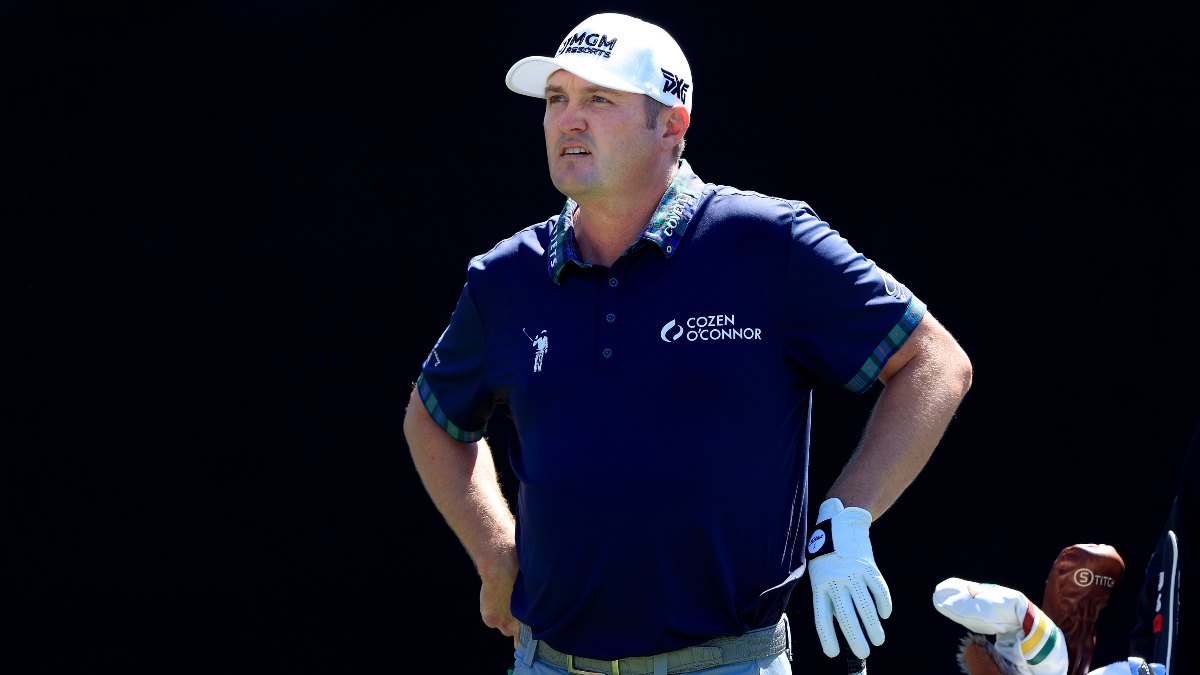 DFS 'Dog
A lower-priced option for DFS.
Jason Kokrak (DK $6,900; FD  $8,600)
With bigger prize pools for major championships and other big events, the DFS providers will usually spread player pricing, leaving more potential combinations.
I understand that concept and don't disagree with it, but I'll still maintain that Kokrak is comically underpriced in every format. He's finished 9th-8th-9th in his last three stroke-play events and got that first Masters start under his belt in November. That one resulted in a missed cut, but I expect something much better this time around.
There are plenty of DFS bargains this week, but none more than a guy with no fear and tons of offensive firepower. 
First-Round Leader
One player to post the low score Thursday.
Jordan Spieth (+2200 for FRL)
Whether you're hopping on the bandwagon for outright bets or fading him through four rounds, there's value in Spieth as FRL, where his opportunity might be even better than winning.
It's hard to argue with how he's played on Thursdays, breaking 70 in five of his last seven opening rounds, while posting a scoring average of 68 – including an opening 5-under 67 last week, the lowest number of the morning wave and one which looked like it might hold up as FRL until the winds died down in the afternoon. He's similarly posted some low starting totals at Augusta, cashing FRL tickets in 2015, 2016 and 2018. That's simply too much history – both recently and at this venue – for us to ignore.
Oh, and in case you hadn't heard, he just happens to be riding a little momentum down Magnolia Lane. Again, if you're skittish about betting Spieth outright, but want to have some sort of investment in him this week, this is an option with plenty of potential.
Matchup Man
One player who should beat comparable players.
Matt Fitzpatrick
This is a guy I've recommended a lot lately — and one who's largely responded, despite not yet claiming his first PGA TOUR victory. Matt (don't call him Matthew) has finished 18th-or-better in each of his last six worldwide starts. As we're often reminded, he tends to play his best golf when par is a good score.
The faster and firmer and tougher than Augusta National plays, the more I like him this week. I've specifically listed him here for matchups, because he rarely MCs, which means he essentially has opportunities to cash these tickets on both Friday and Sunday.
The Big Fade
One top player to avoid at this tournament.
Rory McIlroy (+1900)
Here's a fun fact: In each of the last 10 editions of the Masters, McIlroy has found himself within the top-five on the pre-tournament odds board. Here's a less-fun fact: He didn't win any of 'em.
It takes a unique blend of talent and longevity to be considered amongst the favorites for an entire decade, but something has clearly been wrong with Rory's game lately. Don't take my word for it, either. Ask him. After all, he didn't recently start working with noted swing instructor Pete Cowen because he was hitting it too good. I don't dislike this plan – in fact, over the long haul, I love it, as Cowen is the type who can rekindle better swing thoughts for McIlroy in years to come.
I do question the timing, though. This has all feel of an NFL team starting off 2-4, then bringing in a new coaching staff with a different playbook in hopes of turning things around to make the playoffs. Essentially, the move to Cowen should be considered more of a long-term solution than a quick fix.
That's not to say I believe McIlroy will flame out after two rounds and be heading home with an MC, but amongst the game's elite-level players, I believe he's the one with the most question marks right now.
How would you rate this article?
This site contains commercial content. We may be compensated for the links provided on this page. The content on this page is for informational purposes only. Action Network makes no representation or warranty as to the accuracy of the information given or the outcome of any game or event.