2021 Olympic Men's Golf Best Bets & Preview: Justin Thomas a Top Play for Gold in Tokyo
Credit:
GLYN KIRK/AFP via Getty Images. Pictured: Justin Thomas
The PGA TOUR takes a break as the Olympics welcome golf to the games for just the fourth time ever.
The event features 60 golfers from around the world and is held at Kasumigaseki Country Club.
Jason Sobel previews the event below and gives his favorites to take gold.
Before I break down my favorite betting possibilities for this week's men's golf competition in the Olympics, I have a confession to make: I'm still not totally sold on this whole idea.
Or perhaps more specifically, I'm not totally sold on many of the details around it.
Call me old-school, but I still like the idea of a group of unknown amateurs competing for country and pride, whether the event is basketball, track and field or anything else. The United States' men's hockey victory in 1980 ("Do you believe in miracles? Yes!") wouldn't hold quite the same place in our collective hearts if it was achieved by a bunch of NHL all-stars.
I understand, though, that I'm in the minority here. Television rights are massive and there's a thirst to showcase the world's best players. If these players are into it – and so far, it's been a mixed bag; some elite players are all-in, others are completely apathetic or don't want to adjust their schedules – then I can be into it for them.
There's something about watching elite pros compete for non-monetary rewards that warms the heart a bit. We obviously won't witness Ryder Cup-level intensity, but the romanticism of playing for pride remains.
Speaking of the Ryder Cup, I also wish there was a different format to this competition.
Both this week's men's event and next week's women's tourney will be played as a 72-hole stroke-play format. Yawn.
Here we have four years (OK, five in this case) of build-up leading to a special event that will look … just like every other event we watch every week.
It would've been fun to watch some sort of team competition – especially if that team competition included a mixed component, with men and women competing together. Of course, this probably isn't fair to the qualifier who is the lone world-class player from his country and would be hamstrung by not having a relevant partner, though I suppose you could say the same thing about the elite basketball star who isn't surrounded by similar talent.
If nothing else, maybe it could've been a different individual format than stroke play. As much as I chafe at the far-flung idea of match play at something like the PGA Championship or to determine a FedEx Cup champion (these events are TV shows and this format is often an inverted pyramid, offering less excitement as the week progresses), I think it would work here, with the added bonus that the usual meaningless third-place consolation match would actually be for a bronze medal.
OK, enough of my old-man, get-off-my-lawn grousing about this thing. Despite the desire for some changes in the details, I really am fired up for this thing.
The event will be begin on Wednesday night around 6 p.m. ET at Kasumigaseki GC, about an hour outside of Tokyo, which plays as a par-72 at 7,466 yards. I'm not going pretend I know much about the course, but some have suggested a visual comparison to Augusta National (which plays just nine yards longer on the scorecard), which has me leaning toward those who have enjoyed some success at the Masters and are strong second-shot players.
Let's get to the picks, starting with one of the best iron players in the world.
Gold: Justin Thomas (+1100)
If we're talking about flushers from the U.S., then it's fully fair that Collin Morikawa's name is now mentioned before that of Thomas, who simply hasn't been as proficient as his countryman lately with an iron in his hands.
Even so, it's not as if JT can't fire some darts at flagsticks. At nearly twice the price of Morikawa and with some motivation to not only represent his country, but salvage a bit of a lost season, I really like him to make a serious run at the gold this week.
I've often warned bettors to take professional golfers' social media posts with a grain of salt. Read too many of 'em and you'll believe every player is dialed in and ready to win; nobody ever posts that they're a few months away from playing their best golf and are probably a poor bet for that given week. That said, Thomas sucked me in with his initial posts about playing for his country and how much it means to him.
There's obviously no stat to measure "strokes gained: motivation," but that's a major theme for my plays this week.
Results of 21st-MC-19th-40th in the majors will be a lot more palatable for JT if he can add a medal to his Players Championship victory.
Silver: Sungjae Im (+2800)
Oh, did I mention something about motivation?
Nobody in this week's field will be more motivated than the South Korean contingent of Im and Si Woo Kim. Winning any of the three medals this week will offer a release from mandatory two-year military service for their country. How much would that mean to them? Well, enough that they each recently skipped The Open Championship in order to fully prepare for this week.
Of course, too much motivation can often be an impediment. Think about regular PGA TOUR events. We often explain that the player most dangerous is the one "competing with nothing to lose" or "playing with house money."
While some competitors might be able to play some offense this week, firing at flagsticks with the knowledge that it's either top-three-or-bust, it'll be tougher for Im and Kim to feel that level of freedom with so much on the line.
That said, I still like Sungjae's chances this week. He's an elite-level ball-striker who played well at Augusta National last November. I'll give him a furious final-round rally for a 65 and a medal – and even if it's not the gold, it'll be the best story of the competition.
Bronze: Cameron Smith (+2800)
If we learned anything from mid-career Mario Lemieux (not to mention teammate Jaromir Jagr), it's that an exquisite mullet can lead to athletic excellence.
Smith made headlines yet again this past week – on social media, at least – by taking his hairstyle even further and shaving "AUS" into the sides. That photo alone led to plenty of "Cameron Smith by 100" jokes, but the truth is, I'd still like him here with a crewcut.
In his short career representing his country, the 27-year-old Australian has tended to thrive in these situations. He also thrives at the Masters, with three top-10s in the past four years. And he's a guy who's had multiple victories with multiple partners at the Zurich Classic, showing he just might be more motivated by something a little different from the weekly rigors of PGA TOUR play.
Smith will receive plenty of early-week attention for his business-in-the-front-party-in-the-back style, but expect the late-week focus to be on his ascendancy up this leaderboard.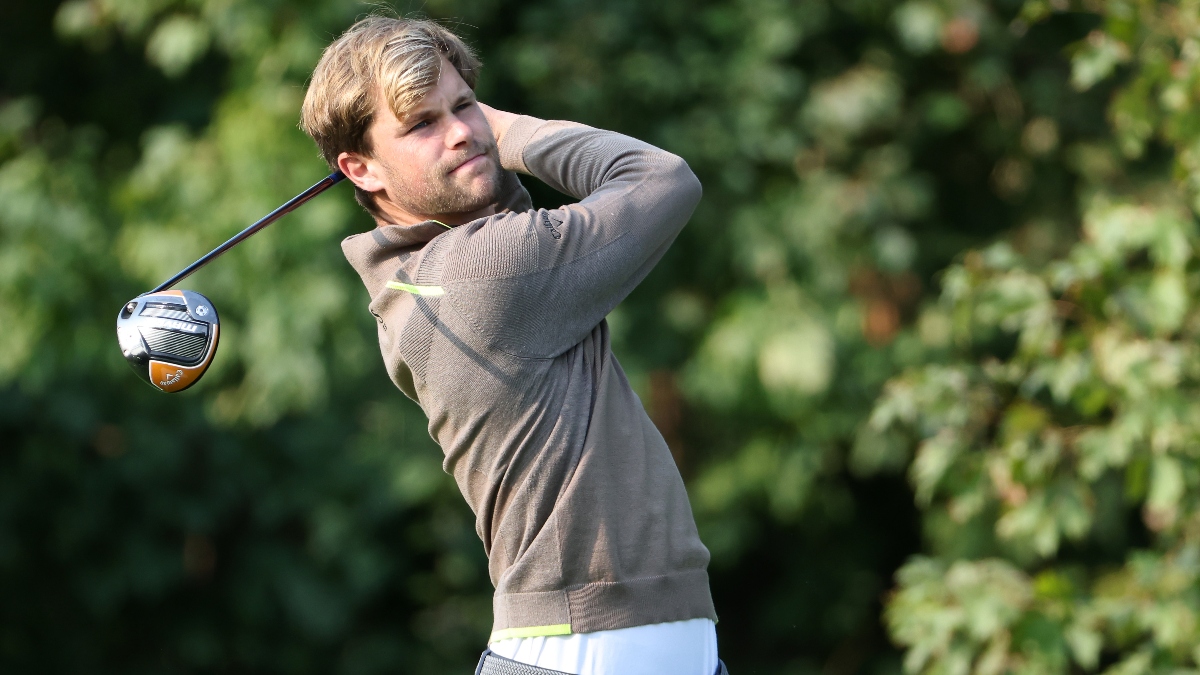 Sleepers
I'll readily admit that my plays above aren't exactly longshots, but I do feel that the nature of this competition will bring out the best in some of the more talented players.
That said, like every stroke-play event, most books are offering top-five wagers this week as opposed to only wagers for the three medals. These bets can help us get a little more exposure to a few of those longshots.
Corey Conners (+2800)
At the same price as Im and Smith, it was a toss-up for me to pick two of the three, but I wouldn't be surprised if Conners finishes highest. Anytime ball-striker is (or at least, should be) at a premium, he's a guy that we should target.
Thomas Detry (+8000)
We've been on the topic of all-or-nothing players in the wake of Cameron Champ's third career victory this past weekend. Detry has yet to win a European Tour event, but holds the same type of high-floor/low-ceiling potential, with two runner-up finishes and three MCs in his last five starts. I like taking a shot here and hoping that ceiling outweighs the floor.
Mito Pereira (+10000)
A few years ago, I don't think we would've believed that Chile had two candidates for medals here (Joaquin Niemann is 22/1), but Pereira's in-season promotion and recent strong play in the big leagues should have us giving serious consideration to him this week.
Adri Arnaus (+18000)
With Jon Rahm out of the competition due to a positive COVID-19 result, Arnaus is likely Spain's best chance at a medal. (Jorge Campillo is a late fill-in for Rahm.) A player with some offensive firepower, this would be a nice spot to asset himself amongst some of the game's big names.
Sepp Straka (+25000)
Simply put, this number is too big, as the PGA TOUR regular is priced behind guys such as Rasmus Hojgaard and Yechun Yuan. I'd probably stay away from an outright play, but 12/1 for a top-10 sounds pretty tasty.
How would you rate this article?
This site contains commercial content. We may be compensated for the links provided on this page. The content on this page is for informational purposes only. Action Network makes no representation or warranty as to the accuracy of the information given or the outcome of any game or event.