2021 PGA Championship at Kiawah Island: Rahm, Spieth & More Talk Ocean Course Challenges
Credit:
Darren Carroll/PGA of America via Getty Images. Pictured from left: The Ocean Course Head Golf Professional, Stephen Youngner and PGA TOUR golfer Collin Morikawa.
Any Major Championship generates substantial hype, and this week's 2021 PGA Championship at The Ocean Course at Kiawah Island is certainly no exception.
Sometimes, the best way to read through it is to hear it directly from the players themselves as they discuss the difficulty of the course, the state of their game, and how they project an impending tournament playing out.
Many of golf's top names in the 103rd PGA Championship field spoke with the media on Tuesday. For a number of the PGA TOUR's elite competitors, the first time they laid eyes on The Ocean Course at Kiawah Island has come during the last few days.
They provided great perspective regarding this week's expectations, especially following the PGA of America's recently released notice. Competitors were advised to practice from all tees on all but four holes. The PGA asserted its openness to using anything from the tips all the way up to the most forward tees throughout the week.
---
Player Comments from:
John Rahm | Jordan Spieth | Justin Thomas | Rory McIlroy | Xander Schauffele
---
Jon Rahm
When asked about his opinion on the potential utilization of forward tees, Jon Rahm quickly chimed in, "Seriously, I hope so." He elaborated by remarking that he hadn't hit an approach with anything shorter than a 5-iron on any of the holes beyond the 14th on Monday.
Rahm also noted that playing partner Zach Johnson, "pulled the head cover off on every hole except the Par 5, 16th, coming into the green."
Understanding how yardage may vary depending on the course set-up will be an important factor in this week's PGA Championship. Clearly, Rahm is hopeful that the players will be granted additional latitude on some of the tee boxes at The Ocean Course.
---
Jordan Spieth
In contrast to Rahm's comments on his course experience, Jordan Spieth revealed Tuesday that he hadn't been out to play a single hole.
Spieth's arrival to Kiawah Island was slightly delayed due to inclement weather in Texas. That travel delay prevented him from seeing the course prior to Tuesday's media availability. Spieth and caddie Michael Greller certainly had a lot of work to do to get ready for the week, but he had heard from others about the set-up.
He also discussed how wind direction and firmness can make a course like The Ocean Course at Kiawah Island play longer or shorter than what is listed on the card. Spieth also shared a testimonial from Honda winner Matt Jones, who shared that "14 through 18 was all you want today."
Jones' comments reference the same stretch of holes that Jon Rahm highlighted in his discussion on Tuesday, which could set up for a very interesting finish come Sunday evening.
---
Justin Thomas
While Spieth was mired in travel delays, his good friend Justin Thomas was already making loops around The Ocean Course. Thomas played 18 holes on Sunday, then another nine holes in each of his practice sessions on Monday and Tuesday.
Thomas intimated that his experience with the course over multiple days — during several different wind conditions — grants him a competitive advantage. He elaborated, remarking that part of what makes The Ocean Course difficult to manage is that the wind can flip "at the drop of a hat." Thomas noted openly that, "It could be one of those weeks where you could get a late-early or early-late draw where one could be great, one could be a lot worse."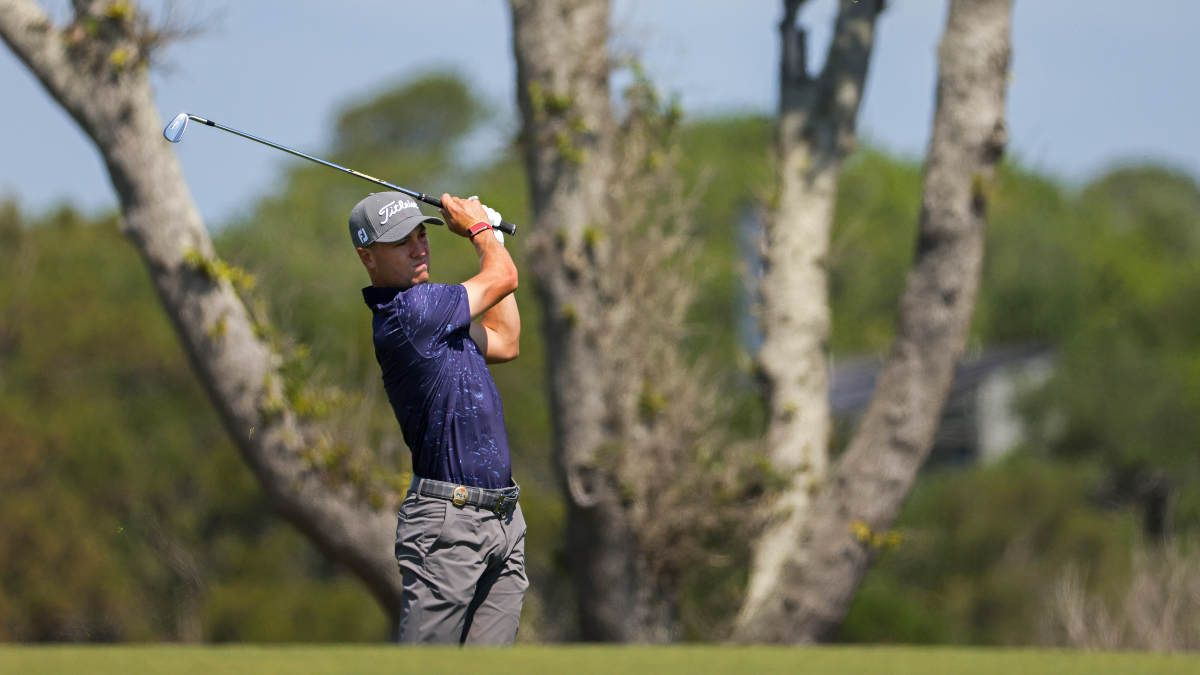 Thomas was the third player to suggest that the yardage on the scorecard may not necessarily be what the players will actually play to this week. He said he "actually laughed out loud" when he saw the back-nine listed at nearly 4,000 yards, but he knows there are certain holes depending on the wind that won't be able to use the back tees.
As an example, Thomas discussed the 590-yard, par-5 7th hole. Per Thomas, that particular par-5 can play 100 yards shorter than listed depending on the wind. Returning to his discussion of the final stretch of holes, Thomas highlighted the par-3 14th. He contended that if the field played from the back tees in wind conditions similar to Tuesday's, then there would be "guys literally hitting driver on that hole."
---
Rory McIlroy
The 2012 PGA Champion at The Ocean Course, Rory McIlroy, also spoke with the media on Tuesday. He shared similar insights to the players before him, but he also noted specific areas of the course that he believed would play differently this year. Specifically, McIlroy posited that the scheduling shift from August to May could render the short game around the greens more difficult.
McIlroy knows that his success on and around the greens at Kiawah Island was a big reason for his success in 2012. This year, however, the surfaces seem, "a little more bare, a touch links-y in places, especially with the wind and dry weather." He feels this will make things much more difficult to find up and downs this week.
McIlroy concluded his statement by noting that to be successful on The Ocean Course, one must chip and putt well — and that there may be some different approaches to that part of the game with the different conditions this week.
---
Xander Schauffele
Xander Schauffele opened his Tuesday media availability by stating that he doesn't see "a really low score winning this week with the wind and difficulty of the course." He also contended that a more highly variable and low-scoring environment usually plays into his strengths.
Later, Schauffele underscored the importance of shot-shaping and controlling ball flight as keys to success on The Ocean Course at Kiawah Island.
What it Takes to Win the 2021 PGA Championship
One thing that's clear this week in hearing from five of the biggest names in golf is that it will take a complete game to win this event.
Each player touched on every aspect of tee-to-green, and the common denominator was the inevitable winds they will face coming from one direction or another around the Atlantic Ocean.
Any weakness is set to be exposed this week at the PGA Championship, which is often the scenario in which we see the cream rise to the top, and no field has more cream than this elite gathering of the best players in the world.
How would you rate this article?
This site contains commercial content. We may be compensated for the links provided on this page. The content on this page is for informational purposes only. Action Network makes no representation or warranty as to the accuracy of the information given or the outcome of any game or event.