Sobel's RBC Heritage Betting Picks & Preview: History Says Fade Masters Contenders at Harbor Town
Credit:
Mike Ehrmann/Getty Images. Pictured: Brian Harman.
This week's RBC Heritage returns this week to its rightful place on the PGA TOUR schedule — right on the heels of the Masters.
It's a two-week stretch which offers a lovely bit of contrarian similarity, an easy drive for those competitors making the trip from Augusta, but a completely different scene with one of the most casual vibes of any tournament.
This didn't happen last year, of course, as the festivities — and yes, festivities is the proper term, as anyone who's spent a little time at the Quarterdeck knows — were held as the second event in the so-called Return to Golf, but the Masters was pushed back to November.
A return to regularity should leave us asking a few questions: Do those who competed in the Masters fare better at the RBC than those who don't? And of those players, do we want to chase the ones who contended at Augusta?
Glad you asked.
I went through the results over the 10-year period from 2010-19, attempting to unearth any commonalities between winners and other contenders at this event.
2019
| Player | Masters result | RBC Heritage result |
| --- | --- | --- |
| C.T. Pan | DNP | 1st |
| Matt Kuchar | T-12 | 2nd |
| Scott Piercy | DNL | T-3 |
| Patrick Cantlay | T-9 | T-3 |
| Shane Lowry | MC | T-3 |
2018
| Player | Masters result | RBC Heritage result |
| --- | --- | --- |
| Satoshi Kodaira | T-28 | 1st |
| Si Woo Kim | T-24 | 2nd |
| Bryson DeChambeau | T-38 | T-3 |
| Luke List | DNP | T-3 |
| Webb Simpson | T-20 | T-5 |
| Billy Horschel | MC | T-5 |
2017
| Player | Masters result | RBC Heritage result |
| --- | --- | --- |
| Wesley Bryan | DNP | 1st |
| Luke Donald | DNP | 2nd |
| Ollie Schniederjans | DNP | T-3 |
| Williams McGirt | T-22 | T-3 |
| Patrick Cantlay | DNP | T-3 |
2016
| Player | Masters result | RBC Heritage result |
| --- | --- | --- |
| Brendan Grace | MC | 1st |
| Luke Donald | DNP | T-2 |
| Russell Knox | MC | T-2 |
| Kevin Na | T-55 | T-4 |
| Bryson DeChambeau | T-21 | T-4 |
2015
| Player | Masters result | RBC Heritage result |
| --- | --- | --- |
| Jim Furyk | MC | 1st |
| Kevin Kisner | DNP | 2nd |
| Troy Merritt | DNP | 3rd |
| Brendon Todd | MC | 4th |
| Matt Kuchar | T-46 | 5th |
2014
| Player | Masters result | RBC Heritage result |
| --- | --- | --- |
| Matt Kuchar | MC | 1st |
| Luke Donald | DNP | 2nd |
| Ben Martin | DNP | T-3 |
| John Huh | MC | T-3 |
| Brian Stuard | T-46 | T-5 |
| Scott Brown | MC | T-5 |
2013
| Player | Masters result | RBC Heritage result |
| --- | --- | --- |
| Graeme McDowell | MC | 1st |
| Webb Simpson | MC | 2nd |
| Kevin Streelman | MC | T-3 |
| Luke Donald | T-25 | T-3 |
| Jerry Kelly | DNP | 5th |
2012
| Player | Masters result | RBC Heritage result |
| --- | --- | --- |
| Carl Pettersson | DNP | 1st |
| Zach Johnson | T-32 | 2nd |
| Colt Knost | DNP | 3rd |
| Kevin Stadler | DNP | T-4 |
| Billy Mayfair | DNP | T-4 |
2011
| Player | Masters result | RBC Heritage result |
| --- | --- | --- |
| Brandt Snedeker | DNP | 1st |
| Luke Donald | T-4 | T-2 |
| Tommy Gainey | DNP | 3rd |
| Tim Herron | DNP | T-4 |
| Ricky Barnes | DNP | T-4 |
2010
| Player | Masters result | RBC Heritage result |
| --- | --- | --- |
| Jim Furyk | MC | 1st |
| Brian Davis | DNP | 2nd |
| Bo Van Pelt | DNP | T-3 |
| Luke Donald | MC | T-3 |
| Ricky Barnes | T-10 | T-5 |
| Kris Blanks | DNP | T-5 |
| Camilo Villegas | T-38 | T-5 |
The main takeaway from all of these numbers? Hilton Head Island should be renamed Luke Donald Island. What a course horse.
OK, the real main takeaway? Don't feel like you have to chase Masters contenders in this field.
Of the 54 total players who finished top-five during this 10-year period, 28 played in the Masters one week earlier and 26 did not. Pretty even right there.
Of the 28 who played in the Masters, only two had finished in the top-five that previous week, while a total of four were top-10 and six were top-20. That number is less than half as much as those who missed the cut at Augusta National, which was a total of 13.
Essentially, based on this history alone, failing to make the cut at the Masters has proven to be more than twice as successful at the RBC Heritage than finishing top-20 the previous week.
There are plenty of explanations for all of this.
As for the balance, maybe it's just a numbers game. Every year there are more players in the field at Harbour Town who weren't in the Masters, so it should make sense that history isn't totally in favor of those who played at Augusta.
And a theory for the lack of Masters carryover success: It's very possible that those who post the best finishes at Augusta National are too physically and mentally exhausted to bring their best stuff across the state line.
With all of this data in mind, you'd think I'd listen to my own research. Well, think again.
Let's start off this week's picks with a guy who did indeed have some success at the Masters, numbers and history be damned.
Outright Winner
One player to win the tournament.
Brian Harman (+3000)
Look, I've never been accused of being very s-m-r-t. I just took you through all of that research to prove that Masters success very rarely translates into RBC Heritage success, then I go and do a stupid thing like pick a guy who enjoyed Masters success as my favorite outright this week. Maybe I'm just hoping the law of averages evens things out, as Harman was the last man to get an invitation into the Masters field and parlayed it into a share of 12th place and a return invitation next year.
At Harbour Town, Harman has only posted a pair of top-10 finishes in 11 previous starts, but I still think this course suits his game, considering it's short and tight and small green complexes lead to a priority on the wedge game — Harman is as deadly as anyone from around the greens. Let's hope that running hot means more to him this week than it has for other players in this situation in the past.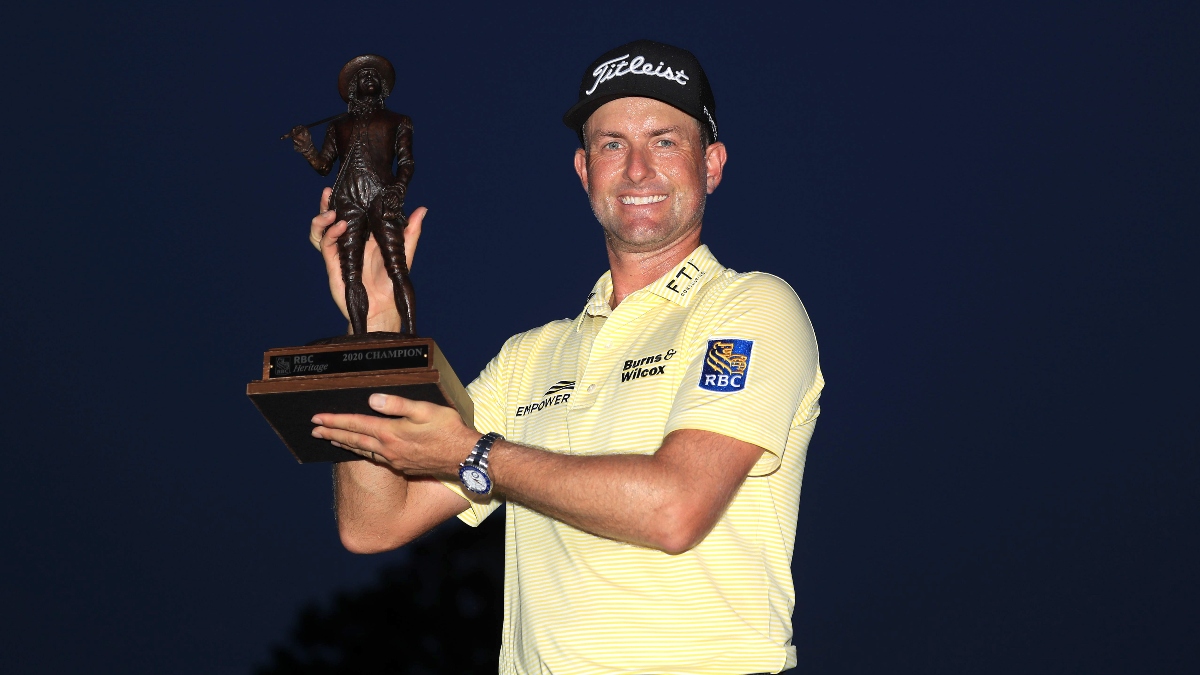 Other OADers
Potential selections for one-and-done options.
Webb Simpson (+850) and Matt Kuchar (+4500)
I would expect more duplicate OAD selections for this tournament than most others, as all of your fellow poolers try to chase that course history metric. Simpson is the defending champion and (a bit surprisingly) the tournament favorite, which makes him nearly impossible to wager on. With seven top-25s in 11 starts — and nothing worse than T-16 in the past four years — it's tough to imagine that he won't cash a decent check for you.
Similarly, Kuchar also has a win, as well as 10 top-25s, in 17 starts. He missed the cut last week at Augusta but was playing some solid golf just before that, which should lead to plenty of OADers looking his way.
Abraham Ancer (+3000) and Kevin Kisner (+5500)
If you want to bank on some course history without taking the OAD chalk, each of these guys have popped on the leaderboard in the past and could do it again.
In just his second career start at this event last year, Ancer put on an explosive ball-striking display in the final round but couldn't hold off Simpson and finished runner-up. Kisner lost in a playoff here six years ago, and he owns three finishes of 11th or better in eight appearances.
Top-Five
One player to finish top-five.
Adam Hadwin (+1600 for top-five)
Over the past year or two, Hadwin has been easily surpassed on the Official World Golf Ranking by fellow Canadian players Corey Conners and Mackenzie Hughes. It's easy to forget just how good Hadwin is when his game is humming, but he's shown signs of getting back to that place soon, with results of 23rd-8th-29th in his last three starts. I think this is a good week to take some chances near the top and Hadwin comes with a discounted price tag.
Top-10
One player to finish top-10.
Doc Redman (+1400 for top-10)
Hideki Matsuyama proved to us last week for the billionth time that players don't need to be riding a heater in order to peel off a victory. Redman has struggled so far this year, but Carolina golf should be right in his speed slot and I expect this excellent ball-striker to start turning things around soon. I want to make sure I get on him too early rather than too late.
Top-20
One player to finish top-20.
Matthew NeSmith (+500 for top-20)
Yet another Carolina guy who should feel at home in this one. He owns top-20s in three of seven starts already this season, but this type of course in this environment should be more up his alley than any of those previous venues. Don't be afraid to play him for top-10s and maybe a little outright, as well.
Top-30
One player to finish top-30.
Chesson Hadley
What a great week for underrated guys from the Carolinas. With finishes of 23rd-13th in his last two starts after missed cuts in his previous five events, Hadley is catching this tourney at the right time and we should try to catch him here, too.
Top-40
One player to finish top-40.
Adam Schenk
Yup, it's pronounced SHANK, but don't be scared to say this one aloud. There aren't a whole lot of trends here — he's missed cuts in each of his previous two appearances and has cashed top-40 tickets in just three of 10 starts — but for top-40s, I'm just looking for a good number with some value and I believe he fits the prerequisites.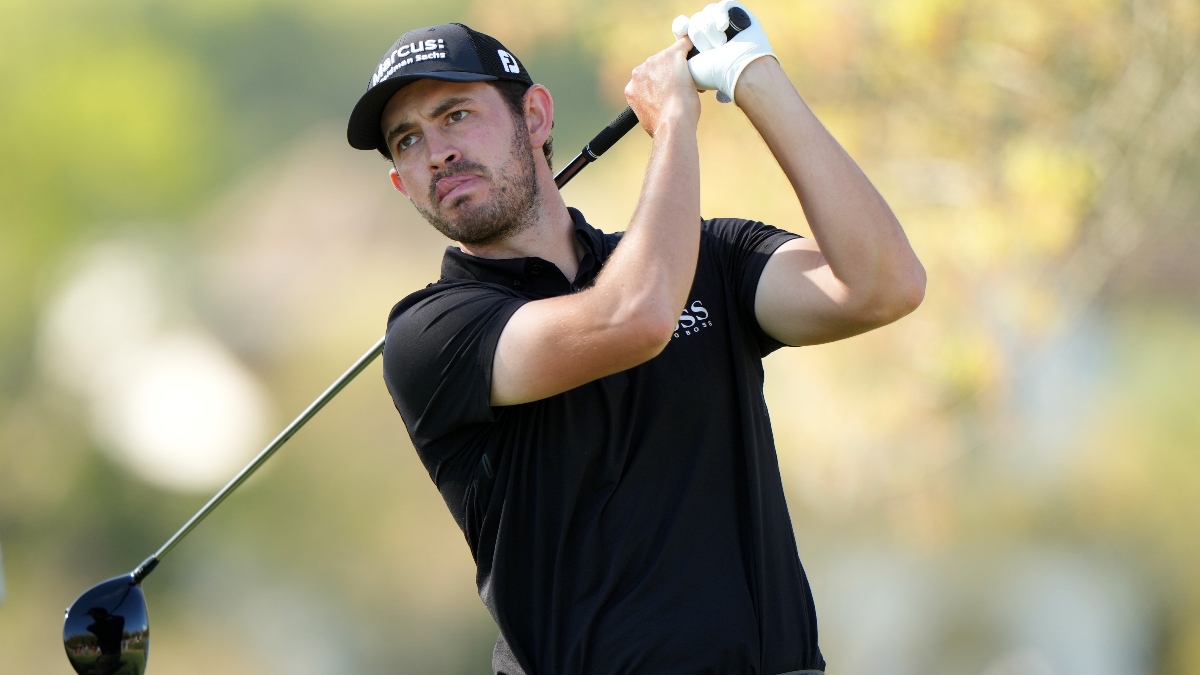 DFS Free Bingo Square
A safe plug-and-play option for DFS.
Patrick Cantlay (DK $10,900)
Simpson fits the bill here, but I already listed him above. I also thought about Collin Morikawa, who might really take to this venue the second time around, but the play instead is Cantlay. There have been three previous times in the past two years that he missed cuts before a stroke-play event — he finished between 12th and 18th at each of 'em.
Coming off another missed cut at the Masters, I like Cantlay's chances of turning it around. On what could be an eclectic leaderboard, your plug-and-play guy might only have to be good, not great. I don't see Cantlay not being at least "good" this week.
DFS 'Dog
A lower-priced option for DFS.
J.T. Poston (DK $7,100)
This price is comically low for Poston, who owns results of 6th-8th in two career starts at this tourney. Add in the fact that he's played fairly well recently and he should be a low-priced anchor for a lot of lineups.
First-Round Leader
One player to post the low score Thursday.
Cameron Smith (+4000) and Russell Henley (+5500)
I've grouped these two together for a couple of reasons. First, it gives the options of either taking a player who competed in the Masters (Smith) and feels more relaxed for the opener here or a player who didn't compete in the Masters (Henley) and is coming in more refreshed.
The second reason is they're tied for fourth place in R1 scoring average this season. Each has played a dozen opening rounds and taken 829 strokes for an average of 69.08 per round. That's tough to do without trying.
Matchup Man
One player who should beat comparable players.
Lucas Glover (+9000)
For a while there, maybe 18 months ago or a little less, Glover and Harris English were running neck-and-neck for the Charles Howell III award — essentially, racking up solid finishes under the radar, piling up lots of cash and rarely contending for a title.
At some point, English zoomed past Glover, but the latter is starting to get it back now, following a solo fourth-place finish at the Valero Texas Open two weeks ago. I always like players for matchups who make a lot of cuts, which theoretically gives us two chances to win the bet, and Glover fits this profile.
The Big Fade
One top player to avoid at this tournament.
Matt Fitzpatrick (+1700)
Dustin Johnson was too easy here, as even your buddy who only watches one tourney per year knows that DJ failed to reach the weekend at Augusta.
Instead, I'll go with Fitz, who's normally a favorite play of mine, but the numbers look inflated this week. A few years ago, the Englishman happened to mention that Harbour Town is his favorite track. I don't know why this information has affected his price so much more so than other players on their favorite courses, but DFSers have jumped all over him here and books have opened him as third-favorite alongside Cantlay, which makes very little sense. After all, it's not like he's played his favorite course all that well. In six starts, he's never finished inside the top-10, with results of 14th-39th-14th-MC-MC-23rd.
How would you rate this article?
This site contains commercial content. We may be compensated for the links provided on this page. The content on this page is for informational purposes only. Action Network makes no representation or warranty as to the accuracy of the information given or the outcome of any game or event.