2021 Ryder Cup Preview: Best- & Worst-Case Scenarios for All 24 Players
Credit:
Getty Images. Pictured: Jon Rahm (left) and Brooks Koepka.
We've collectively spent weeks, months — hell, the last three years — engaged in 19th-hole debates about the impending Ryder Cup.
Who will be a hero? Who will be the zero? Which players will step up and play their best golf when it means the most and which ones will fold under the pressure?
The reason these discussions are so lively is because there's no right or wrong answer — not yet, at least.
We will soon have a better idea of which players will succeed and which will falter, but for now, anything is possible.
Here are the best- and worst-case scenarios for all 12 players on each team, in varying degrees of tongue-in-cheek, with some much tongue-in-cheekier than others.
United States
Daniel Berger
Best-case: No Patrick Reed? No problem. American fans wondering about the identity of this team's cocksure figure who struts, swaggers and fires 'em up aren't left wondering for long, as the ultra-confident Berger serves as the squad's firecracker, winning two team matches before batting leadoff in Sunday singles and immediately whipping the crowd into a frenzy.
Worst-case: After so much analysis surrounding the U.S. team's design to pick players based on course fit, Berger's disappointing play leaves us collectively wondering how and why a guy who thrives on shorter venues slipped through the cracks.
Patrick Cantlay
Best-case: Maybe "Patty Ice" isn't exactly the coolest nickname (pun intended), but it does seem to fit Cantlay pretty well. After displaying a penchant for clutch shots down the stretch at the final two FedExCup Playoff events, he continues playing high-level golf in high-pressure situations, coming up big in seemingly every pivotal moment.
Worst-case: Golf is a game of ebbs and flows. Sure, it's only been a few weeks, but it's difficult to keep playing world-class golf for an extended period of time. Cantlay's game looks a shell of what it did earlier this month, while his luck runs out and all those putts that were dropping into the cups burn all the wrong edges.
Harris English
Best-case: A bit of a forgotten man on this U.S. roster, English is the guy who gets along with everyone, never rocks the boat and wins three matches over the first two days with three different partners.
Worst-case: The forgotten man remains forgotten, playing just twice and failing to channel the energy from his two victories this past season. He leaves fans wondering which players sitting at home would have thrived in his spot.
Bryson DeChambeau
Best-case: Beleaguered and browbeaten by fans for months, the man who's been serenaded with chants of "BROOKSIE!" turns the American fans around.
Right from the front nine on Friday morning, galleries are rocking with cries of "BRYSIE!" and he's rocking along with them, putting on an epic display of birdies that continues throughout the weekend, smiling and pumping up the crowds throughout it all.
Worst-case: Despite DeChambeau and Koepka swearing to U.S. captain Steve Stricker that they'll put their differences aside, the vibe in the team room is instantly awkward. Bryson overhears two vice captains talking about how none of his teammates want to play with him, then he finally gets into a few matches, only to look like he's just prepping for his upcoming long-drive debut, bombing drives everywhere but in the vicinity of a fairway.
Tony Finau
Best-case: Buoyed by his recent Northern Trust victory, Finau looks like a different player than the one who came so close, so often during the last half-decade. Cool, confident and collected, he cruises around this track with all the nonchalance of a Tuesday morning practice round — and it pays off.
Worst-case: Despite that recent victory, Finau once again looks like a player who just doesn't possess that clutch gene. After his teammates were gushing about his play during practice rounds, he can't bring it into competition, looking more ordinary than extraordinary.
Dustin Johnson
Best-case: As if Whistling Straits is paying off an 11-year debt, DJ gets every good break and bounce imaginable, the golf gods working in mysterious ways, as his inconsistent swing is repeatedly bailed out by his ball finding perfect lies in the most imperfect places.
Worst-case: There's something about this track that just doesn't agree with Johnson. After a lackluster summer that never quite found him playing his best golf, the malaise continues. If there's a silver lining (sort of), it's that none of his matches make it to the 18th hole, so he never has to see the bunker that might've cost him a major.
Brooks Koepka
Best-case: Asked over and over about the left wrist injury which forced him to WD from the Tour Championship, Koepka only answers, "What wrist injury?" and "I don't know what you're talking about."
True to his brand, he follows weeks of "Will he?" or "Won't he?" conjecture by doing what he's so often done best over the past few years: swallowing the pain of an injury to play impressive golf on a big stage. When asked how it feels to compete for his country, he only says, "I like proving the doubters wrong."
Worst-case: The prototypical tough guy, Koepka tries to play through injury as he's done so many times before, but can't give it his best effort, essentially leaving the U.S. team handicapped. He later doubles down on comments about the Ryder Cup not allowing for his usual routine.
Oh, and as if all of that isn't enough, his teammates goad him into an arm wrestling match with DeChambeau, during which he's soundly beaten three straight times.
Collin Morikawa
Best-case: Others might believe they have an argument, but the analytics show that when Morikawa is striking his irons well — nobody in the world is better. This week, he shows off that approach game once again, while his putter, much like at the Open Championship, catches fire, too — a devilish combo which is near impossible for any opponent to vanquish.
Worst-case: Since winning his second major this summer, Morikawa has struggled with both form and health, as a lingering back injury has led to some uncharacteristic results. The leader on the final U.S. points list, these issues lead to him playing only three matches and ending the week as a veritable non-factor.
Xander Schauffele
Best-case: Peers have suggested that Schauffele owns the tools to one day become the No. 1 player in the world, so it should come as no surprise that he's shown these tools at some of the biggest events, with a bevy of major championship title contentions in just a few years.
It should similarly come as no surprise that once again he steps up and plays his best golf when it means the most, beating the actual No. 1 player in the world, Jon Rahm, in Sunday singles.
Worst-case: If there's a criticism of Schauffele, it's that his close calls have rarely equated to victory in the past three years, outside of this summer's Olympics. He's even referred to himself as choking in some of these situations, so when another back-nine Sunday lead turns into a loss, it feels like a case of deja vu for the Ryder rookie.
Scottie Scheffler
Best-case: Stricker never outwardly said that Scheffler was the last man on the team, but it's not difficult for us to make that inference. However, it proves to be one of his shrewdest maneuvers, as Scheffler plays like a seasoned veteran, only getting into three matches, yet hardly breaking a sweat.
Worst-case: As the proceedings start going sideways for the red, white and blue, Scheffler is showered with shouts of, "We want Kevin!" The suggestion is unmistakable, though it's still unclear whether the home crowd preferred Kisner or Na in this spot.
Jordan Spieth
Best-case: After requesting "good buddy" Justin Thomas as his partner, Spieth thanks his captain for the partnership by putting together a vintage Spieth performance, rolling in 25-footers the same way others tap in gimmes. The signature moment comes Saturday afternoon when he rolls in a 50-footer for birdie, then points at the hole and tells JT: "Go get that." (Which he does.)
Worst-case: Careful what you wish for. Spieth gets Thomas as a partner, but the friendly pairing only results in four horrific losses. Sitting at home, Reed (or someone with access to his Twitter account) "likes" a total of 583 tweets ripping Spieth for his play.
Justin Thomas
Best-case: The overarching difference between U.S. players and their European counterparts over the years? Maybe it's that one faction is more motivated by individual titles and the other lives for the team aspect. All of which explains the headlines when Thomas insists the Ryder Cup means more to him than major championships — a notion which permeates the American team room and helps unify the players toward victory.
Worst-case: Another Ryder Cup, another dismal performance by the U.S — and nobody epitomizes it more than JT, who doesn't win a single point and actually has American fans removed from the premises for harassing one of their own.
Europe
Paul Casey
Best-case: Fifteen years after he made a hole-in-one to clinch a full point at The K Club, Casey does it again, this time in a vital Saturday afternoon four-ball match that essentially takes the air out of the U.S. balloon.
Worst-case: With an extra day at this one as opposed to most golf events, the media needs a controversy. Somehow, Casey's old "anti-American" comments are dredged up. Even though they were misconstrued back then and again this week, it's all enough to throw him off his game and he never recovers.
Matt Fitzpatrick
Best-case: Once believed to be set up for birdies, tougher conditions make Whistling Straits look like the major championship venue that it is, with pars winning plenty of holes. That's music to Fitzpatrick's ears, as he thrives in more difficult scoring.
Worst-case: Even Big 10 country doesn't usually troll the harmless Northwestern folks, but large fan contingents from Wisconsin, Ohio State and Michigan are seen together in the galleries, chiding Fitz for attending a golf school instead of a football school.
Tommy Fleetwood
Best-case: Three years after going undefeated with partner Francesco Molinari — even starring in a social media video where they wake up in bed together with the Ryder Cup trophy — Fleetwood retains a less monogamous role on the team, pairing with four different teammates in each of the first four sessions and winning all of 'em.
Worst-case: In a team room prank gone horribly wrong, what was supposed to be a fake haircut gets lost in translation, as Fleetwood's famous locks are shorn to the skull. Like Samson, his strength is sapped. Adding insult to injury, even in chilly weather, he concludes the week with a Stewart Cink-like tan line straight across his forehead.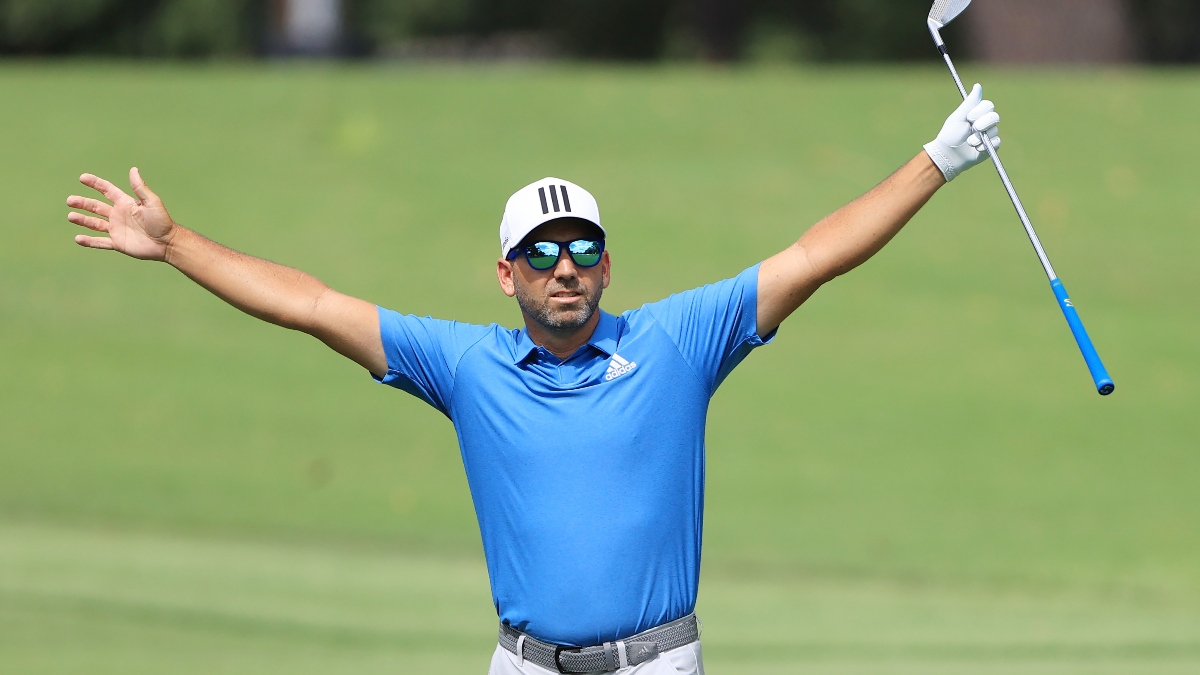 Sergio Garcia
Best-case: Fleetwood's loss is Garcia's gain. Literally.
Claiming it was all natural and crediting a new diet, Sergio shows up at the first tee Friday morning with shoulder-length hair. Eschewing a hat, he throws it into a ponytail, later explaining that it was a paean to Miguel Angel Jimenez, then plays some of his best golf in years.
Worst-case: During a Thursday press conference, Garcia repeatedly discusses the aging process as a golfer and how he's matured over the years. By the fourth hole on Friday morning, he's already thrown three clubs, flipped off a spectator and spit directly into one of the cups.
Tyrrell Hatton
Best-case: One of the more emotional players around, the purveyor of, "When you're feeling glum, pop your thumb," takes his social media video persona to a new level, breaking Phil Mickelson's record for most thumbs-up at a Ryder Cup — so much that he turns the American crowds in his favor and keeps them with his impressive play.
Worst-case: Showing his usual fiery demeanor in his crucial Sunday singles match, Hatton breaks a 7-iron over his knee, only to have vice captain Henrik Stenson come rushing over to offer some sage advice: He's doing it all wrong. Locked in on the process, the two of them proceed to break every club in the bag, resulting in a match concession to the Americans.
Viktor Hovland
Best-case: Never known for being the steadiest player, Hovland plays the entire week without a single par, piling up a striking amount of eagles and triple bogeys that somehow do enough in the match-play format to earn him the victory.
Worst-case: The player who once punctuated a tournament victory by declaring, "I suck at chipping" is proven right by his own measure, continually failing to get up and down from around the greens, essentially handing over holes to his steadier opponents.
Shane Lowry
Best-case: A rookie on this team, Lowry quickly establishes a narrative of wanting to win in order to revel in the team room celebration. After it happens, he becomes the first player to ever be named Team MVP on Tuesday morning, two days after the event ends.
Worst-case: In chilly conditions, the Northern Irishman is the only player to eschew an outer layer of clothing, resembling a Packers offensive lineman on a snowy day at Lambeau Field. It sounded like a good idea at the time, but even he admits it's colder than he thought it'd be — and his game stays cold right along with the weather.
Rory McIlroy
Best-case: A consummate leader, McIlroy takes ownership of the entire week. He wins all five matches, helps Harrington set each session's lineup, cooks the team dinner every night and even shines his teammates' shoes. In between, he holds a self-appointed press conference during which he outlines why he'll never play in the Super Golf League and how the USGA should combat the distance debate, then pens a column for the local paper on Aaron Rodgers, Giannis Antetekounpo and the weight of stardom.
Worst-case: The living embodiment of the back-door top finish, Rory gets off to a predictably sluggish start over the first few sessions. During his Sunday singles match, he closes with six consecutive birdies, but in this format, it's all too little, too late.
Ian Poulter
Best-case: Some call it a prance, some call it a strut. Whatever it is, it's classic Poulter, peacocking his way around Whistling Straits, eyes bulging further out of his head with each holed birdie putt. The momentum continues all weekend, demoralizing both opponents and fans along the way.
Worst-case: Once dominant in this format, Poulter starts looking his age on a course which doesn't agree with his skill set. His strut turns into a sulk, the home crowds continually overjoyed at the fact that the man who so often looked unbeatable in this event finally looks beaten.
Jon Rahm
Best-case: In an unprecedented decision, Rahm tells captain Padraig Harrington that he doesn't need a four-balls partner, then proceeds to singlehandedly beat a pair of America's top players by a 4-and-3 score. Five different U.K. tabloids use the headline "RAHMPAGE" as the world's top-ranked player stomps everything — and everyone — in his way.
Worst-case: "I don't know how this could happen again," he tweets Friday morning from the isolation of a Motel 6 in Sheboygan. After testing positive for COVID-19 for a third time this year, Rahm is forced to miss the event — and the European team falls apart without its biggest star.
Lee Westwood
Best-case: The oldest player to compete in a Ryder Cup in over a century, Westwood proves that experience and guile are more important than distance, even on this golf course. While others try to overpower it, the Englishman plods his way around, winning holes when they're given to him and rarely losing them. That turns out to be a better recipe for success than anything else.
Worst-case: In three matches, Westwood plays the likes of Johnson, Finau and DeChambeau, who are 50, 75 and even 100 yards past him off the tee, respectively. On a lengthy course that is set up toward the U.S. strengths, he's at a severe disadvantage, even before it begins.
Bernd Wiesberger
Best-case: The last man to qualify for the European team — and a man whom many didn't want to qualify, as his presence likely knocked Justin Rose off the roster — Wiesberger is a pleasant surprise for the squad, as he keeps his recent stellar play going for the entire week.
Worst-case: The American fans aren't known for creative heckling, so the first cries of "Burned Cheeseburger!" are pedantic and predictable. It takes an extra gear, though, to spend $12 on a burger and throw it near him on a few of the greens. Those spectators are kicked out, but Wiesberger is rightfully flustered and never plays to his potential.
How would you rate this article?
This site contains commercial content. We may be compensated for the links provided on this page. The content on this page is for informational purposes only. Action Network makes no representation or warranty as to the accuracy of the information given or the outcome of any game or event.