2022 Butterfield Bermuda Championship Updated Odds & Expert Picks: Diversify Your Portfolio in Bermuda, Where Longshots Reign
Credit:
Via Steve Dykes/Getty Images. Pictured: Brice Garnett hits his tee shot on the second hole during the final round of the Albertsons Boise Open presented by Chevron at Hillcrest Country Club on August 21, 2022 in Boise, Idaho.
Click arrow to expand 2022 Butterfield Bermuda Championship odds via bet365


| Player Name | Odds |
| --- | --- |
| Denny McCarthy | +1600 |
| Thomas Detry | +2000 |
| Seamus Power | +2200 |
| Mark Hubbard | +2200 |
| Nick Hardy | +2500 |
| Aaron Rai | +2500 |
| Adrian Meronk | +2500 |
| Justin Lower | +2800 |
| Patrick Rodgers | +2800 |
| S.H. Kim | +3000 |
| Alex Smalley | +3300 |
| Stephan Jaeger | +3300 |
| Robby Shelton | +3500 |
| Russell Knox | +3500 |
| Adam Schenk | +4000 |
| Brandon Wu | +4000 |
| Adam Long | +4500 |
| Greyson Sigg | +4500 |
| Byeong-Hun An | +4500 |
| Will Gordon | +5000 |
| Nick Taylor | +5000 |
| Callum Tarren | +5000 |
| Chesson Hadley | +5500 |
| Harry Hall | +5500 |
| Garrick Higgo | +5500 |
| Erik van Rooyen | +6000 |
| Cameron Percy | +6000 |
| Sam Ryder | +6000 |
| Zecheng Dou | +6600 |
| Joseph Bramlett | +6600 |
| Lucas Glover | +7000 |
| Doug Ghim | +7000 |
| Ryan Armour | +7000 |
| Michael Gligic | +7000 |
| Austin Eckroat | +7500 |
| Tyler Duncan | +8000 |
| Andrew Novak | +8000 |
| Ben Taylor | +8000 |
| C.T. Pan | +8000 |
| Kramer Hickok | +8000 |
| Charley Hoffman | +8000 |
| Henrik Norlander | +8000 |
| Austin Smotherman | +8000 |
| Brice Garnett | +8000 |
| Scott Piercy | +9000 |
| Kevin Yu | +9000 |
| Hank Lebioda | +10000 |
| Matti Schmid | +10000 |
| Robert Streb | +10000 |
| Michael Kim | +10000 |
| Ben Griffin | +10000 |
| MJ Daffue | +10000 |
| Sam Stevens | +10000 |
| Luke Donald | +10000 |
| Vincent Norrman | +10000 |
| Matthias Schwab | +10000 |
| Brian Stuard | +11000 |
| Nate Lashley | +11000 |
| Ben Martin | +11000 |
| Camilo Villegas | +11000 |
| Austin Cook | +12500 |
| Brian Gay | +12500 |
| William McGirt | +12500 |
| Augusto Nunez | +12500 |
| Chad Ramey | +12500 |
| Fabian Gomez | +14000 |
| Harrison Endycott | +14000 |
| Vaughn Taylor | +15000 |
| Erik Barnes | +15000 |
| David Lingmerth | +15000 |
| Cody Gribble | +15000 |
| Seung-Yul Noh | +15000 |
| Aaron Baddeley | +16000 |
| Nicholas Lindheim | +16000 |
| Jonathan Byrd | +16000 |
| Philip Knowles | +17500 |
| Chris Stroud | +17500 |
| Scott Gutschewski | +17500 |
| Sean O'Hair | +17500 |
| Harry Higgs | +17500 |
| David Hearn | +17500 |
| Brandon Matthews | +17500 |
| Kevin Tway | +17500 |
| Scott Brown | +18000 |
| Tano Goya | +20000 |
| Kevin Roy | +20000 |
| Brent Grant | +22500 |
| Bill Haas | +22500 |
| Trevor Cone | +22500 |
| Richy Werenski | +22500 |
| Grayson Murray | +22500 |
| Scott Harrington | +25000 |
| Kevin Chappell | +25000 |
| Sung Kang | +25000 |
| Eric Cole | +25000 |
| Nick Watney | +27500 |
| John Vanderlaan | +27500 |
| Max McGreevy | +30000 |
| Nicolas Echavarria | +30000 |
| Dylan Wu | +30000 |
| Tyson Alexander | +35000 |
| Carson Young | +35000 |
| Robert Garrigus | +35000 |
| Tommy Gainey | +35000 |
| Caleb Surratt | +35000 |
| Aaron Jarvis | +40000 |
| Akshay Bhatia | +40000 |
| Kyle Westmoreland | +40000 |
| Sangmoon Bae | +40000 |
| Greg Chalmers | +40000 |
| Wesley Bryan | +40000 |
| Ben Crane | +40000 |
| Clay Feagler | +40000 |
| Chandler Blanchet | +40000 |
| Palmer Jackson | +40000 |
| Ricky Barnes | +45000 |
| James Nicholas | +50000 |
| Ryan Brehm | +50000 |
| Jonas Blixt | +50000 |
| Bo Van Pelt | +50000 |
| Martin Trainer | +50000 |
| Trevor Werbylo | +60000 |
| J.J. Henry | +75000 |
| Michael Sims | +100000 |
| D.A. Points | +100000 |
| Willie Mack III | +100000 |
| D.J. Trahan | +100000 |
| Greg Koch | +125000 |
| John Daly | +150000 |
| Nick Jones | +250000 |
| Jarryd Dillas | +250000 |
| Kim Swan | +500000 |
We all have that friend. You know the one: The friend who immediately sends you a screenshot when he hits a four-team college football parlay. The friend who took the Carolina Panthers moneyline. The friend who somehow always has a longshot winner and loves bragging about it.
Well, here's your chance to respond because it's officially Butterfield Bermuda Championship week, featuring one of the more, let's say, "unseemly" fields on the PGA TOUR schedule. Even the defending champion, Lucas Herbert, isn't back to try and retain his title.
Of course, that also means there are plenty of chances to cash a longshot ticket.
This week marks the fourth edition of this tournament, and the first three have been ripe for picking the bigger prices. Brendon Todd won the inaugural event in Bermuda at 80-1, followed by Brian Gay at 200-1 and Herbert at 60-1.
Moral of the story? Sure, one of the favorites can win, but this one has more of an "anything can happen" vibe than most other events.
There is more connective tissue, though, between the first three winners at Port Royal GC than simply having bigger pre-tournament odds. Todd ranked 20th on the PGA Tour in strokes gained putting during the season of his win, Gay was 62nd (though long known as one of the game's better rock-rollers) and Herbert finished first in this category one year ago.
We're admittedly looking for more sustainable statistics in most other weeks, such as driving distance or ball-striking, but this might be one of the few events where long-term putting numbers can project success.
Less analytically, I think this is one of those events where it gives us an opportunity to play a few players we've had our eye on recently. I'll start my list with one of those guys.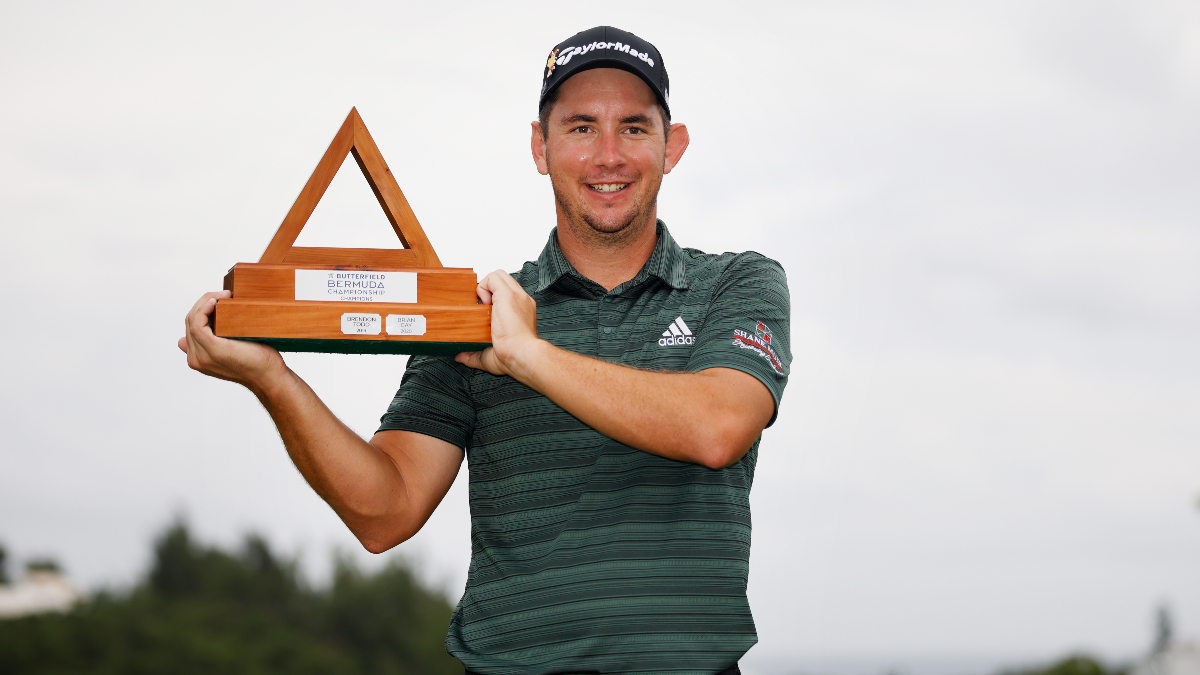 Bet the Butterfield Bermuda Championship, Win $200 (No Matter What!)
Outright Winner
One player to win the tournament
Brice Garnett (+10000)
Before I tell you about Garnett, there are a few things to think about when it comes to outright bets this week. First, this is not only a great week to jump on some big prices pre-tourney, but during the event, as well – especially entering Sunday's final round.
The first three rounds are only forecasted to feature a 10-15 mph breeze throughout the day, but Sunday is predicted to see 35 mph gusts, which could turn this leaderboard upside-down.
We witnessed this exact scenario just a year ago, when Taylor Pendrith entered the final day with a three-shot lead and wound up losing by three. Keep this in mind later in the week.
Second, our thought process toward this one should be more mutual fund than blue-chip stock. If you had Rory McIlroy at last week's CJ CUP, congratulations. Chances are, you didn't also play 5-6 other outrights. Instead, you paid up for the blue-chipper, and he paid off. I think this week's strategy is to look at your outrights as more of a mutual fund, a group of investments which could offer a nice ROI.
Or in other terms, you probably wouldn't walk into a convenience store and purchase a single lottery ticket; you'd get a few of 'em to at least give yourself a few chances. Same thing here. Okay, now let's get to Garnett, who serves the quizzical niche of playing his best golf in tropical locales against inferior fields.
Yes, that's really a thing. His lone PGA TOUR victory came at the Corales Puntacana event in 2018, where he also has a ninth-place finish. He owns four results of 11th or better at Mayakoba and two inside the top-seven in Puerto Rico. His only previous start in Bermuda came two years ago, when he posted a final-round 65 to finish T21.
Again, this is hardly one of those outright picks where I'm suggesting you take out a second mortgage on Garnett. Instead, I like him to start a card which should include plenty of players with some bigger odds, like many of the guys I'll list below.
Other OADers
Potential selections for one-and-done pools
Russell Knox (+3000)
It's been said that form is temporary, but class is permanent. That often rings true in golf, as we've witnessed plenty of examples of out-of-form players with world-class talent compete in inferior fields and suddenly find their fastballs again. I don't know if any – or all – of that completely fits Knox, but a guy with two PGA TOUR victories (including a WGC) and two other runners-up (not to mention another win and two seconds on the DP World Tour) should rank among the more talented players in this field.
He hasn't been playing his best golf lately, and 30-1 is a tough number to buy for someone clearly not in-form, but I do believe he owns some value as an OAD selection.
Nick Taylor (+4000)
One year after a Canadian Taylor (Pendrith) lost this event in the final round, another Canadian Taylor (Nick) could be trending in the right direction. Unlike with Knox, I do think this is a viable outright price for Taylor, who owns finishes of T6 and T19 among his three starts so far this season. During a week with so many question marks, I think Taylor's form provides more answers than most others.
Callum Tarren (+4500)
Full disclosure: I was prepared to list Tarren as my favorite outright this week – until I saw the number next to his name, which just a bit too short for a guy who's never finished better than T5 in his short PGA TOUR career. Even so, I love this guy's game. In fact, he's firmly on "The List" of players who are regularly undervalued whenever they play.
At the top end, Aaron Wise and Keith Mitchell still hold that value. A bit further down, there's the likes of Matthew NeSmith, Wyndham Clark and Kurt Kitayama, the latter of whom hopefully didn't attract to much attention with his runner-up finish this past weekend. Anyway, Tarren is definitively a member of this team, as well. Expect him to contend for a few titles over the course of this season.
Akshay Bhatia (+25000)
This can't-miss kid has, by many accounts, already missed a bit, still resigned to playing the Korn Ferry Tour for this upcoming season. That's not such a bad thing, though, and while his play hasn't mirrored that of fellow 20-year-old Tom Kim, it's not like Bhatia hasn't had successful moments of his own so far.
That includes a win on the KFT earlier this year in the Bahamas, which could mirror the conditions we'll see this week. At 250-1 outright, I don't mind a sprinkling on that number, just in case he peaks again.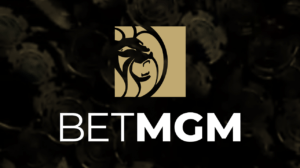 Bet the Butterfield Bermuda Championship risk-free up to $1,000.
Top-Five
One player to finish top-five
Nick Hardy (+650 for top-five)
I had the opportunity to interview Hardy on my SiriusXM PGA TOUR Radio show Hitting the Green a few weeks ago, along with that day's co-host Chantel McCabe, and it was impossible to come away from that conversation and not be rooting for the affable Illinois native, who is trending in the right direction these days.
Just listening to him, he sounds confident and ready to take the next big step in his career. A fifth-place finish at the Sanderson Farms earlier this month proves that he can cash these tickets, and this should be a great week for him to shine against the type of field.
Top-10
One player to finish top-10
Aaron Rai 
Anytime a PGA TOUR venue is sub-7,000 yards on the scorecard – which isn't very often, I'll admit – Rai is a player I like to target. It's not that he's uncommonly short off the tee, ranking 135th in driving distance last year at 295.4, but he tends to play some of his better golf on these types of tracks. With a full year on the TOUR now under his belt, I'd expect the DP World veteran to start putting together a more consistent performance from week to week, starting here.
Top-20
One player to finish top-20
Chesson Hadley
As mentioned above, this is one of the few weeks where we should target some of the better putters, which leads us directly to Hadley. Last season, he ranked 13th on the PGA TOUR in putting but third among players in this week's field, behind only Denny McCarthy and Martin Trainer.
He was running hot in the mid-to-late part of this past summer, and while he's cooled off a bit, this feels like the kind of place where he should contend, as evidenced a bit by his T16 finish in his only previous start two years ago.
Top-30
One player to finish top-30
Greyson Sigg
If many of this week's plays are essentially lottery tickets, you'll at least want to have a few of those 50-50 scratch-offs, too. A play on Sigg is about as cautious as I can get here. He's finished top-30 in five of his last 10 starts, dating back to the summer, and we shouldn't be surprised if he gets into contention this weekend.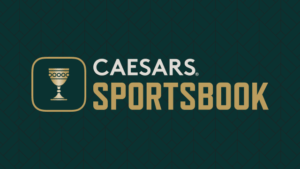 Get up to $1,100 back if your Butterfield Bermuda Championship bet loses.
Top-40
One player to finish top-40
Bill Haas
Look, I'm not going to hit you with two conservative plays in a row. There's a big number on Billy this week, and for good reason, but I don't think his days of playing solid golf are totally behind him.
After ending last season with three top-40s in his last nine starts, this marks his first start of the new season. He'll have to make the most of it when he does get into some events, so I like him to post another top 40 here on his way back toward playing a bit more consistently.
DFS Free Bingo Square
A safe plug-and-play option for DFS lineups
Denny McCarthy (+1600)
Someone's gotta be the favorite in every field, and the oddsmakers' choice of McCarthy is probably the correct one in this case. To be honest, his 16-1 opening price isn't nearly as short as I thought it would be, but it's still way too short for me to play him for an outright bet. That said, I don't mind paying up in DFS.
He's one of the few players who has competed in each edition of this event so far, with last year's T-39 finish preceded by a T-4 and a T-15. That suggests a higher floor than anyone else this week. While we're usually looking for a ceiling play with our big-money lineup selection, I think there are enough low-priced longshots that buying Denny doesn't leave us reaching for guys we don't want, so I don't mind chasing the high-floor play at this one.
DFS 'Dog
A lower-priced option for DFS lineups
Sam Ryder
Perhaps I'm being too conservative with my DFS selections here, but Ryder follows that same floor strategy, just at a lower cost. He's finished 36th-28th-45th in his last three starts, each against some tougher competition. My hunch this week is that any lineup which gets 6-of-6 through to the weekend is going to be a profitable one, so don't be afraid to take some cut-makers and give yourself a chance.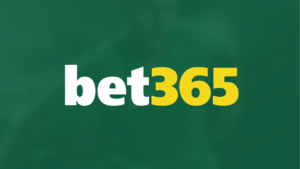 Bet the Butterfield Bermuda Championship and get $500 in bet credits. NJ only.
First-Round Leader
One player to post the low round Thursday
Charley Hoffman (+8000 for FRL)
It's been a tough road lately for Hoffman, who's missed the cut in each of his first two starts of the young season and owns outright odds of 80-1 that are in line with the likes of Sam Stevens and Kevin Yu.
But of course, there's always some value on Mr. FRL himself, at least on the Thursday-only board. The Hoff finished last season with opening-round scores of 69-67-68 in his final three medal-play events, so there's certainly some reason to believe he can turn a Thursday in Bermuda into his own personal Masters, where he so often raced out to a hot start every April.
Matchup Man
One player who should beat comparable players
Mark Hubbard (+2500)
Take this for what you will: After I tweeted out the opening odds Monday morning, PGA TOUR veteran Parker McLachlin replied, "Hubbard looks good to me." I don't disagree whatsoever, as Hubbard has been making leaps and bounds with his game for the past year.
This number, like a handful of others this week, feels a bit too short to chase for an outright, but I love Hubbard in potential matchups, as he's made the cut in 21 of his past 25 starts.
In head-to-heads, I love the opportunity to win bets on either Friday (with the opposing player missing the cut) or Sunday (with our play beating the opponent straight up). Hubbard gives us that nice ceiling/floor combo.
Also Receiving Votes
Other players who should provide value
S.H. Kim (+3000), Patrick Rodgers (+3000), Alex Smalley (+3000), Stephan Jaeger (+3500), Adam Long (+4000), Byeong Hun An (+6000), Tyler Duncan (+8000), Garrick Higgo (+10000), Harrison Endycott (+13000), Vincent Norrman (+13000), Austin Cook (+15000), Martin Trainer (+30000)
How would you rate this article?
This site contains commercial content. We may be compensated for the links provided on this page. The content on this page is for informational purposes only. Action Network makes no representation or warranty as to the accuracy of the information given or the outcome of any game or event.