PGA Championship 2022: Unsurprisingly, Tiger Woods Thinks He Can Win at Southern Hills
Credit:
Richard Heathcote/Getty Images. Pictured: Tiger Woods.
TULSA, Okla. — So far this week, Tiger Woods is saying all the right things.
What, like you expected anything different?
The man who has spent years making comebacks from career-threatening injuries, only to insist on almost every occasion that he wouldn't be playing if he didn't believe he could win, is once again painting a picture of optimism in the days leading up to the 104th PGA Championship.
Not that we have any reason to doubt him.
It was six weeks ago when Woods made his long-awaited return to competitive golf following a serious single-car accident 14 months earlier. He finished 47th at the Masters Tournament that week, posting impressively resolute opening rounds of 71-74 before succumbing to tired legs and a balky putter over the weekend.
In advance of the second start of his latest comeback, Woods is already promising that he's healthier and more prepared for this one.
"[My body] is better than the last time I played a tournament, which is good," Woods said on Tuesday from Southern Hills Country Club, where he won this event in 2007, the last time it was played here. "We've been working hard and again, I have days where it's tough and you know, other days where we can push through it. But we keep working at it."
It might be a cliché to suggest that Tiger has spent the majority of his career outworking his fellow competitors, but it might not be wrong, either.
The latest comeback iteration has consisted of a flurry of ice baths and treatment on a daily basis – and he maintains that he started working toward preparing for this tournament after taking just one day off following the Masters.
"Yeah, there was a huge lull – Monday, that was it," he offered with a smile. "Then we went back at it, leg day on Tuesday and we kept going from there. Said, 'Let's go.' Figured the first mountain you climbed was Everest. That's the steepest golf course you're going to play and that was the first one you climbed it, and climbed. It's going to get flatter and better. But still, I still have tough days, and things aren't going to be as easy as people might think.
"But I feel like I'm doing better. I'm having more days in which are better, more positive. Able to practice a little bit longer. So, I'm able to do activities and things that I was hoping to do, and I'm finally able to do them."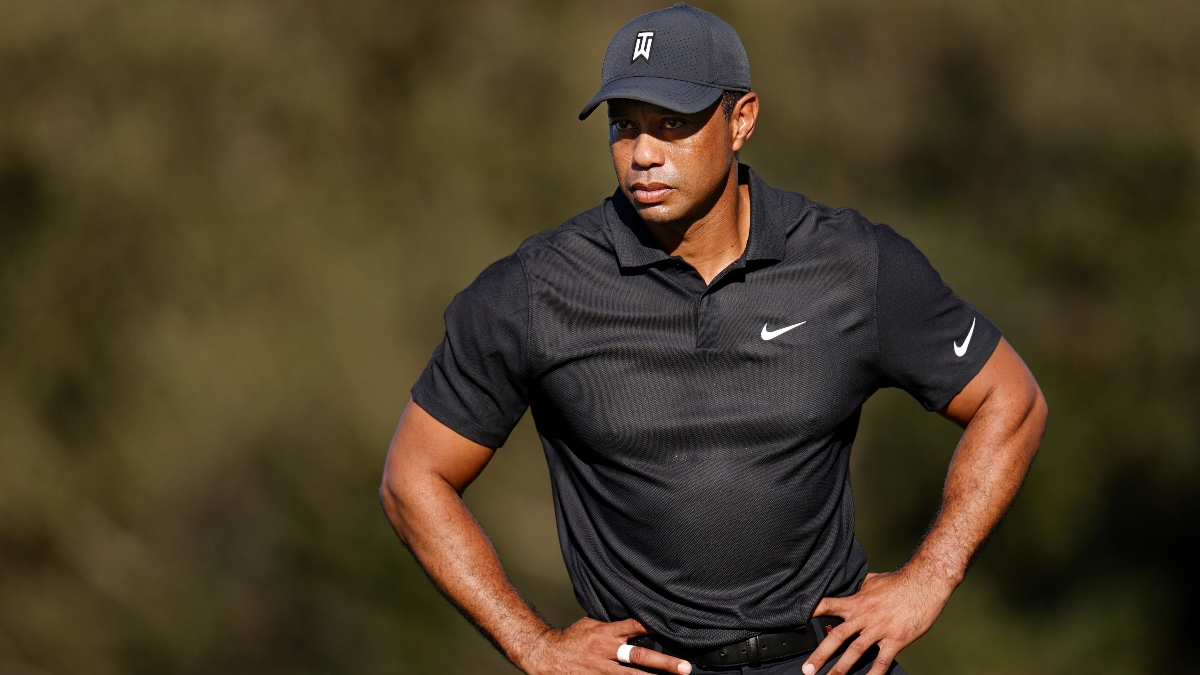 Bet Tiger Woods, Win $200 (No Matter What!)
All of which leads to one lingering question: What is Tiger's long-term ceiling?
This query is less about his potential success and more about his physical health. He was asked how close he is currently to being as healthy as he's ever going to be.
"I don't know; that's a great question," he admitted. "There's going to be limitations. There's a lot of hardware in there and there's going to be limitations to what I'm going to be able to do, but I'm going to get stronger. I don't know how much that is or how much range of motion I'll ever get back. But sure is a hell of a lot better than it was 12 months ago."
As if all of this positivity doesn't confirm his optimism, Woods was back at it again, reiterating the same company line that he's proffered at every injury checkpoint of his career.
That's right: As if we didn't know already, Tiger isn't just here to go through the motions this week.
Like he's said so many times before, he thinks he can win.
"I feel like I can, definitely. I just have to go out there and do it. I have to do my work. Starts on Thursday and I'll be ready."
What, like you expected anything different?
How would you rate this article?
This site contains commercial content. We may be compensated for the links provided on this page. The content on this page is for informational purposes only. Action Network makes no representation or warranty as to the accuracy of the information given or the outcome of any game or event.