2022 RBC Canadian Open Final Round Buys & Fades: Thomas, Burns, Smalley Lurking Behind Leaders
Credit:
Carmen Mandato/Getty Images. Pictured: Justin Thomas.
The third round of the RBC Canadian Open from St. George's Golf and Country Club started with several big names lurking behind a couple of lesser known players in the final pairing. It ended on Saturday evening with those big names firmly at the top as Tony Finau and Rory McIlroy each hold a share of the 54-hold lead going into Sunday. They'll be joined in the final group by Justin Thomas, who worked his way up the leaderboard with a 7-under 63 on moving day.
During a week that has been tumultuous for the PGA Tour, it couldn't have scripted a better set up for Sunday. Three of the Tour's biggest names will take center stage in what should be a really exciting final round in the return to Canada.
The leaders hold a two-shot edge over the rest of the field, but there are some proven winners in the group behind them. We'll take a look through the data below and see if we can cherry pick the winner going into Sunday.
Strokes Gained Explanation
Strokes Gained can give golf bettors, DFS players and fans way more detail on how a golfer has truly played by measuring each shot in relation to the rest of the field.
Using the millions of data points it collects, the TOUR calculates how many shots on average it takes a player to get the ball in the hole from every distance and situation. If a player beats those averages, he's gaining strokes on the field.
Every situation in golf is different. Strokes Gained measures how players perform relative to the situation.
In this piece, we'll touch on a variety of Strokes Gained metrics:
Strokes Gained: Off-the-Tee
Strokes Gained: Approach
Strokes Gained: Around-the-Green
Strokes Gained: Putting
Strokes Gained: Ball-Striking (which is Off-the-Tee + Approach)
Strokes Gained: Tee-to-Green (which is Ball-Striking + Around-the-Green)
In general, SG: Ball-Striking and SG: Tee-to-Green are the most stable long term, while putting is more prone to volatility.
You can often find live-betting advantages by identifying golfers who are hitting the ball well, but are just not getting putts to drop. Likewise, players with high SG: Putting numbers may regress moving forward.
3 Golfers to Buy in Round 4
It's an interesting Sunday to try to make a pick. We have one leader in Tony Finau who is notorious for falling short in the win category. The other leader, Rory McIlroy, has also had his struggles closing out tournaments lately and the third member of their group, Justin Thomas, just won the PGA Championship. If I am picking one from that group it has to be Thomas.
He is going to give us the best odds by virtue of his two-shot deficit and he is also ranked second in the field in SG: Tee-to-Green this week. Thomas gained better than a stroke in every category on Saturday, including with his putter. He is also gaining in all of those metrics this week and is one who player who could go low again and beat these guys, even if they don't fully stumble. He's the guy I'm adding and calling for the win entering the final round.
The group at 9-under is as far as I would go in adding anyone for an outright. I think we see the winner come from those six players as they are two more shots clear of the rest of the field. There is just too much ground to make up, so as I usually do, I'll double down on a couple of my buys from Thursday.
Sam Burns has been in position all week, but he just keeps stumbling along the way. He started fast with two birdies in his first three holes before a bogey at the par-4 5th, which played as one of the easier holes on the day. It was still a step forward for the former LSU grad as he put himself within a couple of shots of the leaders and will look for his fourth win of the season on Sunday.
Burns has shown an ability to play well in his final rounds as he has shot in the sixties in each of his three wins this year, including a 65 on Sunday during his win at the Charles Schwab. He is going to be really familiar with this moment and it won't be something that will overwhelm him across the final round. I like his experience and upside. He hasn't quite put together his best golf this week, but if it comes on Sunday, it could result in another win.
I mentioned that Thomas was second in SG: Tee-to-Green, but he isn't even in the ballpark with the best player in that category, Alex Smalley. The Duke grad has gained 13.7 shots tee-to-green this week, which is 4.5 shots better than Thomas. He is absolutely dusting the field getting to the greens, but his lost strokes putting have kept him from the lead. He missed a couple of short ones in his round on Saturday, which kept him from being right there with the leaders. Smalley did see a couple of long ones go down to close his round as his birdie from sixteen feet on 17, and a par save from over twelve feet on the 18th, put him within two shots. He was a guy I added at +6600 after the opening round and I am hopeful the good feelings of those made putts will propel him in the final round. He has a tall task to try to capture his first win and I'm not sure I would buy him here for an outright, but you have to like him in all other markets going into Sunday.
3 Golfers to Fade in Round 4
I have always been a big fan of Tony Finau and, from that perspective, I'd love to see him close it out on Sunday. However, I'm just not sure it plays out that way. Finau has always had some final round struggles and after an 8-under 62 on Saturday, he will have the tough task of following up a great round. It was also a round that saw the poor putting Finau gain more than three shots on the greens with another full shot gained around them. He was holing shots with the flat stick from all over the map in Round 3, both on and off the greens. My expectation is that we see the short game regress back to the norm in the final round and with the added leaderboard pressure, I think it could be another disappointing final round.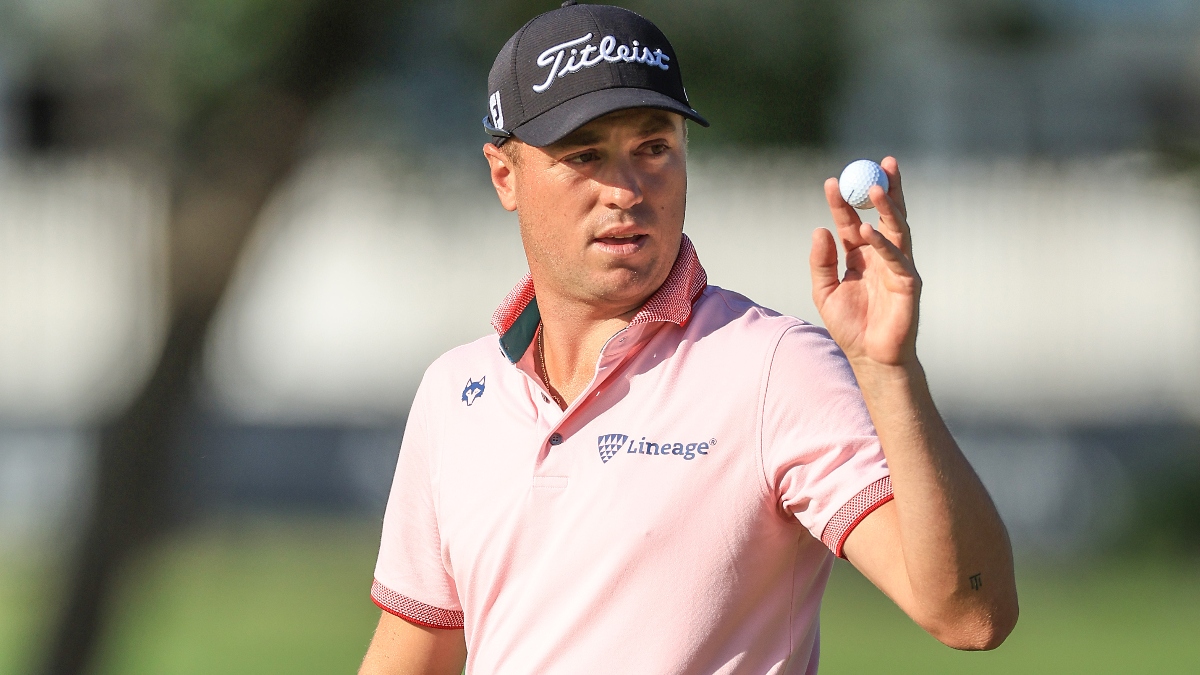 Bet the RBC Canadian Open, Win $200 (No Matter What!)
There are a couple of guys within the top 10 who we haven't seen on many leaderboards this year. The first one who stands out is Jim Knous. He hasn't had a top 40 finish on TOUR since the fall and that was his first top 20 since 2019. We understandably put a lot of focus on who wins in a given week, but top finishes for guys like Knous can be really impactful for a career.
Knous will undoubtedly be feeling the pressure when he tees it up on Sunday as he looks to capture a top finish and some of the perks that come along with that. I will be rooting for him, but I'll have to put the fade in as there are just too many guys around him who are better positioned for this moment in the final round.
The other player who stands out is Austin Cook. He has a similar track record to Knous as he doesn't have a top 40 this year and has missed eight of 12 cuts coming into the week. He shot a 2-under 68 to move inside the top 10 going into Sunday, but it was almost all putter. Cook gained more than two shots on the field with his putter on Saturday, while losing shots in both ball striking metrics. The pressure of a Sunday in contention isn't likely to allow him to get away with poor ball striking, which is why he's on my fade list for Round 4.
StrokesGained Data for All Players in Round 3
How would you rate this article?
This site contains commercial content. We may be compensated for the links provided on this page. The content on this page is for informational purposes only. Action Network makes no representation or warranty as to the accuracy of the information given or the outcome of any game or event.