2023 American Express Final Round Picks: Is There Value on Scottie Scheffler as a Long Shot?
Credit:
Pictured: Scottie Scheffler. (Photo by Meg Oliphant/Getty Images)
After taking down the Sentry Tournament of Champions two weeks ago, Jon Rahm will look to continue his scorching pace by picking up his fourth victory in six starts.
It has been an incredible run for the Spaniard after he voiced his displeasure with the current setup of the Official World Golf Rankings. Rahm called the system "laughable" and said the current method has turned into one that "devalues the better players."
While Rahm's criticism is justifiable, it also presents a challenging situation to solve since a safeguard is put into place to keep the PGA Tour on top of the pecking order.
Without it, events would become more of a free-for-all, and in a day and age where the future of the sport is changing by the second, I'm not sure how great an idea it would be to allow more pandemonium, especially when we need to be trying to figure out a way to consolidate the talent we have in one spot.
As the classic moniker states, 'winning solves everything,' and even if the fourth-ranked golfer in the world can't reach the pinnacle this week, the trajectory we see from Rahm could put him right back on top of the pecking order before too long.
If you aren't doing so already, you can find me on Twitter @TeeOffSports. There, I will provide a link to my pre-tournament model, a powerful and interactive data spreadsheet that allows user inputs to create custom rankings for golf. That sheet is released every Monday, so be sure to check it out and construct your own numbers from my database of information.

Sunday Thoughts
We have discussed this theory a lot over the past few months, but it doesn't hurt to dive into it again. If you want a more in-depth breakdown of what my model has noticed, you can click this link, but the combination of a golfer sitting outside the top 10 on Saturday night and starting beyond a five-shot deficit has been a virtual game-ender.
Only one golfer in 88 trackable attempts has bucked that trend in my model (Sam Burns at a windy Charles Schwab), and it presents a game theory solution that suggests the list of potential winners stops after a share of ninth place.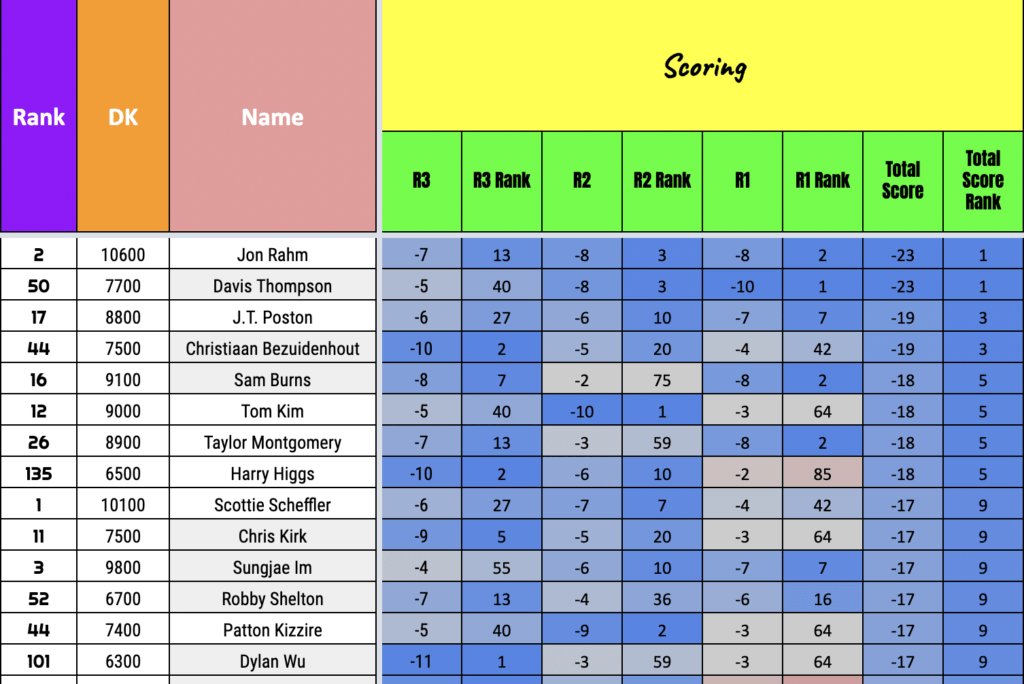 You don't need to be a rocket scientist when you look at the lack of 16-under players, but it does remove options like Jason Day, Xander Schauffele and Tony Finau at 15-under for those hoping to get lucky with a Sunday dart throw.
In fairness, the right way to play this is likely to sit back and watch Rahm's greatness, but with books massively enhancing his win equity and taking all the fun out of getting any money down on him, let's take a super small shot on Scottie Scheffler at 50/1.
My model has been a massive advocate for Scheffler, suggesting he is a hot putter away from winning an event — something we couldn't be further away from receiving this week — but this board does start to get interesting if Rahm falters Sunday.
We saw the inverse of this situation play out at the Tour Championship, where Scheffler lost a six-shot lead to Rory McIlroy on the final day. Even if it seems far-fetched that the hottest player in the world suffers the same fate as his current chaser, crazier things have happened — especially on a course that brings water into play on nine holes.
_InlineAdBlock
How would you rate this article?
This site contains commercial content. We may be compensated for the links provided on this page. The content on this page is for informational purposes only. Action Network makes no representation or warranty as to the accuracy of the information given or the outcome of any game or event.