2023 BMW Championship Matchup Picks: Time to Fade Lucas Glover
Credit:
Andy Lyons/Getty Images. Pictured: Golfer Lucas Glover
We are down to the final 50 golfers for this week's BMW Championship with the remaining participants eyeing a much bigger prize next weekend at East Lake for the Tour Championship.
In order to qualify for that event, players will need to land within the top 30 of the FedExCup standings after the completion of this week.
You can see where everyone stands entering Olympia Fields in the image below: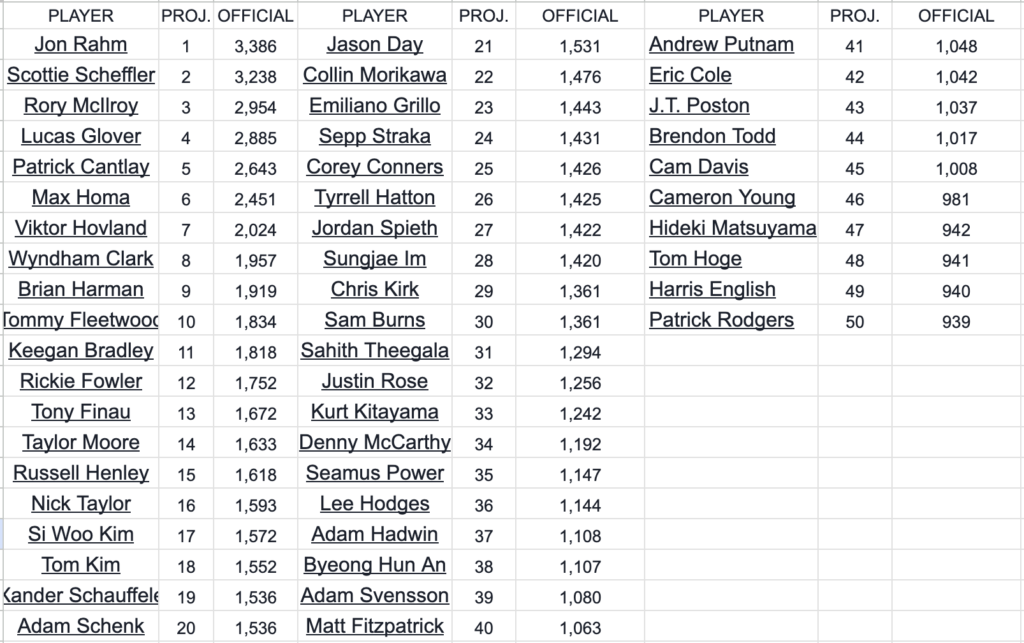 There are a ton of unknowns in what to expect since how someone will react to being a chaser on the outside looking in will be player dependent. However, we can try to figure out what golfers should suit the venue well and go from there.
With that idea in mind, let's find some head-to-head options I have backed for the week against names I am looking to take on in the market.
If you haven't already, you can find me on Twitter (@TeeOffSports). There, I provide a link to my pre-tournament model, a powerful and interactive data spreadsheet that allows user input to create custom golf rankings.
That sheet is released every Monday, so be sure to check it out and construct your own numbers from my database of information.
Tournament Matchups
Jordan Spieth -115 over Lucas Glover (FanDuel) 

Well, I guess the play was so good that the market decided to move this wager nearly 70 points over on FanDuel in the past 24 hours since I first released the selection.
I will say that while the train has left the station on this matchup because I am never going to lay that much juice on anything in a no-cut, limited-field contest, the basis of my thought process always stemmed around trying to find a fade against Lucas Glover above backing a particular opponent.
If you shop around, you can still find this more in the -130 to -140 territory at some shops, but let's talk about the overall breakdown of why I like taking Glover on for the week.
I need to note that I have been backing Glover over the past few weeks during this run of his that has seen back-to-back victories and three additional top-six finishes in six starts. That is a noteworthy addition to this take since I am not mindlessly fading someone who has won in consecutive tournaments.
However, some critical problems from a course fit perspective may be placing the American into this overpriced range.
Glover graded 43rd out of 50 players in projected strokes gainedtotal when recalculating my data for the event. Most of that answer stemmed from this decrease in my model off the tee when adding more credence to distance over accuracy.
It was one thing when Glover could take advantage of his ability to find fairways. It is another when he loses that potential strength by grading 30th for projected scoring and dead last for hard-scoring courses and fast + firm conditions.
What happens this week should not be held against Glover's Ryder Cup chances since a European track is much better suited for him than a potential bomb and gouge test. Still, I just think the game unravels at a venue that isn't overly conducive for him to find high-end success.
I am taking Glover on with a handful of names if the opportunity presents itself, which may be a broad spectrum of options since every book offers different possibilities.
Sungjae Im -110 over Brian Harman (FanDuel) 

Once Brian Harman became "Champion Golfer of the Year," my model decided to go from his No. 1 fan to a value-finder looking to oppose him since it didn't believe he belonged in the same range as some of these potential opponents.
That answer explains price points and looking for value better than anything else, but we do seem to have question marks from a statistical perspective that will stretch into my core reason for why I am looking to fade Harman in most markets this week.
The American graded 49th out of 50 golfers on these medium-to-long Par 70 venues and a head-scratching 47th in projected strokes gained total.
As most of you know by now, that is not the expectation my model typically yields for him weekly, which indicates that there could be a danger for him if the track plays long.
I will gladly take on that profile with Sungjae Im, an option my sheet placed first in projected par-five scoring.
Round 1 Matchups
Hideki Matsuyama -115 over Lucas Glover (Bet365)

I don't want to spend too much time reviewing all the same reasons again for why I am fading Lucas Glover.
In fairness, I would have liked to have gotten Hatton or Homa against Glover if I could have picked my similarly priced choice in any of these matchups, but there is a reason all of these head-to-head matchups that have entered the market are moving quite heavily against the American.
I don't think this will be any different when the price inevitably shifts more in favor of Matsuyama being the likely victor, creating value at this -115 total.
Tyrrell Hatton -120 over Corey Conners

Corey Conners' sixth-place finish last weekend at the FedEx St. Jude Championship was a bit of a bait-and-switch since it took a mad-dash finish to work his way up the leaderboard over the weekend.
That is fine from an expectation standpoint entering the BMW Championship because it shows a golfer who may have found something to wrap up the contest.
Still, I had some concerns with the data output when diving into the distribution of metrics.
Conners got an ideal four days by getting to play "lift, clean and place" over each portion of the event. I am not sure why we needed to go that route and give the more accurate drivers an advantage at TPC Southwind, but I did think it helped to keep him in the game when things were going south with his irons.
We will see what happens at a longer course when that factor is no longer available, and I would expect some form of regression with the short game after gaining 4.5 shots.
How would you rate this article?
This site contains commercial content. We may be compensated for the links provided on this page. The content on this page is for informational purposes only. Action Network makes no representation or warranty as to the accuracy of the information given or the outcome of any game or event.