Sobel: Is Spieth a 'Trap Game' Play at the AT&T Byron Nelson?
Credit:
Pictured: Jordan Spieth. Credit: Jasen Vinlove-USA TODAY Sports
Welcome to another weekly edition of my PGA Tour tournament preview column. Great to see some new faces in here. Anyone from, oh, I don't know … New Jersey?
Well, just to make you feel at home (and because this is a strict no-Bon Jovi-zone), let's fire up a little Springsteen to get us in the mood:
You put on your coat, I'll put on my hat
You put out the dog, I'll put out the cat
You put on your red dress for me tonight, honey
We're going on the town now, looking for easy money.
What, you were expecting "Atlantic City"?
The PGA Tour is a long way from the Garden State this week, as it returns to Texas for a revamped version of the AT&T Byron Nelson.
Being played for the first time at Trinity Forest, a Coore & Crenshaw design built on an old landfill, the tournament is going to have a much different look than the usual parkland courses we see each week. Think Chambers Bay, but (hopefully) without greens that are being compared to broccoli.
The field is going to have a different look, too.
Ever since Nelson's death in 2006, this tournament has lacked star power, despite the efforts of one of the best staffs on the PGA Tour and the unsinkable vivacity of Nelson's widow, Peggy, who still greets players with homemade cookies after their rounds.
(Six years ago, on what would've been Byron's 100th birthday, I spent a few days with Peggy in Fort Worth as she offered a tour of her late husband's favorite lunch spot and church and the school named in his honor. The highlight, though, was seeing their ranch, and walking through the workshop where he spent so many hours during his retirement years. Point is, she does a tremendous job of keeping his spirit alive, especially during the tourney each year.)
We too often judge the strength of a field by its stars and work our way down. In reality, we should cull our inner Drake and start from the bottom. Unfortunately for the Nelson, each strategy shows a less-than-desirable entry list this week.
Without the cushy confines of the Four Seasons to keep players appeased, there's been a mass exodus in the first year at Trinity. At the top, we find just two players in the top 10 in the world ranking, Jordan Spieth and Hideki Matsuyama. There are only two more (Sergio Garcia and Marc Leishman) in the next 10 and two more (Matt Kuchar and Satoshi Kodaira) in the 10 after that.
If we look at the bottom, it's even more dire. Nothing against any of 'em, but if the likes of Kris Blanks and David Berganio Jr. and Omar Uresti are getting into your field, that means a lot of players on the list have opted out.
All of which just means we have to dig a little more deeply and do a little extra homework for this one.
Or, to go full Springsteen, this week is "Tougher Than the Rest" because we're "Dancing in the Dark," but by Sunday evening, let's hope we're all singing, "I'm On Fire."
Before I show myself out, let's dive into my pick to win, plus top-five and top-10 props and a few players I'm fading.
Winner
We're mired in that brutal time of a football fan's year when we're a few months removed from having watched any games and a few months from watching any in the future.
For those addicted to the gridiron, it's not just the games, but even certain terms that are deeply missed. So allow me to use one for this tournament.
Jordan Spieth is a trap game.
And, yes, I'm completely chomping on the bait.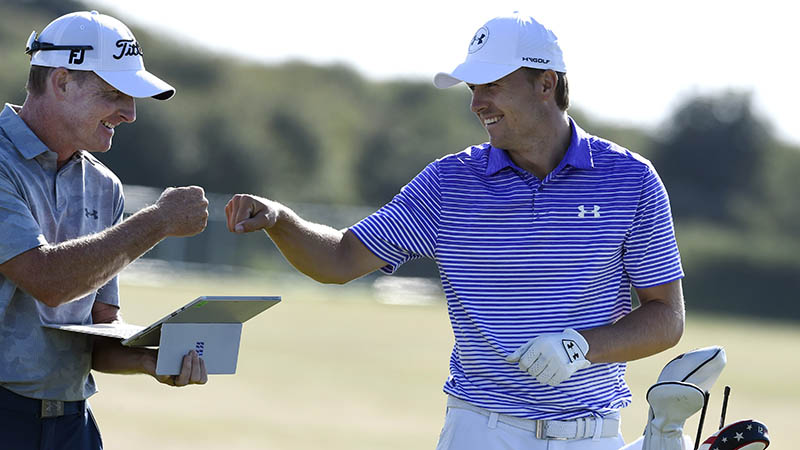 Jordan Spieth knows Trinity Forest well thanks to his coach Cameron McCormick. Credit: Ian Rutherford -USA TODAY Sports
---
For starters, Spieth has continually insisted that his game is good enough to start winning titles soon, something his tee-to-green stats confirm, if not his putting numbers.
He also maintained Sunday that he historically plays better when he's in the midst of consecutive starts, which also rings true.
And then there's the not-so-small fact that Spieth is a member at Trinity Forest and often practices there with swing coach Cameron McCormick.
"I'm going to a place that I have a significant advantage at next week, an advantage over anybody else in the field," he said, "having been there from the day they sprigged the greens."
Oh, and that earlier Chambers Bay comparison? Hmmm … let's think about who won the U.S. Open there … that's right, it was Spieth.
Of course, at +550 and easily the highest-priced DFS choice this week, it's not like Spieth is flying under the radar.
Like I wrote, classic trap game.
And just like a cartoon mouse going after a big hunk of cheddar, I'm just hoping not to get caught in it.
Top-Five Props
With his T-11 finish at The Players, Adam Scott moved up from 71st in the world ranking to 65th — and he's ultra-motivated to move into the top 60 within the next month.
Why? If for no other reason than 60th or better would mean the past Masters champion won't have to hoof it for 36 holes in a U.S. Open qualifier while wearing shorts and potentially teeing it up with a few club pros.
That's why he's prepared to play as much golf as possible in the hopes of making that move.
"If I don't play well enough next week to get in the top 60," he said Sunday, "I'll be looking at Colonial and Memorial, and I don't know if Memphis can help me or not at that point, but we'll see."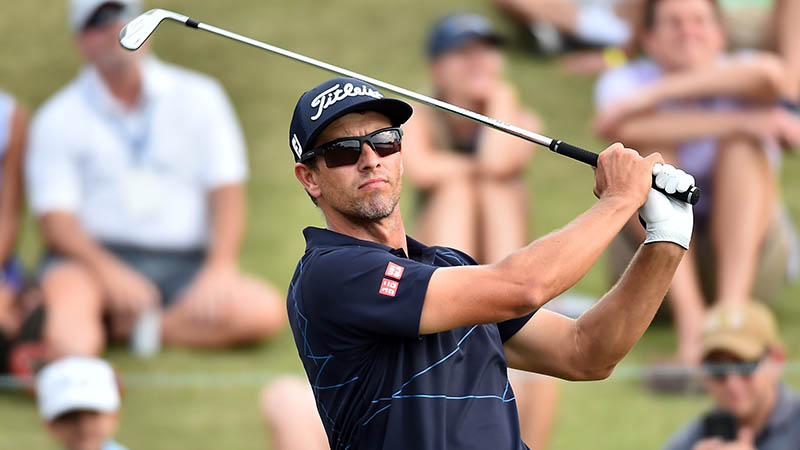 Pictured: Adam Scott. Credit: Jasen Vinlove-USA TODAY Sports
---
What would help Scott (+500 for top-five) the most is to simply put together one or two really strong results and not have to worry about chasing that number.
He's well-aware of that, of course, and we should be, too, as his motivation for top-60 should parallel our motivation to pick him.
Speaking of being motivated, let's talk about Branden Grace (also +500 for top-five).
The sweet-swinging South African hasn't missed a cut since August of last year (!!), which is doubly impressive considering he plays all over the world on so many different kinds of courses.
But it's one particular type of course that should interest us this week.
With so few professional tournaments — even on the European Tour — still being contested on links, it's difficult to assess the true value of specific players on these tracks. Grace, though, certainly would rank better on links-style courses than his 36th spot on the world ranking would imply.
At the aforementioned U.S. Open at Chambers Bay, he was in contention until the last few holes, when he nearly drove one onto the train tracks. And he's improved nearly every year at The Open Championship, culminating with a T6 result at Royal Birkdale last year, when he just happened to post the first 62 in major championship history.
If you don't want to take the bait and potentially fall into the Spieth trap this week, Grace also owns some nice value to win at +2500. He just might be crossing into that intersection of solid form and a course that suits his abilities.
Top-10 Props
One of two things usually happens when a tournament is held at a venue largely unfamiliar to the competitors.
The first is what we normally see at a U.S. Open or PGA Championship site. Sure, many of these stay in the rotation long enough that older players might compete there a few times during their careers, but for the most part, experience is negated and the cream basically rises to the top of the leaderboard.
The second is more customary at regular PGA Tour events. Instead of talent winning out, the opposite actually takes place, with that lack of experience rendering a more level playing field.
When the erstwhile Quicken Loans National went to the Robert Trent Jones Golf Club in 2015, Troy Merritt won his first and only title; when it moved to TPC Potomac last year, Kyle Stanley earned just his second win. When the Wells Fargo Championship took a one-year detour to Eagle Point last year, Brian Harman claimed his second career victory. And when the Punta Cana event went from a Web.com tourney to the PGA Tour this year — granted, opposite a much better field at the WGC-Dell Match Play — Brice Garnett won for the first time ever.
Those are neither plentiful nor perfect examples, but that's the point: Prognosticating tourneys at new venues is an inexact science.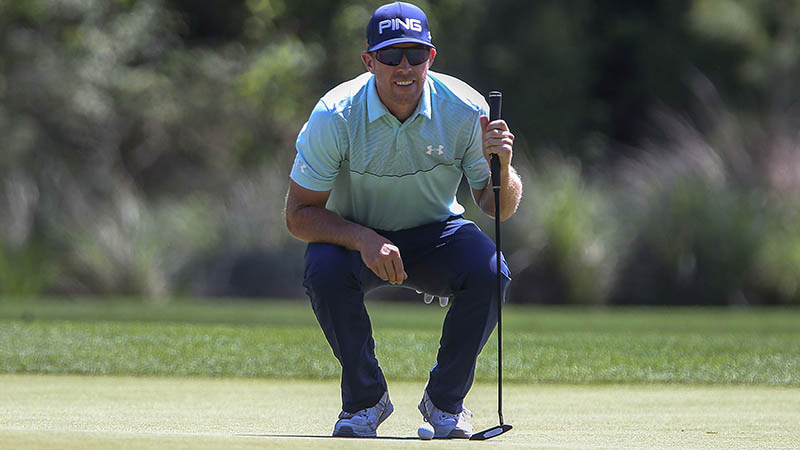 Pictured: Hunter Mahan. Credit: John Glaser-USA TODAY Sports
---
I'm looking for guys here on various levels of sneakiness, from low to high.
Let's start with the less subtle ones.
Stephan Jaeger (+1150 for top-10) is a full-fledged PGA Tour member, but since he didn't get into last week's Players Championship, he simply dropped down to the Web.com and picked up his fourth win on that circuit in the past three years.
Maverick McNealy (+550 for top-10) was all-everything as an amateur at Stanford and is quickly parlaying that into some decent results on the professional level, with finishes of T18 and T3 in his last two Web.com starts.
When you say links, I think Scotland, and a few natives of that country who have long resided in the U.S. could own a nice level of preparation for this event. Martin Laird (+375 for top-10) and Russell Knox (+550 for top-10) have each shown some flashes this year — especially Laird, who owns three finishes of 11th or better since January.
Don't get too cute, but Hunter Mahan (+1400 for top-10) is playing on his adopted home course this week and has made three cuts in a row.
And if we want to get really sneaky, Tyrone Van Aswegen (+1350 for top-10) hasn't been terrible this year — and besides, it's always fun to tell people you're on the Aswegen this week.
Fades
There's plenty of risk-reward in golf. Go for a par-5 in two or aim at a tucked flagstick, and the proper execution could lead to a better possibility.
But I'm going to offer you a reminder when making selections this week: Don't try to be a hero.
I've already detailed the weak strength of field and the number of players who got into this event and usually don't. Whether it's a Hail Mary wager or a minimum-priced DFS selection, maybe you're thinking about taking a shot on a guy like David Duval or Tim Herron (each +90000 to win).
Don't do it.
Even though there's no course history this week, it's difficult to imagine anyone jumping off the couch and into contention.
I'm totally in favor of some off-the-radar picks — in fact, you're going to need some in what should be one of the least chalky tourneys of the year. Just don't go too deep. If a guy hasn't played more than a handful of times this year, it's doubtful he's going to uncover some secret in the dirt at Trinity Forest.