Sobel's Players Championship Mega Preview: Finally, Looking Out for No. 1
Credit:
Pictured: Jordan Spieth and Dustin Johnson. Rob Schumacher-USA TODAY Sports
PONTE VEDRA BEACH, Fla. — Great news! This is Players Championship week, one of the most highly anticipated events on the annual schedule.
Not-so-great news! This is also one of the most unpredictable events each year, so buckle up.
The winner's list since the turn of the century includes stars (Tiger Woods, Phil Mickelson) and surprises (Craig Perks). It includes long hitters (Adam Scott) and short knockers (Fred Funk). It includes old guys (sorry, Funk again) and young studs (Si Woo Kim).
I've always maintained that this is one of the toughest tourneys to handicap, for both the eclectic group of winners and the oft-eclectic group of contenders who finish behind each of them.
My fallback stat, if you need to look at one, has always been ball-striking — the theory being that laser-like iron play is usually a good place to start at any event when seeking potential leaderboard stalkers.
Of course, guessing at these things is no longer necessary.
I asked The Action Network's own data scientist, Colin Davy, for one statistic that has been a successful fit for TPC Sawgrass over the years. The analytics surprised me. According to his numbers, of the major statistical categories, driving accuracy was the most important on this venue, followed by driving distance, greens in regulation, scrambling and, finally, putting.
Score another point against the ol' "drive for show, putt for dough" crowd.
Based on these numbers, let's examine the best drivers of the golf ball this season, before getting to my pick to win, along with some top-five, top-10 and head-to-head matchup props I'm eyeing.
We don't have to look too far to find a few contenders on this list. Leading the way in strokes gained driving is none other than the world's No. 1-ranked player, Dustin Johnson. Next on this list is the world's No. 3 player, Jon Rahm. They're followed by a bevy of possibilities this week: In order, Francesco Molinari, Brendan Steele, Bubba Watson, Tommy Fleetwood, Luke List, Keith Mitchell, Gary Woodland and Patrick Cantlay. All of them are viable candidates to contend.
Let's get right to the picks, including a big-time star who's getting the Rodney Dangerfield treatment this week.
Winner
According to those who process such information, there are five players who could be ranked No. 1 in the world by the end of this week. Four of 'em — Justin Thomas, Jordan Spieth, Rahm and Justin Rose — are challengers.
Johnson is the current titleholder.
It's easy to forget that sometimes. DJ tends to lull us to sleep, the byproduct of "only" winning once this year and "only" finishing 10th at the Masters and "only" playing once since then, a T-16 at the RBC Heritage.
If society as a whole is fickle these days, then the way we view elite golfers is downright capricious. In a game that has always taken a long-view perspective toward success, the what-have-you-done-for-me-lately attitude is a study in contrast. The backlash against players such as Thomas and Spieth for admitting to "slumps" has, over the years, become so vitriolic that they've fired back with explanations about how this all works.
Jason Dufner, back when he'd actually have a casual conversation with someone in the media, would often recite to me the old adage about a golfer who wins 2% of his starts being a Hall of Famer someday.
It's as if everyone who watched the game over the past two decades collectively put their blinders on and decided that if Tiger can make every cut and contend nearly every week, well, others should be held to the same standard. This just in: Tiger isn't other players and other players aren't Tiger.
All of which leads us back to DJ.
It feels like the golf world wants something more out of its No. 1-ranked player. It wants a guy whose elegance on the course is matched by his eloquence off it. It wants someone upon whom we can hang hopes and dreams of double-digit majors. It wants a player who qualifies as a superstar every single time he tees it up, without fail. Or more to the point, it wants Tiger in his prime.
Sorry, but DJ isn't Tiger, and he's never going to be. Others might be more ebullient in post-round interviews or more accomplished in major championships, but nobody has the offensive firepower of Johnson.
While his career record at The Players isn't too special — past four starts: 59th, 69th, 28th, 12th — that No. 1-ranked driving stat certainly is.
Plus, he just might have some enhanced motivation this week — courtesy of none other than the PGA Tour itself.
This past weekend, before all tee times were made available, the PGA Tour announced its two featured groups, ostensibly including its six biggest draws:
Group 1: Woods, Mickelson and Rickie Fowler
Group 2: Spieth, Thomas and Rory McIlroy.
Nothing wrong with either of those, except for one small problem: The man who's been the game's No. 1-ranked player for the past 15 months wasn't included.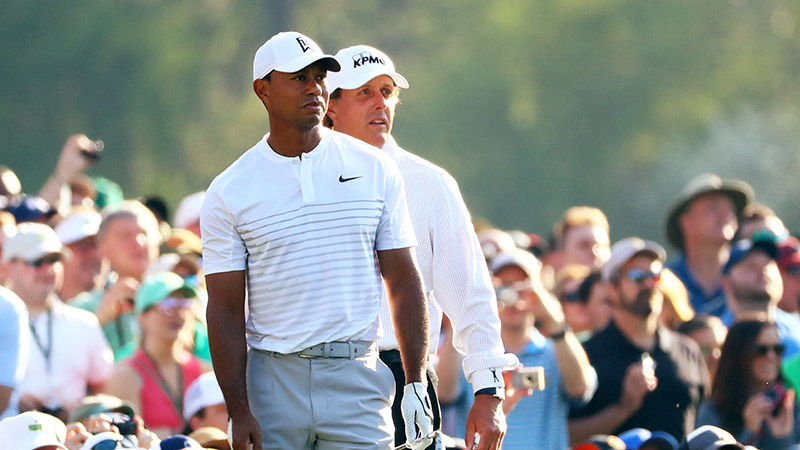 Pictured: Tiger Woods and Phil Mickelson. Credit: Rob Schumacher-USA TODAY Sports
Now, DJ tends to consider such matters inconsequential — or not even consider them at all — but there could be a little more fight in the dog this week. He prefers to let his clubs do the talking, and with a victory this week, they'd send an awfully strong message to the PGA Tour execs who failed to include him in those featured groups.
You see, he isn't just the No. 1 player the public doesn't want. He's the No. 1 player whom even those who run the Tour don't want.
And the oddsmakers, who consider only winning potential and don't concern themselves with such trivialities as a player's personality, have enlisted four players as co-favorites this week — and none of them is Johnson, who's listed at +1600, just behind Spieth and Thomas at +1400 and tied with McIlroy and Jason Day.
Even Johnson's own swing coach, the unflinchingly honest Butch Harmon, said this week on Golf Channel that DJ needs to work harder to retain his top ranking, essentially throwing his own guy under the proverbial bus.
A win for Johnson won't be as celebrated as one for Spieth, Thomas, Woods or Mickelson, but he'll be just fine with that. The game's best driver of the golf ball is competing on a course that rewards long, accurate drives. With a little extra motivation, he could have the last laugh by Sunday evening.
Top-five props
Sometimes we have to read between the lines to gain an advantage. Other times the truth is slapping us across the face like a three-club wind.
Let's go with three picks here that we don't have to overthink.
If you've taken Bryson DeChambeau (+1000 for top-five) for top-fives over the past month and a half, it's been a very profitable play. He finished runner-up at the Arnold Palmer Invitational, T-3 at the RBC Heritage and solo fourth at the Wells Fargo Championship, with a T-43 at the Masters being his only finish outside the top five in his past four starts.
The guy known as the Golf Scientist is trending in the right direction. Stick with him.
Here's another potentially obvious top-five selection: Henrik Stenson (+400). He leads the PGA Tour in driving accuracy this year and owns five top-20 finishes in six starts.
Most importantly, Stenson has finished 17th or better in four of the seven editions of this event since it moved from March to May. Why does that matter? Because the course plays much firmer two months later. Stenson has the ability to pummel the fairways with his methodical 3-wood and let his ball roll forever.
All right, one more — and I'll continue on the same theme of DUH: Patrick Reed (+700 for top-five) now owns five consecutive top-10 results, and two inside the top five.
It feels too easy to simply look at the recent Masters champion and extrapolate future results based on previous performances, but the writing is all over this wall. He's a really good player who's playing really well right now. Call me crazy, but I like that combination.
Top-10 props
Earlier this week, I joined the SiriusXM PGA Tour Radio "Inside the Ropes" show with my friends Dennis Paulson and Fred Albers. (Usual co-host Carl Paulson was out that day.)
For most of our segment, two of the guys who watch more live golf than just about anyone around humored me by asking what I thought of certain players for this week's tournament and who I believed could contend.
Toward the end, though, Fred started a question with the following words: "I want to know what you think of the following three players who I like this week and aren't getting much attention …"
Well, that alone was enough to get my attention.
He proceeded to name Chesson Hadley (+800 for top-10) and Steele (+1400 for top-10), two players who were already on my radar. Then he threw out Adam Hadwin (+900 for top-10), a guy I admittedly tend to continually underrate despite his consistent performances.
I might not be smart enough to make great picks all the time, but I am smart enough to understand when someone in the know is feeding them to me.
Matchup props
You can't always take a player at his word during pre-tournament interview sessions. In these moments, they're usually filled with optimism and confidence that a new week is about to unleash newfound glory.
All of which made it so interesting when Spieth first spoke during his news conference Tuesday.
As soon as Spieth sat down, the PGA Tour moderator lobbed him a softball: "Jordan, how's your game going into this week?"
Most players would simply take this baton and run with it, regaling the assembled media with tales of what they've worked on since their last start.
Spieth? His response was: "Yeah, I'm not sure." Then he laughed.
I know what you're thinking: Based on this response, I must be fading Spieth against all comers this week, especially considering his record of three consecutive MCs here entering this week.
Think again.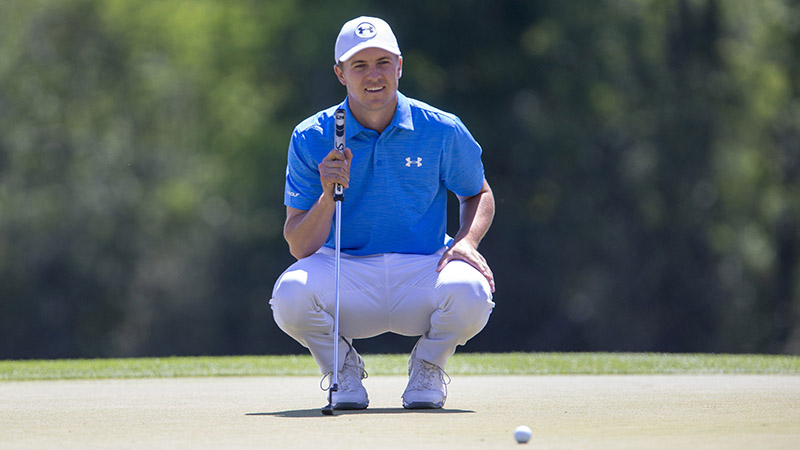 Pictured: Jordan Spieth. Credit: USA TODAY Sports
I don't even care that Spieth (-115) is matched up against Day, Sunday's winner, this week. The law of averages is going to play catch-up for him. And the truth is, this isn't a bad course for him at all.
Expect a big week out of Spieth, who has some demons to slay here — maybe not some Augusta-sized demons, but demons nonetheless. I like him against Day, who could be running on fumes after the win at Quail Hollow.
Fades
The Players isn't just the toughest tourney of the year to handicap; it's also the most difficult to defend.
The following was tweeted out by a buddy from my old Golf Channel days, Brandel Chamblee, and it shows how champions have struggled to follow up in recent years.
Defending champions @THEPLAYERSChamp since 2007:
07-Ames MC
08-Phil 21st
09-Garcia 22nd
10-Stenson MC
11-Clark WD
12-Choi MC
13-Kuchar 48th
14-Woods DNP
15-Kaymer 56th
16-FowlerMC
17-Day 60th

It's the hardest major championship(debatably)to win on tour and the hardest to defend. pic.twitter.com/4wJjYIB94z

— Brandel Chamblee (@chambleebrandel) May 3, 2018
(Quick aside: Chamblee is the most polarizing golf commentator out there today, and I know a lot of people who dislike him for his multitude of opinions. That's their prerogative, of course, but as a former co-worker and someone who worked in the TV industry for a long time, I can assure you that I never worked with an analyst who worked harder at his craft, cultivating information and presenting his interpretation of it. Mark Schlereth, whom I worked with back in our old ESPN days, came close, but Chamblee sets the bar for diligent analysis.)
Enter Si Woo Kim (+10000 to win).
It still astounds me that a 21-year-old won The Players Championship and yet is still left off the short list of best up-and-coming young talents, because of … a language barrier? Personality? Failure to back up that win immediately?
Granted, Kim hasn't played his best golf since last year's victory, but he does own a second- and a third-place result. In fact, that runner-up came at the RBC Heritage just three weeks ago, when he threw darts into the greens all day and couldn't hit the ocean on a midrange putt, eventually losing in a playoff to Satoshi Kodaira.
He's obviously in some sort of form entering his title defense, but I can't argue with those numbers Chamblee tweeted. On a brutal week for defending, stay away from last year's champion.