Sobel: The Studs Who Stand Out at Quail Hollow
Credit:
Allan Henry-USA TODAY Sports. Pictured: Rickie Fowler
CHARLOTTE, N.C. — There's a buzz around Quail Hollow this week.
OK, so maybe it's not the same buzz that was circulating here the last time a tournament was held on this course — the PGA Championship just nine months ago — but it's a buzz nonetheless.
And there's good reason for it.
This week's edition of the Wells Fargo Championship includes 15 of the top-25 players in the current world ranking, with the likes of Justin Thomas, Rory McIlroy, Rickie Fowler and Phil Mickelson teeing it up, plus the world's 93rd-ranked player — some guy named Tiger Woods.
The buzz isn't just about those guys, though. It feels like a "Welcome Back from Spring Break" week on the PGA Tour.
Think about it: Following the Masters, we had the RBC Heritage, a fun event with a laid-back vibe but an average field; after that, it was the largely forgettable Valero Texas Open; and then last week, the Zurich Classic, which featured a solid list of stars, but felt more like a glorified member-guest.
So, what does it all mean for this week? I'm glad you asked.
Players in this field should come in refreshed and relaxed and ready to grind again. There aren't too many times during the season when this type of atmosphere converges at a non-major, but I'm expecting the best players to be on top of their games at this one, just as they've been in two other similar pockets of the schedule.
Even though there was only one week between the PGA Championship and the first playoff event (Northern Trust) last year, the latter served as both a literal and mental reset for players. The result was two of the biggest names battling it out, as Dustin Johnson beat Jordan Spieth in a playoff.
And earlier this year, following relatively weaker fields at the Sony Open and CareerBuilder Challenge, the Farmers Insurance Open felt like a big deal — the biggest sporting event on the calendar during the bye week between the NFL's conference championship games and the Super Bowl. The result there was another star, Jason Day, prevailing at week's end.
This week feels very similar to those. Pay attention to the pattern, because the list of contenders Sunday afternoon should again feature some prominent names.
Which studs do I Iike to finish top 5 and top 10? Who am I targeting in matchups? And who's my pick to win? Let's dive in.
All odds from Sportsbook.ag as of Wednesday evening.
---
Winner
If you read the above lede without just skipping here to the prediction section, you should know where I'm going with this.
Sure, the winner's list for this tourney includes the rare Derek Ernst sighting, but it more often features the likes of Rory, Rickie and Tiger. You can convince me to place a few bucks on a not-so-out-of-nowhere guy such as Tony Finau or Webb Simpson (he's a member at Quail Hollow), but I'm expecting another big-name winner this week.
Of course, narrowing down the list of contenders to "Really Good Players" is the easy part. Trying to figure out which one is the best play? That's hard.
Thomas (+950) feels like the safe pick, fresh off his breakthrough initial major championship here last August. Now the world's second-ranked player, he hasn't finished worse than 22nd place in eight starts this year. If you like him, take him. I won't argue it.
McIlroy (+700) will be another popular selection. He won at Bay Hill three starts ago. He tends to play his best golf during the second or third week of a consecutive stretch, but again, if you like him, take him and I won't argue it.
My pick to win, though, isn't either of 'em. I'm going with Fowler (+1000, pictured above).
Six years ago, he earned his first career PGA Tour title at this event. He still loves this course, as evidenced by his streak of six made cuts in six starts here, plus a T-5 at last year's PGA Championship.
With Fowler coming off a second-place finish in his last start at the Masters, it feels as if he is on the verge of winning yet again. This week makes perfect sense for it.
---
Top-5 Props
I see a few really nice value plays in this area. Ryan Moore (+750 for top-five) hasn't finished outside the top-30 in his past four starts and could be knocking on the door for a win very soon. Grayson Murray (+2300) is a Carolina guy who should be comfortable in familiar surroundings.
But the guy who's really trending in the right direction toward a strong week is Chesson Hadley (+750).
Why? Try this: He's finished T-18 (Houston), T-7 (Harbour Town) and T-20 (Texas) in his past three individual events.
Like Murray, Hadley is a North Carolina native who should feel a comfort level in this environment. Over the past year, he's often talked about the dose of reality he received after losing his PGA Tour card, dropping back to the Web.com Tour, then winning twice last season and earning that circuit's Player of the Year honors.
His recent results ensure he's not dropping back to the minor leagues anytime soon, which makes this a perfect place for him to step on the gas pedal.
---
Top-10 Props
Let's talk about sponsor exemptions.
There was a time when these were mostly offered to longtime pros who needed a little boost to get into a field, guys who had played a specific event for the past decade and then petitioned the tournament director for a spot.
This still happens for restricted exemptions, those that are doled out to PGA Tour members who don't have the status to get in on their own merit, as evidenced by this week's picks — Charlotte locals J.T. Poston and Johnson Wagner.
By and large, though, tourneys have started to offer their unrestricted exemptions in a similar manner to what you've seen at the Travelers Championship and John Deere Classic for years: They're now giving these spots to young up-and-comers who might reward the events by continuing to return once they've blossomed into world-class players.
Count the Wells Fargo among those who have followed this lead.
Four youngsters still trying to attain full privileges in the big leagues — Sam Burns, Dylan Frittelli, Ryan Ruffels and Dru Love — got this week's unrestricted exemptions. And I like three of 'em in the top-10 spot this week.
Burns (+900 for top-10) won the Jack Nicklaus Award as the nation's top collegiate golfer last year, then was awkwardly left off the Walker Cup team. He's shown plenty of game as a pro, though, with three top-20s in his past five PGA Tour starts.
Frittelli (+1050) is a guy I loved as a sleeper entering Masters week, only to see his bright start this year fizzle out at Augusta. I'm back on the bandwagon now, as he returns to a venue where he made the cut at last year's PGA Championship.
Ruffels (+5000) made the cut alongside Jason Day at last week's Zurich Classic. They struggled in the alternate shot format, but I'm more interested in their low best-ball scores. Even though Day outclassed his young partner, some of that play might've rubbed off on him — or at least we're hoping so at this long price.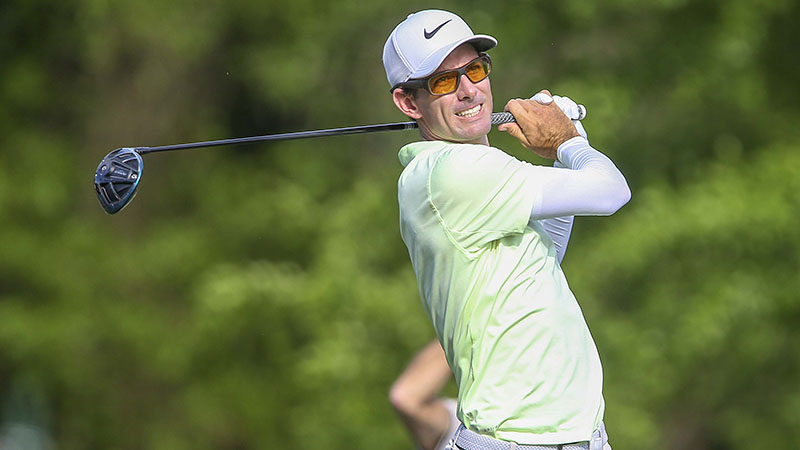 Pictured: Dylan Frittelli; credit: USA TODAY Sports
---
Matchup
Virtually any tournament Woods has played conjures some sort of vintage Tiger moment. Even though he won here back in 2007, for me, that's not the lasting image of him at Quail.
I've witnessed a lot of great moments from Tiger — and yes, some notable not-so-great moments, too. There was the 85 at the Memorial three years ago, when he was obviously struggling with both his swing and his health. And the U.S. Open two weeks later, when he was topping his ball around Chambers Bay.
But for my money, the lowest moment I ever saw from Tiger inside the ropes was at this tournament in 2010. This was about five months after his personal affairs became front-page headlines. There was some light heckling from the gallery, but for the most part, fans just wanted to see Old Tiger again.
Instead, he shot a second-round 79 — his second-highest PGA Tour round at the time, behind only a rain-drenched 81 at The Open Championship. It wasn't just the score that was glum. By the back nine, Tiger looked like he wanted to dig a hole in one of the bunkers and crawl inside. It was later rumored that he was served divorce papers that morning — and it showed. By the 16th hole, I remember him speed-walking 200 yards ahead of his playing partners, as if he couldn't wait to finish.
He dismissed the performance afterward by explaining, "It is what it is — and whatever it is, it wasn't good enough."
Anyway, that's a very long, roundabout way of saying that Tiger has enjoyed some good times at this tournament and some very, very bad times.
What does it mean for him this week? Probably nothing at all. Tiger has a longer memory than most players, but I think even he can erase the worst moment here from that memory bank.
What concerns me more this week is the fact that for the first time, he will have TaylorMade irons in the bag instead of the trusty Nikes. Of course, the specs won't change, and Tiger has obviously tested 'em out in the range and during practice rounds, but the unfamiliarity with them in competition is still a small concern.
Even so, at -115 in a classic matchup against Phil Mickelson, give me Tiger. Since his win in Mexico, Mickelson has endured descending results of T-17, T-24 and T-36, which shows he's heading in the wrong direction for another contention.
It's just too bad the betting matchup isn't happening on the course, too.
---
Horse for the Course
I glossed over McIlroy being a past champion of this event earlier, but it's worth recognizing the pre-tourney favorite's overall body of work here.
He earned his first PGA Tour victory as a pudgy-faced, frizzy-haired 20-year-old at this event in 2010. He blitzed the field by seven in 2015. In between, he lost to Fowler in that playoff in 2012.
In seven total starts, Rory owns six made cuts — all of them top-10 finishes.
Not every course-horse will be a world-class player; not everyone will be so obvious.
This week, though, he's the most relevant option for this category.
---
Fades
Don't make a habit of fading Brian Harman. It won't end well.
The gritty lefthander owns seven top-10 finishes this season, which just happens to lead the PGA Tour. He's turned himself into one of the most consistent players around, one who can contend on a variety of courses.
But I think some people — maybe those who don't have enough time to pore over the stats and analyze this tournament correctly — will simply remember Harman won this event last year, then lock him in as a plug-and-play option this week.
One small problem: When he won last year, it was at Eagle Trace in Wilmington — an entirely different course in an entirely different city.
That's not to say Harman (+6500) can't play well at Quail Hollow — he finished T-35 at this event two years ago and T-13 here at the PGA Championship — but he doesn't have all the same feels as most defending champions returning to the scene of their triumphs.
How would you rate this article?