Comparing Zurich Classic Duos to NBA Playoff Teams
Credit:
Stephen Lew-USA TODAY Sports
The idea was first floated months ago. It gained momentum during a recent practice round at the Masters.
You know, Tiger Woods doesn't have a partner for the Zurich Classic and neither does Phil Mickelson, so just mayyybe…
Spoiler alert: It ain't happening.
The deadline for this week's PGA Tour event featuring two-man teams came and went without a peep from either player.
It could've been their first time teaming together since the 2004 Ryder Cup. Even Louisiana's own Hal Sutton might have hopped in the car to see that.
Some would've termed them The Odd Couple, but there's a better analogy for Tiger and Phil. They would've been golf's version of the old Chicago Bulls teams — Tiger playing the role of MJ as the G.O.A.T., with Phil serving the role of Scottie Pippen, an all-time great forever in the shadows of someone else.
There's no reason to stop the comparative theme there. Let's take a look at 16 tandems for this week's tournament and their current NBA playoff doppelgänger.
Patrick Reed/Patrick Cantlay: Toronto Raptors
Others might own more star power, but it's no longer a secret how much talent each of these teams owns. (Non-sequitur idea: If I played for an NBA championship-winning team, I'd buy green jackets for all of my teammates. Just because.)
Brooks Koepka/Marc Turnesa: Boston Celtics
Decimated by injuries, the C's are playing a few bench guys you've probably never heard of. Coming off an injury, Koepka is playing for the first time since January, alongside a guy you've probably never heard of.
Kevin Kisner/Scott Brown: Philadelphia 76ers
Joel Embiid, Ben Simmons and the boys from Philly look like they have so much fun playing together that it becomes infectious. The same can be said for these two buddies, who practice together all the time and finished runner-up last year.
Justin Thomas/Bud Cauley: Cleveland Cavaliers
Let's face it: It's going to take a Herculean effort from one man to lead his team to the promised land. But hey, Cauley can still be Kevin Love — or at least J.R. Smith.
J.B. Holmes/Brandt Snedeker: Indiana Pacers
Kudos to the GMs for creating these rosters. Just as the Pacers play together as a team, the duo of the long-hitting Holmes and the sweet-putting Snedeker should work well.
Emiliano Grillo/Peter Uihlein: Miami Heat
One was born in Argentina; the other in Massachusetts. But they've each taken their talents to South Beach.
Steve Stricker/Jerry Kelly: Milwaukee Bucks
Because … Wisconsin. Cheeseheads might not have a Greek Freak to cheer among these native sons, but Stricker is a savage. Close enough.
Jason Day/Ryan Ruffels: Washington Wizards
Led by a guy who can score at will but has missed some time recently, each of these teams is going to need help from the player(s) with plenty of potential.
Jordan Spieth/Ryan Palmer: Houston Rockets
The best team in Texas might be the best team overall, led by a true superstar who always wants the ball during crunch time.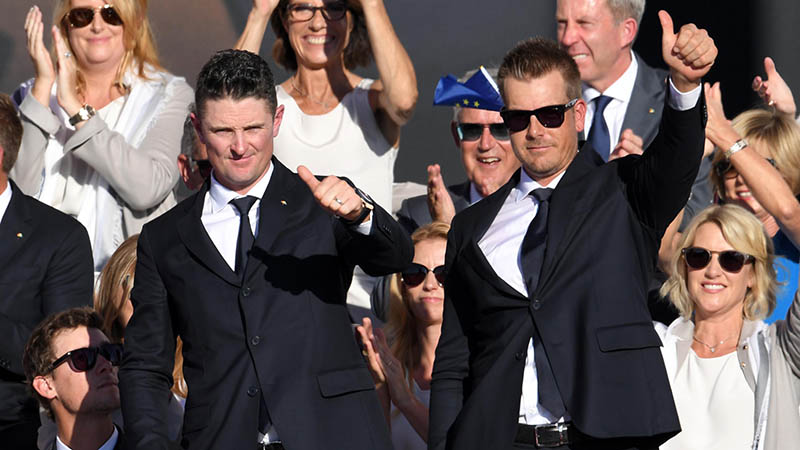 Michael Madrid-USA TODAY Sports
Justin Rose/Henrik Stenson: Golden State Warriors
The highest-ranked duo based on combined world ranking, these Ryder Cup partners know — like the Warriors — that skills alone aren't enough to achieve success, as evidenced by last year's missed cut.
Bubba Watson/Matt Kuchar: Portland Trail Blazers
Mismatched teams struggle to win. Just as the Blazers got swept in the first round, the BubbaKuch tandem seems a little contrived.
Ian Poulter/Graeme McDowell: Oklahoma City Thunder
Each team is fronted by a guy who will peacock his daily entrance. Poulter and Russell Westbrook — you either love them … or you love to hate them.
Tony Finau/Daniel Summerhays: Utah Jazz
Hey, what are the chances of two Utahns playing together? That's enough for a Jazz comparison.
Jon Rahm/Wesley Bryan: New Orleans Pelicans
An otherworldly youngster who still hasn't reached his peak, teamed with players — or in Bryan's case, a trick-shot artist — who can fill it up from everywhere.
Jim Furyk/David Duval: San Antonio Spurs
Fifteen years ago, they were really good. Maybe 20.
Gary Woodland/Daniel Berger: Minnesota Timberwolves
If the big guys (Woodland and Towns) get hot, these teams could pull off an upset.