Farmers Insurance Open: How to Bet the Third Round
Credit:
© Orlando Ramirez-USA TODAY Sports
The second round of the Farmers Insurance Open brought some cut-line drama to Torrey Pines on Friday.
The golf media and most golf fans got what they wanted from Tiger Woods this week when Woods knocked in a 3-foot birdie putt on his final hole to ensure that he'll get to play the weekend.
It was Tiger's first made cut on the PGA Tour since the Wyndham Championship in 2015.
Woods playing the weekend was good for our bankrolls as well. Both of our pre-tournament Tiger props got to the house with that final birdie, cashing the made cut ticket at +110 and over 6.5 birdies at -110.
At the top of the leaderboard, Jon Rahm solidified himself as the favorite heading into the weekend. Rahm is alone in second place at 10-under par, one shot behind Ryan Palmer; Rahm is +175 to win the tournament. Tony Finau is next on the board at +650 and is two shots back in third place. Palmer checks in with the overnight lead and is +700 to win.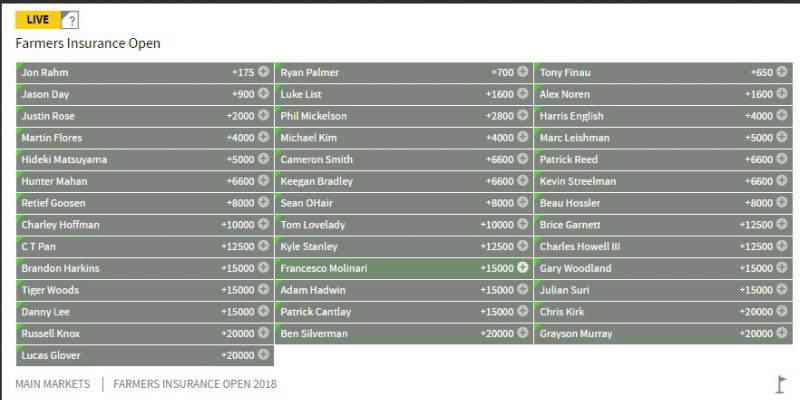 I won't be adding any win bets, but if you're just jumping in at the halfway point, I'd give Alex Noren a look at 16-1. He's three shots back, and while he doesn't have a PGA Tour victory, he's a prolific winner overseas with nine victories on the European Tour.
Matchups
Looking first at Woods' head-to-head, he's paired up with Patrick Cantlay on the betting board and is a -120 favorite. I'm not betting anything on Tiger this weekend, but I'd advise fading him in this spot. Cantlay has a win this season in Las Vegas already and is just a better player than Tiger. He's also not actually paired with him on the course, so he won't have any of that pressure or distraction that usually comes from playing with Woods.
Instead, I'm going to target the other legend in the field. I'm fading Phil Mickelson and taking Finau head-to-head at -120 in the third round. Mickelson sprayed the ball all over the place but was bailed out by gaining nearly 5.5 strokes on the field with the putter. Mickelson is usually a magician with the short game, but that number won't be duplicated. Meanwhile, this is a perfect course for Finau. He tied for fourth here last year and has again worked himself into contention this year.
Joshua has spent the last five years writing about sports and the last 10 years betting them, mostly on golf. He's one of approximately five people who will watch the PGA over the NFL in November. Follow him on Twitter @JoshuaPerry22