Patrick Reed Will Relish Role of Masters Front-Runner on Sunday
Credit:
Michael Madrid-USA TODAY Sports
Sign up for The Action Network's daily newsletter to have the best sports betting insight and analysis delivered to your inbox.
I was in attendance at Patrick Reed's post-round news conference when he won the 2014 WGC-Cadillac Championship. You know the one. Even if you don't recall a specific shot from that week, even if you don't remember him winning, you know what he said afterward.
When asked an innocuous question about his success on every level, Reed offered a seemingly innocent answer.
"My whole team behind me," he explained, "they know how good I am, and they believe I'm a top‑five player in the world. And I believe it, as well."
There wasn't any bluster or bravado or braggadocio. He said it matter-of-factly, as if he was describing the 6-iron he'd used on the 14th hole. It was more about self-belief than boosting his own profile or trolling some of the more accomplished players he'd just beaten.
Of course, headlines and tweets often don't have room for nuance, which led to the entire world instantly believing it had just uncovered the most arrogant guy in a sport filled with humility.
Now, don't get me wrong. Even if Reed wasn't boasting about his talents, he still wore that "top-five" moniker afterward like a badge of courage. He's often blurred the lines between confidence and cockiness.
Like in college, after a tenuous stint at the University of Georgia led to a complicated tenure at Augusta State. Reed helped lead the team to an upset NCAA championship victory. When the school built a trophy case to house its latest hardware, Reed told officials, "It's too small, because we're going to win again next year." Cocky? Sure, but he was right. They did.
Or like when he turned pro. Instead of building status through sponsor's exemptions like so many other up-and-comers, Reed made a habit of Monday qualifying, forcing his way into PGA Tour events six times during the 2012 season, finishing in the top four in one-day tournaments that often consisted of 150 players.
All of which leads to this week.
If there's a reason Reed entered the third round of the Masters with a two-stroke lead and closed it with a three-shot advantage, it's because he still thinks of himself as the Monday qualifier who has to go extra-low to fight for his job. He reached the PGA Tour because of his propensity for stepping on the gas pedal, and that's exactly what he did Saturday, posting two eagles and four birdies in a round of 5-under 67.
He won't stop playing aggressively in Sunday's final round, because he doesn't know how to play otherwise. To use an analogy from another sport, he's the proverbial sharpshooter who wants the ball in his hands during crunch time.
Of course, aggressive play isn't always synonymous with winning. Reed's golfing idol, Tiger Woods, won all 14 of his major championship titles by taking a Saturday night lead, then stiff-arming the competition on Sunday.
It remains to be seen whether Reed, who's +130 to win, owns that skill. He's now played exactly two major rounds after being the overnight leader (the other was in the 2015 U.S. Open), but sleeping on that lead for a second night in a row could take a toll.
He'll also have to worry about the guy on the other side of the tee box, his Ryder Cup nemesis Rory McIlroy.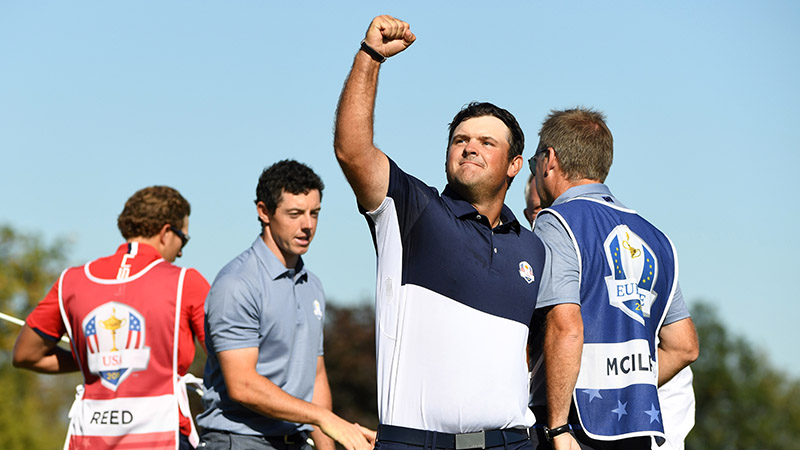 Reed beat McIlroy in an entertaining singles match at the 2016 Ryder Cup. Credit: John David Mercer-USA TODAY Sports
If Reed falters, presumably it will be McIlroy who comes swooping in for the green jacket to complete his career grand slam. McIlroy (+195 to win) will start the round three strokes off the pace, searching for his first come-from-behind major title. Like Woods, all four of his previous wins have come as a 54-hole front-runner.
Want to look past the final pairing? Rickie Fowler (five shots back, +750), Jon Rahm (six, +1400) and Henrik Stenson (seven, +3300) are all still legitimate contenders, but unlikely to make up so much lost ground.
Consider this: In the past 27 editions of the Masters, 22 champions have come from the final twosome.
That suggests it's a match-play battle between the Ryder Cup foes, with the smart money on Reed solely for the three-stroke advantage. It doesn't hurt, either, that he's converted three of his five 54-hole leads into victories.
"The biggest thing is just going out and executing golf shots," Reed said after the third round.
That's what he's been doing all week; that's what he's been doing for years.
Just ask him. There won't be any bluster or bravado, but he'll be happy to tell you how confident he is in himself. If you listen closely, it might even sound like cockiness.