RSM Classic: PGA Tour's fall swing reaches its conclusion
After seven weeks, the fall swing heads into its final event with the RSM Classic.
Sea Island Golf Club, on Georgia's coast, is a familiar venue for quite a few Tour pros; around 20 live or train in the area.
Most of those aforementioned players will be in the field this week, including Brian Harman, who comes in as the co-favorite at 16-1 along with 2015 champion Kevin Kisner.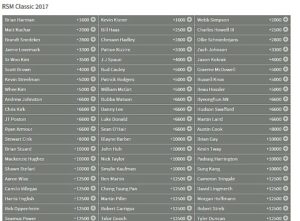 Sea Island Golf Club is a good fit for the shorter hitters on tour who can find the fairway, similar to the Harman and Kisner mold. The Seaside Course, which will be used for three rounds, is a par 70 at just over 7,000 yards, while the Plantation course will be used for a round by each player and comes in at just under 7,100 yards for a par 72. The field will be split among the two courses for the first two rounds, which creates an advantage in first-round leader plays, which we'll break down a little later in the post.
Mid Tier
For this event, I've started my card with a trio of players in the 50-1 range. Graeme McDowell, Bud Cauley and William McGirt all are good iron players who hit a lot of fairways. None of them is the longest off the tee, but each gets it in play. On a shorter course where guys don't need to hit 320 yards to compete, I think each has the potential to pop up on the leaderboard Sunday.
Long Shot
My favorite long shot play of the week is Jonathan Byrd at 175-1. Byrd is one of those players who does a lot of his work at Sea Island and has had some decent success there, making five of six cuts. He also had a win in the Web.com playoffs, which allowed him to secure his tour card for this season. He's struggled in the fall swing, but I think being back in a familiar setting will be a positive for him this week.
First-Round Leaders
In lieu of top 10s or pre-tournament matchups, I'm going heavy on first-round leaders this week. As mentioned, the field will be split on two courses for the opening 18 holes. This will be the third year with the course split, and we've had a leader come from each course once. But in terms of stroke average in relation to par, there has been a clear advantage to the Par 72 Plantation course. Through a little over a 150 first rounds played during the two years, the Plantation course has played 2.59 strokes under par, while the Seaside course has been 1.554 under par. Basically the average player is getting a shot advantage on Plantation in relation to par, which is how the first-round leader bet is decided as opposed to total strokes. The reason for the edge is simple: The par 72 has two extra par 5s, giving players more birdie and eagle opportunities. Many books won't offer the play when there are multiple courses, but Sportsbook is among those that has odds available, and I'll be using it for this play.
The Card (Units)
Full Tournament/Top 5s
Graeme McDowell 50/16-1 (.7)
William McGirt 50/10-1 (.7)
Bud Cauley 55/11-1 (.65)
Si Woo Kim 66/10-1 (.55)
Byeong Hun An 75/12-1 (.5)
Austin Cook 80/16-1 (.45)
Talor Gooch 125/40-1 (.3)
Adam Schenk 150/40-1 (.25)
Jonathan Bryd 175/35-1 (.2)
First Round Leaders (1/2 unit plays)
McDowell 60-1
Scott Brown 60-1
Cauley 65-1
Kim 70-1
Hudson Swafford 70-1
An 80-1
Cook 85-1
Blayne Barber 95-1
Cameron Tringale 100-1
Gooch 110-1
Joshua has spent the last five years writing about sports and the last 10 years betting them, mostly on golf. He's one of approximately five people who will watch the PGA over the NFL in November. Follow him on Twitter @JoshuaPerry22
Photo: © Kyle Terada-USA TODAY Sports
Be part of the Action
Download the Sports Action app at the App Store or Google Play