Sobel: Koepka or the Field? Where's the Value After Round 1 at the PGA Championship
Credit:
Brad Penner-USA TODAY Sports. Pictured: Brooks Koepka after the 16th hole during the first round of the 2019 PGA Championship.
It's not at all surprising to see Brooks Koepka at the top of the leaderboard, but very few predicted the dominant first round that landed him there.
Jason Sobel ponders if it's worth it to ride Koepka's hot play for the duration of the 2019 PGA Championship.
FARMINGDALE, N.Y. — To Brooks or not to Brooks? That is the question.
Brooks Koepka didn't win the PGA Championship on Thursday, it only might've seemed like it. The three-time major champion jumped out to an opening-round 7-under 63 at Bethpage Black, grabbing a one-stroke lead over Danny Lee, four over Tommy Fleetwood and five over anyone else.
Considering he's the defending champion, owns three major victories in his past seven starts and played near-flawless golf in the first 18 holes, we'd be accurate in calling Koepka the man to beat right now.
All of which leads to one big question: Can anyone actually do that?
And two other questions: Is there value in live betting on Koepka to hang on for the next 54 holes? Or, is there value in taking the field in hopes he is rendered mortal for the remainder of this event?
As of Thursday, he was +115 to successfully defend his title — an obscene number for any golfer with 155 competitors and three rounds left to play, but one that makes sense considering this specific golfer's recent history.
Essentially, the books are telling us that Koepka owns a 46.51% chance of winning this tournament, which actually sounds about right, if not even a little low right now.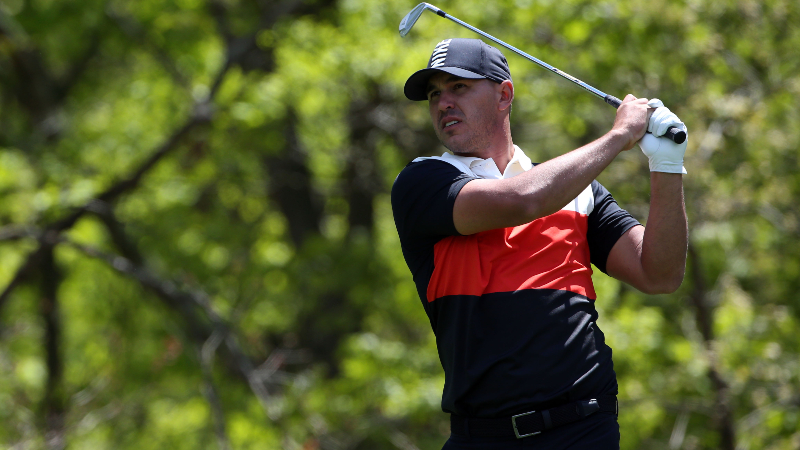 Let's first examine the reasons why there might be some value in betting the field going into Friday's second round.
For the day, Koepka's strokes gained statistics were, literally, almost off the charts. He ranked first in tee-to-green, second in approach shots, first in scrambling and second in putting.
As an astute pro once told me, after rattling off similar numbers about Tiger Woods back in the day, "That's it. That's golf. That's all there is. There's nothing else. If you do each of those things better than everyone else, you're going to win."
So why would these numbers lead anyone to believe there's value in betting the field? The theory of negative regression, of course.
Just because Koepka was at or near the top in every major category on Thursday doesn't mean he'll follow with similar stats over the next three days. In fact, as anyone who's paid even a small amount of attention to professional golf understands, it's extremely difficult to chase a low round with another one the next day, let alone for the next three days.
Not that he was buying into it.
"It's a whole new day," Koepka said in regard to this philosophy. "They say that, but plenty of people have followed it up with a good round. I mean, tomorrow is a whole new day. Get out here and stick to my normal routine and then go from there. But I'm excited about tomorrow."
With his nonchalant attitude and immunity to adversity, perhaps Koepka actually retains some value in winning this tourney right now.
He's the obvious favorite — not just for his score, but for his penchant to remain unflappable under the most high-pressure situations.
That's not the only reason to jump on the Brooks Bandwagon, though.
The truth is, his course record-setting, tournament record-tying score * gulp * should've been better.
Just asked a guy who had a front row seat.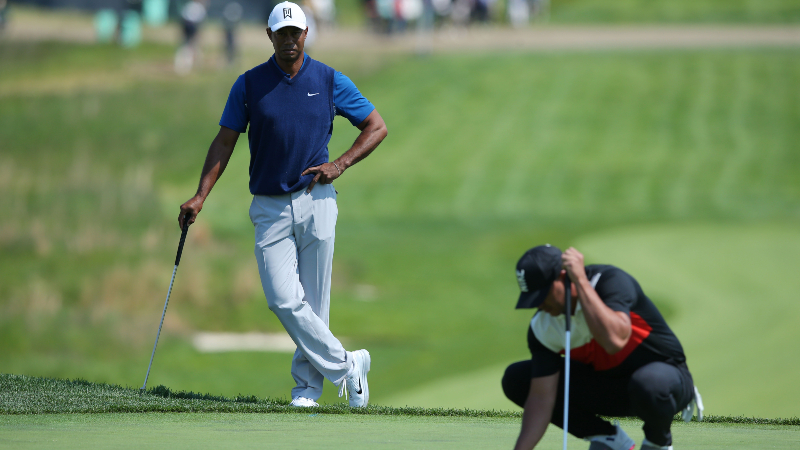 "He hit a couple loose tee shots today that ended up in good spots," Woods explained, "but I think that was probably the highest score he could have shot today. He left a few out there with a couple putts that he missed. But it could have easily been a couple better."
Those aren't the sour tears of a Masters champion who got lapped by nine strokes. It's an accurate assessment.
First of all, Koepka failed to birdie either of the par-5 holes on the course, a rare occurrence for a guy who's birdied 57.5% of his par-5s this season, good for sixth place on the PGA Tour.
"That was disappointing," Koepka said, "because I felt like those are holes you should be able to birdie. Definitely can reach, what is it, 4 and just hit a bad drive there. And then 13 I can get there, too, I just hit it in the bunker."
He quickly followed by acknowledging his missed birdie putt from 8 feet on the second hole, admitting, "That would have been nice to shoot 60; I guess that would have been pretty good."
So yes, there is actually room for improvement from his low opening round, a notion, which should have his fellow competitors sweating — and bettors thinking about how to take advantage.
How would you rate this article?