'Let's Talk About Slow Play': Bryson DeChambeau Fires Back at Critics
Credit:
Ray Carlin-USA TODAY Sports. Pictured: Bryson DeChambeau lines up a putt at Colonial Country Club.
Bryson DeChambeau is not fond of the critiques being tossed around regarding his pace of play on the golf course.
Jason Sobel details the growing issue on the PGA Tour and what can be done to stop it.
JERSEY CITY, N.J. – Bryson DeChambeau finished his third-round even-par 71, signed his scorecard and stepped onto the podium in the nearby interview area, well aware why so many reporters were gathered there.
"Let's talk about slow play, guys," he said before any questions were even asked. "I'll introduce this and talk about it."
In the previous 24 hours, DeChambeau had become the subject of social media scrutiny and ridicule, from fans and even some fellow players.
Two separate videos showed him taking much longer than the allotted 40 seconds to hit a shot during Friday's round, rendering him Public Enemy No. 1, the glowing example of a growing problem in the game of golf.
In one instance, DeChambeau paces off nearly the entire 70 yards between his ball and the cup on the 16th hole, arduously walking back and forth to determine the distance:
anyone need a nap?

here's DeChambeau pacing off a 70-yard shot which took over 3 minutes to hit (couldn't post the entire video it took so long) pic.twitter.com/7A3Azeftyu

— Eric Patterson (@EPatGolf) August 9, 2019
In another he takes more than two minutes to read an 8-foot putt on the eighth hole, one which he eventually winds up missing anyway:
The public reaction — and, perhaps, overreaction — to these clips was enough to leave DeChambeau fuming, and he had plenty to say after his round.
"A lot of it's the caddies; a lot of it's the other players," he explained. "They don't care about walking fast. I play a different way out there. I take my 40 seconds that's allotted, sometimes over, absolutely. Totally agree. It's maybe five percent of the time. But I'll tell you that it's really kind of unfortunate the way it's perceived because there's a lot of other guys that take a lot of time. They don't talk about this matter and for me personally, it is an attack and it is something that is not me whatsoever. People don't realize the harm that they are doing to the individuals."
Despite there being a rule limiting the amount of time a competitor can take to hit a shot, that rule is rarely policed and never enforced.
"There are certain instances where we have a very difficult shot, and it's not easy, so yeah, I'm going to take a little bit longer, because that's my job," DeChambeau continued. "I'm supposed to provide entertainment for you guys so you guys can have a good time watching it and I'm trying to do my absolute best out there every single time. That's not fair when people are putting me in a bad light, guys. I'm trying to do my absolute best. I'm trying to provide entertainment and I hope that people can realize that it takes more than just me playing a shot in 30 seconds or 40 seconds for us to call it slow play."
There was a lot to unpack in what turned out to be a 16-minute diatribe, from calling out Jason Day and caddie Steve Williams for slow play, to wishing Eddie Pepperell would say something to him directly instead of sub-tweeting him, to curiously saying at one point, "I hate playing golf. I absolutely hate it. I love competition."
What was apparent, though, was that DeChambeau believed he is unfairly being labeled as a slow player and was angry about the insinuation.
"Most of the time, I am doing my absolute best to get to that next shot," he said. "The time to hurry for me and the way I play the game — this is not always how some people view it, but the time to hurry is in between shots. There's certainly other people that have talked about slow play and they play a different game. I'd be happy to play a round with them to show them how long I take. There's times that absolutely it does take me a little bit longer. But if you watch me, if you seriously do your due diligence and watch me tee shot to tee shot, I'm the first guy up to the ball."
He makes a fair point in that these videos call attention only to pre-shot routines and nothing in between those shots, which often doesn't get scrutinized.
However, it's inarguable that in at least these two instances — which DeChambeau termed as "1 percenters or 5 percenters" — he took much longer than his permitted time.
This tends to follow the company line for slow players.
I've often likened slow play to traffic: Everybody hates it and nobody thinks they're to blame.
When Kevin Na was being called out for being sluggish a few years ago, he fought back. Playing in the penultimate group at last month's Open Championship, J.B. Holmes basically shrugged it off.
And now, DeChambeau is the latest to employ the "not my fault" defense.
The truth is, all of these players — and many others — would be better served if they pointed the finger at themselves, bit the bullet and took some criticism.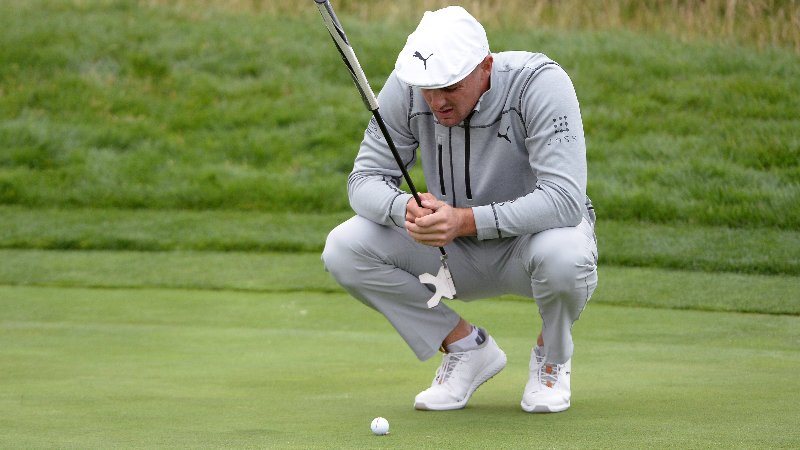 The world of professional golf is becoming a Salem witch hunt, with players outing their peers and playing the blame game.
I can't recall a time when a player was accused of playing slowly and admitted, "Yup, absolutely. I'm a freakin' turtle out there and I need to speed up." That might not be a popular take, but at least the public could endorse the ownership.
That's OK: It will all change soon. It has to.
Too many top players have complained about not just slow play, but the resistance to enforce the rule.
"I think the guys that are slow are the guys that they get too many chances before they are penalized," Rory McIlroy said earlier this week. "It should be a warning and then a shot. It should be you're put on the clock and that is your warning, and then if you get a bad time while on the clock, it's a shot. That will stamp it out right away. I don't understand why we can't just implement that. We are not children that need to being told five or six times what to do."
He's right. They're all right.
I do believe the PGA Tour will finally give into the pressure of its membership and start enforcing the rule, perhaps even listing the players who have received warnings and penalties, just like the LPGA has done.
It might not stamp out five-hour rounds at your local muni, but it can lead to a swifter pace in the highest ranks — something even the slower players can get behind.
"I want to make it better," DeChambeau said. "I really want to make a change here."
How would you rate this article?