Bryson DeChambeau vs. Brooks Koepka Odds, Preview: Motivated Bryson Has Edge in 'The Match V'
Credit:
Maddie Meyer & Ben Jared/PGA TOUR via Getty Images. Pictured, from left: Brooks Koepka and Bryson DeChambeau.
As many of us are battling Black Friday retail crowds while nursing a tryptophan hangover, Brooks Koepka and Bryson DeChambeau will be reprising their respective bully and geek roles in a head-to-head battle featuring golf's most bitter rivalry – if a rivalry includes passive-aggressive social media jousts, competitive on-camera eye-rolling and occasional hugs after winning a trophy as teammates.
It's fair to conclude that this week's fifth iteration of The Match lost some luster in recent months, as the petty bickering between two of the game's biggest names – and most disparate personalities – devolved into a collapsing sideshow, one which suggested it was all a bit of a ruse when the news was leaked that they were open to the idea of pairing together at the Ryder Cup, not unlike a professional wrestling villain joining forces with the hero, though it remains unclear which player fits each role in the analogy.
While I'm certain that Brooks and Bryson aren't secretly BFFs who will spend this 12-hole outing sifting for clues as to what gifts they should buy each other for the upcoming holiday season, I also don't believe the imagined animosity hasn't been manufactured for our collective entertainment purposes.
In other words, they likely didn't build the antagonism for the sole purpose of creating intrigue for a match that will help line their pockets, but as some might say, this is all a happy little coincidence.
Brooks vs. Bryson Odds
Odds via DraftKings
| Golfer | Odds | Probability |
| --- | --- | --- |
| Bryson DeChambeau | -125 | 53.25% |
| Brooks Koepka | 105 | 46.75% |
For those who choose not to partake in the festivities, here's what you'll be missing: Koepka blossoming into full IDGAF-mode, desperately working on his nonchalance more than anything involving his game; Bryson offering canned one-liners, like the ol' knee-slapper about building a new Walmart between their tee shots; and the analyst duo of Phil Mickelson and Charles Barkley, who will undoubtedly save the broadcast with more needling than a crochet convention.
Of course, whether it's the Chicago Bears/Detroit Lions game or this match, your extended holiday weekend sports viewing schedule can overcome the melancholy of the competition with a little action on the result.
If we've learned one thing over the four previous editions of The Match, it's that we haven't learned much when it comes to prognosticating these events. The odds have meant very little, as favorites and 'dogs are tied with two wins apiece. Neither has recent form, although one could argue that strokes gained and other analytics were never going to accurately forecast performances from the likes of Tom Brady and Steph Curry.
So How Do You Handicap This Thing?
So, what will be the greatest determining factor in this overall result? Like most things in life, it's going to come down to a matter of inspiration, motivation and sheer give-a-heck.
We have to wonder whether even the participants – not to mention the TV rightsholder and other associated entities – are totally feeling the significance of this one, an idea supported by the fact that they've decided to play only two-thirds of a regular match. It's almost impossible to argue otherwise. Nobody has ever insisted, "The final round of the Masters is extremely important, so let's instead just play only the back-nine of this thing."
With that in mind, let's examine which competitor's stimulation package will be figuratively larger.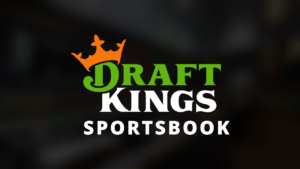 Bet The Match at DraftKings and get a $1,000 sign-up bonus.
Koepka is the guy who's consistently maintained for years that he practices less than we collectively think he does – less, he claims, than any of his peers. Conversely, he also insists that he practices more than we realize – more than most others. Essentially, he's the kid who gets straight A's on his report card, then brags about never studying; by the same measure, he's also the kid who eventually gets a couple of C-minus grades and explains that he studied feverishly.
There are times when Koepka can be a walking contradiction, so don't be surprised if he gives us a subtle head-nod pump-fake during interviews in the days leading up to this, throwing us off the scent of just how much preparation he's put in.
DeChambeau, on the other hand, is your classic WYSIWYG. (That would be What You See Is What You Get for the acronymically challenged; I'll let you research the aforementioned IDGAF yourself.) He does nothing either half-brained or half-assed, which suggests he'll spend Thursday chugging turkey-based protein shakes while attempting to gain a few elusive miles-per-hour on his swing.
There is little doubt that Bryson has more to gain with a victory this week, just as Brooks has more to lose. After all, the imposing bully can't invite the insufferable geek to an after-school brawl by the flagpole, only to get punched in the face and run home crying.
If the voting booths had been open since the Eye Roll Heard 'Round the World at Kiawah, though, we'd notice approval ratings that are heading in opposite directions. The brashness which first had Koepka way up in the polls has partially been undone by his recurring insouciance. An example: When he was asked last month about how this match transpired, he answered, "I don't know, you can ask Bryson."
Other than a much-ballyhooed long-drive competition, DeChambeau hasn't competed since the Ryder Cup – and since this match was officially announced. However, it's difficult to believe that questions directed toward him would generate such vague responses. In fact, whether he's speaking on things like how to navigate wind vectors or theories behind proprioception, Bryson often goes out of his way to explain the smallest details, even if he doesn't exactly dumb it down for the masses. He simply wants people to love him and often doesn't understand why they don't.
All of which is a long-winded and long-winding way of illustrating that Brooks and Bryson are two very different people, which a) you already knew; and b) doesn't help with deciding which side to bet this week.
Or maybe it does, just a little. What we know about these head-to-head matches is that talent is less of a prioritization than motivation and form should be of inconsiderable concern. What we know about these players is that DeChambeau should own a greater degree of that give-a-heck and his lack of recent competition shouldn't be an issue.
While the idealist in me is trying to rationalize that every edition of these matches is a toss-up and Koepka owns value as a +105 underdog, the realist understands that DeChambeau at -125 is a value in itself, as he tries to step on the gas pedal of momentum that he received at Whistling Straits, when he earned more proponents with each bombed drive and unbridled reaction.
The pick, therefore, is Bryson – the geek vanquishing the bully like every cheesy '80s movie with a predictable ending. In the aftermath, Koepka will be sullen and a bit surly, confused at why his strategy of little prep and lots of intimidation failed to succeed, while DeChambeau will be over-the-top cornball, pumping his fist exuberantly as he reels off a dozen sponsors in acknowledgment.
The real winner, of course, will be everyone involved. This so-called rivalry didn't start with the notion that it could someday lead to a moneymaking match between them, but again, this is all just a happy little accident which will culminate in both players walking away from the figurative brawl not just unscathed, but prospering.
How would you rate this article?
This site contains commercial content. We may be compensated for the links provided on this page. The content on this page is for informational purposes only. Action Network makes no representation or warranty as to the accuracy of the information given or the outcome of any game or event.