Sobel: Dustin Johnson Makes Golf Look Easier Than Anyone Else Ever Has
Credit:
Eric Bolte-USA TODAY Sports. Pictured: Dustin Johnson
Dustin Johnson isn't just the No. 1-ranked golfer in the world; he's the owner of the easiest-looking game in the history of the sport.
Much of this stems from the outrageous distance he hits the ball off the tee, routinely topping 350 yards.
The nonchalance with which he plays the game will be on full display this week at the WGC-Bridgestone in Akron, Ohio, where he'll go off as the clear betting favorite (7-1).
AKRON, Ohio — In the midst of cruising to a Canadian Open victory Sunday, as Dustin Johnson trudged after another smoothed 330-yard drive with all the enthusiasm of a husband being dragged through Bed, Bath & Beyond on Super Bowl Sunday, I took to social media to convey what was going through my mind at the moment.
There have been better golfers than Dustin Johnson. I'm just not sure there's ever been anyone who made playing the game look so easy.

— Jason Sobel (@JasonSobelTAN) July 29, 2018
As hot takes go, I felt like this was only lukewarm. It's hard to argue DJ's unorthodox combination of dominance and indifference, especially when I had the public's crutch — recency bias – in my favor.
But almost immediately, as is often the case on Twitter, the dissenters descended.
Some contested that Fred Couples was the king of this category, a valid argument for a man who always led the PGA Tour in strokes gained sauntering.
Others named Ernie Els, a viable candidate considering his moniker The Big Easy is literally based on this assessment.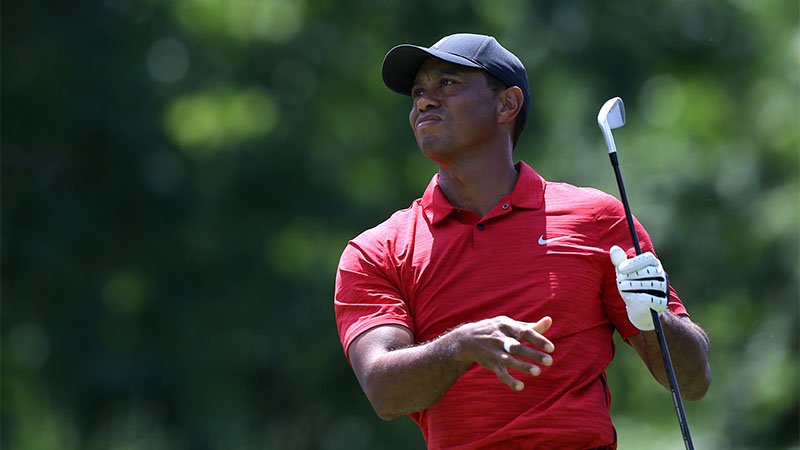 Aaron Doster-USA TODAY Sports. Pictured: Tiger Woods
A few even brought up Bruce Lietzke, a man famous for rarely practicing, fresh off the news of his unfortunate passing this past weekend.
And, of course, people answered Tiger Woods, in words and emojis and all sorts of GIFs.
Let me explain why I disagree with that nomination …
Even in his prime, Tiger didn't make golf look easy. In fact, he made it look like an utterly impossible endeavor for every other mere mortal in the world.
He played the game like Michael Jordan played basketball. Just as His Airness inspired the masses to let their tongues wag as they attempted a gravity-defying up-and-under move to hilarious failure, Tiger inspired them to pick up a golf club and try ripping a 6-iron from 200 yards under the lip of a fairway bunker.
---
>> Download The Action Network App to get real-time golf odds and track your bets
---
He could achieve the impossible, he could perform miracles on the field of play. He was awe-inspiring and alluring, spectators lining up 15-deep along the gallery ropes to watch the circus, because he was the greatest show on earth.
Johnson, however, to borrow more circus phraseology, plays golf with the greatest of ease.
Just check out his final hole from Sunday's victory: From 150 yards, he hit pitching wedge to pin-high, then two-putted for an easy win. Routine par? Try birdie. Yup, he had 150 yards in on a par-5.
Much of my argument about Johnson stems from the unrelatable massive distances he reaches off the tee. That certainly fuels that case, as amateurs in 19th holes around the world watch and say, "Hey, if I could hit it 350, I'd be No. 1 in the world, too," just as gym rats insist they'd be NBA All-Stars if only they were a foot-and-a-half taller.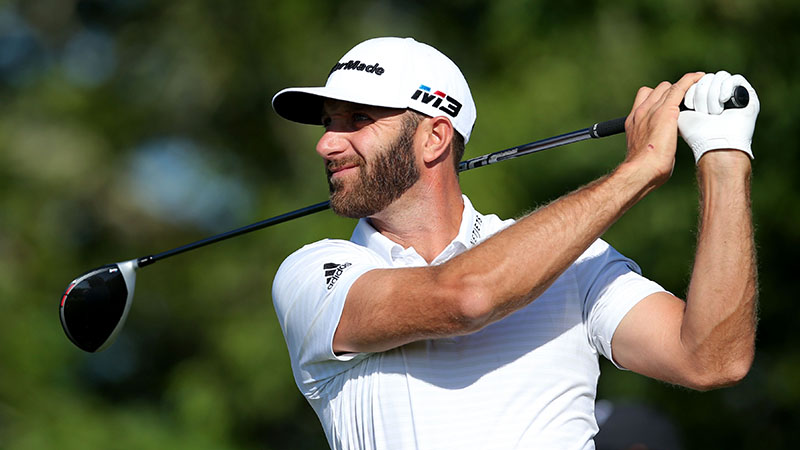 Brad Penner-USA TODAY Sports. Pictured: Dustin Johnson
But this is even less about his physical and technical attributes than his visible attitude, and it's less a results-oriented assessment than a visual observation.
My favorite DJ quote — and, yes, there are more to choose from than he's given credit for — came right here in Akron after he won the WGC-Bridgestone Invitational two years ago.
During his post-round interview session, Johnson informed the assembled media that at the beginning of that year, he'd decided to switch from hitting his usual draw to a more controllable fade. The follow-up questions started flying about how long the process took and when he started to feel comfortable.
A confused look stretched across his face, Johnson politely answered, "Well, I was just struggling with the draw to get it in the fairway, so I said, 'I'm going to hit a fade,' and I started hitting a fade."
Responses like this one have helped my case for Johnson making the game look easier than anyone else, but don't get the idea confused: This isn't to say that golf comes easy for him.
Granted, you have to parse some language here, but the point is, he makes the game appear easy without ever feeling that way himself, which is a pretty wicked mind game he's playing on the rest of us. Many observers often mistake his nonchalance and insouciance for sheer instinctual talent, as opposed to understanding how hard he's worked to reach this level.
He's now No. 1 in the world, again. He owns three victories this season, the third straight in which he's won that many. He's won in every campaign since being a rookie. And this week, if he can pull off back-to-back triumphs as a 7-1 betting favorite, he'll earn his 20th career PGA Tour win, claiming lifetime status while joining the likes of Greg Norman and Davis Love III.
If he does, he'll again be asked all the questions about his dominance and his role in the game and how he's accomplished so much in his career.
And once again, Johnson will reply with a confused look on his face, shrug his shoulders and — just as he does inside the ropes — make it all look like it's so easy.
How would you rate this article?