Sobel: The FedEx Cup is Improved … But It Still Has Problems
Credit:
Butch Dill-USA TODAY Sports. Pictured: Dustin Johnson lines up a putt on the 8th green at East Lake Golf Club.
With a three-way tie at the top of the leaderboard after the first round of the Tour Championship there's plenty to be excited about with the new format.
Still, there are problems lingering with this format and Jason Sobel has some solutions.
ATLANTA — Mom always said, "If you're going to point out a problem with something, then you'd better have a solution, too."
Well, despite the PGA Tour "fixing" the FedEx Cup, I've still got a few problems with it.
Don't get me wrong: It's better than before.
Three playoff events is a much better number than four. Ending before football season is perfect timing. Doing away with ever-reconfiguring points at the season finale is brilliant.
One round in, and the Tour Championship essentially feels like it started on Thursday with a weekend leaderboard, which is hardly the most damning criticism it could've received. It felt like contenders parrying back and forth for position at the top, while other lingered well out of the mix. It felt … fine.
The day started with one player owning a two-stroke lead, two others within three, and five separated by five shots. It ended with three players tied for the lead, four others within three, and 12 separated by five shots.
For a format that was widely panned, it's offered the perfect scenario so far.
But there remain some problems — and like the good son that I am, I've come up with some solutions.
Problem: The player who posts the lowest 72-hole total score this week won't necessarily win the tournament.
Solution: Instead of folding the Tour Championship and FedEx Cup into one event, they should remain two separate events, with two trophies.
For years, the PGA Tour has flinched at the notion of two "winners" on Sunday afternoon, but I think everyone watching — and yes, everyone competing — can compartmentalize that one player wins the tournament and another player wins the FedEx Cup.
So, how should they go about implementing this? Easy. Two leaderboards.
One would be similar to what we have this week, with staggered scoring to determine the overall champion. The other would have every player starting at even-par, just like every other week.
If fans can comprehend the concept of FedEx Cup points and staggered scoring, I'm pretty sure they'll understand the idea behind two leaderboards.
---
Problem: The staggered leaderboard isn't bunched enough at the start.
Solution: The PGA Tour ran models and simulations to find a starting position for every competitor that would mirror their position on the points list in previous years.
That makes sense, but it doesn't address this question: What if the points delineation wasn't perfect before?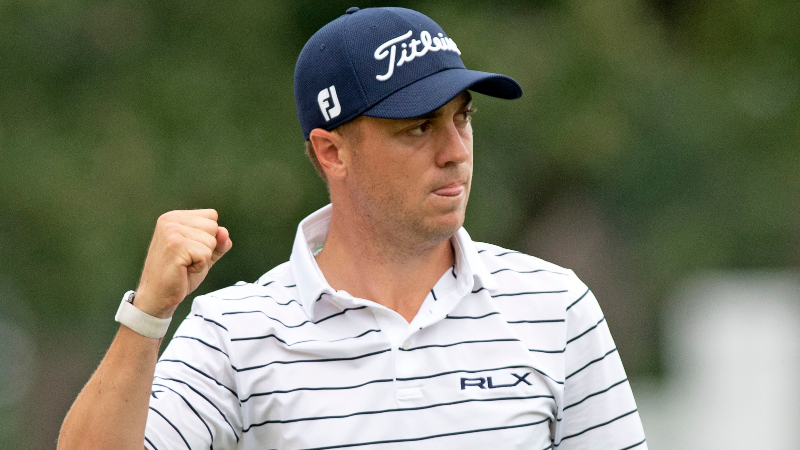 Justin Thomas opened with a two-stroke lead over one player, three over another, then four and five. We've already seen that others can obviously catch him — even just in a single round — but that differential still feels like too much separation between first place and fifth place before the tourney even starts.
Now I'm probably just nitpicking, but if we're going to offer solutions, let's not cut any corners.
In a more ideal scenario, there would be 8-10 players within those five strokes to start. Give everyone about twice as much of a chance of winning as they were given this week.
---
Problem: Scoring feels irrationally low — and looks a little silly.
Solution: You couldn't log on to #GolfTwitter on Thursday without bumping into some contempt for a player starting at 10-under.
For players who are already playing for gazillions of dollars this week, this concept needlessly feeds into the idea that these guys are coddled and given freebies.
So, here's the idea: Start the leader at even-par and have everyone else in incremental positions over-par.
Would it really matter? Probably not, other than it wouldn't feel like players were being "handed" red numbers to begin the week.
Then again, maybe it would.
I've spoken with plenty of players over the years who get ruffled over the idea of, say, a 520-yard par-4. In reality, they only need to think of it as a short par-5, then go make birdie. Golf is such a mental pursuit, though, that it's difficult for many players to think in these terms.
Put a guy at 5-over to start the week instead of 5-under, and it might cause him similar concern – even if the differential was the same.
Don't believe it? Well, here was Charles Howell III after the opening round: "I'm just glad they didn't start the leader off at even and us at 10 [over]. I think that would have been even more humiliating."
Problem: There's an identity crisis as to whether the FedEx Cup is a playoff race or a season-long series.
Solution: I was always under the impression that these were playoff events. The popular analogy is the one about the New England Patriots: They once ended the regular season undefeated, but didn't win the title because they lost the Super Bowl.
That clearly wasn't the refrain of PGA Tour commissioner Jay Monahan, though, who met with the media earlier this week and said:
"Fans know this is a season-long competition…"
"We're building a season-long competition for the FedEx Cup…"
"This is a way to wrap it all together, to crown a season-long champion."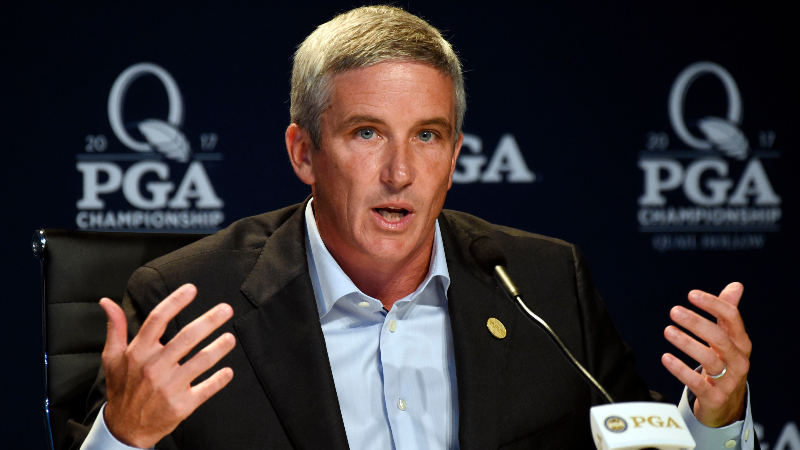 That's curious, considering the previous two playoff events hold so much weight.
One of the hot topics this week has been the fact that two major champions — Tiger Woods and Shane Lowry — failed to reach this field. While the answers range from the fact that they each only played a limited schedule and neither played great in other events, the real reason majors aren't weighed more heavily is because this is the PGA Tour's crown jewel and the majors aren't PGA Tour-run events.
So maybe the wrong question is being asked. It shouldn't be about whether majors should receive more points, but instead: Why does a third-place finish at the BMW Championship receive more than winning the Masters?
If the answer is that these are playoff events and they matter more for this format, then fine. But if we're being told that this is a season-long competition, then the message is mixed.
Again, it's just a matter of being an identity crisis.
Problem: East Lake is the opposite of the type of golf course needed for this event.
Solution: Look, I'd never besmirch Bobby Jones' brilliant track here. I'm a huge fan of East Lake and I think it's a terrific tournament host.
Just not this tournament.
What this event needs is a host course with tons of risk-reward holes Think about the best Ryder Cup-style tracks and you're probably on the right path.
East Lake is a place where players rarely go very low, but just as rarely blow up and post big numbers. If this course was a golfer, we'd say it owns a high floor and low ceiling.
I'm certainly not advocating that East Lake gets pulled from the annual schedule, but it really works better for a full-field event than this one, where we'd all like to witness some greater potential risks on the course and some bigger swings on the leaderboard.
How would you rate this article?