Gary Player's Son Uses Masters Honorary Tee Shots To Promote Golf Ball Brand
Credit:
Photo by Jared C. Tilton/Getty Images.. Pictured: Lee Elder, Gary Player, Jack Nicklaus
Gary Player's son Wayne, who served as his father's caddie for the traditional tee shot with Jack Nicklaus, used his positioning to promote a golf ball company in which he owns a stake.
Before Thursday's opening round, Player positioned himself behind Lee Elder, the man who broke the Masters color barrier in 1975, and held a sleeve of Vero X1 golf balls made by OnCore Golf near Elder's head. 
When Elder got up to take his tee shot, Player held the sleeve so that it would be in clear view of his father and Nicklaus. Player did the same when his father teed off.
The distasteful ambush marketing move was noticed immediately, so much so that, by 11:30am ET, "Gary Player" was trending third nationally behind #TheMasters and Lee Elder.
Steve Coulton, co-founder of the company, tweeted this out on Thursday morning: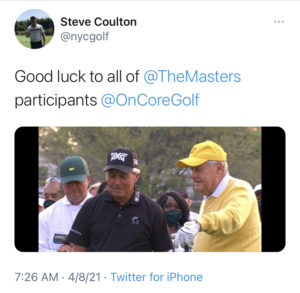 When asked by a Twitter user if the company put Player up to it, @OnCoreGolf tweeted: "We did not ask Wayne to do that. As a shareholder, Wayne may have been a little 'overzealous' in making sure folks knew what ball his dad plays but it was not to distract from the moment."
The tweet was later deleted.
"We are aware of the criticisms that have been raised as a result of our product being displayed by Wayne Player at this morning's ceremonial tee shot at the Masters, most specifically during the introduction of Lee Elder, one of golf's trailblazers," Keith Blakely, CEO of OnCore Golf said in a statement to The Action Network. "We did not ask or instruct Mr. Player to have our ball sleeve visible during the ceremony and are sorry if his actions caused any offense or was a distraction from the wonderful recognition being paid to Mr. Elder."
The statement included that OnCore has sponsored the inaugural United Golfers Association tournament, a non-profit "committed to increasing the introduction, development and advancement of African American youth being introduced to the sport of golf."
The company confirmed that Wayne Player is a shareholder through a firm that has invested in the business.
OnCore is a direct to consumer brand out of Buffalo that has had a relationship with Wayne Player for at least three years. Last year, the company announced that Gary would use the ball to tee off at the Masters, but it did not issue a similar press release this year. The company is promoting on its website an unlicensed Masters related ball that uses green and yellow but does not use the Masters logo.
The company uses non-traditional influencers to get word out about its brand and has relationships with Bills quarterback Josh Allen and Dallas Cowboys running back Ezekiel Elliott, but has rarely been used in major tournaments.
One player used the brand's balls in the 2018 U.S. Open, another used the brand in the 2019 U.S. Open.
How would you rate this article?
This site contains commercial content. We may be compensated for the links provided on this page. The content on this page is for informational purposes only. Action Network makes no representation or warranty as to the accuracy of the information given or the outcome of any game or event.