Houston Open Round 4 Buys & Fades: Finding Value Using Strokes Gained Data
Credit:
Kevin C. Cox/Getty Images. Pictured: Dustin Johnson.
Moving Day lived up to its billing on Saturday at Memorial Park Golf Course. We got everything we could ask for as big names like Jason Day, Dustin Johnson, Hideki Matsuyama and even Brooks Koepka made moves up the leaderboard.
Ultimately, Sam Burns maintained his position as the solo leader through 54 holes and will tee off with the same final threesome with Day and Carlos Ortiz, who will start the round one shot off the lead. Sepp Straka is two shots back, and the top-ranked player in the world (Johnson) lurks at 6-under, just three shots short of Burns.
It's shaping up to be a fantastic final round of TOUR golf before the Masters next week, with a young star looking to capture his first win by fighting off some of the top players in the World Golf Rankings. Hopefully, the strokes gained data can give us a lead of who will come away with the title Sunday afternoon.
Strokes Gained Explanation
Strokes Gained can give golf bettors, DFS players and fans way more detail on how a golfer is truly playing by measuring each shot in relation to the rest of the field.
Using the millions of data points it collects, the TOUR calculates how many shots on average it takes a player to get the ball in the hole from every distance and situation. If a player beats those averages, he's gaining strokes on the field.
Every situation in golf is different — Strokes Gained measures how players perform relative to the situation.
In this piece, we'll touch on a variety of Strokes Gained metrics…
Strokes Gained: Off-the-Tee
Strokes Gained: Approach
Strokes Gained: Around-the-Green
Strokes Gained: Putting
Strokes Gained: Ball-Striking (which is Off-the-Tee + Approach)
Strokes Gained: Tee-to-Green (which is Ball-Striking + Around-the-Green)
In general, ball-striking and tee to green are the most stable long term, while putting is more prone to volatility.
You can often find live-betting advantages by identifying golfers who are hitting the ball well, but just not getting putts to drop. Likewise, players with high SG: Putting numbers may regress moving forward.
Read more about Strokes Gained here.
3 Golfers to Buy in Round 4
I'm doubling down on Sam Burns capturing his first TOUR victory on Sunday afternoon. He has been the best player of the Houston Open since the start, where he is averaging nearly one and a half more strokes gained tee-to-green than the next best player in the field.
He continued that strong play as everyone looked to chase him down on Moving Day, gaining nearly four strokes tee-to-green. Burns was once again held back by his putter, which as I noted earlier this week is one of the strengths of his game. It will be a different type of tension for him in the final group on Sunday, but he has been in this position before and I believe this is the one he will close.
Maybe the easiest buy of Sunday afternoon is Dustin Johnson. I was hesitant to pay the DFS price tag on him to start the tournament after seven weeks off, but he has played really nicely since a lackluster opening round.
DJ was the second best player in the field tee-to-green on Saturday, as he shot a four-under 66 to climb up into the top 5. While he only lost less than a half stroke on the greens, it seemed much worse than that as he struggled to get multiple makable putts to the hole. He will certainly carry plenty of ownership in DFS and short odds going into Sunday, but that is the price of backing the No. 1 player in the world. I'm buying DJ as my favorite player to make a run at chasing down Burns in the final round.
[Bet Dustin Johnson now at DraftKings and get a $1,000 sign-up bonus.]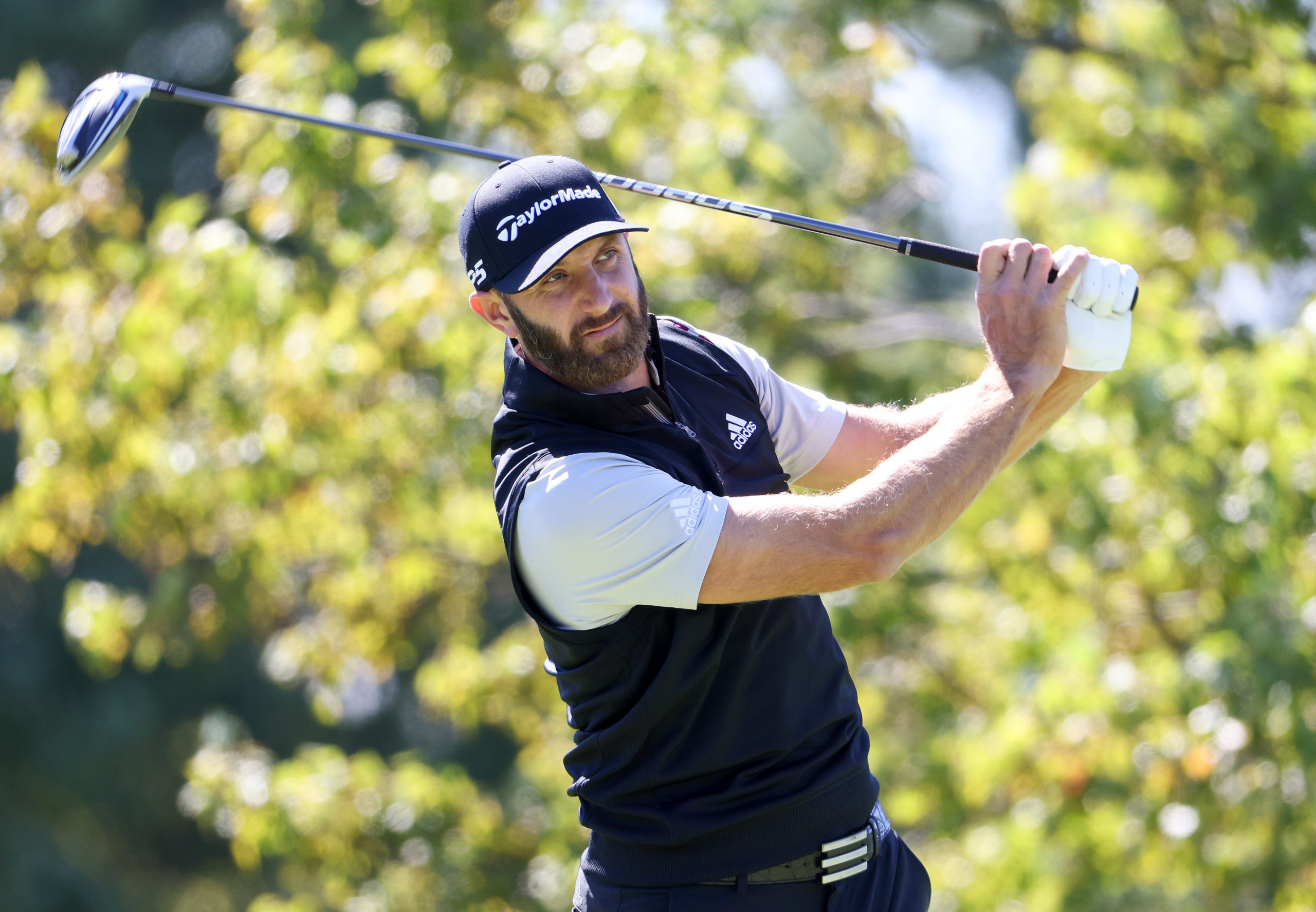 It's been a quietly steady first three rounds for Shane Lowry, who will go into Sunday in a tie for eighth, just five shots back of the lead. The reigning Open Champion shot a two-under 68 on Saturday by gaining more than two shots on the field tee-to-green.
Lowry has put together really good looking ball-striking statistics over the last two rounds, including an impressive day with his irons today. He was top 5 in the field on approach on Saturday, gaining more than two and a half strokes on the field. He will likely need some help ahead of him in order to contend for the win on Sunday afternoon, but he is certainly playing well enough to find himself firmly in the top 5.
3 Golfers to Fade in Round 4
My fade in the final group will be Carlos Ortiz. He is seeking his first win on TOUR, and I think the pressure of the final group showed for him a bit on Saturday. It will only be worse on Sunday.
Ortiz is normally known for his ball striking and while he didn't lose strokes in either category today, he was essentially field average. He has had a white hot putter throughout this event, gaining an average of 2.26 strokes on the greens. I can't expect that to continue as the pressure mounts on Sunday, and he will be my first fade of the final round.
While I doubled down on Burns, I am taking a bit of a step back on my prior buy Aaron Wise. He's had a great week but started to show some nerves on Saturday as he was one of the worst tee-to-green players of those within the top 18.
The concern I have for Wise heading into Sunday is that he was just about field average across the board in Round 3, and that will only get you passed by when you're in contention. There are too many players around him playing really well for me to think he can maintain his positioning without better ball striking in the final round. I'll do a 180 from my prior buy and fade Wise on Sunday, though I am certainly rooting for him to at least hang onto a top-10 type of finish.
It's been a great story to see local player Dawie van der Walt, who got in on a sponsor exemption, make a run up the leaderboard and even hold the lead at the Houston Open through nine holes on Saturday. He may have taken a peek at his positioning at that time, because he started to struggle a bit down the back stretch of holes.
van der Walt managed to hang onto an under-par round despite a three-over back nine, with no birdies. Looking closer at the stats he ended up losing strokes to the field in both ball striking categories on Saturday, and unfortunately the pressure will only get tougher on Sunday. I'd love to see a storybook ending on this one, but the stats tell the story of a player that's likely to drop down the leaderboard in the final round.
Strokes Gained Data for All Players in Round 3
How would you rate this article?