2022 Open Championship: Tiger Woods Has Potentially Memorable Sendoff at St. Andrews
Credit:
Via Kevin C. Cox/Getty Images. Pictured: Tiger Woods of the United States acknowledges the crowd on the 18th green during Day Two of The 150th Open at St Andrews Old Course on July 15, 2022 in St Andrews, Scotland.
Tiger Woods knew it was coming. He must've been thinking about it, in the minutes directly beforehand, or the hours, or even the days, weeks and months. Thinking about what it would mean to him, planning exactly how he wanted to wave goodbye.
Finishing his second round of the 150th Open Championship well off the cutline, the only thing that separated him from his final tee shot at St. Andrews to his long journey homeward was golf's most famous bridge — originally built some 700 years ago to help shepherds curry their livestock across the Swilcan Burn.
As he walked toward the Swilcan Bridge, the crowds swelled around him, in the grandstands and on the street and hanging out of hotel room windows, not just to catch a glimpse of him, but to offer their undying gratitude. His playing partners, Matt Fitzpatrick and Max Homa, instantly knew their role, slowing their gaits and holding back as Woods approached the landmark.
When he reached it, he removed his cap and waved it to those fans but just continued walking rather than lingering on the bridge to soak it all in.
It was a moment which perfectly encapsulated Tiger's late-career perspective without compromising his reluctance to be considered some sort of ceremonial figure in the game.
As he crossed the bridge, the ovation climaxed. Rory McIlroy, who was teeing off at the adjacent first hole, tipped his cap, as did other players in the vicinity. Woods got a bit misty-eyed, a rare display of public emotion for a man who's spent much of the past quarter-century wearing a steely countenance across his face.
It wasn't the sendoff of Jack Nicklaus, another two-time champion at the Old Course, who left no doubt in saying farewell on that very bridge back in 2005, but it wasn't just another walk across water, either. It was clear that this was something much more momentous than the usual end-of-round valediction.
Almost immediately, everyone from broadcast commentators to keen observers to social media sleuths attempted to translate what it all meant, whether that failure to stop on the bridge was Woods' way of telling us this was less of a goodbye than a see ya later.
It was like some human version of Groundhog Day – the festivities, not the movie – as if continuing to walk could elicit five more years of Tiger. But we've learned, of course, that sometimes no shadow can still mean winter is coming.
"It felt like this might have been my last British Open here at St Andrews," Woods said, since the next date for this course in the rotation has yet to be decided. "The fans, the ovation and the warmth – it was an unbelievable feeling."
These might have been surprising words from the Tiger of his prime playing years, but the 46-year-old version of the man has offered a perspective rarely displayed back then.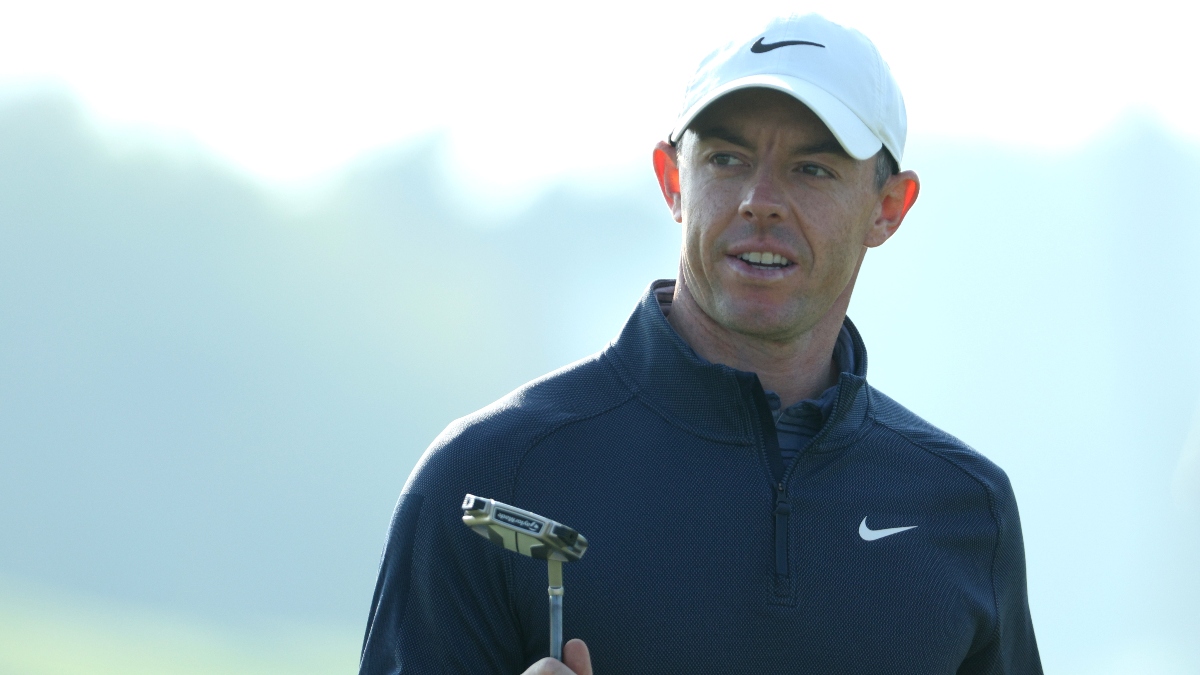 Bet the British Open, Win $200 (No Matter What!)
On Monday, he competed in the four-hole Celebration of Champions event, yukking it up with the likes of Lee Trevino and McIlroy, even posing for photos on the bridge with Nicklaus. On Tuesday, in his pre-tournament press conference, he spoke so eloquently about what this week's anniversary event means to him, undoubtedly the greatest celebration of the game in its storied history, all taking place at the Home of Golf.
And then on Friday, it all culminated – from his first career start at St. Andrews as an amateur in 1995 to those two Claret Jug-winning performances to perhaps his final experience on these links – as he again waxed poetic about why a golf tournament and a course and all the memories within can bring even the most merciless competitor to tears.
"I understand what Jack and Arnold [Palmer] had gone through in the past," he explained. "I was kind of feeling that way there at the end. And just the collective warmth and understanding. They understand what golf's all about and what it takes to be an Open champion. I've been lucky enough and fortunate enough to have won this twice here, and it felt very emotional."
Let the speculation grow, as Woods has insisted that he won't retire anytime soon, but the golf world will continue to guess as to when the next Open Championship will be held at this venue and whether he will be able to compete at that one.
The truth is, even he doesn't have the answer – not right now and maybe not for years to come.
"I just don't know what my health is going to be like," he said. "I feel like I will be able to play future British Opens, but I don't know if I'll be able to play that long enough that when it comes back around here, will I still be playing?"
Maybe he will. Or maybe the lack of a shadow will still lead to winter.
If this was it, if this was the end for Tiger Woods at his favorite golf course, the most venerable in the entire world, it was a fitting goodbye — one which didn't linger, but left us – and him – with plenty of emotions.
How would you rate this article?
This site contains commercial content. We may be compensated for the links provided on this page. The content on this page is for informational purposes only. Action Network makes no representation or warranty as to the accuracy of the information given or the outcome of any game or event.