Sobel: 10 Things We Learned at the Travelers Championship
Credit:
Bill Streicher-USA TODAY Sports. Pictured: Bubba Watson
CROMWELL, Conn. — What a turn of events. After three rounds, the Travelers Championship title looked to be Paul Casey's domain — until Sunday happened. He backed up, while Bubba Watson leapfrogged past him.
Let's take a look at some of the biggest takeaways from the week that was:
1. Watson is among the game's most polarizing players. His long-hitting ability and on-course creativity appeal to some, while his sometimes petulant behavior repels others. And there's nothing wrong with that. I've often maintained that the PGA Tour could stand to take a cue from WWE and play up the persona of its players, as long as it's an organic promotion. The game is better when players inspire passion from the masses, and Bubba does that better than most, love him or love to hate him.
2. Before his win at Riviera earlier this year, Watson's world ranking had dipped to as low as 117th. The lesson, as always: Don't play bright-colored Volvik golf balls. (For the record, Watson insists his improved play is due to better health, not a better ball.)
3. I loved the obvious dichotomy in the pairing of Watson and Bryson DeChambeau, as one plays shots that suit his eye and the other uses a compass and applies physics to his strategy. What I loved even more was DeChambeau's take on his playing partner, when I asked him about their differences. "We're both unique in our own ways, so I think we're similar in that regard," he said. "His hand-eye coordination is, by far, one of the best I've ever seen. It's fun to watch. He's just swiping shots down there. I wish I could do that. I could do that, but I just don't feel like I'd be that consistent."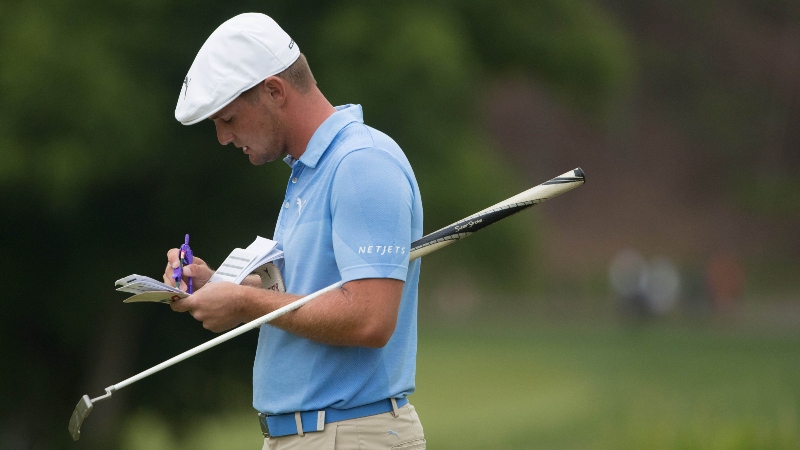 Bill Streicher-USA TODAY Sports. Pictured: Bryson DeChambeau.
4. With his victory, Watson became the first three-time winner on the PGA Tour this season. At the Genesis, WGC-Match Play and Travelers, he claimed three wins and $4.22 million. In his other 12 starts, he owns just two top-10 finishes and made $1.22 million. Players such as Charles Howell III and, yes, Paul Casey can point to a handful of zeroes in their bank accounts to show that consistency is handsomely rewarded at the highest level, but Watson might be the poster boy for the riches that can be earned by brief bouts of greatness.
5. Speaking of poor Casey, whose lone win in the past nine years came from the ninth-to-last group in Tampa this year, the sting of turning a four-shot overnight lead into a three-shot loss might not fully be felt until the end of the year. "At least I didn't play my best golf and finish second," he said. "That would be slightly upsetting. I'm probably even more fired up than I was post-Tampa to get another victory. This is only going to be more fuel. It's annoying and I'm frustrated by it. … I've got 12 events or something the rest of the year. So ask me again in November, and if I don't have another victory, then I will be disappointed. This is merely kind of posturing for what could be a very good climax."
6. Even in defeat, Casey remains one of the best interviews in the game, just in case you couldn't tell from the last nine words of the above quote.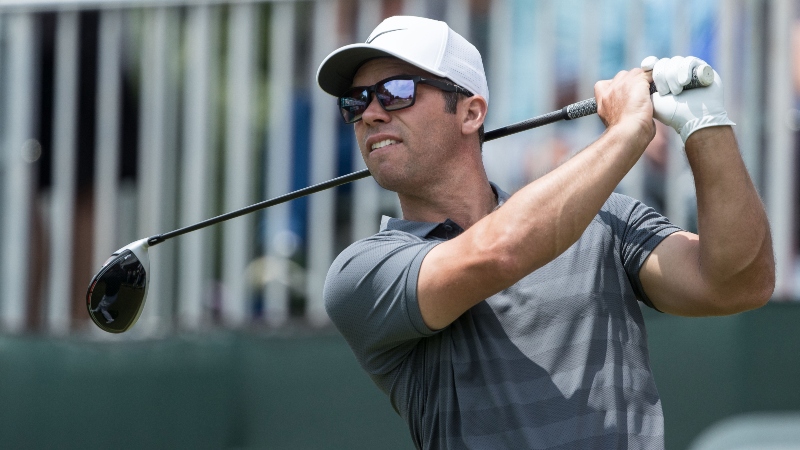 Bill Streicher-USA TODAY Sports. Pictured: Paul Casey.
7. Following a week in which Rory McIlroy finished first in strokes gained tee-to-green and dead last in strokes gained putting, I asked him what I think is a relevant question: "Given two options, would you rather be swinging it really well and struggling with the putter or struggling with the swing and putting it really well?" His reply lent credence to Mark Broadie and other stats gurus who have analyzed that long game is more important than short game. "Swinging it really well and struggling with the putter," he said. "I think if you look back all through history and the guys that have done really well and been consistent throughout their careers, they've always been superior ball-strikers. Then they'll have their weeks on the green which are good and some weeks that aren't."
8. Jordan Spieth just played six of the past seven weeks and didn't post a single top-20 finish — and that includes a pair of starts in his native Texas. Here are the results, starting with his middling performance in Hartford: T-42, MC, MC, T-32, T-21, T-41. He's done everything he can to sugarcoat his recent play, but there aren't many silver linings he can paint on those numbers. There's officially a problem in camp Spieth — not one that can't be solved and potentially solved quickly, but it's painfully obvious that this isn't the same player we've watched the past few years.
9. As if that weren't enough, it looks as if Spieth will enter his Open Championship title defense with those results as the last ones on his resume. I asked him whether he'd consider adding another tourney to his schedule before then, and he said, "There is certainly potential for that," before quickly maintaining, "Last year I went in after three weeks off, and it didn't hurt me. So I believe I can get the work in whether I'm playing or not to get the repetitions. Because normally on course, the repetitions you want to get is just get a little bit of course management and feel on and around the greens, but that feels great right now." See that? Sugarcoating.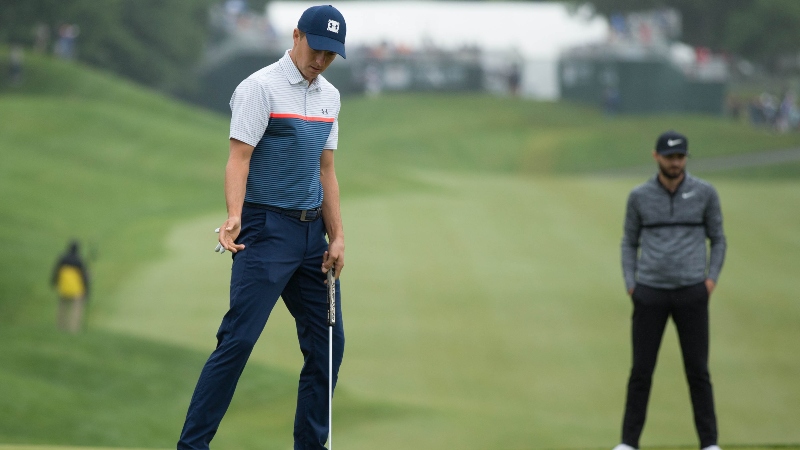 Bill Streicher-USA TODAY Sports. Pictured: Jordan Spieth
10. I'll have some preview content on the upcoming Quicken Loans National in the next few days, but in a 120-man field with only eight top-50 players (yes, this could be the worst lineup of the year), there's going to be plenty of value. The first place I'm looking is at the Travelers leaderboard, where players such as Beau Hossler, Kevin Tway, Anirban Lahiri and Ryan Blaum should all carry some momentum down the coastline to the D.C. area, with each of those players in search of a first career PGA Tour win.