Sobel: What's Caddying on the PGA Tour Like? I'm About to (Maybe) Find Out.
Credit:
Rob Schumacher-USA TODAY Sports. Pictured: Brendan Steele and his caddie Christian Donald
The PGA Tour's BMW Championship will likely wrap up on Monday, due to rain cancelling Sunday's round.
Being at the right place at the wrong time, I landed a gig caddying four Tour pro Brendan Steele.
I'm terrified.
NEWTOWN SQUARE, Pa. — If the BMW Championship final round is indeed played on Monday — and that's still a big if; more on that later — I won't be watching Justin Rose try to hold off a star-studded list of contenders to win the event and become No. 1 in the world for the first time.
I won't be paying attention to Tony Finau attempting to cement that final spot on the U.S. Ryder Cup team, or Tiger Woods going after a berth in the upcoming Tour Championship.
I won't be aware of any of that, because instead I'll be, uhh … working.
As a caddie.
Here's the story of how I might loop my first PGA Tour round, which proves that sometimes being in the right place at the right time can be a very wrong thing:
On Saturday afternoon, as the final groups were finishing their third rounds, I wandered over to the scoring area at Aronimink Golf Club. That's where players sign their cards before getting bothered by guys like me asking them questions about how they played.
I ran into Brendan Steele, who asked for some college football updates. But before I could even check my phone, his attention had turned to his trusty caddie, Christian Donald.
"No, you don't have to stick around," Steele told him. "I'll just find someone to carry the bag that day …"
They had already correctly assumed that Sunday would be washed out due to heavy rain.
Donald had an early Monday flight and with Steele near the bottom of the leaderboard and unable to advance to next week's Tour Championship, this will be his final round of the season.
He figured it was pointless to have his caddie rebook a flight and change his plans for one last day.
The next words I heard were these, also from Steele: "What time do you fly out Monday?"
He was talking to me.
"Well, um, I'd planned to play golf with some buddies that day, so I didn't book a flight home until 7 p.m."
He gestured toward his oversized red golf bag and replied, "It's yours if you want it."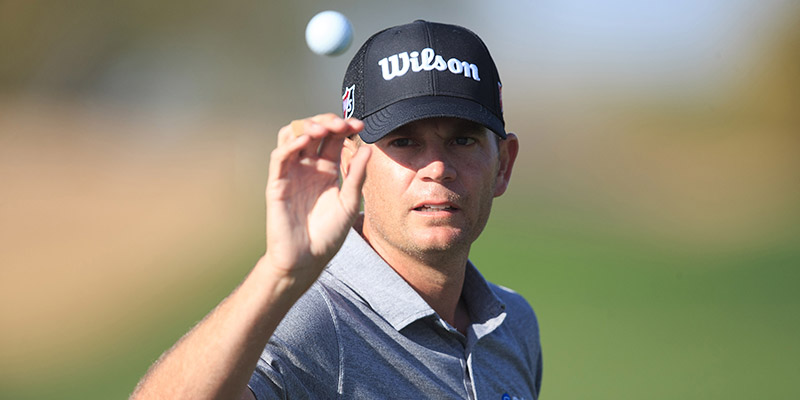 Now, I'm no stranger to the caddying game.
I don't like to brag, but back at the 2007 Chattanooga Classic, I caddied for Roland Thatcher, who was No. 1 on the Nationwide Tour money at the time … and easily helped him miss the cut.
Frankly, I'm shocked that it's taken 11 years for a professional golfer to recognize my talents and give me another shot, but maybe I just need to put myself out there more.
Just kidding.
I'm extremely nervous.
Check that. I was extremely nervous — then I checked the tee sheet for the final round and saw that we're grouped with Brian Harman and … Phil Mickelson.
Now I'm terrified.
If we were simply wallowing at the bottom of the leaderboard, playing in a nondescript group, I could handle that.
But the good people of Philadelphia who call in sick to work Monday and spend their morning shouting for Phil will now have the added entertainment value of watching me stumble around with a 40-pound bag and a massive umbrella.
At least the umbrella is big enough to deflect any batteries chucked my way.
Maybe I'll head out to Aronimink overnight and pull a Crash Davis, turning on all the sprinklers and ensuring another rainout. Maybe I'll get cold (and wet) feet, breaking the first rule of the "Show Up, Keep Up, Shut Up" caddie code.
Of course, this is all dependent on the final round actually being played Monday.
There's more rain in the local forecast and rumors persist of the event being shortened to 54 holes, which means I'll be sitting on more pins and needles than Rose.
I mean, forget about sleeping on the lead. Try sleeping on a new job.
And yes, it'll only be a one-day gig. PGA Tour rules stipulate that if at least half the field doesn't complete the round by the end of Monday, they can't continue to Tuesday.
It doesn't matter if Steele eagles every hole and breaks the single-round scoring record by a half-dozen strokes, as soon as we walk off that final green, I'm fired.
There's a certain freedom in knowing that I can have either three screwups or 300 screwups — and yes, I'm assuming there will be screwups — and it won't change my job prospects.
But I'm still terrified.
How would you rate this article?
This site contains commercial content. We may be compensated for the links provided on this page. The content on this page is for informational purposes only. Action Network makes no representation or warranty as to the accuracy of the information given or the outcome of any game or event.