Sobel: How I Turned My Grandfather's Clubs into a Career in Golf
Credit:
Allan Henry-US PRESSWIRE. Jason Sobel at the 2010 Waste Management Phoenix Open at TPC of Scottsdale.
Jason Sobel turned a set of inherited clubs into a spot on his collegiate golf team and, eventually, a career in writing about the game.
After starting in TV production, he was hired as ESPN.com's golf editor ... without a full-time golf writer. So he began writing.
He's been telling stories since but admits that there is no "right" answer to kick-starting a career covering golf.
THE FIRST GOLF TOURNAMENT I ever covered was at Pebble Beach, where some guy my age named Tiger Woods won the U.S. Open by 15 strokes.
Decent week for him. Better week for me.
In the 18 years since, I've walked the hallowed grounds of Augusta National, shaken hands with Arnold Palmer on the tarmac after he landed his Cessna Citation, shared meals with Jack Nicklaus and Gary Player and watched that Tiger guy hit more golf balls than I could ever count.
They say you make your own luck, but I still feel like I'm riding a career heater that never cooled off.
I've spent nearly two decades traveling the globe while watching golf, writing about golf and, yeah, even playing some golf, at majestic courses that continually inspire me.
My standard line is that when the aliens descend upon Earth and demand a body for research, the powers-that-be will offer up a golf writer, because we might be the most dispensable people on the planet. I mean, we watch other people play golf. What a life.
And to think, it all started because I had some old clubs and a car.
---
>> Sign up for The Action Network's daily newsletter to get the smartest conversation delivered into your inbox each morning.
---
I DIDN'T BEGIN PLAYING golf — or even caring about golf — until the summer before my junior year of college.
My grandfather, an avid golfer, had passed away not long before then. I inherited his clubs, which included Yamaha irons, a Ginty persimmon 7-wood and a beautifully scuffed Hogan blade putter. But until that point, they held only sentimental value.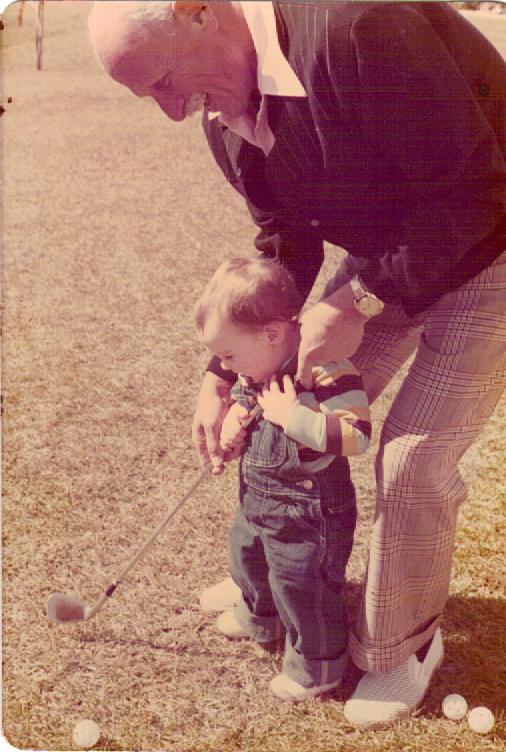 Pictured: Jason Sobel and his grandfather Ira.
I worked as a camp counselor on Long Island that summer. With nothing else to do once we were done at 3 p.m., a few friends and I would drive over to the Robert Moses State Park Pitch and Putt Course — a track by the beach featuring 100-yard holes and economical afternoon rates.
Using nothing but a wedge and putter is a great way to learn the game, even if we lugged our full bags around the course. (If you can't figure out why, then you were never a 19-year-old who needed to hide your beer somewhere.)
Eventually, I became proficient enough to get the ball airborne once in a while, which somehow made me think I could play college golf. Before heading back to Brandeis University, a Division III school in Waltham, Mass., that wasn't exactly a golf powerhouse, I called one of my roommates, Matt Mitchell, who was the team's captain.
"I started playing golf," I boasted, "and now I want to join the team."
Matt brought me down to the gym, where I hit balls into a net for a tryout in front of the coach, Bob Brannum, a gruff old man who had played power forward for the Boston Celtics and looked like he could still deliver a hard foul under the rim if he needed to.
I remember him once answering the phone in his office, yelling, "What the f— are you calling me for?" then slamming it down and hanging up. When we looked at him incredulously, he offered a three-word explanation: "That was Cousy."
Anyway, I hit about 10 balls into that net before Brannum made his decision: "You're not very good."
I stammered something about still learning and trying to improve, but he cut me off.
"Can you drive?" he asked.
I reached for my grandfather's old wooden driver from the bag.
"No, can you drive a car?" he groused.
Still naïve, I was expecting some inspiring insight about how being behind the wheel is just like having a club in your hands. I nodded yes, I could drive.
"Do you have a car here on campus?"
Yep!
"Does it have a trunk?"
Uh, sure.
"Can you fit four golf bags in there?"
I think so…
"Can you drive three other guys to practice every day?"
Ohhhh. It finally clicked.
Yes, I told him. I can drive three other guys to practice.
"Congrats," he grumbled. "You're on the team."
And so, my journey into a life in golf began with being perhaps the worst collegiate golfer of all time. But hey, at least I could drive a car.
---
I PROMISE I WON'T BORE YOU with all the obnoxious details about how I got to this point in my career. I figure just a few should suffice.
Two weeks after college graduation, I started at ESPN. I worked in the studio production department for seven years — where I eventually covered my first three majors — then applied for a golf editor position for the company's site on that newfangled internet thing. And somehow, they gave me the job.
On my second day, I finally realized I was the editor for a page that didn't have a full-time writer. We needed content, though, so I asked my boss if I could write something.
I'll never forget his answer: "Go ahead. It's not like you're gonna break the internet."
That first piece was on Colin Montgomerie, a man with whom I had not only never spoken but had never even seen in person. I'm sure it was enlightening. The next day, again with no other available content, I wrote another piece. Rinse and repeat. Over and over. Day after day.
Pretty soon, I started covering tournaments in this role. My first was the 2004 Ryder Cup at Oakland Hills. I booked my own travel that week and wound up staying in 8 Mile. Never did see Eminem, though.
It takes some time to learn the ways of the road. I remember driving up to the front gate of one tourney venue, showing my media badge and being mistakenly told that parking was two towns away. It wasn't until I got on the shuttle bus that I realized all those people around me sucking down pregame beverages also weren't in the media.
I was the golf editor at ESPN.com for four years, then a senior writer for three. I left for Golf Channel, where I had the same role for four years, then back to ESPN.com for another three.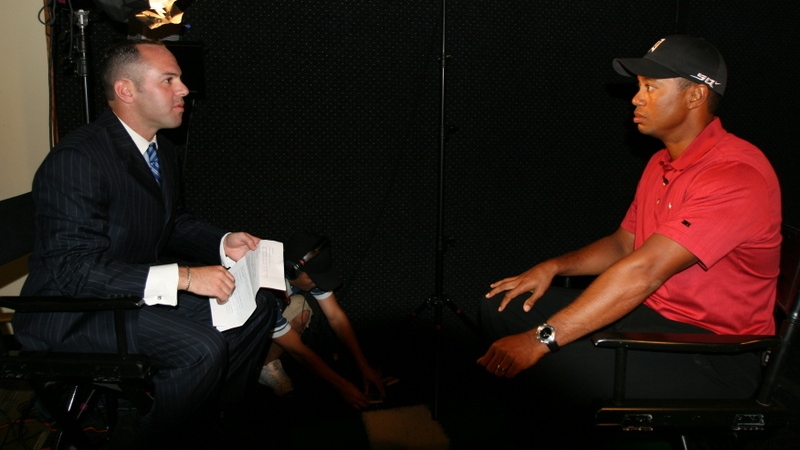 Pictured: Jason Sobel interviewing Tiger Woods.
I worked with some amazing people. Unbelievably talented people.
Social media has turned everyone into not just consumers of content, but critics. I can tell you from experience that sitting in front of a live camera fumbling to find the right words to say or staring at a blank laptop screen on deadline can be intimidating. Scary, even.
Say the wrong word, type out a clunker of a column, and you'll be subject to instant ridicule. In a way, it's not much different than playing golf for a living, although thankfully we don't have to keep a scorecard.
My first week at Golf Channel, the mercurial Seve Ballesteros passed away.
I was called to appear for two hours on a show celebrating his life, alongside Rich Lerner, Brandel Chamblee and Frank Nobilo — three men I respect so much. There was just one small problem. Seve was before my time, so I never had a chance to cover his golden years.
Well, the show starts and Rich waxes poetic, as he so elegantly does. Brandel then speaks with virtuoso knowledge about Seve's on-course wizardry. Frank tells the tale of a dinner in Paris, when the Spaniard used an actual butterknife to offer an impromptu bunker lesson in the restaurant.
And then … me.
Lots of fumbling. Tons of intimidation. Very scary.
---
DON'T GET THE WRONG IDEA: The good times have outweighed the scary ones, one hundred-fold. I've been lucky enough to tell some tales of my own over the years.
I've been with The Action Network for nearly five months now. Not a week goes by when some enterprising college student doesn't write me some semblance of the following: I love golf, I love writing and I'd love to have a job like yours, so what should I do?
My answer is that there is no right answer.
Make your own luck, I guess. Work hard. Listen more than you talk. Be different. Try new ideas.
And it doesn't hurt to be able to tell those tales. That's been my favorite part of this job.
There was Roland Thatcher, who let me caddie for him on the then-Nationwide Tour, as we climbed the leaderboard, missed the cut and drank a lot of beer, all in a single Friday afternoon.
There was Willie Kellogg, a University of Georgia fan whose ashes were spread on the 10th hole at Augusta National, just days before another Georgia guy, Bubba Watson, miracle'd a shot around some trees there to win.
There was Billy Hurley III, the Navy man and pro golfer who poured his heart out telling me about his father's disappearance and ensuing suicide.
And yes, there were times with Mr. Palmer and Mr. Nicklaus and Mr. Player, each occasion making me think of my grandfather. Like everyone else's grandfather, they were his favorites, the guys he wanted to emulate when he picked up his clubs.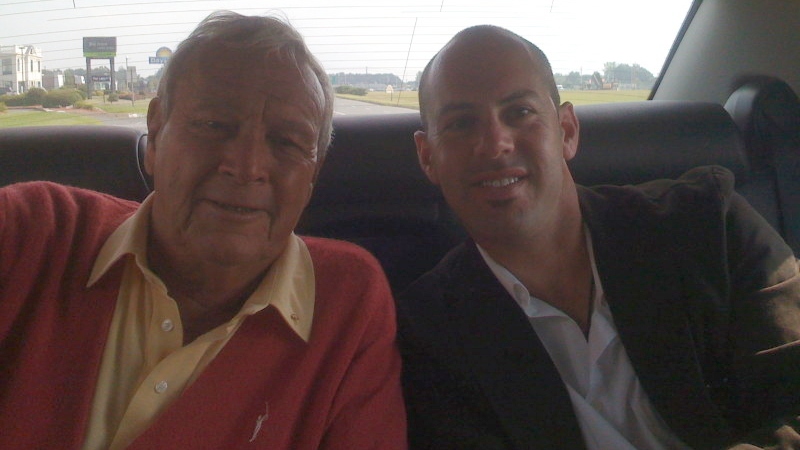 Pictured: Arnold Palmer and Jason Sobel.
I still have those Yamaha irons in the garage. They still have a sticker with his name and address on each shaft, just in case he ever lost one.
Those clubs helped me learn to love golf. They gave me an opportunity that led to another and another, eventually leading to this career. They opened the door for a life spent watching the game and writing about the game and even playing the game.
And they led to an incredible heater, one that I hope doesn't cool off anytime soon.
How would you rate this article?