Sobel: Tiger Woods, Better and Now Victorious, Can Still Reach Greater Heights
Credit:
Credit: John David Mercer-USA TODAY Sports. Pictured: Tiger Woods reacts after winning the Tour Championship golf tournament at East Lake Golf Club.
Tiger Woods finished the 2018 PGA Tour season with a long-awaited victory in the Tour Championship -- his 80th career win.
Tiger's approach to the game has changed since his last victory, but this win proves there's much more in store.
Tiger Woods is back.
This will be the main takeaway following Woods' first victory after 1,876 days, after a fourth debilitating back surgery, after a much publicized DUI arrest and leaked nude photos and a future so uncertain that less than a year ago, he didn't know if he would ever play competitive golf again.
So, yes, this Tour Championship title proves he's back, but really, it's a lazy narrative.
Let's try this one instead: Tiger Woods is better.
---
>> Sign up for The Action Network's daily newsletter to get the smartest conversation delivered into your inbox each morning.
---
No, he's never going to be the dominant automaton of the early to mid-2000s, the guy who could win double-digit events in a season and by double-digit margins in a major.
This iteration of Tiger, though, is eminently more human than that one.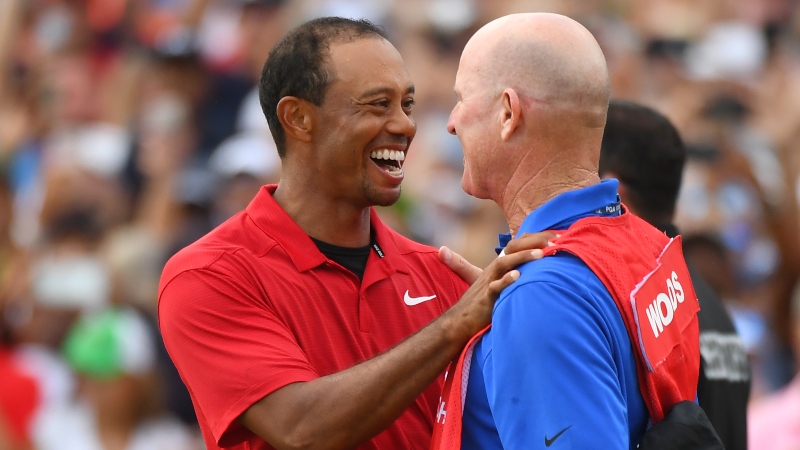 He is emotional, vulnerable, humble, thankful and unvarnished. He is flawed and beaten, still chasing past success. He is a doting father, saying of his two children, "They would equate golf to pain; it would cause me more pain whenever I'd do it."
All of these are characteristics we never witnessed when he was blinding us with dominance.
We saw it Sunday afternoon, moments after he tapped in the clinching par putt, then held back tears and admitted, "I just can't believe I pulled this off."
He said these words while bordered in all directions by massive hordes of spectators, each one following his every step on this journey — figuratively and literally.
If the Tiger of old drew the masses just to catch a glimpse of him and watch in awe, the Tiger of today attracts supporters for the mind-boggling storyline, one that underscores the importance of such treasured values as hope and perseverance.
Now that storyline will change.
It's no longer about trying to resurrect the past. Instead, it's about the future.
When this latest comeback began, Woods first had to prove he could still swing pain-free. Then he had to prove he could make a few birdies. Then a full round of progress, then multiple rounds, then an entire tournament, then getting into contention.
He has now jumped that last hurdle — winning a tournament — and can race toward that finish line without worrying about high-stepping another one.
In more specific terms, he's clearly one of the world's best golfers. Forget rankings, forget win totals. Using the ol' eyeball test, we can easily see that Woods is a world-class talent who might still be progressing to greater heights.
He is now the Masters favorite, with the opening round of the 2019 edition just 200 days from Sunday's winning putt at East Lake.
And if he continues playing the way he has in recent months — more controlled drives without losing distance, precision ball-striking, torrid putting with the famed Scotty Cameron back in the bag — it's within reason to believe that in the year he plays as a 43-year-old, Woods could be the favorite in every tournament he plays, even if that's extrapolating some recency bias for another 12 months.
Consider it a perfect storm.
We've seen the Tiger who could dominate elite fields, but never let us in, remaining steely-eyed and guarded in victory. We've seen the Tiger who was humble and vulnerable, but never believed he would again reach the point in his career when he could win golf tournaments.
Now we have the best of both situations, the Tiger who has proven he can beat a world-class field, while still remaining more human than we'd ever seen him before.
The easy narrative on the heels of this victory is that Woods is back. But that's too easy.
The bigger story is that he's better, if not in performance then at least in popularity and storylines. He's no longer chasing that past success. Now it's all about what he can accomplish in the future.