Korn Ferry Tour Graduate Power Rankings: The First 25 Players Who Got Their PGA TOUR Cards
Credit:
Mike Mulholland/Getty Images. Pictured: Taylor Montgomery.
Another season has come and gone on the Korn Ferry Tour.
On Sunday, the KFT finalized its 25 spots for the PGA TOUR next season with another 25 set to be handed out in three weeks following the playoffs.
We'll take a look here at that initial group of 25 and see how they fit in with the big boys next season. The results on the KFT can be a little muddy since the courses vary quite a bit from the PGA TOUR events.
On the KFT, we tend to get mostly shorter, simple birdie-fests. It's not like the long ball-striking test that we frequently see on the bigger tour. The KFT is usually about wedges and hot putting. So with this, I try to ignore the overall results and look for players with the length and iron play that come closest to matching the top players we see today.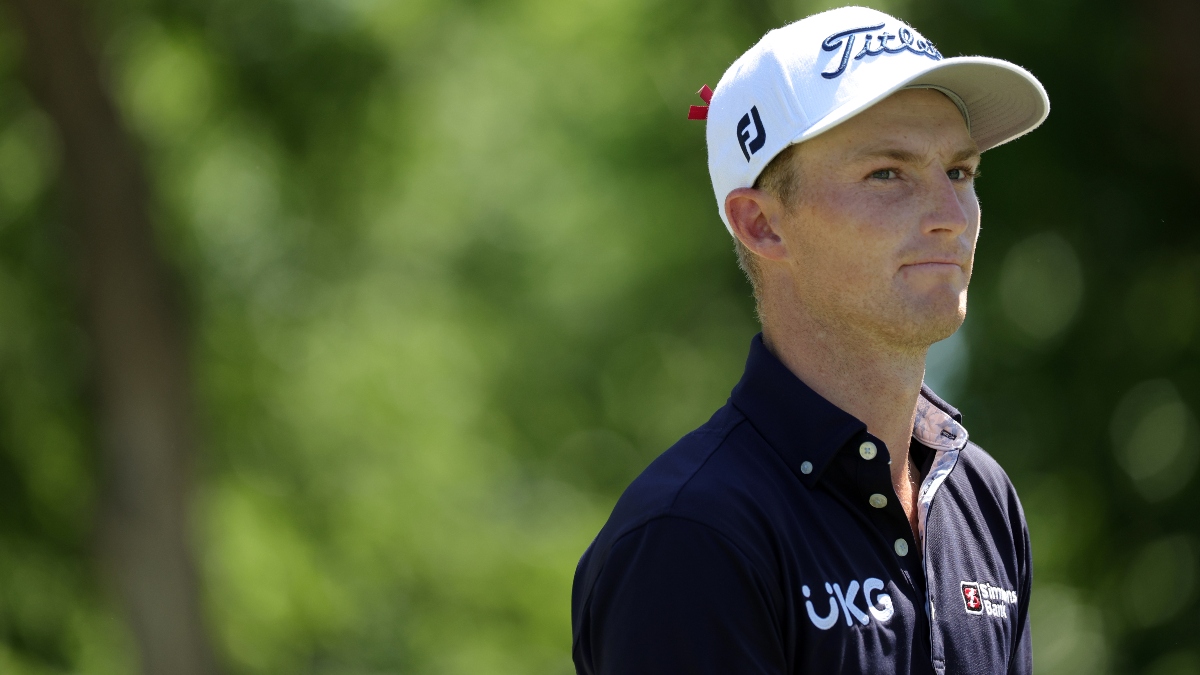 Bet the BMW Championship, Win $200 (No Matter What!)
Tier 1
1. Carl Yuan
After all that, I'll start here with the guy who topped the KFT standings in Yuan.
He was boom or bust. In 19 starts, he finished top-three five times but also missed eight cuts. Form was pretty irrelevant for him and that could provide some good betting opportunities. If he strings together a few missed cuts, he could follow up by getting into contention at a large number.
The ball-striking was top class. He was fifth in distance and 11th in greens in regulation (GIR) with an above-average short game.
We have seen him much on the PGA TOUR. He's made just four starts, but a 17th in the 2019 WGC event in China shows he can hold his own in a world class field.
2. Taylor Montgomery
Montgomery's game should fit perfectly on tour. He really showed no flaws this season. He was inside the top 25 in distance, GIR, putting, scrambling and birdies. Basically he does everything well and I wouldn't be surprised if he picks up a win in the fall.
PGA TOUR experience is limited with Montgomery, who has had just four starts, among which is an 11th at Torrey Pines this year. He probably should have been here last year, but another year of seasoning has him ready for this tour.
3. Vincent Norrman
Here's where we start going down the board to find the skill set that should be better for the PGA TOUR instead of the KFT.
Norrman finished 23rd of the 25 players to graduate, but his ball-striking numbers were among the best the KFT has produced. Entering the final week of the season, he was No. 1 in both total driving and GIR. He ended up finishing third and second there respectively.
Norrman has a very clear strength, but also a very clear weakness: the putter. On the plus side though, he was 12th in scrambling so he's been able to chip well. It's just on the KFT, the putter makes it impossible for him to consistently contend when 20-under tends to be a requirement.
With the move up to some more difficult courses, I expect this Swedish Keegan Bradley clone to stick around for the long haul.
4. Augusto Nunez
Nunez got off to a slow start this year, but closed as one of the hottest players. The KFT GIR leader notched five straight finishes of sixth or better prior to missing a cut last week to lock up his spot next season.
The irons were top class, but the driver was also a big plus for him, as well, with both above-average length and accuracy that had him rank 11th in Total Driving. Putting and scrambling were also both above average.
I have him at the bottom of the top tier though because I'm not sure if he can sustain it. Most of his success came from that five event hot streak. The year before he missed 20 of 43 cuts in the marathon 2020-21 KFT season. The stats are there, but he's a guy I'll be more cautious with until I see it on the bigger stage.
---
» Return to the table of contents «
---
Tier 2
5. Justin Suh
I don't think anyone cost me more money on the KFT than Suh this season. A win seemed inevitable, but just never came. The USC grad made 18 of 21 cuts with eight top 10s including a second in Utah. Every week, he just seemed to string together a result. He didn't have the length of the guys ahead of him, finishing just inside the top 50, but everything else is there.
Suh has 25 events to his name on the PGA TOUR and overall, the results weren't great, but he's shown signs of competing with top-15s at Corales, the Shriners and Zurich during the 2020-21 season.
6. Byeong Hun An
An is the most well known player of the group. He's still mostly the same guy, long off the tee, good iron player. The putter was surprisingly competent for the early portion of this season as well, which hasn't been the case in the past. Results remained really inconsistent, though.
An missed nine of 16 cuts but had a win and a second which will all but guarantee a card. He missed the weekend in eight of his final 10 starts, including a WD. So it may be injury. It may be motivation, locking up his card pretty early. Either way, he's back, and the talent is still there, but all the same questions remain.
7. MJ Daffue
Daffue had a moment in the spotlight early in the U.S. Open this past season, which showed a glimpse of what he is capable of against the best players. The skills are there.
The South African has elite distance and was above average with the irons. The short game was also fairly strong, which helped him finish third in birdies. As with most bombers, accuracy off the tee wasn't really his thing and that's where he could find trouble. He's also a frequent Monday Qualifier, so he's had his taste of tour starts, making nine cuts in 14 tries with a pair of top 25s.
8. Michael Kim
Like An, most PGA TOUR fans know Kim.
After a win in the John Deere, his game completely vanished for years, dropping him down into this circuit.  But he's back to what he was where he solidified his status. He even showed in on the PGA TOUR in limited action this season, finishing seventh at the Barbasol and 16th in Puerto Rico.
Kim is still mostly the same player profile. The length was decent and the irons were good, but the short game was his strength.
9. Marty Dou
Dou was pretty good overall this year. His driver was above average for the KFT, the irons were solid and the short game held up.
He's played four seasons on the KFT and always been solid, never finishing worse than 40th in the final standings. But his game went completely array in his rookie year in 2018 on the PGA. He only made four cuts and literally did nothing well.
A few more years under his belt may do him some good, but even though the overall profile looks like he can compete, that 2018 season leaves cause for concern.
---
» Return to the table of contents «
---
Tier 3
10. Kevin Roy
Roy's a guy who has struggled with consistency the past few seasons on the KFT, but finally picked up enough high-end results to graduate. He's missed 31 of 73 career cuts and this year was no different, missing eight of 20. But he recorded a second along with three other top 10s which was enough to get him here.
Roy is a notch below Norrman in the skill set. Ball striking is above average, but the short game struggles. He may be a guy who benefits from the increased difficulty.
11. Trevor Cone
Cone is a similar profile to Roy. He's longer and better with the irons, but the short game was much worse. He's also missed the cut in more than half his career KFT starts. But things clicked for him better this year and he picked up his first win while making the weekend in 15 of 20 tries. He was first in eagle rate, which can be attributed to his length, but was outside the top 80 in birdie average, showing the putting woes.
12. Davis Thompson
Thompson was another boom or bust type in his KFT rookie season. He missed eight of 18 cuts, but grabbed that all important win and picked up three other top-10s to graduate in his first try. He showed all the length in the world and the irons were above average, but not quite as good as the two ahead of him. And like those two, there were short game issues.
Since turning pro last year, he's also made six of nine cuts on the PGA TOUR, but no real high finishes. He's another Georgia Alum on tour and residing in St. Simons Island, so while length may be his thing, the RSM could be a spot he pops up in a home game.
13. Kevin Yu
Yu put up three top-threes this season to get his TOUR card. He's another player like Thompson who turned pro last year and has made the quick leap up. The ball-striking isn't as good as the guys ahead of him, but he's got the best short game of the bunch so far in this range. The driver was the clear strength for him. He was top 20 in both distance and accuracy but was outside the top 50 in GIR. He finished seventh in Puerto Rico this season, which lines up pretty well with the overall skill set.
14. Eric Barnes
Barnes is another long guy, but with even worse irons. He played really well early in the season to lock up a card, making his first 10 cuts with six top 10s. He was among the betting favorites quite often in the first few months. But he closed with four missed cuts in his last seven starts and no result better than 37th. The form has gone the wrong way with him. So he's dropped in my overall rankings despite having the length and putter to play well on the PGA.
15. Ben Griffin
We got a look into who Griffin is at the Wyndham a couple weeks ago where he placed fourth. He's not overly long but the irons and short game are good, so he has those shorter courses where he can pop up. When a course fit his eye this season, he tended to play really well, finishing second three times with 9 top 25s. But when things weren't to his liking, he ended up missing eight of 20 cuts. He's going to have to get his results on those shorter courses, because he doesn't seem likely to pop up often at the longer ball-striking tests.
16. Harry Hall
Hall's ball striking numbers were just average for this tour, but the short game was very solid. He's a guy that probably fits the KFT better than the PGA at this point. He'll need to put up some good results at the more wide open birdie fests where he can spray it around and catch a hot putter, because right now, that short game is the only thing that's at a PGA TOUR level.
17. Harrison Endycott
Endycott is an average-length, accurate driver who hits a lot of greens, but struggles with the putter. That can present problems for him, because the length isn't there for the bomber tests, and the putter isn't there for the shorter birdie fests. He does have those two skill sets though, so if the putter does come around, then he can find a place on tour. Without it, it will be a tough rookie season.
---
» Return to the table of contents «
---
Tier 4 
18. Seonghyeon Kim
Kim is probably the biggest disappointment for me this season. I had him pegged as a no doubt PGA TOUR pro. By the end of March, he had three top 3 finishes and his card was secured. But after that, his irons completely disappeared and he's gone nine events without a top 30. The international pedigree is there with him. The 23 year old has three wins in Japan and Korea, including the Japan PGA Championship, a major on that tour. He's a guy who could figure it out and be just fine, but there may be some growing pains early on. But I think eventually, he solidifies his PGA status, even if it's not next season.
19. Trevor Werbylo
Werbylo cooled off after a hot start to the season. He grabbed a win and a third in two starts in Louisiana back to back weeks, which basically secured his spot. Outside of that though, he only had one other top 10 and only made 9 of 18 cuts. The driver was an issue. The length was average and the accuracy was non-existent. His irons were his best quality, but they weren't even top 30 in GIR. Couple that with an average short game and the 24-year old might be in for a short stay next year if he doesn't develop a clear strength.
20. Paul Haley
The upside is fairly limited with Haley. Pretty short off the tee, hits most of the fairways and greens, pretty solid short game. Basically he's in the Kevin Kisner mold. Haley had a taste of the PGA TOUR in 2013 but only made three cuts in 18 tries. This will be his first time back since. We know exactly what he is and where he fits: Wyndham, RSM, Pebble, ect. He has to pick up results on those course types to hang around.
21. Brandon Matthews
Matthews hits the ball a mile but doesn't have another PGA TOUR level skill yet. Think Martin Trainer. There are some bomber style course where he can pop up, but overall, something else has to develop. He can put well at times, but that's just barely above average for the KFT overall. If the irons can come around though, he can make a leap next season and find a footing, but it will come down to that approach game, especially from the rough, because he's not finding many fairways.
22. Robby Shelton
Shelton is this year's Quadruple A guy to steal a baseball term. Absolute killer on the KFT, who's game has yet to line up on the PGA TOUR. He won twice this year and finished second in another event as well. But we see this from guys like Stephen Jaeger as well. Shelton is simply the best putter on this tour. But when he moves up, he becomes a pretty good putter while his already average ball striking and around the green skill take a hit. He's had moments when that putter gets white hot on the PGA and he pops up. He's got two thirds in 70 starts, but he's also missed 38 cuts as well in those events. The game is still what it's always been, so I'm not expecting a change in results next season. Maybe he gains 12 strokes putting one week and turns one of those thirds into a win, but that's what we'd be looking for here.
23. Anders Albertson
This will be Albertson's second stint on the PGA. He played in 2019 but only made 10 of 25 cuts and went back to the KFT. He's similar to Haley, but a little longer off the tee. But the accuracy with the driver and irons isn't at the same level. Albertson was the last guy in largely because he picked up a win in May. But overall, he missed eight of 17 cuts. I don't really see much difference in his game now from 2019 that suggests he'll have a different result.
24. Ben Taylor
Taylor is a good Korn Ferry player, but doesn't really have anything that pushes him over the top and allows him to stick on the PGA TOUR. His length is average at best. His irons and short game are fine for the KFT, but not strong enough to separate him from the PGA TOUR pack. We've seen him on the PGA on a couple of occasions and he's made just 14 of 39 cuts and I see his game being pretty much the same as those seasons.
25. Tyson Alexander
Alexander brings up the last spot here because of his mediocre ball striking. He's ranking out the top 70 in driving distance, accuracy and GIR. The 34 year old is pretty reliant on his short game, but I'd only rate that as above average on this tour and have a hard time seeing it carrying him at the next level. He's been a triple digit longshot on this tour for me though, because he had a few spots where he'd play well. And notably, we had a book list him as Alexander Tyson at 500/1 because they didn't know who he was last year, only for him to come in second. I hope he makes it because he's a guy I've tracked for a few years, but compared to the rest of the grads, he's got a challenging year ahead.
---
» Return to the table of contents «
---
How would you rate this article?
This site contains commercial content. We may be compensated for the links provided on this page. The content on this page is for informational purposes only. Action Network makes no representation or warranty as to the accuracy of the information given or the outcome of any game or event.