6 Masters Golf Pool Ideas You Can Run in 2023
Credit:
Trotman/Augusta National via Getty Images. Pictured: The Main scoreboard during the Masters at Augusta National Golf Club.
Off the heels of the most popular "office pool" event in the United States each year, the Masters provides another opportunity to get action down in a casual way.
But unlike the NCAA Tournament, there's not a consensus pool type that everyone gravitates toward, like the March Madness bracket.
Here are six Masters pool ideas for 2023.
General Thoughts
Know your crowd. Oftentimes, the person setting up the pool is the person most into the thing, regardless of sport. So the organizer picks a format that is too complicated or too intense. Take stock of who will be in the pool, how closely they follow golf, and if they'll enjoy something more straightforward or more complicated.
Pay out more than just the person with the winning golfer. This could mean the top-5 finishers, or you can do bonuses to the team with the best round, or most eagles, etc., all depending on your format. There are really only a handful of players who can win a golf major, and you don't want to be wasting your time selecting players like 5000-1 shot Sandy Lyle if you're just paying out the winner.
Building on No. 2, I prefer pools in which the winning entry goes to the person with the best "team" of golfers, instead of just picking the winner. It gives you much more to follow throughout the weekend.
Alright, to the ideas!
1. Tiered Selection
The most common Masters pool is what you'd call a "Tiered" setup, in which participants must pick one or two players from every Tier of golfers. Each person could choose the same golfers, so someone like Scottie Scheffler may be used by 40% or higher of the entries.
But with Tiers, you can't take Rory, Rahm, Scheffler, Cantlay and Finau. You can probably take one of those guys, and then one guy from the next tier, depending on how your site does it.
EasyOfficePools.com and RunYourPool.com both offer good hosting and customization for Tiered pools.
There are a number of ways to choose the tiers — by a ranking system, like the Official World Golf Rankings, through betting odds, or through more creative tiers you set up yourself.
My preferred format is to have six tiers, making one pick from the first five tiers and then three from the "everyone else" tier, for eight total players. Then you'd take the best scores from your best six finishers, and the winner will be whoever has the lowest cumulative score.
But you can customize these numbers to your liking in terms of tier size, how many players count toward your final score, etc.
1. Tiers from OWGR or Betting Odds
In this type of pool, the tiers will be pre-selected either by Official World Golf Rankings or the betting board. Let's look at EasyOfficePools.com Tier 1.
This means you can only choose one of these guys, and they include the best players in the world. So no Rahm and Rory — just one.

In Tier 2, you have the next 10 guys on the odds board, and you'd select one of them.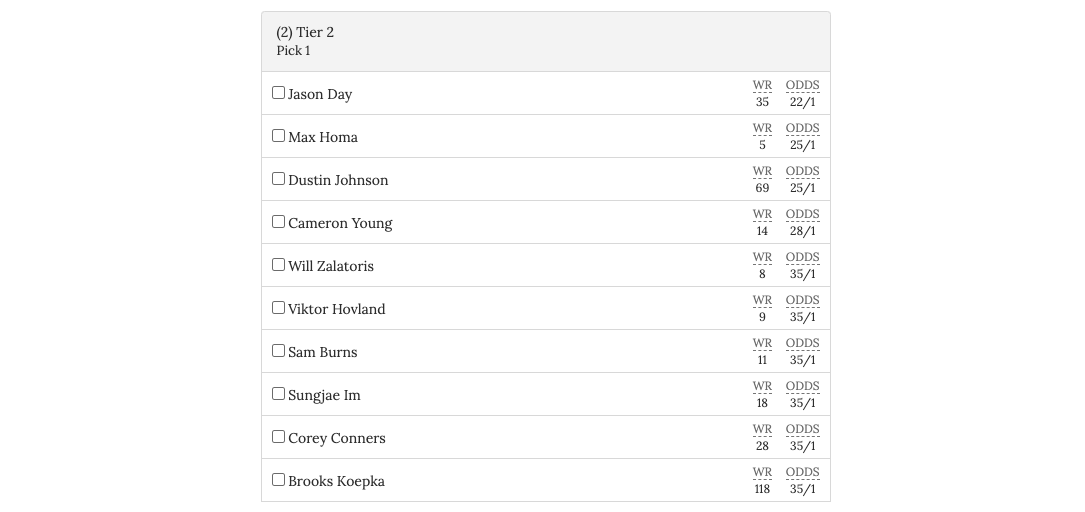 2. More Diversified Tiers
Many sites allow you to pick your own tiers. Some I've seen in the past:
Big guns (top 10ish players) in one tier
Former Masters champions
Best European players
Best American players
Amateurs
Everybody else
This will allow for more variety in lineups because the choices aren't as clear cut. If you go by the betting odds, people will gravitate toward the guys at the top of each tier.
3. Calcutta
We've written extensively about Calcuttas for the NCAA Tournament, but golf is probably the second most popular option for this type of pool.
We did a deeper look at golf calcutta pools, as well.
It works like this — you bid on players with real money, and depending on where your player finishes, you get a percentage of the pot.
But the kicker is that you don't know how much is going to be in the pot until it's over. So you may bid $100 for Jon Rahm, and not really know if it's a good buy or not until the auction starts to take shape. If $10,000 ends up in the pot, it was a great buy. If $1,000 ends up the pot, not as much.
That's because with a $10k pot, Rahm buyers would take home $2,400 at minimum using the sample payouts below. With a $1,000 pot, you'd only take home $240.
Calcuttas are somewhat complicated, and you can lose or win a lot of money if you're not careful. But for anyone willing to take the plunge, the auctions are quite fun. Just try to get a sense of how much money will be spent if you can, so you can try to price things appropriately.
4. Snake Draft
Get together some friends and pick eight golfers each, in a snake draft like fantasy football. You can get creative with the payouts, like the winner gets the whole pot or the top-three golfers get paid out. Plus you can add some bonuses like.
How many golfers each team selects will be somewhat dependent on how many teams there are. With eight teams, 6-8 golfers should be fine. With 10+ teams, that's too many.
Assuming eight participants, here's how I'd set it up.
Eight rounds, snake draft
Scores of your best six players get counted, and the winner is the team with the lowest cumulative score among their top six players
Bonuses for the lowest single-round score and having the individual winner
5. Salary Cap
You can either create your own salary structure or use DraftKings or FanDuel's DFS platforms for a private contest.
You can also decide your own payouts while still using DK and FanDuel, and handle the money offline. So if you have 20 entries, first place may get most of the pot with second and third getting a little. In a bigger pool, you can pay out more places.
6. Randomizer
If it's not a crowd that wants to do too much work or doesn't follow golf, simply enter the top-50 or so players into a hat, and select them randomly until everyone's team is filled out.
Then use the same style payouts as the snake draft above — your top six players' scores get counted, and your bottom few get dropped. Pay out the team with the lowest cumulative score, and award bonuses for the team with the individual winner, lowest round, worst finisher among players who made the cut, or whatever other fun quirks you can think of.
How would you rate this article?
This site contains commercial content. We may be compensated for the links provided on this page. The content on this page is for informational purposes only. Action Network makes no representation or warranty as to the accuracy of the information given or the outcome of any game or event.