Sobel: Matthew Wolff's Win Proves the Can't-Miss Kids Are Here to Stay
Credit:
Credit: Bruce Kluckhohn-USA TODAY Sports. Pictured: Matthew Wolff (left) raises the trophy after winning the 3M Championship.
Matthew Wolff's win at the 3M Open on Sunday thrust him into the spotlight along with other talented young golfers.
Jason Sobel discusses what we can expect from the budding crop of golfers.
BLAINE, Minn. — The studs have arrived.
We've uttered these words so many times over the years, really anytime a crop of can't-miss kids is foisted upon the public during golf's dog days of summer, when we're searching for a shiny new toy to hold our attention.
More often than not, we're simply reminded of how difficult it is to make the transition to competing against the world's best players. Once in a while, though, the potential is evident, with early results suggesting long-term success.
Perhaps never, though, has it been more evident than it is right now, these post-college pros are immediately becoming the story for all the right reasons.
At the inaugural 3M Open on Sunday, in one of the best conclusions to any tournament this year, Matthew Wolff holed an eagle putt from off the green to win in his third career professional start.
"That last putt was, gosh, something that changed my life forever," Wolff said in the aftermath, still shaking his head in disbelief like so many others who'd witnessed it. "I don't think it's really settled in yet."
Wolff defeated his playing partner, longtime junior and amateur golf buddy Collin Morikawa, who could "only" muster a back-nine 30 for a share of second place. A bit further down the leaderboard was Wolff's college teammate at Oklahoma State, Viktor Hovland, who chased last week's final-round 64 with a 65.
Then there was Justin Suh, an initial outlier in this group who's simply making a few cuts early on, though it could be stated that the other guys are the real outliers.
Tiger Woods owned an absolute, definitive era within golf's history, when he dominated the game like nobody before. Since then, though, there's been a Rory McIlroy Era, a Jordan Spieth Era, even a Brooks Koepka Era, none of which have lasted long enough for era status.
And so, let's not insist that this is some Young Gun Era, because that myth will likely be debunked, as well. Instead, let's settle on the fact that these guys are all really good — and they're going to keep getting better for a very long time.
"I think we've all kind of proven that we can play with these guys," said Wolff after a closing 65. "The hype, it's cool. But it's all just talk, really."
Those words reminded me of an anecdote from earlier in the week.
On Friday afternoon, as Wolff ripped a few drives from the far-left side of the TPC Twin Cities driving range, a veteran caddie sidled up to me and started chatting about this latest group of heralded — even hyped — youngsters who had recently jumped from college to the professional ranks, each of whom has been gobbling up recent sponsor's exemptions in an effort to kickstart their careers.
"It reminds me of another group," the caddie offered.
He was talking about Luke Donald, Charles Howell III, Bryce Molder and David Gossett, a quartet which turned pro during the 2000 and '01 seasons to similar acclaim. So many years later, we can judge them on results over potential.
Donald rose to No. 1 in the world; Howell turned into one of the most consistent players of a generation; Molder won, but has since retired from competition; and Gossett won, too, in his first official event, but quickly faded into obscurity.
The point is, said the caddie: You never know.
He's correct, of course, though right now, in the moment, it seems like we absolutely do know.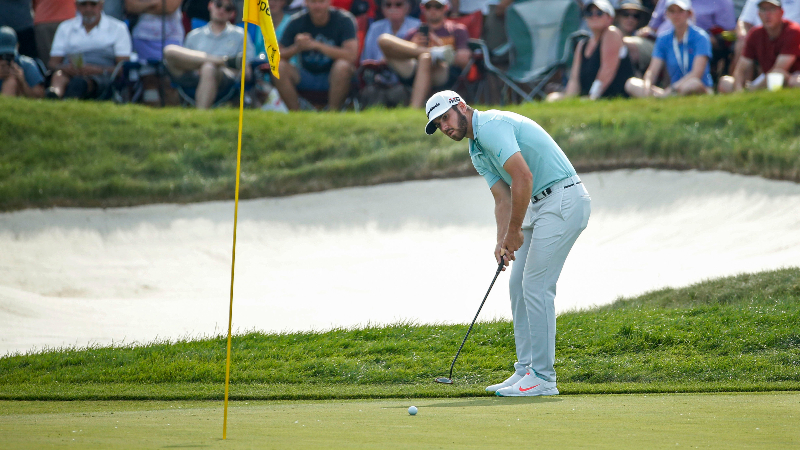 We know that Wolff can triumph over a field of top PGA Tour players. We know that Morikawa won't back down when faced with the pressure of being in the spotlight. We know that Hovland can go ridiculously low at the most opportune times. And we know that Suh can only be extra motivated by those who have already gotten a jumpstart on him.
"Yeah, we did have a lot of hype," acknowledged Morikawa, "but it's cool to see us all playing well, competing against each other and just going off against one another. That's what we've been doing our entire lives pretty much, as junior and college players. To keep that going out here is really cool."
Too often, hype remains unfulfilled. We raise that bar of expectations so high that those with immense potential have trouble reaching it.
This group is already fulfilling that potential, already exceeding some of those lofty expectations.
It's great for them and great for the future of the game, one which is receiving another much-needed infusion of young talent which should be around for a long time.
Yes, it's still true: You never know.
But it's sure feels like we've learned plenty already.
How would you rate this article?