PGA Championship 2022: 10 Takeaways From Mito Pereira to Justin Thomas
Credit:
Ezra Shaw/Getty Images. Pictured: Justin Thomas.
TULSA, Okla. — The scenes at Southern Hills Country Club were dazzling on Sunday afternoon as Justin Thomas rallied — and received some help — to win his second PGA Championship title.
As it all unfolded, I couldn't help but think of a few other scenes that we wouldn't see.
Like the one at Tiger Woods' house with his right leg elevated on the couch in between ice baths as he was pumping his fist for his protégé just one day after withdrawing from the tournament.
Or at Phil Mickelson's house where he may have been glumly stroking his beard while realizing his reign as defending champion wasn't just over, it was going to the player with his former caddie on the bag.
Ah, if only the broadcast had just a few more strategically placed cameras …
Let's get to 10 takeaways from the week that was, one which had a little bit of everything for everyone.
1. About 90 minutes before regulation would conclude in the final round, one of my golf-diehard colleagues half-jokingly suggested we could find a spot on property to watch a hockey game or something. Mito Pereira was leading by a few strokes, nobody was making a move and the entire tournament -– just as we'd seen on Saturday –- felt a bit dull.
It seemed to be the type of final round likely to lead to a few afternoon snoozes on couches across America. Of course, by day's end it had turned electric with a palpable buzz echoing throughout the course down the stretch and throughout the playoff. It all served as a triumphant metaphor for the entire week.
It was hot, then it was cold. It was calm, then it was windy. It was a boring course, then it was brilliant. It was Rory McIlroy's to lose, then he was losing. And so, it only made some sort of warped sense that a tournament which was flowing like molasses suddenly whipped us into a frenzy.
It should all serve as a great reminder that hot takes can cool off pretty quickly in golf, where the slow-moving nature of it makes us feel like we've got a precise handle on what's taking place as we're being lulled into a false sense of confidence.
When we look back years from now, we'll likely forget those lengthy periods of monotony and only recall that electricity we watched at the end. Nothing wrong with that.
---
2. Not long after Thomas' victory, I was asked on PGA Championship Radio how this victory changed my perception of Thomas.
Look, we already knew he was an elite-level talent, one of the game's best on any given week, a player capable of winning anyplace, anytime. But I'll admit that if I'd been asked one week ago to name the three best players in the world, I might've listed some semblance of Scottie Scheffler, Jon Rahm and Collin Morikawa (for the majors) or McIlroy (for the ceiling).
Of course, Thomas is the exact same player he was a week ago, but any of us would be crazy not to elevate him into this level of status following his second major victory. It had been 14 months since his last win and, as I have written so often recently, he's been knocking on the door for another one.
If there's a reason why this victory will be so popular amongst the masses, it's because Thomas is the type who plays with fire, grit and desire. His tee shots on 18 in regulation and on both 17 and 18 in the playoff might've collectively been three of the most confident swings I've ever seen. It's that fortitude which makes him easy to root for –- and it's that fortitude which separates him from so many of the game's other elite players.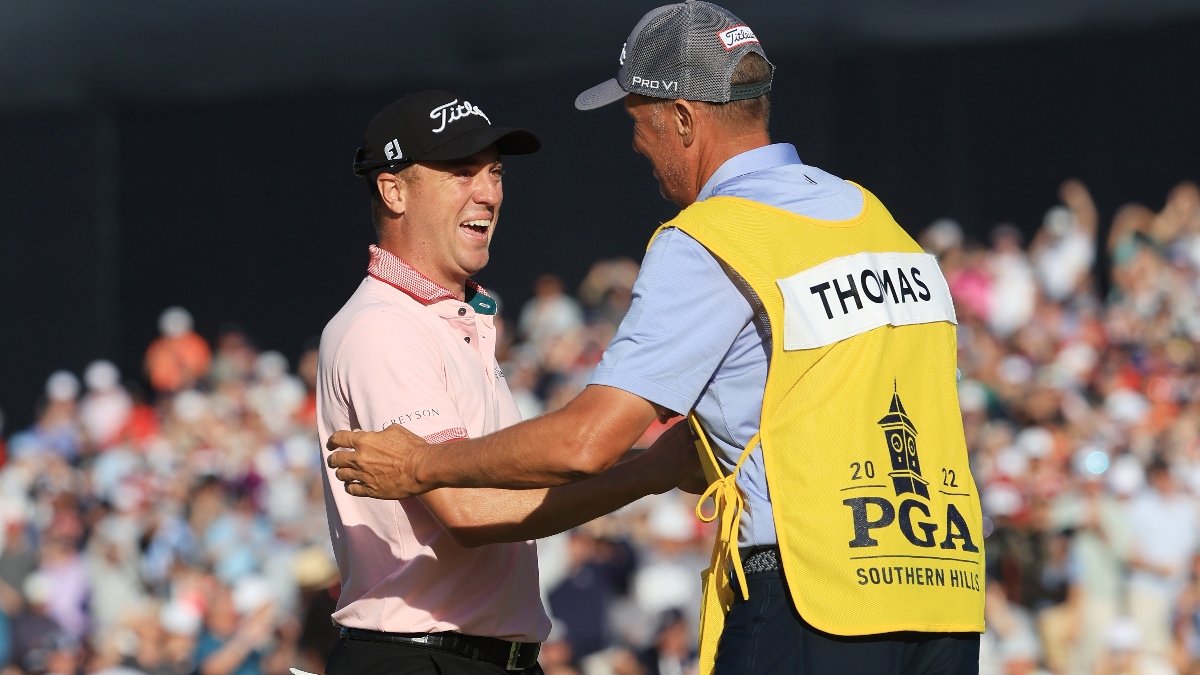 ---
3. In his pre-tournament press conference on Tuesday, Thomas was asked about having that initial major victory — at the 2017 PGA — and whether that allowed him to play a bit freer, unlike some of his peers, who are still seeking a first. He used that as a launching point to discuss trying to win the next one.
"It's a lot harder to get the second than I thought it would be, internally," he said. "Obviously, when you win one, to get to where you want to go, you have to win the next one, and when you get on a little bit of a drought, it can be frustrating. But I'm just trying to stay patient and understand that a lot of great players with unbelievable, Hall of Fame-like careers, with multiple major wins, have not won one until they are 30 or 35.
"You never know, I could win one, two, three, four majors in a year. I just have to be patient and hope it happens sooner rather than later."
Those words remained prescient later in the week when he picked off that long-elusive second title, shaking off the weight of that frustration in the process.
4. A few minutes after Will Zalatoris had lost the playoff to Thomas, I tweeted out the 25-year-old's short major record — which includes five top-10s in eight career starts — then punctuated it with this statement: "Absolute stud. He'll win majors. Plural."
I didn't really mean for that to be a heat-of-the-moment, locked-in prediction, but I wrote it, so I'll own it — and yes, I do believe he owns that type of ceiling.
In his short time as a pro, Zalatoris has played his best golf at the biggest events and showed little sense of nervousness in these moments. Even during the playoff, he never appeared too stressed for the situation, simply speaking with his caddie and hitting shots like he would in a friendly Tuesday morning money game.
That said, if — or when — he's going to win majors, he's going to need to do it like Morikawa or Hideki Matsuyama, which is to say, he'll kill 'em with ball-striking but need the putter to cooperate on the right week.
I'm still surprised Zalatoris gained 1.17 strokes with the flatstick throughout the week and was essentially neutral to the field in Sunday's final round because there were certainly short putts that he coulda/woulda/shoulda made. Even if he got just one more to lip in instead of lip out, he'd have a major title to his name right now.
That's not an excuse. It's an explanation and it shows just how close he came. It's easier said than done, of course, but if he can just tweak his putting performance to where he's sinking another half-putt per round on average, he'd already have those multiple major championships I've now predicted for him.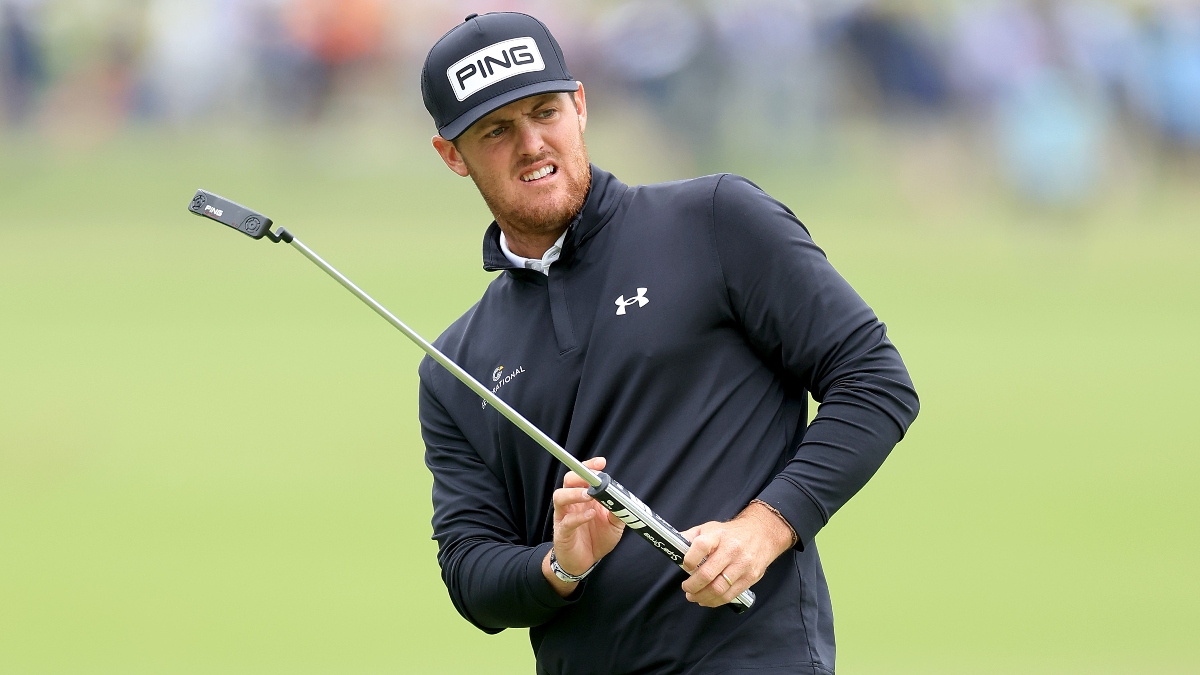 ---
5. First things first on Pereira: In the age of social media, it doesn't take until the next day for the Monday morning quarterbacking to begin. The criticism swarms in real-time. Almost immediately after the leader through 71 holes hit his driver wide-right into a water hazard on the final hole of regulation, he was being lambasted for not choosing a more conservative club.
I've got his back on this one.
Pereira played practice rounds on Monday, Tuesday and Wednesday. He'd prepped and strategized for this event. He knew what clubs he liked in certain situations. For him to change his mind in that moment signifies greater indecisiveness than hitting the club he'd always planned to hit there. This was less about the club choice and more about the execution.
"You have so much pressure in your body," he later said. "You don't even know what you're doing."
Sure, in retrospect, he could've played less club off the tee, remained conservative and tried to win it with a par –- or at least clinch a spot in the playoff with a bogey. Imagine that happened.
If he'd made bogey and lost in that playoff, we'd collectively be Monday morning quarterbacking him even more for playing too conservatively. Undeniably, that wasn't a good swing in that situation, but I don't fault the decision.
---
6. If there's a consolation for Mito's third-place finish –- other than a boatload of money, a return trip to the PGA next year and a jump into the world's top-50 — it's that he gained a lot of fans in the aftermath.
Many players in this situation might've blown off any media requests and stormed off to be consoled by friends and family –- and we would've understood that. Instead, Pereira gave every interview, including one on live television with CBS during which he even smiled and laughed about his misfortune. It was a masterclass in having class.
There are undoubtedly people who'd never heard of him previously who are now rooting for him moving forward, simply based on his ability to be personable and relatable in the moment. Good for him.
---
7. OK, for as much as you liked the previous take, you're probably not going to like this one. I've been thinking about Brandt Snedeker a lot lately –- not just Snedeker himself, but specifically following the final round of the 2008 Masters, when he posted a 77, lost the tournament, then cried unabashedly afterward.
I think we have to be careful taking what we see from players in the moment and extrapolating that to what we believe is true behind the scenes, too. That said, it's been an awful long time since I can remember a player outwardly displaying raw emotion after a disappointing loss.
I don't want this to serve as some referendum on how today's generation of players are too rich and happy to care about winning the most important events as much as we'd like them to care, but without some ability to quantify such analysis, it does seem like the emotions are saved for on-course struggles, but off-course aggravations remain hidden.
Would I feel more satisfied if Mito bawled his eyes out on national television minutes after blowing his big chance? Of course not. By the same token, though, it might be a bit telling that we haven't witnessed these displays of emotion in such a long time.
I don't know what it means, really, but the observation endures.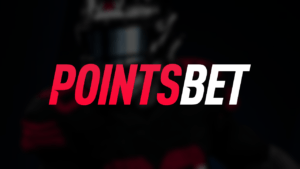 Get up to $2,200 FREE to bet the PGA Championship.
---
8. No, that preceding passage wasn't meant as a McIlroy subtweet, as I know he was plenty emotional after yet another close call, eight years after his fourth and most recent major victory.
It's not that Rory can't win another one — for all we know, he's about to reel off a bunch of 'em, just as he did in the early part of the last decade. The problem for him right now is that there's no magic formula for getting back there. For so long, we've witnessed him essentially shoot his way out of contention, only to come roaring back on the weekend, but wind up tantalizingly close.
Last month's Masters was the epitome of this issue, when he posted a final-round 64 to finish runner-up. This week, he finally got off to a fast start, taking first-round leader honors with a 5-under 65. As it turned out, playing his final 54 holes at level-par would've cemented a spot in the playoff, but he ultimately finished three shots behind.
We know McIlroy owns the physical ability and technical skill to win one of these again, which suggests that maybe it's the mental side of the game that could be holding him back. If so, these past two majors won't help much.
McIlroy has now played his best golf on a Thursday and a Sunday, yet neither scenario was enough to secure his fifth major. I do think he'll get another one –- and it could be somewhat soon — but I'll be very intrigued as to how it happens because neither racing out to a lead nor chasing 'em down from behind has worked lately.
---
9. Too often, major=championship venues are deemed a success or failure based on the eventual winner and ultimate leaderboard. If Pereira ran away and hid from the competition to win by five, the narrative on Southern Hills likely would've been that it wasn't great — simply due to the lack of drama.
As it is, we'll remember that Thomas outlasted Zalatoris in a playoff and we'll remember that Southern Hills produced an entertaining result.
In my mind, though, the true measure of a major venue is the ability to test all aspects of a player's game. This one did exactly that, as every single player inside the top-eight gained strokes in every major category –- off-the-tee, tee-to-green, approach, around-the-green and putting.
That might sound like something that happens all the time, but the reality is certain players can "fake it" in a few parts of their game in some weeks. I'm not suggesting Southern Hills is even in the same league as Augusta National, but even at the recent Masters, two players on the board lost strokes off the tee, one on approach and another on putting.
Maybe it wasn't the most exciting track for 3 1/2 days and maybe it's not the most memorable. In my mind, though, it achieved the goal by rewarding those players who did everything well.
---
10. What, like you thought I was going to get through this entire column without another Tiger mention?
After a determined battle to make the cut on Friday afternoon, Woods limped his way –- quite literally — to a third-round 79 and later withdrew from the tournament. His agent cited increased pain in his right foot, which is obviously connected to his leg injury, but a more focused detail than we'd heard previously.
All of which leaves us with more questions than answers in regard to his future.
Will he play next month's U.S. Open? No idea. Will he ever compete pain-free again? Don't know. Is he closer to winning again or retirement? Big ol' shrug emoji.
Any discourse on Tiger's impending future remains the stuff of great sports-talk radio because completely opposite ends of the spectrum of opinion are willfully viable. There are a few things we do know about Tiger, though.
For a player who's shown a massive pain threshold over the years, Woods must've been in some serious hurt to withdraw this week. But we also know, based on everything we've learned over the years, he's not going to use this as a reason to stop playing.
Tiger has already told us it won't be anything close to a full schedule moving forward, but he wants to compete at the events which mean the most to him. There's certainly the possibility that he's not healthy enough to play the U.S. Open, but we should have every reason to expect him to continue grinding toward being able to play, as soon as he possibly can.
How would you rate this article?
This site contains commercial content. We may be compensated for the links provided on this page. The content on this page is for informational purposes only. Action Network makes no representation or warranty as to the accuracy of the information given or the outcome of any game or event.