Sobel: What to Make of The PGA TOUR's Reported Plan to Resume Play on June 11
Credit:
Sam Greenwood/Getty Images
Over the past month, every time I've been asked about the mysteries of golf's remaining schedule in the face of the COVID-19 pandemic with questions that start, "Is it possible that…" my answer has been the same.
Yes.
Yes, I think that whatever proposition you were about to suggest is feasible, because I think every possible solution currently remains on the table.
Could the year's first major really be played without any fans in attendance?
Sure!
Will the U.S. Open be pushed back again – and to a location outside of the greater New York area?
Maybe!
Is there a chance the Ryder Cup is postponed until next year, back to its place on the calendar in odd-numbered years, as it was before 9/11?
Certainly possible!
With that in mind, if the question was instead, Do you think the PGA TOUR could be the first U.S.-based professional sports league to return, less than two months from now? My answer might've been more muted than it was for other queries.
According to a Golf Digest report, though, that's exactly the plan: Despite a growing number of deaths in this country and increased concern over the coronavirus, the report states that the PGA TOUR will return to competition at the Charles Schwab Challenge on June 11, likely earlier than any other league.
There are two differing takeaways from this news, depending on how definitive it really is.
The first is that, if this is simply a contingency plan, if this is just an announcement that the PGA TOUR is pushing back its schedule another three weeks, consistently taking a wait-and-see approach to gauge the temperature – so to speak – of the nation, then it's a smart move.
After all, if I was an executive with the PGA TOUR — or the LPGA or the European Tour or any of the four organizations which run golf's major championships — my home office would be littered with white boards, not unlike that of an NFL general manager in advance of next week's draft, each one listing different scenarios for different return dates. One would have provisions for a schedule of tournaments that returns in June, one for July, one for August, and so on.
This is obviously a situation even golf's most powerful officials can't control, but it is one for which they can plan.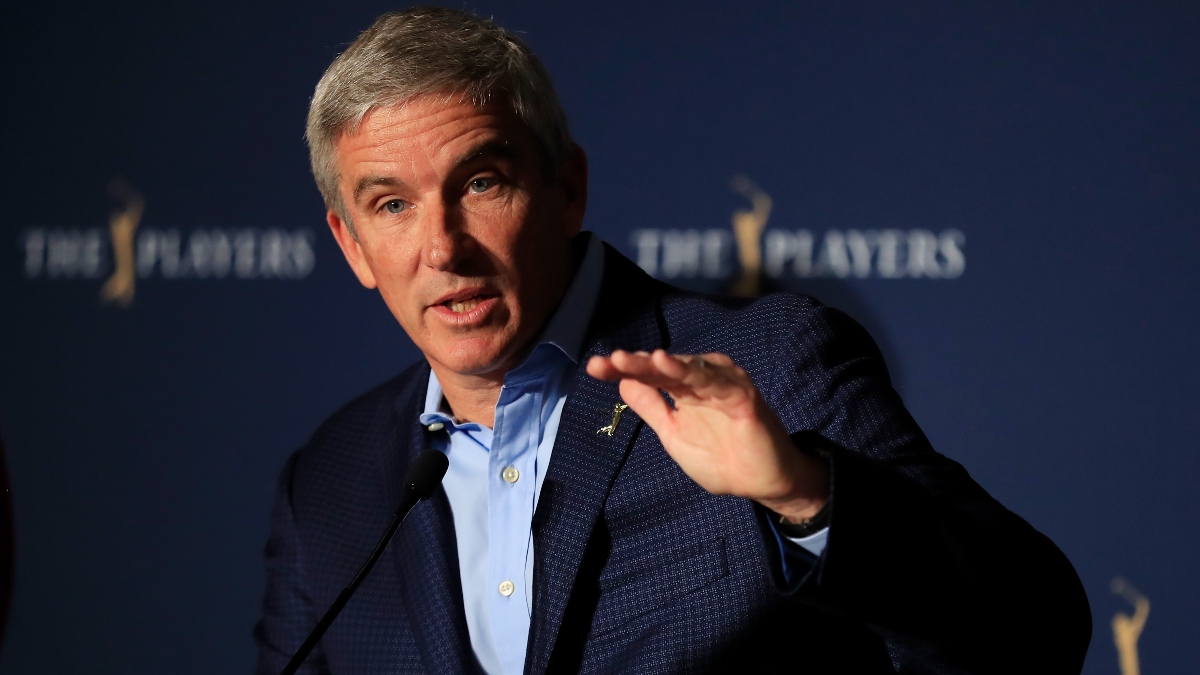 All of which is why I liked the fact that a clearer picture of this potential schedule was announced last week, with a mere 101 days between the opening round of the PGA Championship and the final round of the Masters, with three majors, the FedEx Cup playoffs and – oh, by the way – a Ryder Cup being contested during that span.
Was any of this written in stone? Of course not, but it's better to have a plan and adjust than to have no plan at all.
All of which leads to the second takeaway from this presumed news: If this decision is indeed set in stone, then PGA TOUR commissioner Jay Monahan must own a device that allows him to see deeper into the future than other leaders in sports – or anything else.
It's often been stated during the past month that golf is the ultimate social distancing-friendly sport. And it's true: Show up at the local muni with your regular Sunday morning foursome and it isn't difficult to play 18 holes without touching anybody else, anything that belongs to anybody else or exposing yourself to too much risk.
Tournament golf, however, is much different. Even if spectators aren't allowed in attendance – which will reportedly be the case for at least the first event back – there remains tournament staff, grounds staff, dining staff, volunteer staff and the television broadcast team. It won't be as large a gathering of people as usual, but it's also not as if it'll be completely empty, either.
Then there's the fact that, with many Americans still quarantining and wearing masks in public, we're asking each of these people to use air travel, hotels and restaurant takeout, essentially living regular lives in an undeniably irregular time.
Let's not underestimate the part that politics might have in the early return of the game at its highest level, as well.
When the PGA TOUR decided to solider on last month and play the opening round of The Players Championship just hours after the NBA suspended its season when Utah Jazz center Rudy Gobert tested positive, with other leagues immediately falling in line, Monahan credited a phone call with President Trump as helping sway his decision.
"I've had a chance to talk to him a lot about where we are as an organization and where we are as a game," Monahan said that day. "In this specific instance, I was just flattered that he would take the time to have a conversation, for me to be able to share how we're thinking about this to get the benefit of his input as we were going through our thinking this morning. And that's been something that I have valued and will continue to value."
For the record, the commissioner canceled the final three rounds and suspended the season just nine hours after making these comments.
And maybe it's no coincidence that, like many other sports executives, Monahan was named Tuesday as one of the 100-plus advisors to the president's council on reopening the U.S. economy.
Perhaps he is again being influenced to return to business as usual, despite no other league making such an announcement. Or maybe the reported news is simply part of a contingency plan, the next step in attempting for some sense of normalcy to the remainder of the season.
Again, like so many questions surrounding the fate of the impending golf calendar, anything – and perhaps everything – is possible.
When it comes to golf's return and the ensuing schedule, the best plan is to have several plans, any of which could come to fruition.
How would you rate this article?