Sobel: Breaking Down the Final Round RBC Heritage Contenders In Various Categories
Credit:
Abraham Ancer. Credit: Ronald Martinez/Getty Images.
If you're reading this right now, you're probably in contention entering the RBC Heritage final round.
I mean, isn't everybody? There are four players tied for the lead, three others a stroke off the pace, eight more two behind, six three back and another six four back, which doesn't sound like too big of a deficit to erase, but becomes a bit unwieldy when there are a billion people between you and the leaders.
Sunday will be the proverbial anybody's ballgame at Harbour Town, with soft conditions on a short course contributing to so many low scores.
Instead of breaking down my favorite picks to win — because let's face it, the top of the leaderboard looks like a damned phone book — let's break down those who are the optimal picks from various categories.
---
Win $100 if Brooks Koepka (or any golfer you bet on!) makes a single birdie on Sunday!

---
If you want the best player off the tee…
Of the players in serious contention, the best drivers of the ball — all week and specifically during the third round — have been Abraham Ancer (+600), Ryan Palmer (+1000) and Erik Van Rooyen (+3300). All three rank inside the top-six in strokes gained off the tee for the week and each was fifth-or-better on Saturday.
So, which one has what it takes to sustain this statistical success?
The numbers point to Palmer, who ranks 16th this season in this particular category, though Ancer isn't too far off at 39th and EVR (if he had enough rounds to qualify) would be 129th.
If you want the best iron player…
Of all metrics at Harbour Town, this one usually means the most, as this venue is so much about simply positioning off the tee, which really turns it into a second-shot course.
Once again, we find three contenders inside the top-five in strokes gained on approach shots for both the full week and the third round — Joel Dahmen (+1200), Joaquin Niemann (+3300) and Ancer.
This one is a little tough to decipher, as Dahmen ranks 15th for the season, Niemann is 28th and Ancer is 38th. While the latter player has the lowest ranking, it's negligible — and as the only player mentioned in each of these first two groups, feels like a smart play already.
If you want the best putter…
Yet again, there are three contenders ranked in the top-five for the full week and just for the third round. Tyrrell Hatton (+550), Daniel Berger (+800) and Carlos Ortiz (+2800) have been rolling it better than anyone — and yes, that even includes Webb Simpson, who gained more than six strokes on the field just with his flatstick in Friday's second round.
Two of these three seem more likely to continue draining putts on Sunday, as Berger ranks 18th for the season and Hatton is not far behind at 31st, but Ortiz is just above the average in 102nd place.
If you want the best front-runner…
Of the four players tied for the lead, only one of them has proven himself to be a guy who's converted 54-hole leads into victories. Simpson (+450) is 3-for-9 in his career when holding at least a share of the lead entering Sunday, the only current co-leader with multiple wins from the pole position.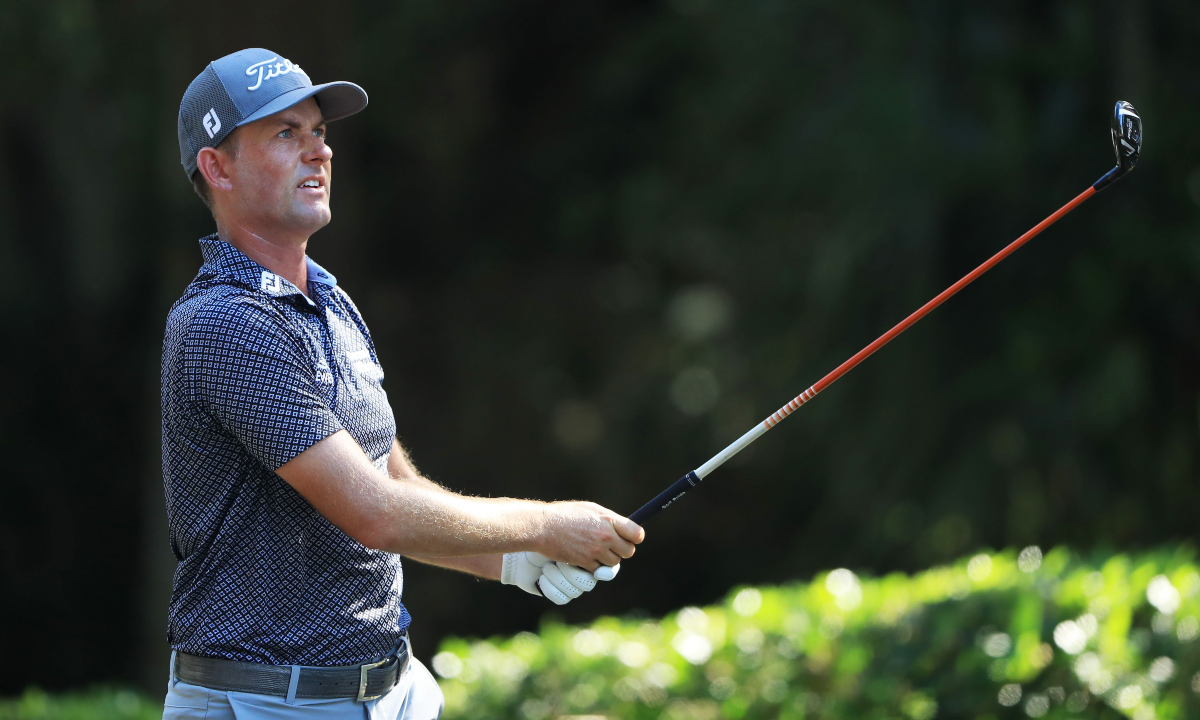 Hatton, however, is fresh off an Arnold Palmer victory three months ago, when he turned a two-shot lead entering Sunday into a one-stroke triumph. Of the other two, Palmer is 1-for-3 lifetime and Ancer is 0-for-2.
If you want a proven winner…
There are plenty of guys to choose from in this category, but the most decorated winner amongst the serious contenders is also the player who wins at the highest rate. Dustin Johnson (+2800) owns 20 career PGA TOUR victories in 265 starts for a win percentage of 7.5.
Next is Brooks Koepka (+2800), whose seven wins give him a career percentage of 5.3, followed closely by Bryson DeChambeau (+1800) at 5.0. Sergio Garcia (+2800) has 10 wins in 359 starts for a percentage of 2.8 and Simpson is at 2.1.
How would you rate this article?