Sobel: Rickie Fowler's First Major Win Is Coming
Credit:
Kyle Terada-USA TODAY Sports. Pictured: Rickie Fowler
Rickie Fowler shot at 5-under 65 in the first round of the PGA Championship at Bellerive Country Club.
Still major-less, Fowler was predictably peppered with questions about getting over the hump, but the ninth-ranked player in the world shrugged off each one.
It's not that Fowler doesn't care -- he just has a cool confidence. Which is exactly why it's inevitable he'll win a major.
ST. LOUIS – Rickie Fowler is going to win a major championship.
It's happening, people. It's inevitable.
Some players win 'em right away, never enduring the scars and inner turmoil that develop with so many close calls. Others just need a longer incubation period for that first major title.
Fowler is clearly among that latter group, but it's only a matter of when and not if, just as it was for Phil Mickelson and Sergio Garcia and Lee Westw— OK, just Mickelson and Garcia.
Maybe it happens for Rickie this weekend at Bellerive, where he opened with a 5-under 65 to claim the early PGA Championship lead. Or maybe his drought lingers into next year and beyond.
I always think it's equal parts unsettling and uproarious when otherwise intelligent people believe that just because something has never before happened, that means it never will. I mean, if this were true, I would argue that no golfer could ever win a major for the first time. Existentially, it's an even more frightening position; none of us would exist since we'd never existed before. That's some Black Mirror stuff right there.
Alright, back to golf.
---
>> Download The Action Network App to get real-time PGA Championship odds and track your bets.
---
Of course it's possible for players to accomplish something they've never done before. In fact, I'd argue that the law of averages would state that each time a player like Fowler gets himself into contention, he increases the probability that he'll win one of these.
Patrick Reed knocked on the door for a little while before winning this year's Masters; same goes for Francesco Molinari prior to taking The Open. Neither of their journeys to major glory were as maligned as that of Fowler, but they've certainly helped the case for those in his corner.
The only better wager than Fowler someday securing his first major is this: He's going to think about it and analyze it way less than the rest of us.
I know people won't believe this. I know people think that after each major that ends with Fowler dapping up another bro who just beat him, he retreats to the nearest corner, curls up in the fetal position and cries into his orange hat.
Perhaps it's part of a dissertation on the state of today's game, that the money and fame and perks of the gig have left professional golfers without a real hunger for winning. More likely, though, it's an insight into Fowler's mindset, a combination of California cool and conspicuous confidence.
Predictably, following his opening round here at Bellerive, Fowler was repeatedly grilled by the assembled media about his many failures in previous major championships — a silly concept, if you really think about it.
He owns eight career top-fives in these biggest events. Other players have zero top-fives in a similar number of starts, but faraway finishes don't garner headlines. It's the guys who get close-but-not-close-enough who garner our attention.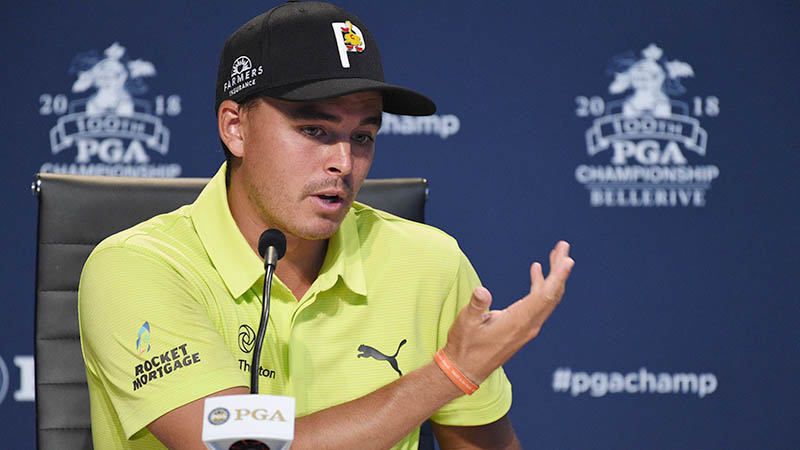 Credit: John David Mercer-USA TODAY Sports. Pictured: Rickie Fowler
All of which explains why Fowler walked off the golf course after his third major round of 65-or-better this year and was instantly peppered with fewer queries about what he just did than what he hasn't done.
It also explains why he shrugged off each one, only fueling the notion that he's less worried about this than the rest of us.
"It's not something I necessarily worry about …"
"… you can't force the issue …"
"… keep putting ourselves in position, getting in contention…"
"… just trying to play within ourselves …"
"… we'll just keep beating down that door …"
"… I don't have to play special to win."
It's that last comment wherein the key to success truly lies.
Fowler has contended in enough major championships, he's witnessed enough buddies win titles over him, that he understands he doesn't need to play perfect golf in order to win one of these.
Others might press in this situation. They might feel the pressure, even internally, and begin gripping their clubs a little tighter and clenching their teeth a little harder.
Instead, Fowler owns that cool confidence needed to win a major.
It might not be this week, but it is inevitable.
I'd bet just about anything on that.
How would you rate this article?