Sobel: McIlroy Wins POY Over Koepka, Which Could Elicit Some Conspiracy Theories
Credit:
Mark Konezny-USA TODAY Sports. Pictured: Brooks Koepka (right) speaks with Rory McIlroy on the 6th tee at Liberty National Golf Course.
Rory McIlroy and Brooks Koepka -- undoubtedly two of the best golfers in the world -- each won three events this past season.
Jason Sobel tosses around a few theories about how McIlroy came out on top in the POY conversation.
Rory McIlroy was named PGA Tour Player of the Year for the 2018-19 campaign on Wednesday — a fairly shocking development considering he owned the same number of titles as Brooks Koepka, yet finished lower on the leaderboard in each of the four historically most important events.
"Somewhat surprised," McIlroy said of the award, "but very honored."
It was an announcement which could easily lead to a few conspiracy theories.
The first one — and this isn't me espousing the theory; I'm just espousing a theory about the theory — is that the PGA Tour could've finagled the final numbers to point toward the guy whose performance best suits the organization.
That's not to say Rory is more marketable than Brooks (although he is), but he won the "right" tournaments for those in Ponte Vedra Beach corner offices. The FedEx Cup and Players Championship are the two crown jewels owned by the PGA Tour.
McIlroy won both of 'em. Therefore, a vote in his favor is essentially a vote that undermines the feeling that major championships are much higher on the pecking order.
In some small way, McIlroy winning the award is validation for the PGA Tour that their events are on equal footing with the majors.
Adding to this theory — OK, this theory of a theory — is that the PGA Tour fails to disclose overall vote totals.
Every other major professional sports league announces its MVPs in a transparent breakdown of percentages, offering some insight as to whether it was a runaway or a close race.
Even McIlroy wanted to know to know the final tally, but wasn't let in on the secret. "They're keeping a tight lip on it," he offered.
For years, many have called on the PGA Tour to issue more transparency when it comes to suspensions and fines for its membership. This isn't necessarily to hang the guilty, but to instead clear the names of the innocent.
Perhaps the conspiracy theorists wouldn't feel much better about the result if vote totals were published, but showing these percentages would at least help create an environment of transparency.
Of course, that's not the only potential conspiracy theory.
Here's another one: When it's a close race, the vote essentially turns into a popular contest.
Rory is eminently likable; he's honest, gracious and wears his proverbial heart on his sleeve. The same could probably be said for Brooks, though it's inarguable that he's also rubbed some of his peers the wrong way by either explaining how they don't own the mental fortitude to beat him in majors or criticizing them personally for slow play.
In golf, there aren't a whole lot of ways to "get back" at a fellow player for whom you don't care, but not voting for him certainly ranks on the short list.
Another theory: It's a little thing called recency bias.
Koepka won an event in Korea last October, followed by the PGA Championship in May and the WGC-FedEx a month before the season ended.
McIlroy won The Players in March, the Canadian Open in June and the FedEx Cup on the season's final day, which directly preceded ballots being sent to every PGA Tour member.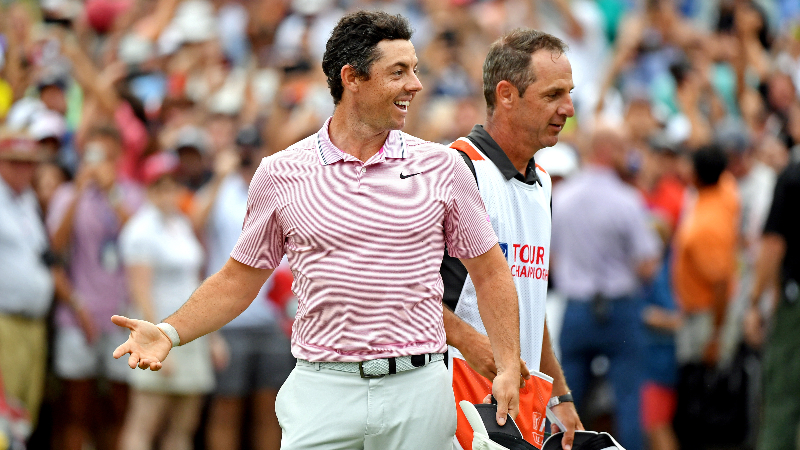 There are plenty of media members and fans who thought — and overthought — this POY contest. Some fellow players, though, after a grueling 11-month season, undoubtedly watched McIlroy win, checked off his name and continued the offseason without spending more than a few minutes to consider the options.
And really, why should they?
If you're, let's say, a doctor or a lawyer or a plumber or a landscaper, do you spend your downtime evaluating others performing the same craft? Or do you do your job and not really think about it as much? It's fair to question just how evaluative most players are — and for good reason.
One last theory: The player vote really isn't much of a player vote at all.
No, it could be contended that the "player" vote is more of a player/caddie/agent/manager/friend/wife vote. Really, it's whomever happens to be sitting next to the player when he's filling out the ballot and asks, "So, who should I pick?" Let's not believe there aren't some outside influences at play.
With all of that said — all of the theories with varying degrees of validity — it really doesn't matter.
It's just another trophy on the McIlroy mantel which has plenty of 'em already.
Maybe this honor will spur McIlroy to win his first major in more than a half-decade. Maybe it will chuff Brooks enough that his usual chip on the shoulder grows into a boulder and he goes into dominance mode.
More likely, though, those things are going to happen or not happen, this award notwithstanding.
It offers some fun fodder on a Wednesday before the next season begins, but in the grand scheme of things there are greater conspiracies out there for which we should save our greatest theories.
How would you rate this article?