Rory McIlroy Speaks on PGA Tour, LIV: It's Hard to Not Feel 'Like a Sacrificial Lamb'
Credit:
Vaughn Ridley/Getty Images. Pictured: Rory McIlroy of Northern Ireland speaks to the media about the PGA Tour and LIV merger at Oakdale Golf and Country Club.
Throughout much of his 22-minute interview session with the assembled media at the RBC Canadian Open on Wednesday morning, Rory McIlroy openly hemmed and hawed, as if trying to rationalize and reconcile his reformed position in real-time about a golf world that's been tilted off its axis.
When it came to the rival league, though, the one he's been so adamantly defiant toward for the past 18 months, he didn't mince words.
"I still hate LIV," McIlroy explained. "Like, I hope it goes away."
It's still a bit unclear exactly what he hates about LIV. The lack of serious competition? The money-grab? Greg Norman? Shotgun starts, shorts and pervasive music?
Whatever the case, it appears he'll get his wish, as PGA Tour commissioner Jay Monahan, who will be the new CEO of the for-profit umbrella company being formed, has somewhat cryptically said of LIV, "I don't want to make any statements or make any predictions, but what is in place is a commitment to make a good-faith effort to look at team golf and the role it can play going forward."
Here's where the reconciling comes into play for McIlroy – and anyone else within PGA Tour circles who's railed against how the rival league was financially corrupt.
The most vocal leader and supporter of the PGA Tour's best interests during the most tumultuous period in the history of the professional game, he was essentially toeing his own company line, while stepping directly over it in so many other ways.
Foremost among them, he's attempted to separate LIV Golf itself from the purveyors of that product, as the Public Investment Fund of Saudi Arabia will now become a majority investor in the professional game as we know it.
"Whether you like it or not, the PIF were going to keep spending the money in golf," McIlroy explained. "At least the PGA Tour now controls how that money is spent. So, if you're thinking about one of the biggest sovereign wealth funds in the world, would you rather have them as a partner or an enemy? At the end of the day, money talks and you would rather have them as a partner."
It might seem like a small step from hating LIV to justifying the PIF, but after all the dissension of the past year-and-a-half, it resonates as one giant leap.
"I've come to terms with it," he continued. "I see what's happened in other sports. I see what's happened in other businesses. And, honestly, I've just resigned myself to the fact that this is what's going to happen. It's very hard to keep up with people that have more money than anyone else. And, again, if they want to put that money into the game of golf, then why don't we partner with them and make sure that it's done in the right way? And that's sort of where my head's at."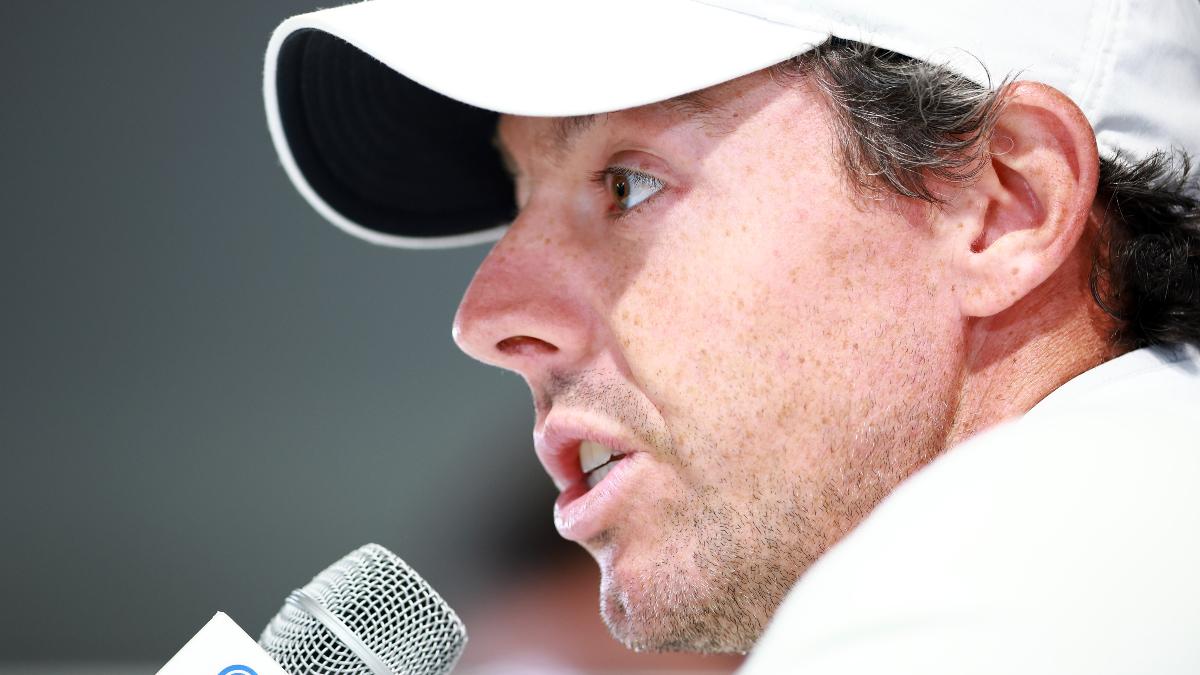 Just as much of Monahan's rhetoric since the merger announcement has served as a stark about-face from his previous overtures that loyalty, devotion and integrity win out over the almighty dollar, now McIlroy is faced with a similar conundrum of trying to coalesce his ideas about where the game was over the past 18 months and where it's going in the future.
And just as the commissioner admitted, "I recognize that people are going to call me a hypocrite," his outspoken wingman is realizing that he, too, will need to make some amends.
"It's hard for me to not sit up here and feel somewhat like a sacrificial lamb," he said. "Removing myself from the situation, I see how this is better for the game of golf. There's no denying that. But for me as an individual, yeah, there's just going to have to be conversations that are had."
Many of those conversations will be with PGA Tour brass, fellow players and even the fans who trusted his undying support of the cause, but he'll undoubtedly engage in some internal conversations, questioning his own stance while continuing to rationalize in real-time.
If McIlroy wants a reprieve, if he needs one, he might not receive it from certain sources, but at least one individual is willing to take the heat off him.
Just a few hours after his interview session, Monahan appeared on Golf Channel and once again put the blame upon himself.
"I understand the criticism I'm receiving around the hypocrisy," he said. "Me being hypocritical given my commentary and my actions over the last couple of years. As we go forward and we reached a compromise, that was one of my considerations. But any hypocrisy, I have to own. Nobody else, that's on me. It shouldn't be directed at the membership. It should be directed at me."
He didn't mention McIlroy by name, but he didn't really have to. In a world of sacrificial lambs, only one must be led to the slaughter.
How would you rate this article?
This site contains commercial content. We may be compensated for the links provided on this page. The content on this page is for informational purposes only. Action Network makes no representation or warranty as to the accuracy of the information given or the outcome of any game or event.