Sobel: An Oral Preview of Le Golf National, This Week's Ryder Cup Venue
Credit:
Credit: Brian Spurlock-USA TODAY Sports. Pictured: A wide angle general view of the 18th hole taken during a Ryder Cup practice round at Le Golf National.
Le Golf National, the host venue for the 2018 Ryder Cup in Paris, France, has been around since 1990.
Players from the U.S. and European team discussed how they expect the course to play and which team has an advantage.
For more than a decade-and-a-half, Le Golf National has served as host venue for the European Tour's Open de France. This week, it receives much higher billing. Now the Ryder Cup course for the first time, the course is being lauded for its commitment to accuracy and precision. The major players in this week's competition have spoken about how it will play and what that will mean for the event. Here is a breakdown of the course — in their own words.
---
Jim Furyk (USA): "You look at this first tee … 6,000 seats. It's a different atmosphere, but it is a wonderful atmosphere and phenomenal."
Patrick Reed (USA): "Couldn't you get more? When I first saw that on the first tee, I looked up and felt like I kept looking up and up and up. There's going to be so many people that are sitting in there. It's going to be an unbelievable atmosphere."
Rory McIlroy (EUR): "It's a huge grandstand. Playing a practice round [Tuesday], there was basically no people in it, and I still got goosebumps looking at it and thinking, on Friday, this thing is going to be packed."
Tommy Fleetwood (EUR): "The No. 1 thing I've pictured since the Ryder Cup kind of became a goal is that first tee shot … standing on that first tee and being a Ryder Cup member and playing for that team and hitting that tee shot and what that's going to be like."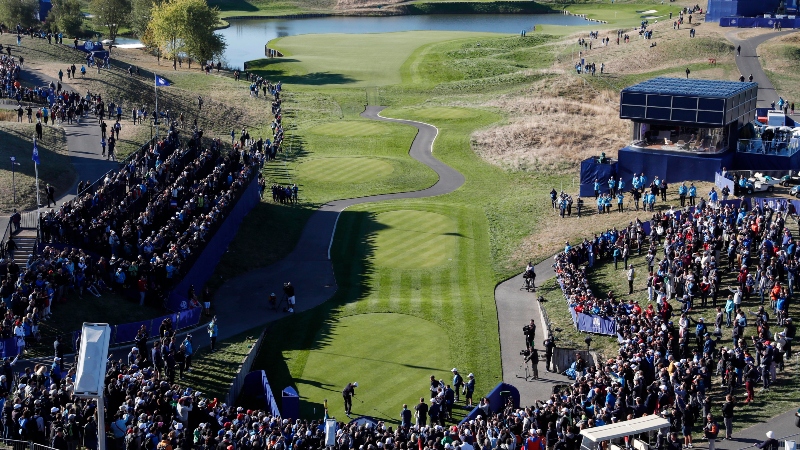 Bubba Watson (USA): "It's amazing. I've been told that I can't get the crowd to rev up, though, because it's an iron off the tee. It's a lot easier when it's a driver off the tee, but this hole, this is a different golf course, different setup. I don't want to get revved up trying to hit a bullet off the tee and fat it 20 yards down the fairway."
Justin Thomas (USA): "This course takes driver out of your hands, for everybody. … It's just everyone's hitting it to the same spot, and then everyone's hitting a short iron on the green."
McIlroy: "You get punished if you hit it offline. I feel like at Hazeltine [two years ago], the punishment wasn't high enough if you hit it offline, and I guess that sometimes plays into some of the Americans' hands, because they have guys that just hit it so long. I'm probably one of those guys, so it doesn't quite play into my hands."
"I think for the bulk of the European team, they would welcome a setup more of this style. Not saying the American guys can't hit it in the fairways — they are all some of the best players in the world — but I think just looking at it, it would seem the style of golf course is more familiar to us than something like we saw at Hazeltine last time."
Justin Rose (EUR): "It's a very fair setup and it's a very challenging setup. Especially with the wind direction that we played [Tuesday], there's a lot of tee shots with the wind blowing left-to-right, which is hard to fit into the fairways. The fairways are fairly narrow, which is in stark contrast to how Hazeltine was set up."
Phil Mickelson (USA): "At Hazeltine, you saw a lot of birdies. You saw a lot of aggressive play and I think you'll see less aggressiveness, more conservative tee-to-green."
Reed: "The fairways are nice and narrow. Rough's really thick. So it's going to be one of those golf courses that it's going to take a premium on ball striking and all aspects of the game, because you're going to get a couple of bad bounces here and there."
"You're going to end up in some spots that you're not supposed to, but it's going to come down to who can manage your game the best and who can handle mentally the bad breaks as well as the good breaks to succeed and play well."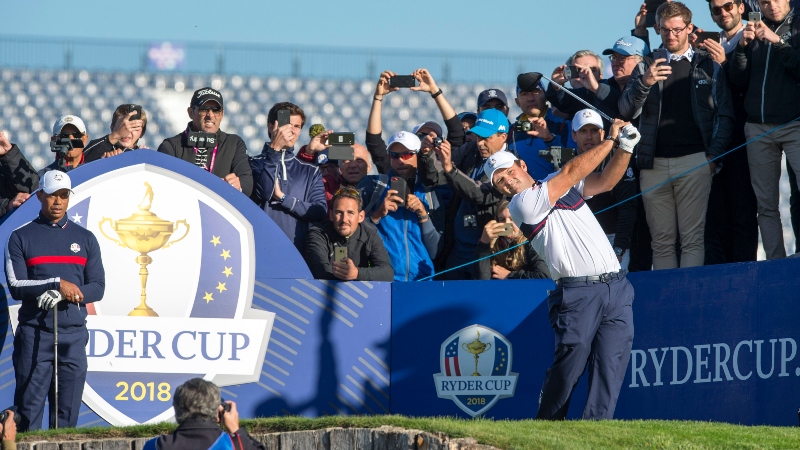 Jordan Spieth (USA): "If you miss the fairway, you're likely not going to be able to hold the green — and with a lot of greens surrounded by water, you're actually having to really kind of almost lay up out of the rough."
Francesco Molinari (EUR): "I think it's a course that it's in front of you. There's no secrets. There's no tricks. It's a strong, tough course. You need to hit good golf shots off the tee and into the greens. I'm not sure how much of an advantage it will be for us knowing it well."
"I think the only advantage we can have is maybe if the conditions change between the practice rounds and the tournament days, like different wind directions and things like that, because we've seen the course with any conditions, and they are going to have only three days to kind of see the course and learn how to play."
Ian Poulter (EUR): "I definitely think it's a help to us for sure. … So we definitely have a feel of how this golf course has played in very different weather conditions, as well. We've got a mixed wind this week. I think in practice rounds, it's going to be from one direction; it switches come Friday. We would have experience [considering] all the rounds we've played around here."
Fleetwood: "Knowledge can only be a good thing, but whether it will make a massive difference; maybe it's a little advantage, but like I say, it's the best players in the world that are out here, so it's not something to look at too much."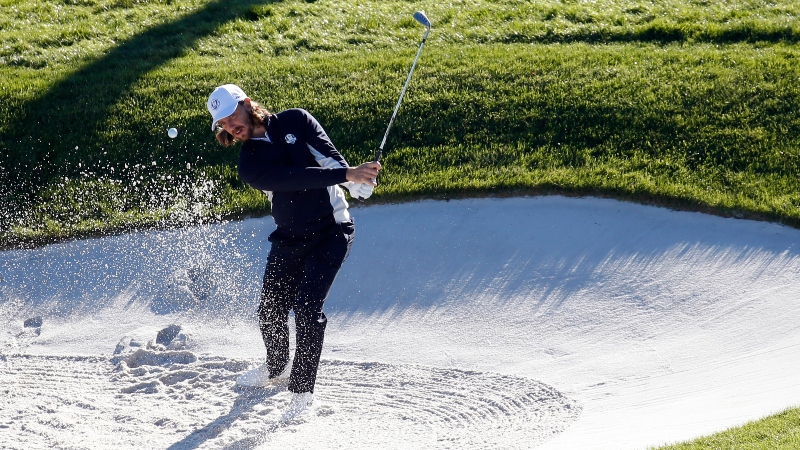 Thomas: "I don't know who asked about the comparison of Sawgrass and here, but there's a reason why a place like Sawgrass has so many different winners. It doesn't favor somebody; it favors whoever is playing better — and I think this course is the exact same way."
Rose: "I think it's going to create very interesting matches. … This week, you're going to see a lot of holes won with par, and it's going to create a very different mentality and some exciting matches."
Spieth: "I don't think you'll go anywhere else where you'll see as many fist-pump pars as you'll see this week, especially in the afternoon foursomes when the wind picks up."
Mickelson: "I think the consensus amongst all the players is that it's a wonderful test of golf. The setup is as good as it could possibly be. It's just in pristine, immaculate shape, and yet provides a very good challenge that's a fair challenge. I think it's a wonderful test."
How would you rate this article?