Sobel: Yes, Ryder Cup Captains Matter, and Jim Furyk Will Thrive in U.S. Role
Credit:
John David Mercer-USA TODAY Sports. Pictured: Jim Furyk
Ryder Cup captains aren't figureheads; they're tone-setters for their teams.
Jim Furyk's meticulous approach to golf makes him uniquely qualified to lead the U.S. team in Paris.
SAINT-QUENTIN-EN-YVELINES, France — I once asked Jim Furyk this question: "Who's the best athlete on the PGA Tour, besides Tiger?"
This was more than a decade ago, when Tiger Woods looked like a strong safety in soft spikes while his peers tried to play catch-up, still attempting to dislodge themselves from the pleated khaki era.
Furyk didn't flinch at the query.
"Why besides Tiger?" he asked.
I stumbled through a response to what I thought was a rhetorical question, essentially saying something to the effect of: "Well, he just looks so … athletic."
Furyk proceeded to explain that he could throw a football farther than Tiger, had beat Woods one-on-one in basketball and probably owned a few other sporting advantages, too.
"I get that he's Tiger," Furyk said, "but that doesn't automatically mean he's the best athlete."
It was a great answer. More importantly, it was a thoughtful answer.
Consider this one very small example of how Furyk's mind works — and one very good reason why he'll be an attentive, diligent Ryder Cup captain.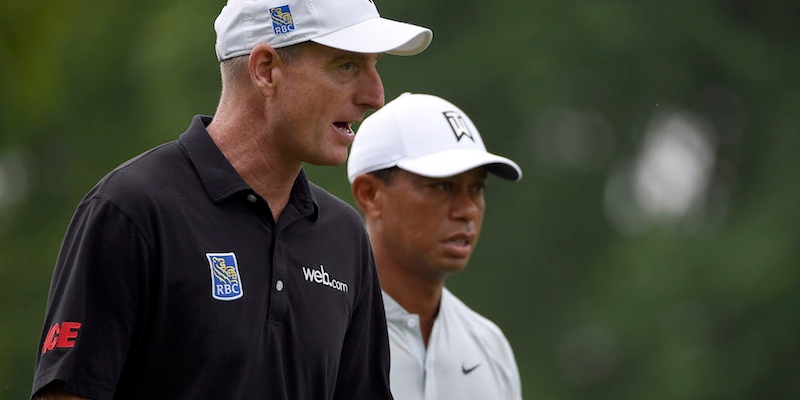 Quite simply, he carefully considers every word he's asked and every word with which he answers.
His preparation for competitive golf has always been meticulous, and there's no reason to believe he won't similarly attack this role as the U.S. captain in the same way.
"I had some coaches that were very good at treating us as a team all the same as people, but they were able to communicate with each player in a different fashion," he said Tuesday. "When I thought back to the coaches that I really enjoyed playing for, or coaches in sport today that I admire, I think being able to communicate with different types of players, with a Patrick Reed that's fiery versus another player that may not be. You treat everyone the same because they are part of the team, but you have to communicate in a different fashion, and great coaches are able to do that, and that's one of the tasks that I have this week."
Furyk isn't going to pair players together in a specific format without having a reason. He isn't going to place a player in a specific spot in the singles session batting order without having a reason to justify his decision.
Even his vice captains were hardly nods to buddies who "deserved" the roles.
It's easy to envision Furyk as a football coach, with his assistants each filling certain roles.
Steve Stricker and Davis Love III, each having served as U.S. captains in previous international competitions, are the offensive and defensive coordinators — the X's and O's guys he'll rely upon to set up the pairings.
Matt Kuchar and Zach Johnson are the position coaches, each an expert in strategizing his way around a golf course, both filled with potentially useful knowledge.
David Duval is the motivational speaker, the quiet guy in the locker room who garners everyone's attention when he speaks up.
The old "no stone left unturned" cliché might be better applied to grains of bunker sand at Le Golf National this week.
And yet, there are still some observers who don't believe the captain can have a major impact. I used to be one of them.
---
Ten years ago this week, I reversed my stance on the role of Ryder Cup captains.
I used to think they were superfluous figureheads who simply picked clothes for their players and made sure the team room was stocked with enough PB&J sandwiches.
I likened them to third-base coaches — basically, remind your guys what the score is and give 'em a stiff pat on the butt when they do something good.
And then Paul Azinger happened.
Azinger might not have been the first captain to systematically analyze his players and use the results to his advantage, but he might have been the most successful, analyzing his team and executing player pods to snap a three-event European winning streak.
(It remains baffling that the 2008 U.S. captain hasn't owned a prominent official role with any team since that year.)
Four years ago, Paul McGinley created a similar strategy for Europe and pulled off the same result, his carefully planned button-pushing a stark contrast to the middling efforts of counterpart Tom Watson.
Even though recent history says otherwise, there are those who believe the reigning captains have little impact on the overall score. That isn't a thought shared by most players.
"I think the captains, along with his vice captains, set the tone for the week," Rory McIlroy said. "Especially when we all get here on Monday — that first talk when the captain brings everybody into the room and goes over a few things, I think that is very important. It's important to keep it lighthearted and not get too serious and keep everyone comfortable, especially the rookies who have never done it before."
While it might be true that a captain is only as good as the players' performance, a deft hand can help turn the tides when a negative vibe permeates the room.
"The captain can be pivotal, if and when he needs to be," Paul Casey said. "If there's a specific situation, we'll need him to step up. Or he can be the best captain in the world and he won't have to do much if the team is on cruise control. It's a very fluid role."
"If the team are playing well, he can harm it more than help it," Justin Rose added. "All the reactive day-to-day decision making, those seem to be the Ryder Cups that haven't gone as well. I think a captain with a plan who lets his players play is normally the best one."
That will be the line that Furyk and Thomas Bjorn attempt to tightrope this week. When things are going well, stay out of the way. When they aren't, step up to fill that leadership role.
---
>> Sign up for The Action Network's daily newsletter to get the smartest conversation delivered into your inbox each morning.
---
The role of captain can indeed be a dubious distinction.
A captain can prepare for two years, have every Plan A backed by Plans B, C and D and still ultimately take the blame when putts don't drop.
Or he can fly by the seat of his pants, ad-lib every plan and sit back and watch as his players carry him to glory.
"I think coming in here, we both were going to have a plan of exactly what we wanted to try to do," Furyk explained. "There's always going to be a reaction to what you're seeing on the golf course, what you're feeling, options to branch off of, but I've got a really good idea of what I'd like to do for Day 1."
This is what will be facing Furyk and Bjorn this week. They can each give their teams what they believe is their best chance to win, but in the end, their fates will be decided by the players, not what they as captains do — no matter how intuitive or diligent they might be.
Or as Dustin Johnson so succinctly put it: "If we don't play well, we're going to lose. If we play well, we'll probably win. When it comes down to it, it's pretty simple."
How would you rate this article?