Sobel: Jordan Spieth Showing Signals of Success After Opening-Round 65 at The Open Championship
Credit:
Oisin Keniry/Getty Images. Pictured: Jordan Spieth.
Ever since he burst onto the professional golf scene as an elite-level phenom and started stockpiling major championships in his early 20s, there have been two signals that Jordan Spieth is on top of his game, firing on all cylinders, locked in, or whatever other cliched term we'd like to use for playing his best golf.
These signals were inconspicuous during his near four-year absence from the winner's circle, when golf appeared impossibly difficult and he wore a constant badge of frustration-turned-discouragement.
They've returned this year, during his triumph at the Valero Texas Open and his five other top-five finishes and his current streak of 13 consecutive made cuts.
Perhaps they've never been more evident, though — not recently, at least — than during Thursday's first round of The Open Championship, when he posted a 5-under 65 that was vintage Spieth, if we can refer to anything from a 27-year-old, no matter how old his soul, as vintage.
The first signal is physical. It doesn't take hardcore data analysis or a Ph.D. in swing theory to realize the difference in Spieth's demeanor from those downtimes. His previously hanged head is now thrust forward in focus. His gait is an exercise in confidence. Even his on-course rhetoric has become less wishful and more rational.  
For a player who has so often described his aim as "miss small," he's figured out the ability to microfocus once again.
But it's more than all of that.
The real signal here is the club itself. When Spieth is playing his best golf, the club in his hand looks more an extension of his body than any external tool — and with no club is this notion more aligned than the putter. It's no secret that he's established himself as perhaps the world's best with the flatstick in his hand, his back-nine barrage at Royal Birkdale four years ago serving as the most relevant example. 
It's not just that he rolls the ball into the hole more frequently than his fellow competitors. It's that the very act of doing so looks more natural on him, as if he's always been meant to do this.
It hasn't always been this way, of course. There have been bad days, bad years. On Thursday, though, this signal was apparent more than at any point since that week at Birkdale — an idea Spieth acknowledged after the round.
"For the first time since then, I'm at least coming in with a bit of form, a bit of confidence," he said.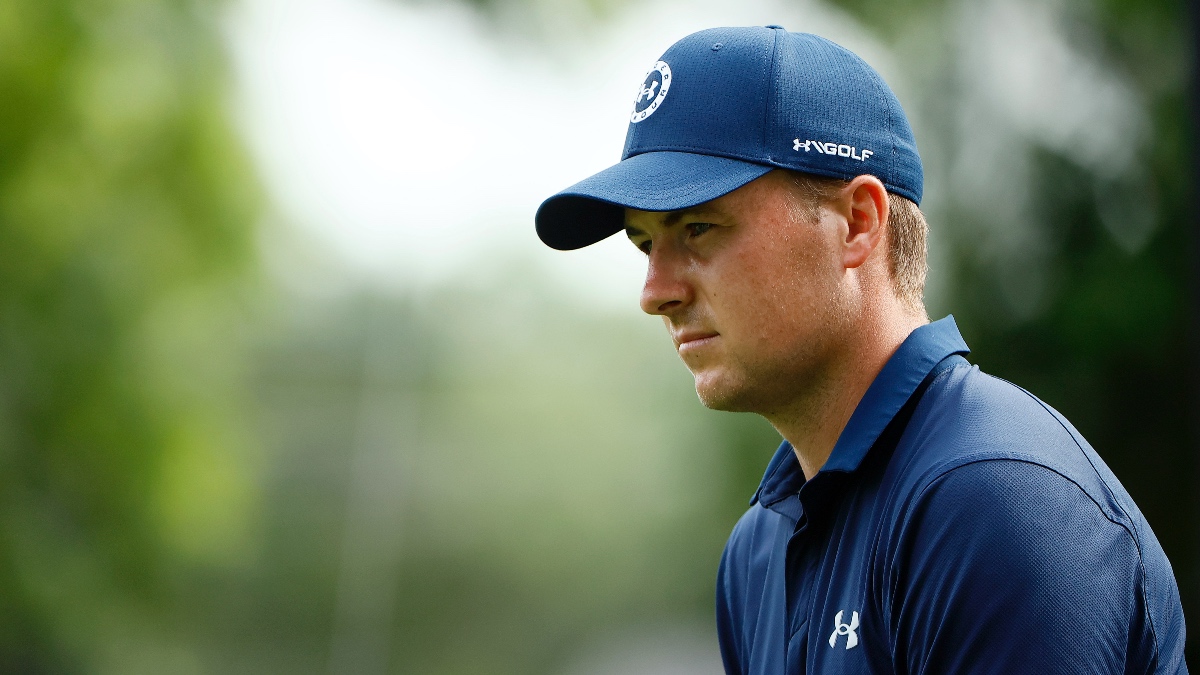 In so many post-round interviews since that last major victory, he explained that he was searching for that feeling. Now he knows he has it.
All of which leads to the second signal, something more metaphysical.
When he's locked in, he gets deep. When it's all going well, Spieth's discourse is less about himself and his game, and more about golf as some ethereal journey — especially links golf, with which he says he adored from the first time he played it years ago.
"Instead of just a driving range shot in Palm Springs," he explained, "there's always some shot you have to play that gives you a little bit of an advantage or certain club selections based on you hit a fade or a draw; they go 15 to 20 yards different distances than between which shot you play. 
"I guess to sum that up, there's a lot of external factors over here, and I think that external is where I need to be living."
We don't need to peruse every post-round interview transcript to understand that "external is where I need to be living" isn't exactly rolling off the tongue of any other competitor.
This signal could be easily excused away as just a non-simplification of his views toward links golf and his strategy within, but to believe that is to miss the plot.  
Spieth at his best is a golfer in full, wholly invested in all minutiae of the process. Dustin Johnson can climb a leaderboard and punctuate the round with a nonchalant shrug. Brooks Koepka can play great golf and insist he didn't. Every player owns a unique reaction while thrust into the moment of living in that proverbial zone and Spieth's reaction is to be unconditionally engaged in the entirety of that moment. 
None of this is to suggest that a very good opening round — although one that didn't even vault him to the top of the leaderboard — will unequivocally conclude in a fourth career major championship on Sunday afternoon. He's been here before, feeling the confidence and living the external, only to come up heartbreakingly short.
The signals, though, remain.
The things we most look for when Spieth is playing his best golf have been discernible throughout this year, but perhaps never more than this week, as he already appears ready to win again.
How would you rate this article?
This site contains commercial content. We may be compensated for the links provided on this page. The content on this page is for informational purposes only. Action Network makes no representation or warranty as to the accuracy of the information given or the outcome of any game or event.