Sobel's Sentry Tournament of Champions Picks and Preview: Patrick Cantlay Among the Best Bets at Kapalua
Credit:
AFP via Getty Images. Pictured: Patrick Cantlay
The PGA TOUR returns on Thursday with the 2021 Sentry Tournament of Champions at Kapalua in Maui.
Jason Sobel previews the entire tournament and highlights his favorite bets across all markets, including why he thinks Patrick Cantlay can provide great value this week:
Our long wait is over, as the 2020-21 PGA TOUR season continues this week at the Sentry Tournament of Champions. Thanks for biding our time, football season. We'll take it from here.
OK, so if last year taught us anything, it's that all professional sports can be played simultaneously and we won't complain too much. None of the others, though, will hunker down for the long haul like golf, as the PGA TOUR will contest 41 tournaments over the next 37 consecutive weeks.
Let's focus here on the first one, as it should largely be business as usual at Kapalua.
What you see is what you get with this one: A long, sweeping tropical paradise of a golf course framed by resplendent rainbows and breaching whales, with a limited field competing in primetime for much of the country, ostensibly to maximize jealousy and boost local tourism.
The one major difference this time around is that the limited field isn't quite as limited.
Since last year's truncated schedule left a shorter list of winners, the field qualification was expanded to include those who reached the Tour Championship, which means the Tournament of Champions includes players such as Abraham Ancer and Scottie Scheffler, who have literally never been champions before — and yes, Tony Finau, who's similarly struggled to follow his lone, lonely victory.
It's a move that has been floated for years, so don't be surprised if this trial run — which bloated the field to 42 this week — turns into a long-term fix for a tourney that has arguably been a little too limited over the years.
Even so, there's a decent chance you might find yourself muting "Ancer+Scheffler+participation trophy" on your Twitter feed by the end of the weekend.
I've always believed the No. 1 data point that correlates to success at this event is motivation. Give me a guy who's spent the past two weeks practicing over a perennial top-10er; give me a guy who's treating this like a business trip over one who's planning paddle-boarding expeditions with his entire extended family.
I'm not on-site at Kapalua this week — now accepting your thoughts and prayers for my tough news — but having covered this one about six or seven times in the past, I'll admit it's a lot easier to rank player motivation when you get an up-close glimpse of 'em.
There's always a wide spectrum of scores on this leaderboard, and that's because there's a large spectrum of preparation.
Some players view the smaller field as a golden opportunity to start the year with a foot on the gas pedal and zoom past their peers. Others might be carrying an extra five pounds of holiday weight and trying to reintroduce themselves to their clubs.
We might not know who's who without having that glimpse, but the breadcrumbs have been scattered over the years.
Justin Thomas is a two-time champion who's motivated to win at anything he does. Hell, he and his father just won the PNC Championship after getting trash-talked by an 11-year-old.
Xander Schauffele, Jordan Spieth, Patrick Reed, Zach Johnson, Steve Stricker — all recent winners of this event, all players who treat every week as a business trip.
In fact, another two-time champion, Dustin Johnson, might be the only one we can envision hopping out of a fishing boat and onto the first tee, but then again, he's Dustin Johnson and that's his vibe. If you haven't learned by now that DJ is the ultimate outlier, then you've probably come to the wrong place.
Point is, with motivation perhaps a bigger factor than at any other event, a player's reputation should precede him this week. I want players who grind, players who prep, players who are so focused on the task at hand that they won't even notice the rainbows and whales.
My picks for this one start with a guy who's already proven to have this rep.
Outright Winner
One player to win the tournament.
Patrick Cantlay (+1800)
If there's one player in the field who we can bank on treating this as a no-nonsense, super-serious business trip, Cantlay should be the one.
He offers an opportunity to make a smart play that isn't too chalky, having only competed at this event twice previously — a T-15 in his first trip here and solo fourth last year.
I'm not suggesting he won't go on an early-week whale-watch, but nobody will less embody the just-happy-to-be-here attitude than Cantlay.
This should be an interesting year for the soon-to-be 29-year-old. He's already proven he's a top-10 player and world-class ball-striker. He's proven he can contend for major titles. He's proven he can stare down some of the game's best on a Sunday back-nine and beat 'em, as he did at the recent Zozo Championship, coming from behind to beat Jon Rahm and Justin Thomas.
If you want to convince me that he's ready to take the next step, moving from ninth in the OWGR to top-five for the first time and claiming his first major, I'd have a difficult time arguing any rationale that would lead you there.
If this is going to be a big year for him, then it very well could start this week, where the only sure thing is that Cantlay will be treating Kapalua with as much intensity as any of his fellow competitors.
[Bet Cantlay now at DraftKings and get a $1,000 sign-up bonus.]
Other OADers
Potential selections for one-and-done options.
Xander Schauffele (+1000)
There are two different schools of thought when it comes to OAD selections for this one, so I'll offer one pick from each of those schools.
The first is that the win probability for any superstar player is higher here than perhaps anywhere else, so you might as well pick one of the bigger names and get a leg up on the competition, especially in pools that begin with this event.
Full disclosure: Schauffele was my original pick to win this week, until reports surfaced from Maui that he's just recently out of quarantine after a positive COVID-19 result. That news isn't enough for me to go from loving him to hating him, but it does drop him just a notch for me.
This is a course and a tournament that apparently suits X-man perfectly, as he followed a T-22 in his debut three years ago with a win and a playoff loss.
It's because of these performances that prior to the recent news, he might've been the full-chalk play this week. And maybe he still is. If so, that's fine — you've got 36 more weeks to zig when the public zags, so don't be afraid to hop on the bandwagon with a player who somehow hasn't won in two full years.
Our majesty, the King of the Limited Fields, Schauffele's OWGR profile shows a victory at last year's Tour Championship for the lowest 72-hole score, but the official W went to DJ, who started that week with a lead.
There are still those within the game's inner circle who believe that he could be the best player in the world. It's difficult to make that argument for a player who hasn't claimed a title in 104 weeks, but it's similarly difficult to believe that his current "slump" will last much longer.
[Bet Schauffele now at DraftKings and get a $1,000 sign-up bonus.]
Cameron Smith (+4500)
The other school of thought for OADs is that your guy is going to cash a check no matter what, so there's no point in "wasting" one of the big names.
I'll readily admit that Smith is hardly a throwaway selection, coming off a breakthrough campaign, but he's a guy you can use this week that won't leave you kicking yourself for not having him as an option later in the year.
Smith is long enough to bang it down Kapalua's plentiful fairways and owns a great wedge game. Although he makes his home in the U.S. now, Aussies traditionally have a strong record at this event; I don't know a whole lot about biorhythms and body clocks, but it makes sense that a guy who's used to viewing January as mid-summer instead of mid-winter could feel a bit more comfortable this time of year — and hey, as evidence he just happened to win the Sony Open last year.
[Bet Smith now at DraftKings and get a $1,000 sign-up bonus.]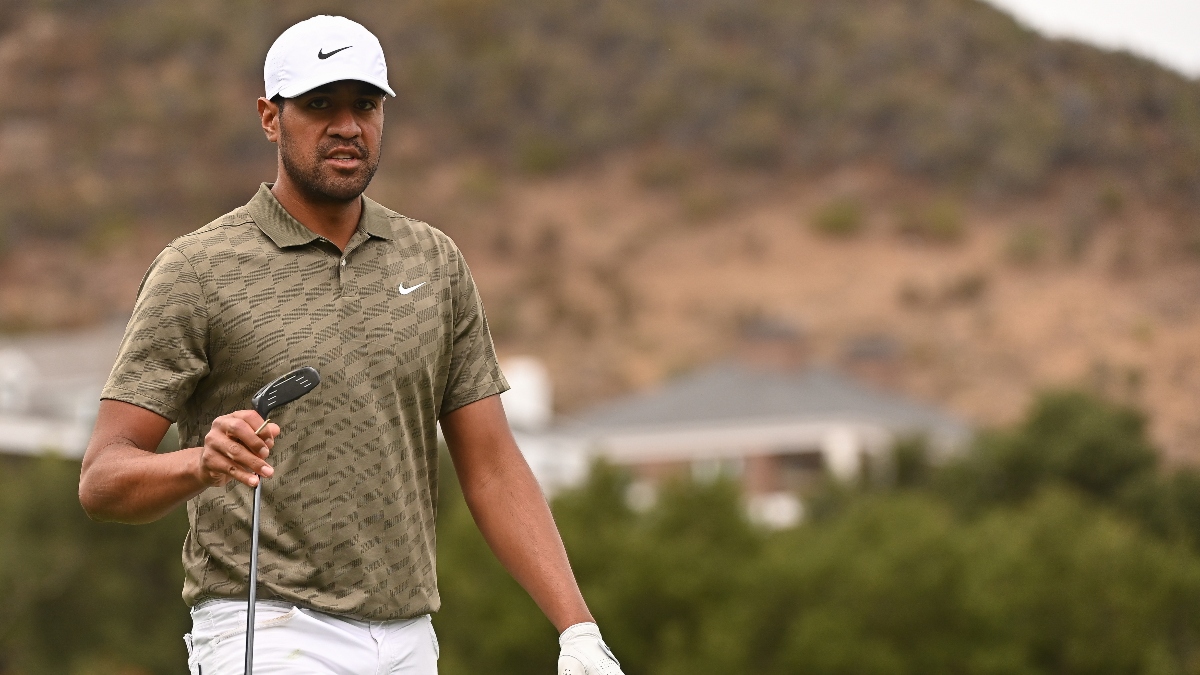 Top-Five
One player to finish top-five.
Tony Finau (+400 for top-five)
Ah yes, it's Top-Five Tony in his rightful place here.
The narrative is already overplayed that Finau got into this field on a loophole and it would only be fitting if he finally won again at an event he wouldn't have even qualified for originally.
I get that, although I still think it would be a stranger deal if a guy like Ancer or Scheffler proved triumphant this week. In any case, it's tough to envision a down week for Finau, as this track should be right up his alley.
In his lone previous start here, he was T-9 four years ago, but he's a much more complete player now and should only build on that result. 
[Bet Finau now at DraftKings and get a $1,000 sign-up bonus.]
Top-10
One player to finish top-10.
Mackenzie Hughes (+600 for top-10)
With only 42 players in this field, we should dig a little deeper for top-10 plays. While I'm a little skeptical about taking a Canadian who might literally still be thawing out when he reaches Maui, Hughes is a tremendous fast-greens putter.
With wide fairways and massive putting surfaces, this one can at times turn into a putting contest. (Remember: Among the bombers on that recent winners list are Zach Johnson and Steve Stricker.)
Hughes is a guy who can easily lead this field in putting. Don't be surprised if his score gets a little bit better each day. 
[Bet Hughes now at DraftKings and get a $1,000 sign-up bonus.]
DFS Free Bingo Square
A safe plug-and-play option for DFS.
Justin Thomas
We can sit here and debate whether two-time winner JT or two-time winner DJ is the safer, better, optimal DFS option this week and a conclusion might only be found with a coin flip.
I'm fine with starting your lineups with either player, but I'll give the (very) slight edge to Thomas, based solely on the fact that he's competed more recently than the Masters champ. My guess is that by week's end, these are both can't-go-wrong selections. 
DFS 'Dog
A lower-priced option for DFS.
Robert Streb 
Whenever there are fewer players in a field, it becomes more difficult to both differentiate from others' lineups and find some low-owned diamonds in the rough.
I think many DFSers will defer to length when choosing players to fill out their rosters, so there's a chance Streb could go overlooked. He was T-8 in his only previous start here six years ago and is still carrying a one-event winning streak, as he hasn't teed it up since winning the RSM Classic in mid-November.
Perhaps more importantly, he checks that box of players who will treat this week as a business trip, knowing that a strong result can move him into some rarified air moving forward.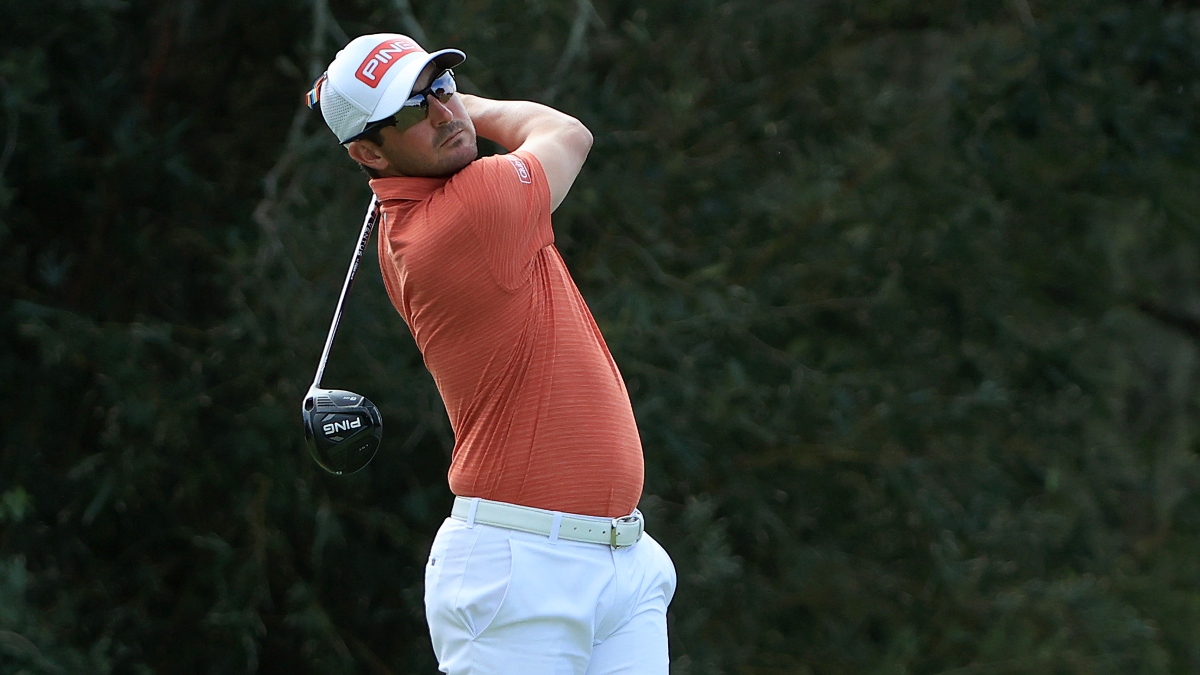 First-Round Leader
One player to post the low score Thursday.
Andrew Landry (+8000 for FRL)
With a small, select field, there won't be many spots in which to find value this week, but this is clearly one of 'em. In the last four years, when superstar initials JT (twice), DJ and X have won this event, the opening-round leaders have been Joaquin Niemann, Kevin Tway, Marc Leishman and Jimmy Walker.
That tells us we shouldn't be afraid to throw a dart at this one. If there's a common bond between those four names, it's that each one is considered an above-average wind player.
The trade winds are common at Kapalua, and while estimates as of the time I'm writing this show breezes gusting to "only" 16 mph on Thursday, there's still something to be said for choosing a high-priced guy who knows how to flight his ball.
Landry always sticks out to me in these types of conditions, but Viktor Hovland, Martin Laird and Billy Horschel could be options, as well.
[Bet Landry now at DraftKings and get a $1,000 sign-up bonus.]
Matchup Man
One player who should beat comparable players.
Scottie Scheffler
The world moves fast, which is the only explanation for how this 24-year-old finished top-five at a major championship and two FedEx Cup playoff events late last summer, but he might not be in the top-five names mentioned if you were asked to list the best Under-25s right now.
Let's not forget just how talented this youngster is. In fact, in my annual preview column "The Leap," I've predicted that Scheffler, currently ranked 24th on the Ryder Cup points list, will elbow his way onto the roster this year.
There remains value on him right now, especially in regard to some of his peers, so I like him in matchups not only this week but until this value starts to fade away. 
[Bet Scheffler now at DraftKings and get a $1,000 sign-up bonus.]
The Big Fade
One top player to avoid at this tournament.
Jon Rahm (+800)
Originally, before the odds were released, I'd targeted Adam Scott in this spot. The affable Aussie has appeared at a crossroads over the past year or so. Whether it's turning 40 and descending into golf middle-agedom or the respectable pursuit of being a family man, his schedule-making and ensuing performances have been something short of what we're accustomed to watching.
What's not short, however, are his odds. At +5500, he's about twice what I'd expected him to be.  I still don't love him, but I also don't love recommending a fade at that price.
Instead, I'll pivot to Rahm. It was announced Monday that the world's second-ranked player has moved on from TaylorMade and signed with Callaway, which already has many observers gingerly taking one foot off the bandwagon.
Anytime the subject of a player using new equipment is broached, we collectively only tend to remember the sob stories and cautionary tales. The truth is, one company's clubs aren't much different from another company's clubs. Sure, there are examples of players who have hurt their careers chasing the endorsement dollar, but there are also plenty of examples where guys haven't skipped a beat — we just tend to forget those.
I've already written this week that I expect Rahm to win a major this year and the latest news won't back me off that prediction.
If you are looking for a fade, though, then do it this week, as the honeymoon period is likely still in effect. I don't expect Rahm's game to suffer with new sticks, but if it does, it'll only happen in the short term.
How would you rate this article?