Pebble Beach Odds, Picks & Betting Guide: Day's Path to Winner's Circle
Credit:
Carmen Mandato/Getty Images. Pictured: Jason Day
After three missed cuts, Brooks Koepka got back in the winner's circle with a lights-out performance on Sunday.
Could Jason Day follow a similar path this weekend at the 2021 AT&T Pebble Beach Pro-Am?
Senior golf analyst Jason Sobel breaks down the odds and his favorite betting picks below.
Before we look ahead to this week's AT&T Pebble Beach Pro-Am, it would be smart to look back.
We might not have learned anything this past weekend, but we were certainly offered some cogent reminders of things we already knew.
The first is conspicuous in all of those trophy photos from the past few days.
Winners win.
Dustin Johnson won in Saudi Arabia, just another ruthless final-round march where he removed any potential drama from the proceedings. Brooks Koepka won in Scottsdale, showing off the moxie he had in claiming four major championships. Even Tom Brady won in Tampa, solidifying his position as the gridiron G.O.A.T. with a seventh career title.
It all seems so logical now, as we play Monday morning quarterback, wondering why we all didn't bank a DJ/Brooks/Brady MVP parlay.
The biggest talents, the fiercest competitors, the greatest champions separate themselves from their peers with an innate ability to perform in the most clutch situations. Perhaps this is simply a matter of winning begets more winning, but whatever the case, it's hardly a coincidence that the guys most accustomed to holding up hardware in front of the cameras on a Sunday did so again this time.
There's a flip side to this, too, of course.
If the grand takeaway above is that winners win, we might not go as far as to allege that losers lose, but again, certain phenomena aren't coincidences.
Early in the week at the Waste Management Phoenix Open, when asked to assess why he hasn't won in more than two years, Xander Schauffele admitted, "I've knocked on the door a few times and kind of messed up and choked, I guess, if you want to call it that." Just a few days later, he parlayed a share of the 54-hole lead into a runner-up finish after an even-par final round.
Meanwhile, Tony Finau, nearing an entire half-decade since his first and only victory, put himself in position to win the Saudi International, only to make a few costly bogeys down the stretch. "I know how well I'm playing and I've got to just keep positive," he said, perhaps trying to convince himself as much as anyone else. "If I keep playing at a high level and give myself a chance to win, I just know it's bound to happen."
I'll forever maintain that – in professional golf, at least – close calls and heartbreakers are more advantageous to a player over the long haul than finishing a dozen shots back and never having to deal with the critical spotlight. Some players don't need to suffer through losses before they win. They're the lucky ones. Most have a learning curve when in contention, one which can only build with the scar tissue through time.
It should all remind us of the gamblers' code: Past performance is not an indicator of future success.
In other words, if you're simply going to fade the likes of Schauffele and Finau because they've won less frequently than they should have, you might be doing it wrong.
If there's a less obvious lesson from this past weekend, it's what we shouldn't write off any top player or formerly top player, whether in the short term or over the long haul.
Sure, this coda could be applied to Schauffele and Finau, but we were also treated to a resurgent performance from Jordan Spieth, at least during the third round, when he posted a mesmerizing 10 birdies on his way to a 61 that seemed more impossible than improbable over the past three years.
It even pertains to those winners, though, the guys who grabbed the trophies this weekend.
Just last summer, Johnson posted a pair of 80s at the Memorial Tournament, then shot a 78 and withdrew from the 3M Open the following week. Did we collectively doubt him, even just a little bit, at that point? Of course – and he responded by finishing inside the top-12 in every event he's played since.
Koepka was, by his own admission, in a dark place at times over the past year. From injuries to a coaching change to a spotty results table, he didn't seem like the guy who at one point couldn't stop winning majors. He entered this past week's event having missed the cut in three straight, but said "showing off" in front of fans helped him regain a little of that lost moxie.
Even Brady, if we want to extend this comparison beyond golf, was questioned about leaving a team with which he'd spent his entire career. There were those who insisted he was too old and too immobile to take over another team and win another championship.
There are two nonparallel storylines at play here.
The first is that winners find a way to overcome those career-condemning obstacles in order to win again. That's inarguable.
The second is that we should continue to see the forest through the trees, so to speak. Just because a player's prospects look bleak in the short term, that doesn't mean they won't still pay off in the long run. It goes for Schauffele and Finau and even Jordan Spieth and Rickie Fowler and Rory McIlroy, each at varying levels of disappointment recently, based on their talent and past success.
If nothing else, the lessons from this past weekend should at least offer us further reminders that winning is a habit, tough losses can lead to wins and we should never give up hope on those who have done it before.
That's a lot to consider while trying to figure out which player might win upcoming tournaments, but it serves as an important warning, as well.
Let's get to the picks for this week's AT&T Pebble Beach Pro-Am, where I'm hoping lightning will strike twice.
Outright Winner
One player to win the tournament.
Jason Day (+2000)
Am I trying to tap into some of that Big Koepka Energy from last week? You're damn right I am. Like Koepka, Day is a former No. 1-ranked player. Like Koepka, Day missed the cut in his first two starts of 2021. Like Koepka, Day is returning to an event where he's owned a lot of success. And like Koepka, Day is undervalued based on his overall talent level.
Maybe it's asking too much for this formula to succeed for a second week in a row, but I've got more than just synergy in my corner. Despite an MC last week in Phoenix, Day gained strokes in every major category except for putting. Moving from the Bermuda greens of TPC Scottsdale to the poa annua of Pebble should help that number.
And while he's never won this tourney, Day has been otherwise terrific here. In 11 career starts, he owns seven top-10 finishes, including top-fives in each of the past four years. I liked him a lot better at the original +3500 number, before Johnson withdrew, but this price could pay off, as there's certainly plenty of reason to believe he can turn it around this week.
Other OADers
Potential selections for one-and-done options.
Kevin Streelman (+4000)
On our Action Network podcast this week, my new pod partner Justin Ray of the 15th Club sang the praises of Streelman at Pebble, reeling off stats to show how and why he's been so proficient at this tourney over the past several years.
There are only a handful of courses where the short-hitting Streelman can still be a major factor each year, but as the shortest course on the schedule, Pebble is certainly at the top of that list. Throw in the fact that players will have three rounds on the famous course this week instead of the usual two and I think that could be a huge benefit for him.
Max Homa (+4000)
If you'd prefer not to use up a superstar this week, that's highly understandable. Homa should provide a nice high-ceiling/high-floor combo that we're always seeking.
Fresh off three straight finishes of 21st-or-better, last week's T-42 should be considered a disappointment, which is actually a good sign. He was T-14 at this event last year and T-10 the year before. Don't be surprised if he improves on those results this week.
Top-Five
One player to finish top-five.
Harold Varner III (+1200 for top-five)
This was probably the toughest category for me in this week's column, because I think there are plenty of worthy top-five candidates at decent odds, though none who stand out as a slam-dunk selection. In the end, I went with HV3 for a combination of reasons.
The first is that his ball-striking was among the best in last week's field in Scottsdale. The second is that I just think he's overdue for a serious title contention after a long stretch of solid performances. A missed cut last year in his only previous start at this event should rightfully leave us a bit skeptical, but I'm willing to take my chances here. 
Top-10
One player to finish top-10.
Jordan Spieth (+275 for top-10)
Hey, you knew this was coming. Fresh off one of the most exciting Saturday rounds we've witnessed in a long time, Spieth should be brimming with more confidence than he's had in a few years.
Not only did he get into contention last week, but this week he returns to an event where he owns top-25 finishes in seven of eight starts. Even when Spieth hasn't been at his best over the past few years, he's been able to show up at Pebble and put together a few solid rounds.
 Top-20
One player to finish top-20.
Rafa Cabrera Bello (+400 for top-20)
In a weak field, I'll be searching for value this week. Quite frankly, RCB is a bigger talent than anyone else near his 125/1 number this week. Neither his recent results (33rd-35th the past two weeks) nor his tournament history (three made cuts, nothing inside the top-20) suggest this should be a special week for him, but this is simply a play on a guy whose overall body of work is better than the markets are giving him credit for here. 
Top-30
One player to finish top-30.
Mark Hubbard (+175 for top-30)
Before his recent infamous "snail" putt, Hubbard's biggest claim to fame might've been as the player who got engaged just off Pebble's 18th green after the first round back in 2015.
That should be good for some karma points, which he's yet to cash in, with only two made cuts and nothing better than a T-26 in four career tries at this event. 
Top-40
One player to finish top-40.
Andrew Putnam (+150 for top-40)
Fresh off a week during which he finished T-7 and posted exactly zero bogeys in 72 holes, Putnam is still severely undervalued at this one. I'm not ready to think he can replicate those numbers and that result, but as a guy who does play some of his best golf on his native West Coast, there's a better chance that he'll cash this bet than the odds suggest.
He's one of these momentum-type players we like to target, the kind of guy who tends to be a bit streaky, which makes him a bit more predictive than many others.
DFS Free Bingo Square
A safe plug-and-play option for DFS.
Cameron Davis
It would probably be too easy to name new tourney favorite Patrick Cantlay – who moved from +1000 to +750 when DJ withdrew – as my safe DFS option. If I need to tell you that Cantlay is a good player with a high ceiling, then we're both in trouble.
Instead, I'll dig a bit deeper and offer Davis, who's finished 32nd-3rd-31st in three starts this year. It feels like the Aussie is ready to take a step into the next echelon very soon – and by that, I don't mean he'll be a top-10 in the world kind of guy, but I do think the 141st-ranked player should continue nudging his way inside the top-100.
Some of his better results have come in weaker fields, where maybe he gains a bit more confidence, so this one should suit him. 
DFS 'Dog
A lower-priced option for DFS.
Phil Mickelson
I'm not sure I've ever listed the combustible Mickelson as a smart DFS play, and I'm pretty sure I've never listed him as a cheap option. This is life, though, for the 50-year-old, whose biggest on-course news so far this year was posting an 18-par round while missing a cut at the American Express.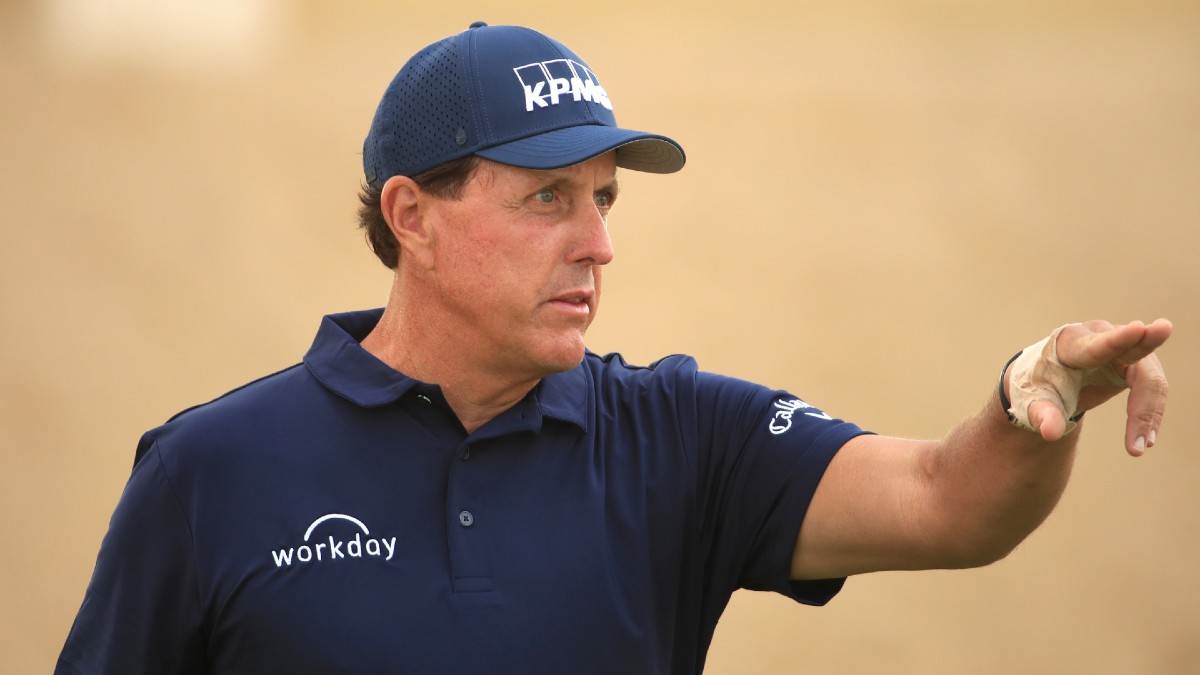 I think too many people will try to read too much into Lefty's 3rd-1st-2nd results over the past three years at a tourney he's won five times. It might be too optimistic to suggest he can return your investment to that extent, but similarly, he's proven this is a place where he plays well and could offer some relief to DFS lineups.
First-Round Leader
One player to post the low score Thursday.
Cameron Tringale
As is usually the case when a tournament is played on multiple courses, I'm writing this preview before the tee times have been released, so it'll be important to check which course your picks are playing in the opening round. DraftKings even had two separate first-round leader markets two weeks ago.
However, it's not important as in previous weeks. We've seen some major advantages at PGA West and Torrey Pines, but Round 1 scoring averages last year were 71.923 at Spyglass and 71.941 at Pebble. Two years ago, it was 71.404 at Pebble and 72.000 at Spyglass.
With usual host course Monterey Peninsula out of the rotation this year due to the lack of a traditional pro-am format, I don't see much of an edge either way for FRL bets. With all things being equal, I like Tringale to get off to a hot start. In nine appearances this season, he's posted a 66, a 67 and a pair of 68s in Thursday rounds so far.
Matchup Man
One player who should beat comparable players.
Joel Dahmen
I wanted to squeeze Dahmen into this preview, but wasn't exactly sure where to do it. I'll be honest: In head-to-head matchups, I usually want to target players with greater made-cut equity than Dahmen owns right now, having just missed three in a row.
I do, though, think he owns some value after a T-14 finish here last year. And I also think all MCs are not created equally. Just last week, he opened with a 75, but posted a number 10 strokes lower on Friday, which could signify better things are coming soon.
 The Big Fade
One top player to avoid at this tournament.
Sam Burns (+4000)
Full disclosure: My original fade for this category was Matt Kuchar, but like so many others who perhaps saw the impending weather forecast, he was an early withdrawal from this one.
The truth is, there aren't many top players in this field and even fewer whom I really want to fade. Burns is a guy I've liked and even written up in recent weeks, but his numbers from the Waste Management are a bit concerning.
Despite finishing T-22, he lost strokes off the tee, tee to green and around the green, really only making up ground with his putter. I don't hate Burns by any means, but on a week when there aren't many guys in the 50/1 range or lower worth ignoring, I think he could be one to bypass.
How would you rate this article?