2021 TOUR Championship Betting Odds & Preview: Rahm Can Win Both Low 72-Hole Score, FedExCup Title
Credit:
Rob Carr/Getty Images. Pictured: Jon Rahm.
And then there were 30. The PGA TOUR's best are at East Lake Golf Club for the TOUR Championship this week.
After two thrilling FedExCup Playoff events, Patrick Cantlay holds a two-shot advantage over the field entering the tournament.
Jason Sobel breaks down his picks for the final event of the season below.
There's a simple reason why the FedExCup playoffs have been the subject of so much debate over the past decade-and-a-half: Like most everything in this world which leaves us shouting incessantly at each other – either in-person or virtually – there is no perfect solution to this puzzle.
Since the implementation of the PGA TOUR's postseason, we've endured multiple iterations of the scoring system – from breaking down points permutations on a whiteboard to a more simplified points format to the current one which staggers initial scores but ensures a single winner of both the tournament and the playoffs.
Like Goldilocks trying the beds and tasting the porridge, the powers-that-be have done the requisite experimentation, and the latest version has been deemed "just right," at least for the TOUR and the title sponsor, if not the players and fans.
It was always an awkward look to have two different players holding up two different trophies at the end of the TOUR Championship. (How awkward? This awkward.)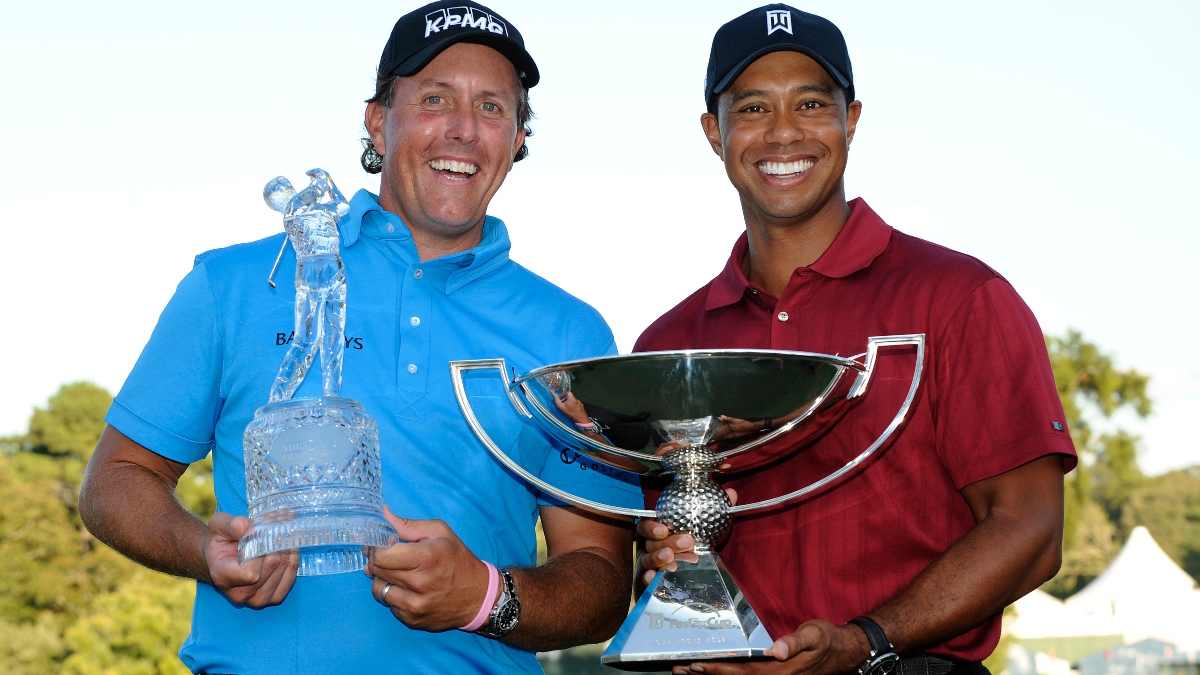 The current format, implemented for the 2018-19 season, ensures that we now have just a single champion come Sunday evening, but with each finger that's stuck into one hole of the dam, another starts leaking.
We now have a leaderboard which starts with the FedExCup points leader – in this case, Patrick Cantlay – at 10-under; followed by the player in second (Tony Finau) at 8-under; third (Bryson DeChambeau) at 7-under; fourth (Jon Rahm) at 6-under; fifth (Cameron Smith) at 5-under; all the way down to Nos. 26-30, who will start at even-par, but they still own a mathematical chance of winning the $15 million first-place prize.
Even Rahm, who has a chance of winning it all – a very good one, as I'll get to soon – is on the record as saying that he isn't a fan of this format.
"I don't think it's fair," he said recently. "I think you have the playoffs itself and win the first two, and if you don't play good on the last one, you can end up with a really bad finish.
I don't like it. I understand the system and the way I was told by one of the PGA TOUR officials, 'I'm a Patriots fan, and the Patriots win everything and get to the Super Bowl, and they don't win the Super Bowl, you don't win the Lombardi Trophy, right?' My answer was, 'They still finished second.' They have to understand golf is a little different."
Over the years, I've heard plenty of potential solutions for how to solve the FedExCup format, but they all tend to have one specific subset of those involved.
How about a less volatile system which more appropriately rewards those who have played well for the previous 49 events? That's one that a guy like Rahm would enjoy, but it loses volatility for the fans.
What if it was a match-play knockout that ended with two players going head-to-head on Sunday afternoon? It'd be fun for the fans, but showcasing only a pair of players on the broadcast would be hell for the TV rights holders. Maybe a true 30-player stroke-play free-for-all? This would be good for TV, but the top players might balk at an equal starting line.
You'll never believe this, but each of these entities only wants what is most beneficial for itself.
As I often preach to fans, you're pretty low on the priority list. It's like the sponsor is flying first class, and you're boarding in Group 8.
A few years ago, FedEx executives made it clear to commissioner Jay Monahan and PGA TOUR brass that they didn't want to put millions of dollars into the playoffs each season, only to have its pinnacle usurped by a separate tournament winner on the same afternoon. And so, the format changed.
I know those watching on TV and buying tickets on a regular basis believe that they are the engine which runs everything, and without them, there'd be no interest level and therefore no ratings and therefore no advertisers and therefore no money and therefore no players and therefore no TOUR.
It's not incorrect to connect those dots – but when attempting to idealistically create the greatest level of theater, we need to understand that order of prioritization.
The good for bettors, of course, is that we can have it both ways, with most books offering odds for both the staggered start and a 72-hole overall score. My favorite play on the board is a guy who's the favorite for both – and for good reason.
Outright Winner
One player to win the tournament.
With staggered scoring start: Jon Rahm (+400)
I've written and talked about this point for the past few weeks, but entering these FedExCup playoffs, Rahm owned a different strategy than most of his peers.
The mindset of most top players from the outset of this three-event series has essentially echoed this sentiment: I'm going to try and play my best every round and we'll see where I wind up at the end. There's obviously nothing wrong with that plan. It's admirable.
Rahm, however, coming off more than a month in between competitive rounds prior to the Northern Trust, has outwardly voiced the marathon-not-a-sprint narrative throughout the past few weeks. He's made it known that his endgame is winning the FedExCup, despite his aforementioned consternation over the format.
Don't get me wrong: I'm not suggesting that he didn't also want to win the first two events; after all, there's no better way to set yourself up to win the whole thing than to win the first two. But I also feel like he's been lying in wait just a little bit, saving some fuel in the tank for when he needs it the most. That should pay off this week.
Without staggered scoring start: Jon Rahm (+600)
How much do I like Rahm this week? I'll not only take him with a lead over all but three other players, I'll take him from an equal starting line, as well.
In 16 career rounds at East Lake, he's posted 11 under-par scores – and five of those have been 67 or better, meaning he's at least 3-under on this course in more than 30% of his rounds so far. As if that's not enough, he's a more mature and complete player right now than he was in the past and he seems more focused on winning this entire thing.
Other OADers
Potential selections for one-and-done options.
With staggered scoring start: Sungjae Im (+5000)
Kudos to your managerial skills if you were able to save a Patrick Cantlay or a Tony Finau for the season finale. Considering they only moved up with wins in recent weeks, that would've been a very shrewd maneuver.
If you haven't rationed your OADs quite as well, there's a chance you might be scraping to find a viable option this week – an all-important one if you're within striking distance of cashing.
I can see Sungjae still being available for some of you, and I can see him having a solid performance on this ball-strikers' track. I don't know that he's got the firepower to move past everyone, but a second- or third-place finish is certainly possible.
Without staggered scoring start: Erik van Rooyen (+6500)
If you happen to be in an OAD that's woke enough to consider only 72-hole scoring, well, I'll first offer my kudos at such a reactionary move. (Very quickly followed by questions over how you pay out in such a pool, considering all money earned is based on the staggered scoring.)
In any case, if it doesn't matter where a player sits on the initial leaderboard, stick with the hot hand here. I'm guessing EVR is still available for many OAD teams and he's been playing some inspired golf lately.
Top-Five
One player to finish top-five.
With staggered scoring start: Justin Thomas (+230)/Sam Burns (+550)
Without staggered scoring start: Justin Thomas (+220)/ Sam Burns (+600)
With JT and Burns starting in sixth and 10th place on the points list, respectively, which means both will be 4-under and six strokes off the lead to start the tourney, I like each of them to make a little run at this thing.
Let's start with Thomas. As I've so often written over the past couple of months, there's a sense that he's been frustrated with his performance ever since winning the Players Championship back in March. That alone would scare me off from some players, but I've long believed that JT is one of the best mad golfers on the planet.
There are some pros who become frustrated with their games, then turn into putty on the course, as we can almost visually see that they're not mentally prepared to contend for a title. Other players are better at channeling and compartmentalizing those frustrations – and I believe Thomas is one of the best at that.
With the Ryder Cup looming in a few weeks, he'll enter this one knowing he has one last chance to find a little bit more success. And while I don't necessarily see it as a motivational tool, there's a chance that with a FedExCup victory, Thomas could go from a frustrating season to POY in the span of a few days. 
As for Burns, by the time you're reading this, I'll already be working on a column about the Ryder Cup – more specifically, the U.S. team's final six captain's picks. (It'll be posted Tuesday.)
Three of 'em are absolute locks. I think another two are pretty set. Then there's that final selection just waiting for a player to reach out and grab it, much like Ryan Moore five years ago. There's an excellent chance Burns can be that player.
He's got everything a captain would theoretically want: He's already won this season; he doesn't seem to shy away from big moments; and he owns no outstanding beefs with fellow team members.
And there's one other thing: Coming off results of 8th-21st-2nd in his last three starts, one more strong finish would give him the requisite momentum apparently required to be named to the squad. All of that should be plenty of motivation for a guy who tends to play his best golf in the Southeast and should be able to climb both boards this week.
Top-10
One player to finish top-10.
With staggered scoring start: Kevin Na (+400)
Starting at 19th on the points list this week – and 2-under on the leaderboard – Na has an opportunity to vanquish some past demons at East Lake. I won't sugarcoat it: He's been pretty poor at this event, with no finishes inside the top-half of the 30-man field in seven starts and only seven under-par scores in 28 rounds.
Even so, I'll bet on recent form over course history here. He's been 17th-8th-2nd-23rd-2nd in his last five starts, suggesting that this could finally be the week when he plays well on this course.
Without staggered scoring start: Scottie Scheffler
Based on 72-hole overall scoring, Scheffler finished with the second-lowest score in the field last year, behind only Xander Schauffele. I've been leaning on Scheffler to finally win his first PGA TOUR event, but it hasn't happened yet – and it won't happen this week, either, with him starting in 25th place.
I do think that should lead to some aggressive golf, though, and at this time of the summer, with so many guys exhausted from a long year, I tend to favor youth over experience.
DFS Free Bingo Square
A safe plug-and-play option for DFS.
Xander Schauffele
Here's everything you need to know about Xander at this tournament: He's played it four times and in those 16 rounds, he's broken par 14 times, never posted an over-par round, is a cumulative 49-under and owns a scoring average of 67.38. He hasn't played his best golf lately, but those numbers are tough to ignore.
DFS 'Dog
A lower-priced option for DFS.
Corey Conners
Good luck trying to find some differentiation in DFS contests this week, with such a limited field. There really aren't any, "Who's that guy?" selections, so it'll be tough to find some low-owned shot in the dark. I'm not really sure Conners really fits this category, either, but he comes in at 21st on the points list and his ball-striking should be a solid fit for East Lake.
First-Round Leader
One player to post the low score Thursday.
With staggered scoring start: Bryson DeChambeau (+300)
Anyone who regularly bets on golf – especially recently – understands that a two-stroke lead is nothing, as we've spent all summer watching these multi-stroke margins evaporate on Sunday afternoons.
With that in mind, it's easy to believe that Patrick Cantlay can turn his two-shot advantage into some sort of deficit by Thursday evening – and at +110, you'd better be really sure about it if you think otherwise.
Instead, I'll take the irony of Bryson cruising past him, four days after their epic six-hole playoff at the BMW. He ranks 49th in R1 scoring average this season, but has posted scores of 65 and 68 in two of his last three openers.
If you really believe in Thursday magic, Cameron Smith leads that R1 stat, starts the day five shots back and owns some decent odds of +2500.
Without staggered scoring start: Harris English
He doesn't always go low on a Thursday, but when English does play well, it's usually because of a hot start.
In his season debut at last year's U.S. Open, he rode an opening 68 to a fourth-place finish. At the Sentry TOC, he started with a 65 and won. At the Travelers, it was a 67 and another win. And at the WGC-FedEx St. Jude, he blazed to a 62 before missing the playoff by a stroke on Sunday.
There's plenty of reason to believe he'll play well again this week – and if you think he'll play well, then you should believe he'll start it off with another low one.
The Big Fade
One top player to avoid at this tournament.
With staggered scoring start: Collin Morikawa (+3500)
I'll go out on a not-so-thin limb and state that I believe Morikawa will someday win a FedExCup title. Probably more than one. East Lake should suit his ball-striking well, but this is now two straight weeks where he hasn't had his best stuff.
I don't know how much that lingering back issue is still bothering him, but there's certainly a chance he's "protecting" it in hopes of remaining as healthy as possible before the Ryder Cup. All of which is a shame, because I'd like to take a shot on him at this price, even seven shots off the lead to start, but his past two weeks suggest that's a poor idea. 
Without staggered scoring start: Louis Oosthuizen
For many of the players in this week's field, it's been an exhausting and exhaustive season, but one which has largely seen at least some modicum of success. Most of the top players have won a title or two; most of those who haven't won have at least used this season as a stepping stone to the next level.
Then there's Louis, who's punctuated more major championship heartbreak with another neck injury. That's not to suggest his campaign hasn't been a successful one on some level – he's played brilliantly at times – but he hasn't exactly reaped the spoils that others have, and now he's limping in with a lingering injury.
Off TOUR
My favorite non-PGA TOUR play of the week.
Team USA to win the Solheim Cup (-200)
Look, I don't usually like betting anything juiced up more than -125 or so in a simple head-to-head matchup, so picking a team at -200 goes against everything I believe in.
That said, so does betting against Nelly Korda. Throw in her sister Jessica, Danielle Kang, Lexi Thompson and some dynamic young talent and the clear edge goes to the Americans here. I do believe that the Europeans are building a nice foundation for the team in the future, with the likes of Emily Kristine Pedersen, Leona Maguire and Matilda Castren each coming into their own.
If this was being played on European soil, I'd strongly consider going in the other direction here, but I think the U.S. squad is too tough at the top.
Taylor Pendrith to win the Korn Ferry Tour Championship (+3500)
Two weeks ago on my SiriusXM PGA TOUR Radio show "Hitting the Green," my co-host Michael Collins and I interviewed Stephan Jaeger, the leading money-winner on the KFT, who told us that he'd skip the season finale, ostensibly so he wasn't stealing the glory from another deserving player.
With two wins this season and top-four finishes in each of his last three starts (keep him in mind; he's going to be very good on the PGA TOUR next season), that leaves an opening for another player to step through.
I'm going with another talented guy playing in his final event before a promotion, as Pendrith will attempt to join Adam Svensson as back-to-back Canadian winners. He's been consistently good throughout the summer, including a T-11 at the Barbasol Championship and T-13 at the Barracuda Championship when he's gotten a chance to compete in the big leagues.
The truth is, with some big names at the top of the board (starting with Christiaan Bezuidenhout at +1800), there's some value at this event. I also don't mind David Lipsky (+4500), Justin Lower (+7000), Austin Smotherman (+7000) or a former PGA TOUR winner like Austin Cook (+13000), but Pendrith is my favorite play here.
How would you rate this article?