Tiger, Scotty and an Opening-Round 62: Woods' Hot Start at BMW No Fluke
Credit:
Bill Streicher-USA TODAY Sports. Pictured: Tiger Woods
Tiger Woods used an opening-round 62 to vault to the top of the leaderboard at the BMW Championship.
His 3-1 betting odds are just behind tournament favorite and co-leader Rory McIlroy.
It's not a coincidence that Woods got hot on Thursday: It was his first competitive round with his trusty Scotty Cameron putter in a while.
NEWTOWN SQUARE, Pa. — Tiger Woods posted an opening-round 8-under 62 at the BMW Championship on Thursday.
That uncommonly low starting number left plenty of observers scurrying for the record books.
As it turns out, this score was only one stroke shy of his all-time Thursday personal best, set nearly two decades ago.
Sit back and relax, amateur Tiger historians, because this information means it's time for a little story.
Back in the spring of 1999, Woods was struggling with his putting. He'd already won a tournament and owned five other top-five finishes that year, but by the time he arrived at the Byron Nelson Classic in mid-May, he'd posted just one sub-70 score in his previous 17 rounds.
The issue was no secret: Averaging 29.69 putts per round, he ranked 162nd out of 188 ranked players.
He called putter-maker Scotty Cameron on Monday of that week, and the two of them worked together on the meticulous details of a Newport 2 model. Cameron shipped it to him later that afternoon.
Three days later, Woods shot that opening 61 — still the best first-round score of his career.
That story isn't just relevant because he went low again on Thursday at Aronimink Golf Club.
After toying with two other putters this summer, Woods posted his 62 with that Newport 2 putter back in the bag — the same one he used at the Nelson that week, the same one he used to win 13 of his 14 major championships.
"I've been monkeying around with it back home and in the backyard," said Woods, who used a pair of TaylorMade wands in its place. "It never felt right. It feels good [now]. I've hit hundreds of millions of putts [with] it since '99."
While his math might be suspect — even "just" 100 million putts would equate to one putt every six seconds for the past 18 years — his intimation makes perfect sense.
Perhaps there's poetic justice in Woods' claiming a share of the opening-round lead only when he decided to put the Scotty back into the bag.
Not that he didn't play well with the other putters — notably a runner-up result at the PGA Championship — but reuniting with the one club that has brought him the most success in his career should lead to some good karma, if not some better putts, too.
"I've had it since '99," he said after Thursday's round. "My body just remembers it. … It just feels very familiar to me."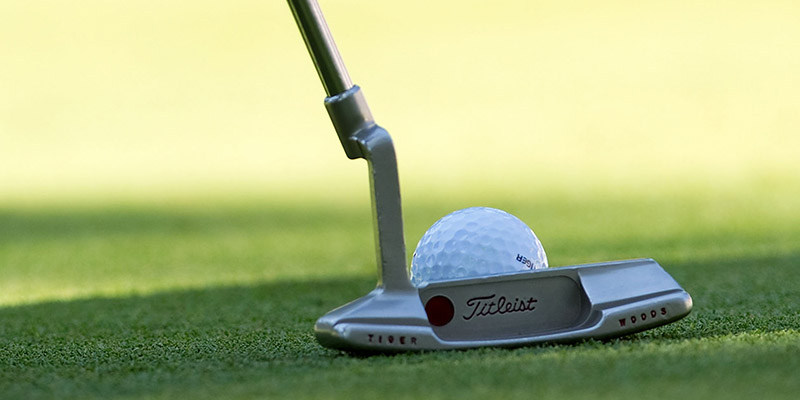 Over the first 18 holes, Woods carded an eagle and seven birdies, holing more than 94 feet of putts, good for sixth in the strokes gained putting category.
Based on recent history, it would be careless to suggest that he can only win with the Scotty back in play, but it's certainly within reason to believe that he stands a better chance by going with the stick that helped him claim so many titles.
At the very least, it's a worthwhile data point for those of you intrigued by Tiger's 3-1 betting odds after Round 1.
Once asked about the vulnerability of putters, and of the Scotty specifically, Woods explained, "You might put it on the side, or in the penalty box for a little bit. But for some reason, it just keeps coming back."
That putter is back this week — and it's no coincidence that Woods is back atop the leaderboard so far.